Best 20 Gallon Fish Tank Kits In 2023
20-gallon aquariums are a great starting size for new fish owners. Many beginner pet owners choose to buy small tanks. But we believe a bigger tank will be beneficial for you in the long run. With enough room, these tanks will flourish in your home and create perfect aesthetic appeal.
In addition, larger tanks give your fish more room to swim. They also allow you to put bigger communities of fish in an aquarium. The possibilities with a slightly bigger tank are endless.
Keeping this in mind, we have put together this buying guide to help you decide on a 20-gallon tank. In this post, we will show you which tanks are best, and how to get a tank that suits your specific needs.
Best Budget
Best All-Around
Best Visual Appeal
Marina Aquarium Kit - 20 gallon Fish Tank - LED
Tetra ColorFusion 20 Gallon Aquarium Starter Kit + Large Bio-Bag Filter...
GloFish 20 Gallon Aquarium Kit with LED Lights, Decor Heater and Filter
Best 20 Gallon Fish Tank Kits Reviewed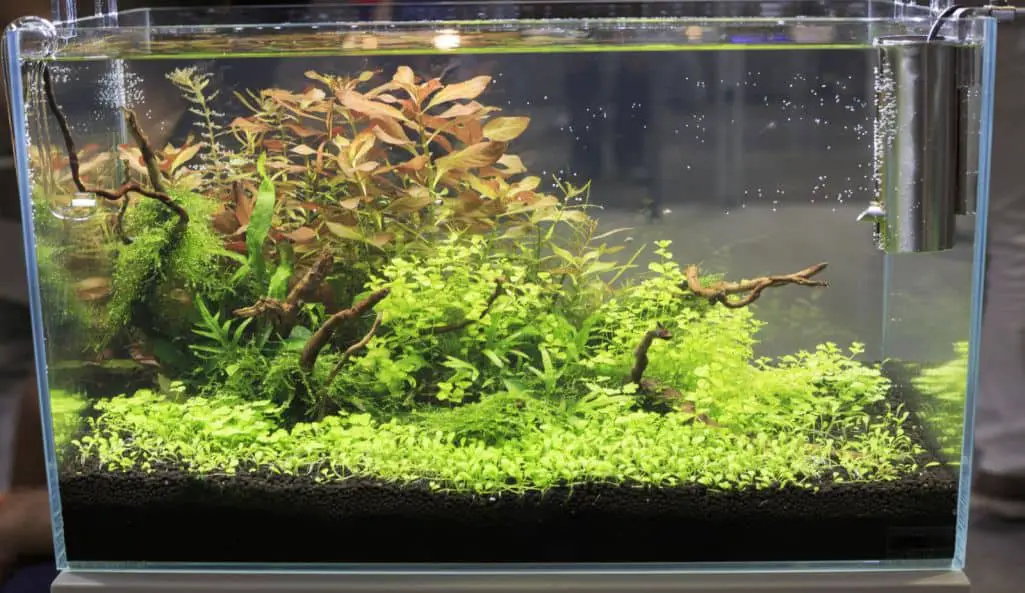 20 gallon tanks are the perfect size for tank owners. They give you the space you need to have a thriving fish community. You want to get the best products, but it isn't easy getting the right tank.
New fish owners and more experienced buyers should have the best 20 gallon fish tank. In this next portion of the guide, we'll show you the best 20 gallon fish tank kits.
All of these 20 gallon tanks were reviewed with care. So know that you will get an amazing tank. With the knowledge and the products, we will show you, you are sure to get the best aquarium for your pet.
1. Marina LED Aquarium Kit
Marina Aquarium Kit - 20 gallon Fish Tank - LED
20 U.S. gallon glass aquarium
Includes a Marina Slim S20 clip on filter with quick change filter cartridges
Includes everything you need to get your aquatic home started
Measures: 24 inches L x 12.5 inches W x 16.5 inches H
The Marina Aquarium is a fully equipped LED aquarium kit. This is a glass made tank that provides beginners with everything they need for a successful setup.
Marina is a top-rated company that gives aquarists top quality for a reasonable price. The kit has all the best features for tanks. You will get a slim Marina filter that efficiently gets rid of all waste found in your 20-gallon tank.
Of course, there is also a powerful LED light placed at the top of your tank. It does not include many settings, but it works well for beginner's needs. Other products included are water conditioner which will clean up the water before you put your fish in. There is also some fish food, a good-sized net, and cartridges for your filter.
The design of the Marina tank is sleek and elegant looking. You get a ton of value out of this aquarium. We consider it one of the best 20 gallon fish tank kits. So consider purchasing this great tank!
PROS:
Made by a great company that is highly rated
Includes a filter that gets rid of all waste
Powerful LED lights are affixed to the tank
Good price for everything the kit offers
Fully equipped setup with everything new tank owners need
The Marina is ideal for beginners
CONS:
No heater with the Marina tank
Not a lot of settings on the lights
Check Price and Reviews on Amazon
---
Video: "Marineland® Products — 20 Gallon Aquarium Kit Setup"
---
---
2.
Aqueon LED Aquarium Kit
Sale
Aqueon Aquarium Fish Tank Starter Kit with LED Lighting 20 Gallon High Fish Tank
All the equipment needed to get started in one box
Kit includes: glass aquarium, low profile LED hood, QuietFlow power filter, filter cartridge, submersible preset heater,...
Preset heater will keep your aquarium temperature at a constant 78 degrees, appropriate for most tropical fish
Low profile full hood contains vibrant cool white LED lighting to bring your aquatic environment to life
Filter has a red LED light that flashes to indicate when it's time to change the cartridge
The next 20 gallon tank is the Aqueon LED tank. This is another great LED aquarium for new fish owners. The Aqueon includes a fully loaded kit for beginners. Durable glass holds this tank together. And the black frame creates a nice visual for this item.
The hood of the Aqueon has a white LED light. It only has one setting but it should work well for most tank owners. The filter in this tank is the selling point of the product. It will give your water a thorough cleaning with five stages of waste removal. It also has a bio bag that traps larger pieces of waste. When you use this filter, it will make the conditions of your water immaculate.
The Aqueon costs more than the Marina, but you get more features with this product.
You get cartridges for the filter and fish pellets are also included. Water conditioner also comes with this, as well as, a net and a heater.
Most tanks don't come with heaters, so this really adds to the value of the Aqueon.
The tank is easy to assemble, and all the devices are simple to use. You should have no issues with this tank as a new fish owner. We highly recommend this tank as it is a contender for the best 20 gallon fish tank kit.
PROS:
Provides everything you need for a new tank
Made out of quality glass material that lasts
Good LED lights included with this model
Has a water heater unlike other tanks
The filter works well and will clean your tank to perfection
You won't have to go out and buy anything extra
CONS:
Heater does not include advance settings
Lights only have a single setting
Check Price and Reviews on Amazon
---
Video: "Aqueon Aquarium Fish Tank Starter Kits with LED Lighting"
---
---
3. Tetra 20 Gallon Complete Aquarium Kit
Tetra ColorFusion 20 Gallon Aquarium Starter Kit + Large Bio-Bag Filter...
Let the LED light transform your aquarium with each color change. Pause the cycle on any color to fully customize your...
Conveniently Assembled and Ready-to-Use
Accelerates the establishment of the Bio-filter in newly set-up aquaria
You will receive SafeStart Water Conditioner, a 3-pack of Large filters and a 20 Gallon Aquarium
Tetra is an American company that is well known for their aquarium products. You really can't go wrong with an aquarium from this brand. In fact, many aquarists end up purchasing this product.
The price is more expensive than other 20 gallon tanks. But this aquarium kit is well worth the cost.
The features and accessories included with this tank are all of superb quality. This glass made, American product is sure to suit your needs as a new pet owner.
The Tetra comes with LED lights preinstalled. The lights are simple but effective, and they save you money. Most tanks use LEDs because they are energy efficient.
In addition, you get a Whisper filter with cartridges. These specific filters are powerful, but not very loud. Quieter filters are great because they cause less stress for your fish. The filter isn't as powerful as other models but it does its job well. In addition to these items, you get a heater and some nice decorative artificial plants.
This kit is great for fish owners of any experience level. Sometimes, you don't know what items to choose for your fish tank setup. This kit takes the stress out of your decision. It doesn't have food or water conditioner, but those items are easily acquired.
This is another great 20 gallon aquarium kit for people who want to get into fish keeping.
PROS:
Great quality fish supplies included
Has a heater unit included with it
Filter works well and efficiently
LED already installed into this product
Made out of resistant glass material
CONS:
The lighting system is not very advanced
There could be more filtration stages
Check Price and Reviews on Amazon
---
Video: "Tetra® Products — 20 Gallon Aquarium Kit Setup"
---
---
4. SeaClear Acrylic Aquarium Combo Set
Sale
SeaClear 20 gal Acrylic Aquarium Combo Set, 24 by 13 by 16", Cobalt Blue
Combo includes aquarium, reflector and electrical 15" light fixture
Acrylic aquariums are clearer than glass, 17 times stronger, and only half the weight!
More impact resistant and less prone to chipping or cracking than glass, making it safer around children and pets
Safe for Salt or Freshwater
You won't believe how your fish and decorations will pop when viewing this beautiful SeaClear aquarium
The SeaClear Acrylic is a departure from the other tanks on this list. Part of this is to do with the material used. As an Acrylic tank, this product is more lightweight and gives you a clearer view of your fish. Acrylic tanks don't tend to last as long as glass tanks. But if you are looking for a tank that has more aesthetic appeal this could be the tank for you.
The SeaClear comes in a hexagon shape or rectangular shape. It has a modern and stylish design that will accentuate any space it is placed in.
Unlike the other items on this list, the SeaClear does not come as a kit. There is a light fixture where you can put bulbs in. But you'll have to purchase them separately. In addition, there are no filters or heaters included with the SeaClear. This can be a deal-breaker for some fish owners. But if you have supplies purchased for your fish and you are only looking for a tank this is a good option.
This is a high quality and well-designed aquarium that gives you a great view of your pet.
PROS:
The tank has a more unique design because of the acrylic material used
You will get an ideal view of your fish with extra clear acrylic
Modern and sleek design for this 20 gallon tank
Easy to use and install this 20 gallon tank
Good quality materials used for this tank
Not a heavy tank so it's easy to move
CONS:
Acrylic could get yellow over time and scratch more easily
Does not include a kit like the other products on this list
No heaters or filters so you have to get it on your own
Check Price and Reviews on Amazon
---
Video: "SeaClear 20 Gallon acrylic aquarium tank"
---
---
5. GloFish Aquarium Kit Fish Tank
GloFish 20 Gallon Aquarium Kit with LED Lights, Decor Heater and Filter
The blue LED light completely transforms your aquarium
GloFish and fluorescent décor create a colorful, neon display
GloFish Glass Aquariums are made in the USA and are built to last with scratch resistant glass
The Tetra GloFish Kit includes: one 20 Gallon Glass Aquarium, one LED hood, one Tetra Mini UL Heater, one Tetra Whisper...
Aquarium Dimensions: 24. 2" L x 12. 4" W x 16. 7" H
If you are looking for a striking 20 gallon tank, we recommend this next aquarium. The GloFish Aquarium if fitted with a completely black background. This makes it perfect for a neon tank set up. Any color in the tank will pop in your tank due to the dark background. So if you have neon-colored fish or colorful fish this is a great choice.
The GloFish looks stunning and has everything you need to create the ideal environment for your fish. This is another aquarium kit that will help you prepare your tank fully with ease.
LED lights are already installed into this product. The blue hue of these lights fit well with the aesthetic of the tank. They also look great on your fish and the neon plants included. So you won't have to do much in the way of decoration.
The GloFish comes with colorful fake plants, you'll just need some gravel and decorative rocks. In addition, you get a filter and cartridges with your purchase. The Whisper filter can be easily installed into the GloFish. It cleans your tank and keeps it free of ammonia and other waste products. Something else to consider with this product is your fish's breed.
GloFish will complement the exotic colors of tropical fish. They also provide them with the water conditions they need. With the included heater you can get your water to perfect temperatures.
On the whole, the GloFish is a great product with great value for fish owners. You get fish food, all the devices you need to keep your fish healthy, water conditioning, lights, and decorations. The GloFish is one of the best 20 gallon fish tank kits.
PROS:
Includes bright decorative plants for your tank
Has a good filtration system included with it
The heater with the GloFish will keep your water warm
Had food and conditioner so you won't have to spend extra
Great value for everything you get out of the GloFish
Nice well made glass used for this product
Good price for this aquarium
CONS:
The design and look of the tank is not for everyone
Filter could be a little more powerful
Check Price and Reviews on Amazon
---
Video: "Tetra GloFish® 20-Gallon Aquarium Kit Setup"
---
---
6. Oceanic Glass Aquarium
All Glass Aquarium AAG10021 Tank, 20l
High quality glass construction with dimensions 30.25" x 12.5" x 12.75"
For freshwater and marine applications
Clean silicone edges (select sizes available in clear or black)
Always include a drip loop when plugging aquarium appliances into the electrical outlet
Place aquarium on stand able to safely bear the weight of a filled aquarium
The last tank on this list is a bare-bones product. But if you are on a budget this could be the tank for you.
This is the cheapest aquarium in this 20 gallon guide.
Still, you will be giving up some conveniences for the price though. The Oceanic Glass does not include a kit or any other accessories. In fact, it only comes with the tank. This is a sturdy tank made entirely of glass. It has a solid black trim or you could get it in an oak color.
The Oceanic Glass is an option for people who already know what they want to put in their aquariums.
If you have your heater, lights, and filter already purchased, then go with this product. If you don't have any of these items purchased and aren't sure what to purchase this might not be the tank for you. In this case, we would recommend buying one of the other aquarium kits listed in this guide.
This is a great product! But if you don't have experience with aquariums it might not be an ideal choice for beginners in this hobby.
Aside from this though, this is a quality made aquarium that can hold either freshwater or saltwater fish.
PROS:
Made of very sturdy glass so it won't crack or break
Is priced at a good cost for people on a budget
Good for people who don't want a kit
High-quality tank product with great value
Good for any type of fish, saltwater or freshwater
CONS:
There is no heater with this item
You won't get a filter with the Oceanic
No other fish accessories come with aquarium
The Oceanic is not the best option for new aquarium owners
Check Price and Reviews on Amazon
---
---
Space For Your 20 Gallon Fish Tank Kit
There are many options out there, and we want you to get the best 20 gallon fish tank. Some 20 gallon tanks are better than others. And depending on your requirements, you should carefully consider your purchase. Space is something that should be thought about first.
Anyone installing a tank in their home should plan where they are putting their tank. You want adequate space, and you want to make sure that the aquarium will fit in this place. We recommend measuring the area to see what the dimensions of your tank should be.
Once you're sure you can fit a 20 gallon tank, and any needed accessories, go buy your tank. This is an important first step in the process of acquiring your 20 gallon tank. If you find that you can't fit your tank in your home this could lead to unnecessary complications.
Tanks are not easy to move so you want to prepare as much as possible beforehand.
How Much to Spend on a 20 Gallon Fish Tank
Another consideration when buying the best 20 gallon fish tank is cost. This is more or less of a concern depending on how much you are willing to spend on the hobby.
Some new fish owners want to go all out on a tank and supplies. This is perfectly fine, but other fish owners want to be more frugal. They are just getting into fish keeping and don't want to spend a lot of money yet.
Not everyone is willing to spend extreme amounts of money for a new pet. So think about the price when you are buying your tank. You don't always need an expensive tank to create a good home for your fish.
And many quality 20 gallon aquariums can be bought for a reasonable price. In fact, we have chosen a few for this list.
Really, when you are getting a pet of any kind it can be good to set a budget. You don't have to spend a ton of money to have a nice setup for your pet fish.
The Advantages Of Aquarium Kits
---
Video: "Are Starter Fish Tank Kits Worth the Money??"
---
Once you have thought about how much you are willing to spend, think about your experience with tanks. Some fish tanks are more beginner-friendly than others. If you have already owned a tank, this shouldn't be much of an issue. Likely, you can go with brands and materials you are familiar with and like.
If you are new to fish keeping, you should consider looking at aquarium kits. These kits include tanks and supplies that will help you set up your tank more easily. Usually, these kits, have lights, filters with cartridges, instructions on how to set up a tank, and sometimes even food. Tank kits are comprehensive and don't require complicated setups.
We have put a few quality aquarium kits in the guide to make this choice easy for you.
Other Considerations When Choosing a Tank
When you get your 20 gallon tank, other features should be kept in mind. Purchasing from a good brand can be important. Well, respected companies make quality and trusted products that will last you longer and give you great value.
Lucky for you, we have chosen the best brands for this guide. In addition, the material of your tank should be contemplated as well. Glass and acrylic are the most popular options. For beginners, glass can be the better option. It lasts a lot longer than acrylic and has many benefits such as durability and clarity. Acrylic can be nice as it comes in a lot of different designs, but it tends to wear down over time. The choice is up to the buyer and their preferences though. As we also mentioned, accessories are important.
A tank with preinstalled lights and other aquatic devices can bring a lot of advantages to your setup. So get a tank that is fully equipped with everything you need. This way you don't have to go out and buy more items for your tank.
Benefits of the Best 20 Gallon Fish Tank Kits
Let us explain some of the benefits of these tanks in more detail. You should know why these tanks should be purchased. As we mentioned  before, this is an ideal sized tank for beginners.
These aquariums are easy to fit in homes and big enough to house larger fish communities. New fish owners like to buy smaller aquariums, thinking they will be easier to care for. This is not the case though.
Bigger tanks can work better for beginner tank owners. They stay cleaner for longer and don't get as dirty due to their size. Small tanks allow waste to build and grow more easily. A large tank solves these problems. They also allow tank owners to keep water conditions more consistent.
These tanks are easier to move, allow for more space for your fish. And the best part is that you can add plenty of decorations and personal touches. If you want plants or other decorative structures in your tank, a 20-gallon tank is perfect for you!
---
---
Best Budget
Best All-Around
Best Visual Appeal
Marina Aquarium Kit - 20 gallon Fish Tank - LED
Tetra ColorFusion 20 Gallon Aquarium Starter Kit + Large Bio-Bag Filter...
GloFish 20 Gallon Aquarium Kit with LED Lights, Decor Heater and Filter
Conclusion
Finding the best 20 gallon fish tank can be a difficult task. There are so many great tank products out there! Some of them fit with fish owner's needs, while others don't make the cut.
You want to purchase a tank that gives you the most for your money.
More importantly, you want a tank that has all the features you need to keep your fish healthy.
In our guide, we gave you all the information you needed to buy the best 20 gallon fish tank kit. We also introduced you to the best aquariums on the market. With any hope, you have found the right 20 gallon tank for you and your pet.
Personally, we think the kits in this list are your best bet. Especially if you are new to fish keeping. These products have everything a fish owner needs to begin a successful fish tank!
Last update on 2023-04-02 at 02:25 / Affiliate links / Images from Amazon Product Advertising API