10 Best 5 Gallon Fish Tanks – Which One Would You Pick?
Five gallon fish tanks can be perfect for people without a lot of space in their homes.

While larger aquariums do have their own benefits, they are not right for every fish owner. One major disadvantage of bigger tanks is weight. The increased mass of larger tanks can make them hard to move around. This can result in a more difficult installation process. In addition, larger tanks can cost you a lot of money.

If you are looking for a cheaper tank option, a smaller five gallon tank will offer a lot. You will spend less money and have less hassle to deal with. Any concerns over space and money will be solved with a smaller tank.

These more conveniently sized aquariums can fit easily on counters, desktops, and tables. They are compact, but still, provide plenty of functionality.

Five-gallon tanks are often equipped with all the amenities found in larger tanks.

Lights and filters are often provided with these models. These features are important for a fish's environment. They will keep the water clean and properly heated. This will lead to your fish living a fuller and healthier life.

Overall, if you want to enjoy the ambiance and atmosphere of a great fish tank with simple maintenance keep reading. We will include what we believe are the best 5 gallon fish tanks in stores and online.

We will also give you some useful information on tanks. This way you can find out which kinds are the best fit for you and your fish.

Table could not be displayed.
10 of the Best 5 Gallon Fish Tanks Reviewed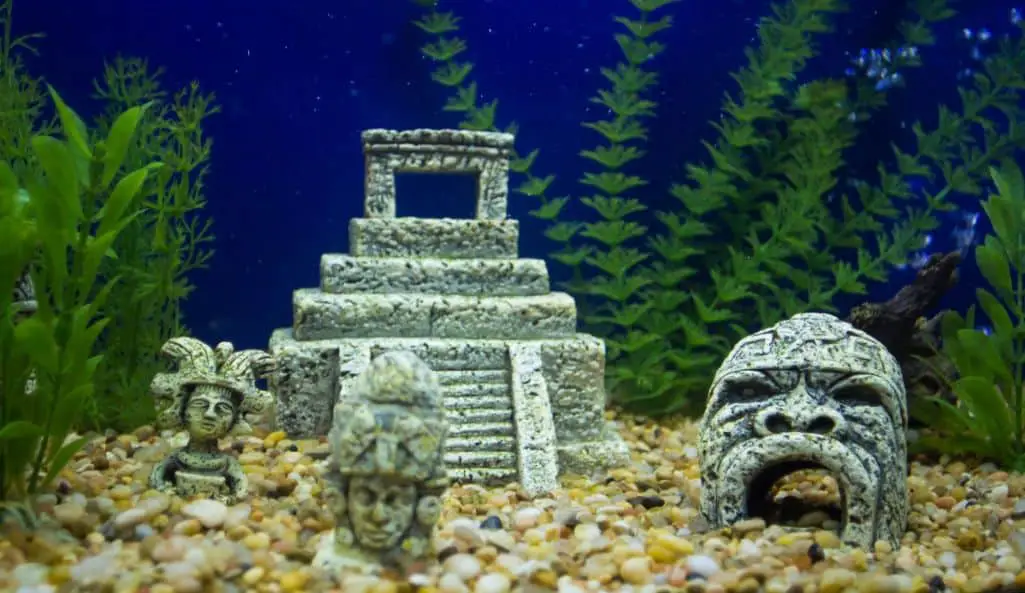 We have assembled a guide that includes ten of the best 5 gallon fish tanks. We have evaluated each product in detail.
This way you won't have to spend much time finding a tank that fits your needs!
1.
MarineLand 5 Gallon Portrait Glass LED Aquarium Kit
No products found.
The Marineland Portrait is a great five gallon tank for people without a lot of room to spare.
If you need to squeeze a tank onto a small desk or table consider this aquarium.
The tank is designed in a portrait-orientation. This means the width is small, and the glass shoots upward for a longer vertical length. With this design, your fish has plenty of room to swim, and the tank takes up minimal space.
Day and nightime light
The Marineland is made of glass and has a sleek shape that is pleasing to look at. LED lights are included with the tank and create a nice visual effect.
The lights come in white and blue. The white light can be used for the daytime so your fish knows when to wake up. The blue light is useful during the nighttime. Your eyes won't strain with this convenient setting.
Also added to the tank is a three-piece filter. The filter engages in all types of filtration and will help clean out your tank. At the top of the tank is a glass lid that easily slides off.
This is useful when you want to take your fish out and clean down the aquarium. Overall this is a great product for people wanting to buy a tank for the first time.
PROS:
Very easy to use for new fish owners and includes everything you need to get started
All types of filtration included so your tank can stay clean
Great design that reduces space taken up and makes the tank look stylish
Durable glass material used
CONS:
The filter can be a little difficult to clean
The lights tend to be on the bright side and might need adjustment
Check Price and Reviews on Amazon
---
Video: "Marineland Contour5 Aquarium"
---
---
2. Koller Products Panaview 5-Gallon Aquarium Kit
No products found.
If you are on a budget but still want a well-made tank consider purchasing Koller's Panaview. This is a sensibly priced aquarium with an elegant design. The curved body of the Panaview gives you an uninhibited view of your fish at any angle.
Also adding to the great design is the inclusion of LED lights. These lights are the selling point of the tank. You can choose up to seven colors to light your fish up in. The variety of colors and settings can create a therapeutic atmosphere.
After a busy day at work, you can sit down and watch your fish swim in the multicolored water of your new tank.
The features
In addition to a great visual aesthetic, this tank offers robust filtration and features. All types of filtration are provided in this five gallon tank. This will keep your tank running smoothly.
Maintenance of the Panaview itself is simple. All you need to do is gently lift the lid up. The lid is made to prevent water drips. You won't have to worry about an extra clean up. The overall construction of the tank is highly durable.
The tank uses high-grade plastic to prevent leaks. In short, get this tank if you want a quality tank with an easy setup and maintenance at a great cost.
PROS:
Colorful and relaxing LED light provided with seven colors to choose from
Easy to maintain and set up this tank
Efficient filtration system included with this model
Great Price that you can't go wrong with
CONS:
This particular model can be on the loud side
Check Price and Reviews on Amazon
---
Video: "Koller Products Panaview 5-Gallon Aquarium Kit"
---
---
3. GloFish 5-Gallon Crescent Kit
No products found.
The GloFish Crescent is a unique tank for small-sized fish. The GloFish boasts an eye-catching crescent shape and includes a calming blue LED light.
If you can find the right kind of decorations, the tank can create an ultraviolet effect. This type of lighting looks beautiful during the night time and really adds something extra to a room. This tank isn't all about looks though.
Perfect for people with little tank experience
Stylish visuals are accompanied by a comprehensive assembly and operation. People with little tank experience should have no problems using the GloFish. The product contains a simple filter and a bio-bag to clean up your fish's mess. In addition, with the easy set-up and fun design, this product could be popular with children.
Adults with kids should consider purchasing the GloFish for kids who are interested in aquatic life. The basic maintenance of the tank will make it effortless for kids to care for a fish.
Overall, you will get a quality product for a decent price. The tank will last you a long time due to the durable acrylic material used. And the unique optical effects will have you looking at your tank often!
PROS:
Looks great in a room and can add flare
Easy to install and maintain this product
Price is reasonable
Good model for kids looking to get a fish
Has a one year warranty
Good for new tank owners
Good for fish that enjoy low current water
CONS:
The filter isn't that powerful and could possibly get clogged
Not geared for experienced fish owners
No chemical filtration in this tank
Check Price and Reviews on Amazon
---
Video: "My Glofish Aquarium!"
---
---
4. Fluval Spec V Aquarium Kit 5-Gallon
No products found.
The Fluval Spec is a classy tank with a minimalistic design. With sleek glass paneling and aluminum trimming, this tank will repel scratches and look great for years to come. The model is extremely durable and highly rated for its quality features.
Novice, as well as, veteran tank owners will find value in this product. While the Fluval is on the pricy side, every dollar spent will be worth it. Really, this is a must have item if you want one of the best 5 gallon fish tanks out there.
Strong led system included
In looking at the specs of the Fluval, this tank is known for its efficient and powerful filtration system. You won't have to worry about cloudy water and low water flow. With the modern design, you can also keep the filter out of view.
There is a special compartment that keeps machinery and cords out of your fish's way. This adds to a tidy and contemporary look. Also included in the tank is a strong LED system. Thirty-seven lights help illuminate your aquarium and grow plants.
Overall, the caliber of this product makes it worth a purchase. You can't go wrong with the Fluval. It's a little longer than most five gallon tanks, but it offers great specs and durability. Clean up is easy and set up isn't overly difficult. It looks great and works well!
PROS:
Stylish and looks great in any room, has a well thought out design
High-performing filtration system including all types of filtration
Nice set of LED lights come with the Fluval
The Filter is easy to clean
The Fluval comes in both black and white
You can adjust the water flow
CONS:
This Fluval can be on the expensive side
Some people say the water flow is a little too powerful
The tank can be on the heavy side
Check Price and Reviews on Amazon
---
Video: "Fluval Spec 5 Gallon – Start to Finish"
---
---
5. Marina LED Aquarium Kit 5 Gallon
No products found.
The Marina LED is another high-grade aquarium that provides buyers with a quality experience. This product will provide you with everything you need to start your own fish tank.
The price is higher than most of the tanks on the list but is still more affordable than the Fluval. If you want a top tier tank but want to pay a little less consider the Marina.
Will not crack easily
The model is made with thick glass and lined with silicone. You won't have to worry about this tank breaking or cracking easily. The lid on the top has a simple opening. You lift it up and have entrance to the entire tank.
This is perfect for when you need to set up the tank or clean it every once in a while. LED lights are affixed to the inside of the lid. They help create the illusion of natural sunlight in your tank.
The filtration in the tank is also top-notch. You will get a full cleaning with this tank. Chemical waste is easily removed from the tank with carbon cartridges. The ceramic cartridges in the other slot get rid of biological waste and trap anything floating in your water. The motor in the filter runs smoothly and quietly through its system.
On the whole, the Marina could definitely be considered one of the best 5 gallon fish tanks for new fish owners.
PROS:
Durable well constructed tank that won't leak
The filter doesn't make a lot of noise
Nice natural lighting that will make your tank look good
Excellent filtration system
CONS:
No heater provided
The Marina can be on the pricy side
Check Price and Reviews on Amazon
---
Video: "Unboxing Tetra Complete LED 5 Gallon Aquarium Kit"
---
---
6.
Penn-Plax Curved Corner Glass Aquarium Kit 5 Gallon
No products found.
This Penn-Plex tank is made from glass and contoured to create a stylish frame-free tank. This helps give buyers a great and open view of their fish. The model accomplishes this with one highly durable piece of glass.
The material is curved to make up three sides of the aquarium. One more glass piece is warped to create a back and base for the finished product.
Able to adjust the waterflow
This curved tank comes with LED lights that can be clipped at the top of the tank. There is also a filtration system included in this model.
This filter uses all three types of filtration to rid your tank of debris and toxic materials. You can also adjust water flow with relative ease. The price of the Penn-Plex is modest. You will get a lot of value out of this unique tank.
PROS:
Great design that allows for nice viewing of your fish
Good filtration from a well-known company
Natural lighting provided
Decent price point
The water flow can be adjusted with a knob
CONS:
Some people think the light is too low powered
Water flow can be on the strong side depending on fish type
Not the best tank for beginners
Check Price and Reviews on Amazon
---
---
7.
Tetra Crescent Acrylic Aquarium Kit 5 Gallon
No products found.
The Tetra Crescent is a well-priced tank that excels at energy conservation. If you want to save power but still want great lighting this will be the tank for you. LED lighting is dispersed throughout the model. There are sixteen light in total and they create a nice twinkling effect in your water. Also included with this product is a filter.
Suitable for newer fish owners
The internal filter is sturdy and seamlessly placed into the rear of the Tetra. You won't find the filter to be overly powerful. It can be adjusted to create a gentle flow for a smaller fish.
Carbon is a main component of the filtering system. This material will help your tank smell good and look clear with very little maintenance. This makes the Tetra suitable for newer fish owners.
With all the included amenities of this tank, you won't have to make any modifications to the item. Everything is pre-assembled and ready to go. This is an easy to care for tank.
Also, consider this tank if you are thinking of getting a betta fish. The shape creates an ideal environment for a betta.
PROS:
Easy to set up and maintain
Great product for people new to tanks
Energy-saving lights and system but still has powerful lights
Perfect tank for small fish like a betta
Gentle water setting for small fish
CONS:
Lid isn't designed that well and might be a little flimsy
Some people could prefer a glass tank over an acrylic one
Check Price and Reviews on Amazon
---
Video: "Tetra 5 Gallon Crescent Tank"
---
---
8.
Koller Products AquaView 6 Gallon 360 Fish Tank
No products found.
This is another great product for new fish owners to enjoy, especially children. The cylinder-like shape of the Koller Aquaview creates a fun tank view at all angles. The shape also allows this item to fit easily in small spaces.
If you want to add fish to an apartment or dorm room this could be a good tank option for you. The Aquaview can squeeze into any space, but still leaves plenty of room for your fish to swim in.
Plastic tank with colored LED lights
Further adding to the fun design, Koller has included colored LED lights. You can choose from up to seven color options. The lights are energy-saving and make for a beautiful display.
What makes your water look even better is the included filter. The submergible filter runs forty-five gallons of water through its system every hour. This will leave your water looking crystal clear and your fish feeling healthy.
The tank is made of plastic and will resist impacts of all kinds. You won't have to worry about clarity issues. The plastic is just as clear as glass and other materials. Plastic can be more durable than other materials.
This can be useful for kids and pets that get a little rowdy. You will find this product at a great price online. The price and great visuals make this a formidable tank. Add in the great filtration and easy use, and this could easily be considered one of the best 5 gallon fish tanks out there.
PROS:
This tank is totally leakproof
Great resistance to knocks and other impacts.
Good for new fish owners and kids
Beautiful display of colors
Fun design that will attract the eye
Efficient filter that runs fast
Very affordable, will be good for people on a budget
CONS:
Some people might prefer different materials like glass or acrylic
Hard to place a filter in a tank with this kind of shape
Check Price and Reviews on Amazon
---
Video: "How to Set Up Your FRESHWATER AQUARIUM – Koller Products 1-Gallon, 2-Gallon, and 3-Gallon"
---
---
9.
Aquarium Tank, Glass 5-1/2 Gal
No products found.
This product is as simple as it gets. If you choose to purchase this item, know you are ordering a bare glass tank. There are no filters to clean out the water, and no fancy lights or heaters included. It's just a glass tank.
This is good for people that are on a budget and already know what they want to put in their tanks. You can add any kind of filtering or heating system to the aquarium. The material also works with saltwater. So that can be a bonus.
The durability of the glass will prevent leaks and scratches. This is a quality made tank with a sturdy foundation.
PROS:
Great for people on a budget
Durable and works with seawater
Good for fish owners who know what they are doing
CONS:
This glass tank can be on the heavy side
No filtration or light system provided
Not a great tank choice for beginners
Check Price and Reviews on Amazon
---
---
10.
Fluval 10528A1 Evo V Marine Aquarium Kit 5 Gallon
No products found.
The last five gallon tank on this list is the Fluval Evo V. This product is by far the most expensive on this buyer's guide. Though the price is higher, it can definitely be worth the extra expense.
If you want a small tank that is as high performing as larger tanks this is the one to get. You will get the powerful specs of a large tank in a more compact package. This saltwater aquarium will sit nicely on any surface and not overtake a room.
Ideal for saltwater fish
This particular Fluval model is a marine aquarium, so it is ideal for saltwater fish. Marine tanks in larger sizes can cost a lot more money. If you want to own a saltwater tank but lower the costs this model will work great. The filtration on the Evo is strong and efficient. The powerful pumps will cycle through your water until it reaches peak quality.
One of the best features of this tank is the LED lighting system. At eleven-thousand kilowatts, the light will shine powerfully throughout your tank. These lights are also ideal for growing aquatic vegetation. Coral will grow well in these conditions with little issues.
All in all, this Fluval model will meet all your saltwater tank needs. It is priced well for what it is meant to do. Your saltwater fish will thrive in this beautifully designed marine tank.
For buyers who want a top-level saltwater tank, this is the best 5 gallon fish tank you will find.
PROS:
This tank is made from sturdy glass material and will last for years
Has one of the best filtration systems included
Amazing lighting system that will let you grow coral
Is a product tailored for saltwater fish
Works just as well as large marine tanks
CONS:
Can be on the pricy side but may be worth it
Not an ideal setup for freshwater fish
Not the tank to buy if you are new to aquatic life
Not great for small fish they could get sucked into the filter easily
Check Price and Reviews on Amazon
---
Video: "Fluval Spec Reef"
---
---
Picking the Best 5 Gallon Fish Tank
Just like larger tanks, smaller five gallon tanks come in a variety of designs. Each tank is equipped with different functions and benefits. Picking the first tank that catches your eye is less taxing.
This is not always the best idea though. The quality of tanks can vary wildly depending on the brand and material used to create them. You want something that will work great but won't cost more than it's worth. In the next section, we will go over different types of fish tanks.
We will also touch on the positives and negatives of each type of tank. In the process, you will learn about some of the features included in five gallon tanks. This way you can find the best 5 gallon fish tank you possibly can for a great price.
Reasons Why You Need The Best 5 Gallon Fish Tank For Your Pet
It's easy to put your fish in a simple glass bowl and call it a day. In fact, many new fish owners do just that. At first, this can seem like a harmless act.
In reality, this enclosed and unfiltered space can cause your fish to suffer. Fish are small, but they still need plenty of space to swim in. When you buy a glass bowl you create a cramped and dangerous environment for your fish.
A lot of the risk comes from the size and shape of the bowl. The roundness of the glass bowl makes it harder for oxygen to flow in the water. With less oxygen in the water, a fish will have a harder time breathing.
Another problem with glass bowls is temperature. Bowls are often too small to place a heater in. If your fish needs warmer water this can be a problem. The biggest problem, however, comes with the bowls lack of proper filtration.
Glass bowls are too small to put a filter in. Glass bowls are cheap but they are not sufficient for taking care of a fish.
The end of bowls
The technology of fish products has improved dramatically over the years. Fish owners should start advancing their equipment to properly meet their fish's needs.
With the array of top quality tanks, this shouldn't be a problem. All of the issues mentioned before are easily solved when you get a larger five gallon tank. Five gallon tanks have the perfect shape to oxygenate your fish. The square and rectangular forms of a tank allow oxygen to move freely in the water. This leaves your fish able to breathe easy.
Five gallon tanks are also able to filter your water so your fish isn't swimming in its own waste.
As we mentioned before, five gallon tanks often include filters. This will help eliminate ammonia from tank water. This compound is released by your fish each time it breathes. It also forms when waste decays.
Getting a tank with a filter is important because it will rid your tank of other toxic chemicals and decay. If you want a spotless tank and a healthy fish you need to get the best 5 gallon fish tank possible.
A tank that will be tailored to your needs and the fish living in its new tank. The next section of our article will help you do just that.
Acryl vs Glass
---
Video: "Acrylic Vs. Low Iron Glass Vs. Regular Glass Aquarium"
---
Tanks are usually comprised of acrylic and glass. Both types can work well but they each have their own advantages and disadvantages.
The pros and cons of acrylic
Acrylic tanks offer the best viewing experience. With this material, you will be able to see your fish easily and distinctly. Another great benefit is the weight of the material. Acrylic is lighter than glass tanks so it will put less strain on whatever surface it is placed on.
Lastly, if you are into aesthetics, acrylic tanks are available in a ton of interesting designs. Unfortunately, this makes the material a little more expensive. This is one of the few disadvantages that come with acrylic tanks.
Something else to consider is durability. You will find that this type of material scratches a lot easier than glass. It also turns yellow as it ages. This is due to the porous material that allows chemicals to sink into the acrylic.
The pros and cons of glass
If these sound like they will be an issue for you, you can always try out a glass tank. Glass tanks are more cost-effective and will not scratch as easily. However, the downside of glass is its weight.
These tanks tend to be on the heavier side, and they have less variety in shapes and designs. Which product is best for you will depend entirely on your own preference. Just keep the quality of both materials in mind when you go out and get your first tank.
Also, consider the type of water you will be putting in your tank. Tanks of both materials tend to work for either freshwater or saltwater. Some tanks use components of both water types. Freshwater tends to be easier to take care of, and are popular with new fish owners. Saltwater tanks are harder to manage but offer more diverse sea-life.
---
---
Table could not be displayed.
Conclusion
Getting the right fish tank is important. Whether this is your first tank, or one of many, care and thoughtfulness will help your fish. And really any purchasing decision for your fish should be well made.
However, we all have busy lives. With so many tank options out there it can be difficult to find the right tank that will meet our needs. Sometimes we don't have the time to leisurely browse online and in stores. So we can't always find the best products.
By reading this buying guide we hope we saved you some time. The information we provided, should help you buy a quality tank without any issues!
Anyone spending time and money will want to make sure they are getting the best 5 gallon fish tank. Hopefully, our guide gave you the knowledge necessary to meet this goal.
If all goes well, your fish will love their new tank and live a long and healthy life!