Best Aquarium Chiller for Freshwater, Saltwater, and Reef Tank (2023 Reviews)
An overheated aquarium can endanger the survival of your fish since they're cold-blooded creatures, which is why it's crucial to invest in an aquarium chiller.

These are devices that help maintain an appropriate temperature in your aquarium when the ambient room temperature is too high.

If you're looking for the best aquarium chiller, you may find yourself lost in a sea of endless units that share a lot of the same features.

How can you identify good quality from poor quality?

It can be quite a hassle, but after reading this article, you'll know exactly which device you should get.

Table could not be displayed.
5 Best Aquarium Chiller Review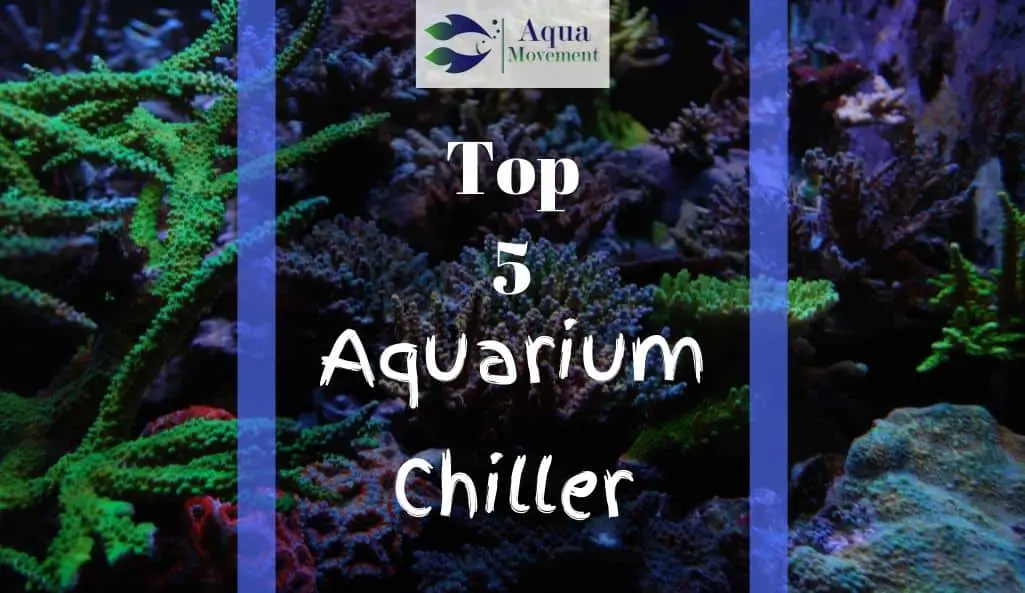 1. IceProbe Thermoelectric Aquarium Chiller
No products found.
The IceProbe Thermoelectric Aquarium Chiller is a compact, 4-inch, square-shaped device. That doesn't require a whole lot of space for installation, eliminating your space and storage worries. The unit has a 1.5-inch thick frame that grants it great sturdiness, a 3-inch extendable probe at the bottom, and a powerful and relatively quiet muffin fan on top.
This chiller utilizes a thermostatic liquid to cool the environment it's placed in. The way this takes place is through the absorption of heat through the extendable probe mounted on the unit.
Once the heat is absorbed, it's then released into the outer environment with the aid of the heatsink on the model, which is kept by the muffin fan mounted on top of the chiller.
There's not a lot of moving parts in this chiller. In fact, the fan is the only moving part in it. And it's a slow-speed fan, which eliminates any significant friction that may damage the unit and adds to its durability.
We love how the unit is so easy to install. Even the parts you have to connect don't really take much time to be done. No assembly needed whatsoever.
Not only is this a compact model, but it's also a low-maintenance, lightweight unit. So you don't have to worry about taking it to the technician every few months.
The great thing about this unit is that it's not power-hungry. In fact, it's probably going to use as much power as a standard light bulb. So you won't have to worry about your utility bills skyrocketing after installing this unit.
Designed to handle tanks of up to 20 gallons
The IceProbe Thermoelectric Aquarium Chiller is designed to handle 20-gallon tanks. However, we highly advise using it on slightly smaller tanks to experience its full potential.
When it comes to the noise level, the unit is quiet enough to not be a source of disruption or annoyance. Lastly, the overall build quality of this unit feels pretty rugged and will certainly last for years.
We'd strongly recommend the IceProbe Thermoelectric Aquarium Chiller for people who want to cool down small volumes of water. It can also be used for a wide range of other applications like chilling residential drinking water.
However, it's most commonly used in cooling down fish tanks and aquariums that are used for hydroponics.
PROS:
Extremely rugged construction that will last for a long time
A compact and lightweight unit that can be fitted anywhere
The installation process is fairly simple and takes little time
This unit is as energy-efficient as light pulp around 50 watts
It provides very quiet operation and doesn't need a pump
CONS:
We wouldn't recommend this chiller for larger aquariums
It doesn't provide a very commodious temperature range
Check Price and Reviews on Amazon
---
Video: "IceProbe Thermoelectric Chiller"
---
---
2. JBJ Aquarium Arctica Titanium Chiller
No products found.
This state of the art aquarium chiller is designed for tech-savvy aquarium owners that don't want to settle for mediocrity. This device implements some truly advanced features. That will help keep the temperature in your aquarium maintained without producing too much noise or using up too much energy.
Best of all, the Titanium Chiller is very reasonably-priced.
In order to achieve the most contact exposure, JBJ has chosen to design their heat exchanger from titanium coil. This allows the unit to exchange more heat at a much faster rate than a lot of other aquarium chillers on the market.
On the front of the chiller, you'll find the condenser, which draws cool air from the front and gets rid of warm air from the back. It's also very easy to clean.
Despite its incredible ability to remove heat, the Aquarium Arctica Titanium Chiller is one of the most energy-efficient units on the most.
It has a relatively low amperage draw, so it'll barely put a dent in your wallet when the electricity bill is issued. Further, this unit comes with an automatic temperature controller. Meaning that your manual involvement isn't going to be needed at all.
Automatic Temperatur Controller with LCD Screen
The automatic temperature controller is dependent on the unit's built-in thermostat, which helps adjust the temperature of the water to the desired range then maintain it.
Moreover, the reading is displayed on a clear and bright LCD screen. We've tried reading the water temperature at night. It's not as easy as reading it in broad daylight, but it's still fairly easy to read.
A common theme that we often see in a lot JBJ aquarium chillers is quietness, and the Titanium Chiller is no different. This device is unbelievably quiet and doesn't produce notable vibrations.
In fact, it's so quiet that you may not be able to hear it unless you're standing right next to it. We're also in love with the compact design of this unit. It can be easily fitted into any aquarium.
This unit comes in different versions ranging from 1/10 HP up to 1/3 HP.
JBJ recommends to use their Chiller size Calculator to find the right size for your aquarium

PROS:
The automatic heat control makes this unit extremely easy to use
It comes with an in-built thermostat and a bright LCD screen
The unit is extremely quiet and it produces very little vibrations
The titanium coil exchanges great amounts of heat exceptionally
CONS:
Some users have reported that the thermostat is off by 1 °F
We're not really fans of the construction as it feels pretty cheap
Check Price and Reviews on Amazon
---
Video: "JBJ Arctica Chiller"
---
---
3. Hamilton Technology Aqua Euro Max Chiller
No products found.
If reliability and power aren't the only things you seek and you're looking for a chiller that boasts a great-looking design, the Aqua Euro Max fits the bill completely.
This unit houses a titanium heat exchanger that's highly resistant to corrosion. At a rate of 25% BTU per watt, this model will use up minimal power and still provide a remarkable performance.
We love how simple and convenient the controls on the screen are. They allow you to lower and maintain the temperature of the water inside your aquarium at a very precise range.
It also has a built-in anti-freezing system that prevents the heat exchanger from freezing. Additionally, it has a built-in thermostat that allows you to return to the last set temperature before a power outage.
The great thing about this chiller is that it uses Dupont in its compressor. Which is an eco-friendly refrigerant that's as effective as other refrigerants but isn't as dangerous. So it can run for an entire season without you having to worry about damaging the environment.
This unit is capable of handling pretty large aquariums since it's power rating for the biggest version is at 1 HP.
Can handle Aquariums of up to 700 gallons
How large are we talking about? Well, even the smallest version can handle aquariums of up to 60 gallons. Whereas the biggest version can handle aquariums of up to 700 gallons
1/13 HP requires min/max of 160-290 gph (for tanks up to 60 gallon)
1/10 HP requires min/max of 200-315 gph (for tanks up to 60 gallon)
1/4 HP requires min/max of 290-660 gph (for tanks up to 90 gallon)
1/2 HP requires min/max of 315-795 gph (for tanks up to 170 gallon)
1 HP requires min/max of 400-1057 gph (for tanks up to 700 gallon)
Information taken from the Manufacturer Website Pages :
The thing we really love about this unit is how extremely easy it is to clean and maintain it.
Keep in mind that this isn't a low-maintenance machine. In fact, the manufacturer recommends a very specific maintenance schedule for you to stick to in order to ensure the longevity of the unit.
We can't stress enough how complete this unit feels. Highly recommended.
PROS:
It has the best-looking design out of all the units on this list
The compressor uses an environmentally-friendly refrigerant
It possesses a remarkable power rating and ideal flow rate
The instructions manual is detailed and easy to understand
It features an anti-freezing system for heat exchanger safety
Contender for the best aquarium chiller
CONS:
One of the most expensive aquarium chillers on the market
It doesn't include cleaning instructions for the condenser
Check Price and Reviews on Amazon
---
Video: "1/13 Aqua Euro Chiller Walkthrough"
---
---
4. Coralife Energy Savers ACL36060 Chiller
No products found.
As the name suggests, this aquarium chiller is one of the best when it comes to energy saving.
This unit is built from high-quality materials that grant it great durability and a sleek design.
It's also worth mentioning that Coralife is one of the leading manufacturers in the market of quality aquarium chillers, which ensures the reliability they've built their name on.
This chiller is equipped with a precise temperature control system. All you need to do is choose your desired temperature and it will automatically get to work without manual involvement from your end. And the thing that makes this unit special is that it's incredibly accurate.
A lot of units tend to be off by a few degrees, but not this one.
With Air Filter
Another thing that makes this aquarium chiller shine is the incorporation of an air filter. The filter helps keep contaminants away from the cooler. Units that lack this feature tend to become less effective over time.
By filtering away all the dirt, this unit manages to maintain its durability and deliver a reliable performance every time you turn it on.
That's not the only thing that the air filter has to offer. It ensures that the chiller's motor is always functioning at its best. Additionally, it's easily accessible, which allows for easy cleaning.
Further, the filter can be reused after the cleaning process is done, so you won't have to squander pretty penny on another filter. We'd recommend this unit for aquariums of up to 55 gallons.
PROS:
Equipped with a reusable air filter that ensures its longevity
The temperature control system is accurate and easy to use
Coralife is a very reputable brand that's built on reliability
Rust-resistant coils that do offer a remarkable cooling ability
One of the few units that feature an adjustable inlet and outlet
CONS:
This unit sounds almost like an old refrigerator when running
One of the most expensive aquarium chillers on the market
Check Price and Reviews on Amazon
---
---
5. LONDAFISH Aquarium Chillers Cooling Fan
No products found.
If you're already living in an area where heat-waves aren't regular visitors, you may not actually need an aquarium chiller that works on refrigeration. Sometimes all you really need is a reliable cooling fan.
In this case, the LONDAFISH Cooling Fan is an ideal pick.
This is an affordable unit that will keep your fish tank well-ventilated at all times.
Easy Installation
As a fan cooler, this unit helps reduce the transference of heat between tank equipment such as lights and pumps. Therefore maintaining proper temperature inside the aquarium.
What we love about cooling fans is that you can simply clip them anywhere, which also applies to this unit. It's perfect for both freshwater and saltwater aquariums.
The unit comes pre-assembled so you won't have to spend time putting it together. Installing this device is also pretty easy, thanks to the clamp mounting bracket.
Obviously, a cooling fan won't consume as much energy as a refrigerating unit. So you won't have to worry about paying a lot of money on your utility bill. It also has a 12V power adapter that ensures the safety of the fan.
The unit offers two-speed wind control that allows it to drop the temperature of the water up to 2 to 3 °C . Which is why we only recommend this unit for people who live in moderate to fairly cold climates.
This cooling fan comes with a 30-day money-back guarantee. So if you try it and it fails to live up to your expectations, you can simply return it.
PROS:
One of the most affordable means of cooling down an aquarium
Highly efficient that you'll barely notice a difference in your bills
It's backed by a 30-day money-back guarantee for convenience
An ideal choice for people who live in moderate to cold climates
CONS:
Not an ideal cooling device for larger-sized aquariums
A little noisy with very limited up and down movement
Check Price and Reviews on Amazon
---
---
Benefits of Aquarium Chillers
When the water inside an aquarium gets too hot, the amount of oxygen dissolved in the water is going to decrease. Which isn't something the fish or plants in your tank will appreciate at all.
This doesn't only apply to species that are found in arctic climates. Subtropical species also require a specific temperature range in order to do best and thrive.
How exactly can an aquarium chiller help?
Like we've already mentioned. Aquarium chillers can cool down your aquarium when the ambient temperature is higher than needed. For people who are keeping cold water species, it's a necessity to have a chiller or some means of cooling down your aquarium's temperature. There's just no way around it.
You may live in an area known for seasonal heatwaves which can render a fish tank completely uninhabitable. An aquarium chiller is going to help you overcome such a challenge.
Moreover, if you've always wanted to add more lights and pumps to your aquarium but you fear the heat they can emit, an aquarium chiller has the ability to cancel out the heating effect of such add-ons.
Types of Aquarium Chillers
Chiller Fan
When shopping for an aquarium chiller, you're going to come across two main types. The first is simply a device equipped with a fan that keeps the top surface of the aquarium ventilated.
Such models can have one or multiple fans incorporated. These models are pretty simple to install as they're comprised of small fans that you clip to the tank's rim.
The thing about fan-based chillers, however, is that they don't really cool down the water in your tank entirely. They simply cool down the surface of the tank where water tends to evaporate. This makes such models ideal for preventing the tank's lights from overheating.
These models aren't really effective in large aquariums and may not be very useful for people living in warm areas.
Chiller Refrigerator
On the other hand, you have aquarium chillers that feature refrigerating functions. Such models tend to be a little more expensive than their fan-based counterparts and they take quite a bit of time to install.
However, these models are highly effective when it comes to cooling entire tanks. They simply pass the water in the tank over cooling plates to lower its temperature.
There are two types of chillers that work off refrigeration: in-line and drop-in. The former is ideal for use in larger aquariums that feature in-line filtration and for saltwater reefs.
The latter tend to be installed in dry/wet filters and they're generally used in saltwater reefs. Drop-in units are a lot easier to install because they don't require any plumbing like their counterparts.
If you're going to go with an aquarium chiller that works off refrigeration, you need to invest in a reliable pump if you don't already have one. Like we've just mentioned, these devices pass the water over cooling plates and they can't do that without a water pump.
And no, they don't come with pumps of their own, which sadly adds to their expense.
Things to Consider Before Buying an Aquarium Chiller
---
Video: "How to Choose and Install an Aquarium Chiller"
---
Finding a cost-effective aquarium chiller isn't going to be easy if you don't know exactly what to look for. To ensure getting the best aquarium chiller for your tank, here are a number of factors that need to be taken into consideration.
Does the Unit Feature an Effective Flow Rate?
The flow rate of an aquarium chiller determines its effectiveness in maintaining the temperature of the water. When it comes to the flow rate, your decision will be based on how large your tank is, which we'll discuss next.
Generally, units with greater flow rates tend to be a little more costly than the ones with lower flow rate.
Keep in mind that a greater flow rate isn't necessarily a good thing if you have a smaller aquarium.
Your goal should be buying a model that offers the right flow rate, rather than the greater rate. It shouldn't be too fast nor too slow.
What Is the Capacity of Your Aquarium?
You simply can't install any aquarium chiller in any tank, you need a unit that offers the right flow rate for the capacity of your aquarium.
For example, if you buy a chiller designed for small tanks and you have a pretty capacious aquarium at home, it will be pretty much useless as it won't be able to cool the amount of water in the tank at the right rate.
Luckily, most manufacturers tend to include the appropriate capacity range in which their models function ideally. You can find these recommendations on the product's description.
Does It Offer an Energy-Efficient Operation?
An aquarium chiller is a device that runs on electricity. Which is why it's important to consider the amount of energy they require for their operation.
The great thing about chillers is that they're all designed to use less energy. However, we'd still recommend comparing the energy efficiency of a few products so that you can buy the one that consumes less power.
How Rugged Is the Chiller's Construction?
The last thing you want is to invest some pretty penny into an aquarium chiller that won't hold up very well. It's crucial that you ensure the durability of the materials used in the unit's construction to ensure that it lasts for years to come.
Most chillers have plastic frames with some metal parts here and there. Make sure that the plastic is durable and can handle some knocks.
Does the Chiller Feature a Thermostat?
While a thermostat can be purchased separately, why waste money if you can have it built in the unit itself? Without a thermostat, you won't be able to find out the temperature of the water. Most chillers today feature integrated thermostats, fortunately.
Does It Feature a Temperature Controller?
Without a temperature controller, you'll have to turn the unit on and off manually, which can be a bit annoying after a while. Aquarium chillers such as the Nova IceProbe can't operate without an independent controller since they lack an on/off button, which is very inconvenient.
Fortunately, there are models on the market that feature integrated controllers, allowing them to operate automatically.
All you need to do is set the desired temperature and once the temperature of the water happens to go beyond that limit, the chiller will automatically lower it down.
What Is the Operating Noise Level?
Headaches aren't fun. And the last thing you want is to get one on the daily because your chiller makes a whole lot of noise while running. It's hard to find a chiller that doesn't produce any noise at all. But it's important to make sure that the noise it produces is tolerable.
We'd highly advise checking the product's description as it may include the operating noise level of the unit. Further, you should check a bunch of reviews from users to see what they have to say about the unit's noise level before buying it.
---
---
Table could not be displayed.
Conclusion
Declaring a winner in this competition isn't very easy since all of the above-mentioned units are highly effective in their own ways.
However, one unit that seems to stand out the most for us is the JBJ Aquarium Arctica Titanium Chiller.
It has the power to handle large aquariums and it uses an eco-friendly refrigerant. Not to mention it's extremely sleek design.
Hopefully, the information we've provided today has helped pick an aquarium chiller that meets your needs and budget. Let us know which one of the above-mentioned best aquarium chiller you would choose.