Best Aquarium Plant Fertilizer – Top 7 Review
Planted aquariums add beauty and complexity to your tank environment. Your fish will only benefit from the addition of plants to their water. Greenery provides shade, food, and a healthy boost to your pet and water's overall condition.
Still, some newer aquarium owners hesitate to start a planted tank. This is understandable, for those without experience, it can be hard to maintain the health of both plants and fish. Water conditions need to be monitored more closely, and the right plants need to be chosen.
While some fish owners may doubt themselves, there are plenty of plants that can be taken care of by beginners. When you have the right plants, information, and planting tools, anyone can successfully take care of a planted tank.
Fertilizer is one component of a planted tank that will make your first planted aquarium flourish. Not every plant will need fertilizer. Some have very sparse care requirements. But the majority of plants need fertilizer to grow well and stay alive longer.
Fertilizer is a great help, as it may lessen some of the hassle and stress of trying to grow plants underwater. In this article, we will introduce you to some great plant fertilizer for your aquarium. Later on in this post, we will also tell you everything you need to know about plant fertilizer.
With this information, you will be able to grow your plants big and strong. There are a lot of fertilizer options out there. And we want you to be well acquainted with these products before buying anything.
Best Liquid
Best Tabs
Top-Notch
Seachem Flourish Freshwater Plant Supplement 500 ml
Seachem Flourish Tabs Growth Supplement - Aquatic Plant Stimulant 10 ct
Thrive Planted Aquarium Fertilizer -All in One Planted Tank Liquid Fertilizers -...
7 Best Aquarium Plant Fertilizer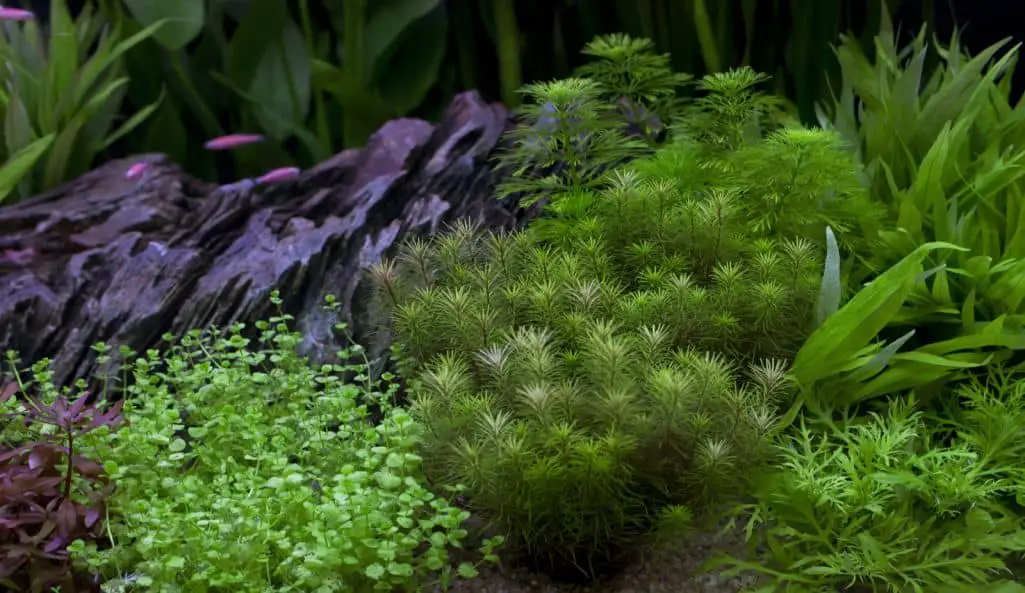 Plant fertilizer not only comes in an abundance of forms. There are tons of fertilizer brands and products to shift through when you shop. You know what to look for in a fertilizer, but we will help you refine your choice.
Our aquarium fertilizer buying guide will introduce you to the top brands and fertilizing products.
You should only have the best aquarium plant fertilizer for your tank!
This way you can grow your tank to perfection.
1. Seachem Flourish Freshwater Plant Supplement
Sale
Seachem Flourish Freshwater Plant Supplement 500 ml
SUPPLEMENT: Seachem Flourish is a comprehensive plant supplement for the natural freshwater aquarium, containing a rich...
ELEMENTS: In order to benefit your aquatic plants and help your freshwater environment thrive, Seachem Flourish contains...
WATER TREATMENT: For best results, use 1 capful (5 mL) of Flourish for each 250 L (60 US gallons) once or twice a week....
SOLUTION COLOR: It is normal for the color of Seachem's Flourish to vary by batch as the solution color is dependent...
SAFETY: Seachem Flourish is safe to use for invertebrates such as shrimp, but is designed to be used in conjunction with...
The first fertilizer product on our list is from Seachem. Seachem Flourish is a top of the line liquid fertilizer. This product is highly rated by fish owners and is known to create the best results for planted tanks!
Not only does Seachem work well, but it has also been extensively tested for tank safety. You can put this product in your aquarium safely with your pet. It won't affect water conditions and will keep your tank growth balanced as long as you use the directed amount of liquid.
Expect your plants to stay healthy and vibrant. Seachem works fast and effectively. It helps with disease prevention and promotes plant growth. After dousing your plants in this liquid for a few weeks, you should see a major difference in your tank plants!
Great Fertilizer For New Fishkeepers
On the whole, this is a great fertilizer for new fishkeepers. Seachem has the nutrients needed to sustain a thriving tank. It is easy to find Seachem products in stores, and the price is almost unbeatable. You get amazing value from this liquid fertilizer all for a good price!
Seachem is known to make plants shine and grow better. If you want your tank to look great consider this fertilizing product. It's easy and convenient to use this liquid, just pour a little in your tank for powerful outcomes.
This is one of the best aquarium plant fertilizer products!
The only thing to look out for is an overuse of the liquid. Follow the instruction from the bottle. If you put too much Seachem in, you could cause an algae overgrowth. Algae is necessary for plant health. But you don't want to much algae in your planted aquarium.
PROS:
Seachem is not expensive and offers great value
Great plant growth and health promoted with this product
Seachem provides results within weeks
High-quality nutrients and ingredient in this fertilizer
Easy to use this fertilizer and put in the tank
-Safe for your pet fish and their water
CONS:
Some people complain the cap can be loose
You don't want to put an excessive amount of this in your tank
Check Price and Reviews on Amazon
---
Video: "Seachem Flourish review | Does Flourish work?"
---
---
2. Seachem Flourish Tabs Growth Supplement
Seachem Flourish Tabs Growth Supplement - Aquatic Plant Stimulant 10 ct
GROWTH TREATMENT: Seachem Flourish Tabs are growth stimulating tablets for plant roots which contain essential trace...
VITAMINS: Seachem Flourish Tabs are rich in iron, manganese, magnesium, calcium, potassium, inositol, choline B12,...
NUTRIENTS: When inserted into the gravel, Seachem Flourish Tabs provide direct, time-released fertilization to the...
TANK USE: Insert one Flourish Tab in the gravel for every 10–15 cm (4–6 in.) radius. A standard 10 gallon aquarium...
COMPLETE MAINTENANCE: For optimal plant growth, add new Flourish Tabs to the aquarium once every three to four. Seachem...
The next fertilizer is another Seachem item. But instead of liquid fertilizer, this product is a root tab fertilizer.
Seachem Flourish Tabs are full of even more nutrients than their liquid products. This added nutrition helps rooted plants grow strong and stay firmly within their substrate.
Some people don't like to deal with measuring liquids. With these fertilizing tabs, you just put them at the bottom of your tank. You mix them up with your substrate and your plant will take it from there.
When Root Tabs Are A Better Option
If you have a large number of plants or bigger fauna in your tank, root tabs are a better option. Liquid can supplement growth along with tabs, but larger rooting plants need something more to stay healthy in an aquarium. Flourish Tabs are the perfect solution to this.
When you use this product though, don't just sprinkle it into your substrate. It needs to go inside your substrate so it doesn't float in the water. Nutrients in the tabs need to reach the roots of your plants to work.
Seachem Flourish can be bought for a reasonable price, but if you have a big tank they could get expensive. Individual packets are cheap, but over time they could cost you. Still, this fertilizer is definitely worth your money.
It will replenish nutrients in your soil or substrate. And your plant will grow great underwater! This fertilizer is another contender for the best aquarium plant fertilizer! It is non-toxic like other Seachem products and is of the highest quality root tabs you can buy.
PROS:
Really helps plants roots grow strong and hardy
Keeps the water balanced for your fish and plants
Good for bigger plants and for a large number of plants
Lots of nutrients found in these Seachem root tabs
Not toxic to your fish or other aquarium pets
Easy to put this fertilizer into your substrate and tank
CONS:
Depending on how much you need could get pricy
The tabs are a little bit acidic, but won't mess with the tank chemistry
Check Price and Reviews on Amazon
---
Video: "Seachem Flourish Root Tabs Review Guide"
---
---
3. API LEAF ZONE Plant Treament
Sale
The next fertilizer on our list is a liquid one. API Leaf Zone is affordable and will help grow plants that absorb food through their leaves. The specific ingredients in this substance will prevent decay and browning of plants. With this, you should have vibrant green leaves on all your plants.
There are a few different sizes to choose from. The eight-ounce is better for tanks ten gallons and under, but if you have a bigger setup try going for the sixteen and thirty-two ounce bottles.
Leaf Zone can really help with nutrient absorption. The leaves of your plants will take in nutrients at a faster rate with this product! In no time you should have a healthy aquarium. If you have had issues growing plants, or worry about growing plants try this fertilizer out for sure. This is a great fertilizer for beginners.
Leaf Zone gives buyers sufficient amounts of Iron and a good dose of Potassium. This keeps aquatic plants from discoloring and dying.
Still, some other nutrients are neglected in this product. It's not to say that your plant will be underfed. But they might not reach their full potential without the help of another fertilizing product to aid this one.
Leaf Zone is a product formulated to make your plants look shiner and greener. If you want the full package though. You might want to add in other nutrients yourself or add in another fertilizing product to supplement this. Just be careful. You don't want to much fertilizer in your tank!
PROS:
Lots of nutrients to keep plants looking healthy
Well priced aquarium fertilizer
Good for plants that absorb food through their leaves
Won't mess with your water conditions much
There are a few different size options
Keep your plants from decaying and yellowing
Makes your plants look more colorful
CONS:
This product can only be used by freshwater aquariums
Not the best fertilizing option for plant that absorbs food only through their root
Doesn't have every nutrient you need for a plant
Check Price and Reviews on Amazon
---
Video: "API Leaf Zone Plant Food Review | Do you need substrate?"
---
---
4. NilocG Thrive Planted Aquarium Fertilizer
Thrive Planted Aquarium Fertilizer -All in One Planted Tank Liquid Fertilizers -...
SPOIL YOUR PLANTS WITH NUTRIENTS: Make your planted aquarium look great and provide your plants with all the essential...
TREAT 2500 GALLONS OF WATER WITH EASE: The Thrive highly-concentrated liquid fertilizer for aquarium plants will allow...
KEEP YOUR AQUATIC PLANTS HEALTHY: Ideal for both low and high-tech setups, our water plant fertilizer will not only keep...
SUPER-CONVENIENT PUMP BOTTLE: Take all the fuss out of dosing and adding fertilizer to your planted tank with the Thrive...
GET YOUR LIQUID FERTILIZER RISK-FREE: In the improbable case that you are not 100% satisfied with your NIlocG Aquatics...
NiclocG Thrive is not your typical plant fertilizer. This is a more high-end product, so expect to pay extra money for this aquarium fertilizer. If you are serious about growing a planted aquarium, Thrive is for you.
Thrive is all-natural, and has everything you need in one bottle. This fertilizer is super concentrated and will last your tank for a long time. It works with many kinds of plants and will be absorbed readily by your fauna.
Thrive is fish safe, so it does not have any substances that can harm your pets. This fertilizing product produces some of the best results for planted tanks. All it takes is a few pumps and your plants will be fed. It prevents excessive algae build up and makes your plants look lush and healthy. In addition, thrive comes in a pump bottle and is well designed for ease of use.
Other products can be inconvenient. You might have to put tabs in your substrate or measure out the liquid. But thrive makes feeding your plant simple, just use the pump.
In short, if you want the best aquarium plant fertilizer, try Thrive out. It is expensive fertilizer, but it makes your tank look amazing, and keeps your plants healthy and growing.
Still, don't put too much of this in your aquarium. It could mess with the water in your tank and raise nitrate levels. This won't be a problem if you use it right though.
PROS:
Tons of value from Thrive can feed large tanks
Helps prevent disease in your plants
This fertilizer keeps your plants looking great
Thrive is very concentrated, so you don't need a lot of it
Stops algae from overgrowing in your water
Thrive has every nutrient your plant needs
Thrive fits all types of aquariums
CONS:
Thrive is a pricy fertilizer, but worth the cost
Can up the nitrate concentration if the wrong dose is put in
Check Price and Reviews on Amazon
---
Video: "Thrive All in One Planted Aquarium Fertilizer Review"
---
---
5. API ROOT TABS Freshwater Aquarium Plant Fertilizer
Sale
API ROOT TABS Freshwater Aquarium Plant Fertilizer 0.4-Ounce 10-Count Box
Contains one (1) API ROOT TABS Freshwater Aquarium Plant Fertilizer 0. 4-Ounce 10-Count Box
Promotes strong root development for lush plants in freshwater aquariums
Contains essential nutrients including iron, potassium and carbon
Helps new aquatic plants get off to a vigorous start and to keep established plants flourishing
Add tablets to gravel bed every month to ensure best results
This is another API fertilizer, but this time we are showing you the Root Tab option, it's a high-quality fertilizer that serves plants a nutritious meal. This is one of the best root tabs options if you want to make your plant's roots strong.
API gets this done and makes sure your plant is rooted in its substrate well. It also gives your plants all the nutrition it needs. Macro and micro nutrients are packed within this fertilizer.
Sometimes, it can be difficult to get your rooted plants to stay put and look good in your tank. API will make it simple and easy to get this done. If you want a fresh and prosperous-looking tank get API Root Tabs. They are cheap and work great for planted tanks.
These root tabs are not perfect, but they are efficient. You might have some initial clouding in the water with this. The tabs also absorb into the water fast. So get them into your substrate as quickly as you can.
With the price of this fertilizer, you can't really go wrong. We recommend this for tropical tanks in particular. API works best in warmer water and with tropical fish.
PROS:
The price is good for this fertilizer
Your planted tank will look great with this
An especially good fertilizer for tropical tanks and fish
Good quality root tabs with plenty of nutrition
Lots of health benefits for your plant tank
CONS:
Could have some clouding in your tank at first
Might not be the fertilizer for every tank
The fertilizer is not suited for saltwater tank setups
Check Price and Reviews on Amazon
---
---
6. NilocG Aquatics | Liquid NPK+M
Liquid NPK Fertilizer comes with two bottles. One has macro nutrients and the other bottle has micro nutrients. Like the Thrive fertilizer, this comes packaged in a pump bottle. You will get a super concentrated mix of food for your plant as well. In comparison to Thrive, this is a little less expensive, and you get two pumps.
NPK is especially useful for heavily planted tanks. If you have a lot of greenery in your tank, you're going to need extra nutrition. This product ensures that your plants have everything they need to grow to the max!
Liquid NPK lasts for a while and can dose large quantities of water. It comes in a five-hundred mL bottle and has a pump. Dosing your tank cannot be made easier. All you have to do is add a pump of this for every ten gallons of water in your tank. You do this a few times a week for optimal tank growth.
The Liquid NPK can last you forty-one weeks with a medium-sized tank. If you have a tank over thirty-gallon you might have to replace it sooner. And if you have a lot of plants this might run out sooner too.
Still, this is a great and well-rated fertilizing product. If you want a similar fertilizer to Thrive but want to spend a little less, this is an ideal choice. This works great for all kinds of tanks and plants. Try this out if you want a good liquid fertilizer!
PROS:
Good quality liquid fertilizer for heavily planted tanks
Macro and Micro nutrients are input into this fertilizer
Nice concentrated liquid that feeds plants well
Pump to make it easier to feed plants
Good price and comparable to Thrive fertilizer
Will keep plants healthy and growing strong
CONS:
Some people say this can run out quickly in big tanks
Some reviewers said the bottles can get moldy over time
Check Price and Reviews on Amazon
---
---
7. Aqueon Aquarium Plant Food
Sale
Aqueon Plant Food 17.4 Ounces
Source of nutrients for freshwater plants
Contains kelp extract to encourage strong root development
Well rounded, multi-system plant supplement
The macro and micro nutrients aid with plant growth
Remember that healthy plants also require proper lighting!
The last fertilizing product on our list is the Aqueon Plant Food. This is a simple and cheap fertilizing option for feeding plants. This liquid fertilizer comes in three sizes ranging from five to sixteen ounces.
If you want optimal value go for a bigger size, you'll save money and won't have to replace your bottle as soon. Still, you shouldn't need much of this to feed your aquatic plants, especially in a smaller tank. A little bit of this product can go a long way.
Aqueon is tailored for freshwater tanks, so keep this in mind. You won't want to use this on a saltwater aquarium. In a freshwater tank though, Aquaeon offers plenty of nutritional value.
It is actually made from kelp. Kelp will aid in root strengthening and development. The leaves of your plants will also stay greener. Other nutrients are included with your liquid. This includes Macro and Micro nutrients needed by live plants.
If you have a tank with fewer plants, and plants that can absorb nutrients through their leaves, this is a good option.
It is not the best aquarium plant fertilizer, but it has a great price. And for what you get out of this fertilizer it is definitely worth your consideration.
Aqueon is a great brand and makes tons of quality products. This fertilizer is no exception to this.
PROS:
You get all the nutrients your plant needs
Good price for this fertilizer
This fertilizer is made from a quality brand
Will keep plants looking good and healthy
Not hard to feed your plants with this fertilizer
CONS:
Not the fertilizer to get if you have a saltwater tank
Not great for heavily planted tanks with many rooted plants
Check Price and Reviews on Amazon
---
---
The Benefits of Aquarium Fertilizer
Again, not every plant will need fertilizer, but we highly recommend this product for most aquatic plants. If you want the best plant growth possible, it's best to get high-quality fertilizer. Plants just don't grow the same without this product.
Like your pet fish, your plants have health needs as well. They need certain conditions and nutrition to really flourish underwater. Getting the right aquarium fertilizer will ensure this end and meet your plant's fundamental needs.
These fundamental needs include proper lighting, proper nutrition, and proper Co2 levels. Fertilizer won't help with lighting, but it does enable your plant to grow and absorb nutrients and Co2.
Fertilizer is usually placed on the floor of your tank and acts as a soil or substrate. It feeds your plants nutrients directly through its roots. Co2 can also be injected into your fertilizer for better growth results!
In essence, fertilizer acts as food for your planted tank. Macro and micro nutrients are packed in this substance.
Not all fertilizer is soil-like. Some are made of liquid others are added to other substrates. But you can get a product that functions as a soil or substrate for your plants. These types of fertilizer not only feed your plants but will also root them in place. With the aid of the nutrients, the stems of your fauna will grow strong and will take root in your tank!
Most of these fertilizer comes in earthy colors so it creates a natural-looking tank for your fish. With plants, fertilizer, and other decoration, your aquarium will look complete and become a perfect home for your fish.
Planted tanks with fertilizer look healthy and vibrant at all times. Everyone wants their tank to grow and prosper for years to come. Fertilizer is one way to make this a reality. So don't miss out on purchasing this item.
Fertilizer requires some maintenance, nutrients are taken out of it as your plant takes in their food. You should either replace it or add fertilizing roots and liquid to your tank. But this is easy and simple to do. We will show you a variety of fertilizing products in our buying guide!
How To Find The Best Aquarium Fertilizer For Your Plants
Tank fertilizer is easy to purchase and reasonably priced in most cases. Still, you don't want to go out and buy this product without any prior knowledge. There are many types of fertilizers for your aquarium. You should get one that fits your planted tank. You want to buy the best aquarium plant fertilizer out there for your plants.
So in this next portion of this fertilizer guide, we will talk about different fertilizers and the qualities they should have. Like anything you buy, some products will be better than others. This information will help you distinguish between okay products and the best products.
Regardless of what fertilizer you choose, some key qualities should be considered. First off, fertilizer needs to have macronutrients, as well as, micronutrients. Plants need Co2 of course but they also need Nitrogen to survive. Phosphate and Potassium are also of equal importance to your plants. Other nutrients to be on the lookout for include Calcium, Sulfur, and a good dose of Magnesium.
Check the packaging on your fertilizer and make sure these macronutrients are all included with your product. You can check for micronutrients but the other nutrients are of more importance.
If you go with a well-known brand you are likely to get all the needed micro and macro nutrients your plant needs. So also consider this as you shop.
Types of Aquarium Fertilizer
If you have plants with roots, pre-packed substrates are a good fertilizer option. These are fertilizer soils that will keep your plants in place. They already have nutrients for your plants. No extra fertilizer will need to be put in this substance. They work for a lot of fauna, but not every plant needs to be deeply rooted so keep this in mind.
Pre-packed fertilizers also dissolve over time. So you will probably have to replace them. Some products are designed not to dissolve. But you will have to add liquid or root fertilizers when they run out of nutrients. Overall, these are robust products that work well for certain plants.
The next kind of fertilizer you can get is a liquid fertilizer. If your plants are not root feeders, this is the product for you. Some plants absorb nutrients through their leaves and stems only. They don't use their roots. Other plants use roots and leaves to get food it all depends on the species of plant.
Liquid fertilizer helps these plants get the nutrition they need. This product is put directly in the water and should dissolve completely.
The last kind of fertilizer you can get is root tabs. Roots tabs are also made for rooted plants. But instead of having to deal with dissolving soil, you just add it to your own substrate of choice.
Roots tabs are essentially just crushed up plant food. You bury this into the gravel or sand in your tank. It's easy to use this nutritious plant food!
---
---
Best Liquid
Best Tabs
Top-Notch
Seachem Flourish Freshwater Plant Supplement 500 ml
Seachem Flourish Tabs Growth Supplement - Aquatic Plant Stimulant 10 ct
Thrive Planted Aquarium Fertilizer -All in One Planted Tank Liquid Fertilizers -...
Conclusion
Planted tanks are not the easiest tanks for beginners to maintain. But if you have the right products and info you can definitely start your own planted aquarium. Fertilizer is one item you will need if you want a successful planted tank.
In our article, we discussed all the different types of fertilizer. We also showed you what the best aquarium plant fertilizer will have in it. You should only buy from well-trusted brands with the best fertilizer products.
Our list introduced some of these fertilizing products to make your purchase easier. Hopefully, you have found the best aquarium plant fertilizer for your tank!
Last update on 2023-04-02 at 04:25 / Affiliate links / Images from Amazon Product Advertising API