8 Best Betta Fish Tanks In 2023 – Which One To Choose?
Tanks are one of the first things you should consider buying when getting a Betta. These structures will not only house your fish but contribute to their health and longevity.
So making the right choice is important!
When you begin looking for a Betta fish tank, you will come across many options.
Fish tanks are known for their wide variety of shapes, sizes, and materials. With any tank you get though, the goal should be space.
You want to give your fish plenty of room to swim in. This not only goes for Bettas but for any fish.
Overall, each fish has different needs and different standards of living. Some tank's shapes and sizes work better than others.
In this post, we will provide you with all the information you need.
You will learn what kind of tank your Betta needs. What needs to go into a Betta tank, and how to care for your tank.
Most importantly we will provide you with a buying guide to help you purchase the best Betta fish tank. Just picking up any tank at the store is not good enough for your fish.
Read on to find all the details you need to find a quality tank!
Last update on 2023-09-07 at 12:43 / Affiliate links / Images from Amazon Product Advertising API
Best Betta Fish Tank Options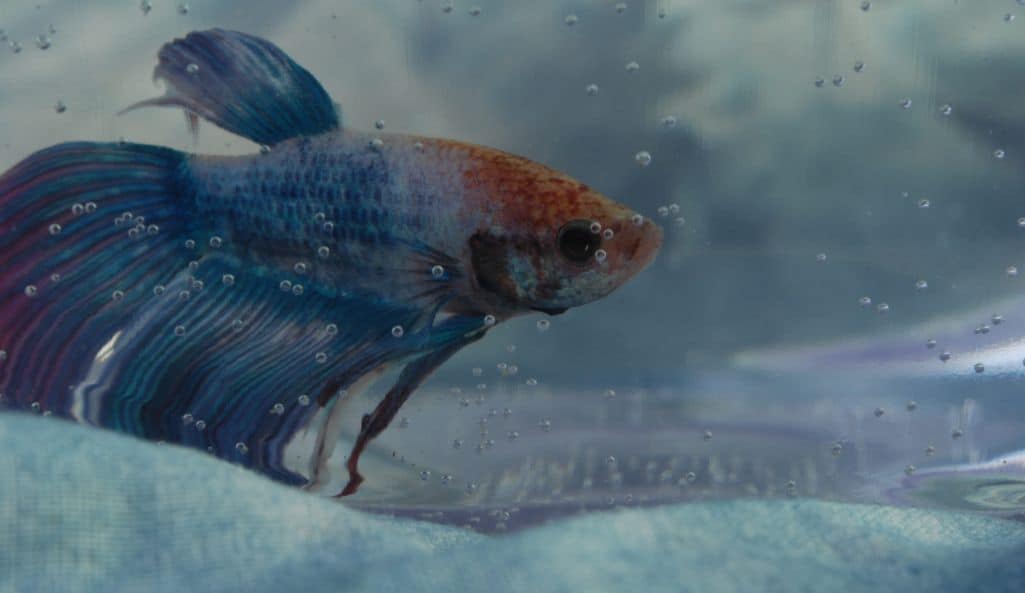 So you know what kind of tank will fit a Betta, and which features you want in your tank. Now you just need to get the tank that is right for you and you fish. With so many tanks out there it can seem like a chore just searching for a single tank. You won't have to worry about that though.
Throughout this section, we will introduce you to top brand tanks perfect for a Betta. There is no need to search through the web or in a store.
We have gathered up a great buying guide. This way you get the best Betta fish tank!
Marina LED Aquarium Kit
Marina 5 Gallon (19 L) LED Aquarium Kit – Ideal for Beginner Aquarists and New...
5 gallon glass aquarium starter kit
Comes with everything needed for your first fish tank
Use our Nutrafin Aqua Plus Water Conditioner to make tap water safe for fish
Marina's Slim S20 clip-on aquarium filter keeps your water clear and uses quick-change filter cartridges
Long-lasting, natural daylight effect LED aquarium lighting module is incorporated into the fish tank's canopy
Last update on 2023-09-08 at 11:01 / Affiliate links / Images from Amazon Product Advertising API
The Marina LED fish tank is the perfect choice for first-time Betta owners. This aquarium comes with a generous starter kit. You won't have to go out and buy anything extra for your pet.
All the supplies required to care for your tank and fish are included. You'll get a water conditioner and a tank supplement to help keep your aquarium water clean. You'll also receive a net. a care guide, and even fish food. Read the care guide so you can learn how to use these products and set up your tank!
Filtration and LED light
Another good thing about the Marina is that it includes both filtration and LED lights. These two systems work well and keep the needs of your Betta in mind. The filter in the Marina won't make a lot of noise. It is powerful yet has a gentle water flow.
Your Betta won't get swept up in rough water conditions. It will be able to swim without bumping into the filter. The filter is compact and placed at the side of the tank. In addition, the lighting in the Marina is ideal for your fish. It has enough power to keep your tank bright. But it isn't so bright that your fish will get stressed out.
Three Different Sizes
The Marina comes in three different sizes. Each tank contains the same starter kit and features.
You can choose from a five-gallon tank, a ten-gallon tank, and a twenty-gallon tank. For a Betta, we recommend getting the five-gallon tank. This will be a great size for your pet. On the whole, this product will give you a lot of value for your money. Thus, we consider it to be one of the best Betta fish tanks!
PROS:
Great price for everything you get
Perfect tank for people new to fish keeping
Has LED lights and a filter
Comes in multiple sizes
Includes a starter kit so you won't have to purchase extra supplies
Filter is quiet and has low water flow
Simple set up and maintenance
CONS:
Only has a daytime light mode
Filter does not have chemical filtration
Check Price and Reviews on Amazon
---
Video: "Marineland Contour5 Aquarium"
---
---
Tetra Crescent Acrylic Aquarium Kit
Tetra Crescent aquarium Kit 5 Gallons, Curved-Front Tank With LEDs,black
Aquarium KIT Curved-front crescent-shaped aquarium kit is perfect for one goldfish or up to three community tropical...
INCLUDES FILTER Includes Tetra Whisper Internal Power Filter to keep your tank clean and provide a healthy environment...
HIDDEN LIGHTS Bright-white energy-efficient LED lights are hidden inside the low-profile black cover
SEAMLESS TANK Offers unobstructed viewing of your underwater environment
5 GALLON TANK Small size that's perfect for a bedroom living room or dorm room (15 inches x 9 inches x 11 inches)
Last update on 2023-09-07 at 10:02 / Affiliate links / Images from Amazon Product Advertising API
The Tetra Cresent is another great option for beginners. It provides you with all the features your Betta needs. This acrylic tank comes with a great filtration system from Tetra.
The Whisper filter eliminates your fish's waste efficiently. Your water will be free of chemical waste and biological waste through a three-stage filtration. The filter also makes minimal amounts of noise and can be adjusted for lower water flow.
Carbon-based filter
With this tank, you will also get carbon-based filters. These prevent your aquarium from smelling bad or becoming discolored. Along with this, the Tetra includes LED lights. They are attached to the inside of your tank lid and include sixteen bulbs. Your fish will look great under these lights.
Set at a good price, this five-gallon tank will give your fish everything it needs to thrive!
PROS:
High performing filter system that is quiet
Filter engages in all three types of filtration
Great carbon filters included
Powerful LED lights
Easy to pop off lid
Great Price for this product
CONS:
Acrylic tanks more susceptible to scratches
Lid isn't made of the sturdiest material
Lights are not adjustable
Check Price and Reviews on Amazon
---
Video: "Tetra 5 Gallon Crescent Tank"
---
---
Marineland Five-Gallon Aquarium Kit
Sale
Marineland Portrait Glass LED Aquarium Kit, 5 Gallons, Hidden Filtration,Black
SLEEK DESIGN: Rounded corners and clear glass canopy allow viewing from multiple angles.
DAYLIGHT/MOONLIGHT LIGHTING: Bright white LEDs create a shimmering sunlight effect; blue LEDs produce a moonlit glow.
EASY ACCESS: Hinged LED lighting and sliding glass canopy.
SIZE: 5-gallon aquarium fits Marineland Rite-Size Z Filter Cartridges.
HIDDEN FILTRATION: Advanced, 3-stage filtration is out of sight, enhancing aquarium viewing.
Last update on 2023-09-08 at 18:01 / Affiliate links / Images from Amazon Product Advertising API
The Marineland portrait tank is a good way to give your pet extra space without getting a smaller tank. This is because of the vertical orientation of the tank. You can put plenty of decorations on the floor of the tank. And your fish still has plenty of room to swim upward. This also gives you more space in your home.
This Marineland has a smaller width than other wider tanks so it can easily be placed on a tabletop.
Adjustable LED lights
The Marineland portrait comes with adjustable LED lights and a high-quality filtration system. The lights come in blue and white and can be set at three different modes. You can set them to white lights to mimic daylight, blue lights to mimic night, or blue and white combined.
Your fish gets a variety of shimmering light with this product. The lights are adjustable the same way the filter is. The filter in the Marineland rids the aquarium of all waste products in three stages. So your water will look great under the LED lights!
This product comes in a five-gallon size. It also comes in packs. If you want to get two or more of the same exact tank. This is great as a gift or for stocking up on tanks for your other fish.
You can get these in a two-pack version, a three-pack version, a four-pack version, and a five-pack version. Overall, the Marineland is a great tank that can be considered one of the best Betta fish tanks!
PROS:
Great vertical design that makes more room for your home and fish
You can easily adjust the flow of the water
LED lights that include multiple colored lights and modes
Good priced tank perfect for any fish owner
CONS:
The filter is not easy to clean
Check Price and Reviews on Amazon
---
Video: "Unboxing Tetra Complete LED 5 Gallon Aquarium Kit"
---
---
Aqueon LED MiniBow Aquarium Starter Kits
Aqueon LED Minibow Aquarium Starter Kit with LED Lighting, 5 Gallon, Black
Compact fish tank with a contemporary design and elevated base
Simple to setup and maintain, looks great in any room
Sleek, low profile LED energy efficient light hood with feeding hole
Includes Aqueon QuietFlow filtration as well as food and water care samples
Ships in its own container for protection against scratches and breakage during shipping
Last update on 2023-09-09 at 14:27 / Affiliate links / Images from Amazon Product Advertising API
The Aqueon LED kit can be bought for fish owners on a budget. This tank comes in four different models at a low cost.
There is a one-gallon tank, a one-point-six gallon tank, a two-point-five gallon tank, and a five-gallon tank. We recommend going with the five-gallon tank, as this is the best option for your Betta. If you need to save money though, you can go with the two-point-five gallon tank.
All of the tanks have similar features. They also come with samples of food and water conditioning samples.
Difference between models
The only real difference between models is the size of the tanks. They each have LED lights and an Aqueon filtration system. Except for the one-point-six gallon tank. That model replaces a filter with a water heater. While the heater is a nice feature, we don't recommend this model. It is too small for Betta fish.
The design of these tanks is simple and compact. You will be able to clean up this tank easily. Really at this great price, you can't go wrong with this product. You get a quiet filter with three stages of filtration, and nice low-level lighting for your Betta.
PROS:
Good price for anyone on a budget
Comes in a few different sizes
Good low level LED lighting for Betta
Comes with some samples to get you started
Good for beginners
Quality filtration in this tank and comes with a filter
Tank comes in Black, Blue, and white
CONS:
Some sizes are too small for Betta
Light not adjustable
No adjustable flow
Check Price and Reviews on Amazon
---
Video: "Aqueon 5 gal bowfront"
---
---
Fluval Edge Aquarium
Fluval EDGE Aquarium Kit, Aquarium with LED Lighting and 3-Stage Filtration...
Unique cube shaped aquarium provides amazing visual experience; 6 sided, 6-gallon sealed glass aquarium
LED Lighting, Filtration & Wiring is easily hidden away in the decorative column
Powerful bright white 7600K high luminosity LED's with 3 deep blue night time light LED's and 3 position switch
Powerful, easy-to-use Edge filter with Cycleguard
Includes Nutrafin Cycle and Nutrafin Aquaplus water treatments
Last update on 2023-09-09 at 14:46 / Affiliate links / Images from Amazon Product Advertising API
The Fluval Edge is the most expensive tank on this list. But it is well worth the money if you want something special for your fish. This modern-looking tank creates a beautiful aesthetic in your home. It has a unique cube-like design that is propped up on a black base. This makes the tank look like it is hanging in the air!
Along with these great visuals, Fluval includes a top tier LED system. You get blue and white lights that help create lighting for the night and the day in your tank. The model comes with twenty-one lights that will make your tank glow brightly.
This is a great option for people who want to put plants in a tank.
3 Stage filter
The filter in the Fluval is also top of the line. It has mechanical filtration, chemical, and biological filters. The filter is tucked away so your tank will look clean and uncluttered every hour of the day! Also helping this is the water treatments provided with the Fluval.
If you can spend the money, this six-gallon tank is one of the best betta fish tanks out there! It has the right specs and size for your fish to live and swim in!
PROS:
Beautiful and unique design for this tank
Great filtration system
The glass won't scratch easily
Powerful lights
Contender for the best tank for betta fish
Easy to use this and great for new fish owners
Tank comes in Black, White, and Gray
CONS:
Expensive tank that might not be in everyone's budget
Filter can be on the noisy side
Check Price and Reviews on Amazon
---
Video: "Fluval Edge 6 Gallon Tank"
---
---
Koller Panaview
5-Gallon Aquarium Kit
Koller Products 5-Gallon Aquarium Kit with LED Lighting and Power Filter, Ideal...
FUN and REWARDING: Are you looking to buy an aquarium for your children? If you are, you are going to want to look at...
DAZZLING COLORS: Energy-efficient LED lighting with 7 dazzling color selections to brightly illuminate your fish, choose...
COMPLETE FILTRATION: Powerful internal power filter cleans and purifies aquarium water at a flow rate of 45 gallons per...
OPTIMUM VIEWING: Crystal-clear clarity so good that most think it's glass. Made of impact-resistant plastic providing...
TRENDY DESIGN: Unique shape allows viewing from multiple angles anywhere in the room.
Last update on 2023-09-07 at 12:43 / Affiliate links / Images from Amazon Product Advertising API
The Koller Panaview comes equipped with multicolored LED lights. Fish owners looking for a colorful tank will be pleased with this product.
The Koller has seven different light colors to choose from. And the LED lights used will save you power because they are energy efficient! With this model, you will get a great light show and superb filtration!
The Koller has a Tetra filter built into it. Three-stage filtration is utilized to keep your tank looking amazing. You get a pack of filters to go along with this tank.
Sturdy and durable
The good thing about this tank is that it is built to last. The material of the Koller is sturdy and durable. It won't break or leak easily and it is simple to take care of. This makes this product great for beginners and children.
Kids will like the fun lighting of the tank and will be able to easily maintain the tank. Anyone can enjoy this relaxing aquarium. It has a reasonable price point and is of high quality!
PROS:
Beautiful colored aquarium with seven lights
Great filtration system that will take care of all waste
Comes with a pack of filters
Great price that won't break the bank
Good size for your Betta at five gallons
CONS:
Made of acrylic so it scratches easier than glass tanks
Check Price and Reviews on Amazon
---
Video: "Koller Products Panaview 5-Gallon Aquarium Kit"
---
---
GloFish Aquarium Kit Fish Tank
GloFish Aquarium Fish Tank Kits, Includes Fish Tank Decorations and LED...
INCLUDES ALL THE ESSENTIALS: This 5 gallon kit includes a seamless, crescent-shaped tank, Tetra Whisper Bio-Bag Filter...
BLUE LED LIGHTS: Hidden blue LED lights are incorporated into the hood, giving your GloFish fluorescent fish an exciting...
INTERNAL FILTRATION: The filter pulls water from the aquarium and pushes it through the filter cartridge, where the...
INCLUDES HOOD: Sleek black hood reduces evaporation and helps keep fish from jumping.
EXPERIENCE THE GLO: GloFish fluorescent fish and products create a complete underwater fluorescent experience.
Last update on 2023-09-07 at 13:24 / Affiliate links / Images from Amazon Product Advertising API
The Glofish comes in several different types of models. The five-gallon models are what we recommend buying for a Betta.
There are two types of these, the Crescent and the Portrait.
The Crescent
The Crescent is the cheaper option. It has a simple LED lighting system that comes in blue shades. The lights create a fluorescent environment in your tank. This model comes with filtration as well. But only has mechanical and biological filtration. This is a straightforward product that will get the job done.
The Portrait
The Portrait, on the other hand, is a little more expensive and comes with a few more features. The filter is more efficient and has an adjustable water flow. The lighting is better equipped than the Crescent. The LED lights have four modes to choose from. You can use a daytime mode, and three-night modes to help dim your tank in the evening. The Portrait tank is more powerful and robust than the Crescent. So go with this if you can spend a little more money.
10-gallon and 20-gallon
If you have other fish swimming with your Betta, you could go with a bigger tank. There is a ten-gallon and a twenty-gallon model of GloFish tanks. They are not portrait-oriented and will take up a lot of space.
Both models share the same features. They have strong blue and white LED lights and a great filtration system that will keep large aquariums clean! The only difference is that the twenty-gallon comes with food and a heater in the tank.
3-gallon
A three-gallon version of this product is available if you want something cheaper. Still, we recommend a five-gallon tank. This half-moon tank has good filtration imbedded. LED light is included in the bottom and top of the tank. You also get an air pump to create more oxygen flow in the tank.
PROS:
Many versions of this product are available
Good filtration in all of these tanks
Great LED lighting in all models
Different features in each tank
Some models are cheap
Different shapes to choose from
CONS:
Some of the tanks are on the pricier side
Check Price and Reviews on Amazon
---
Video: "My Glofish Aquarium!"
---
---
Fluval Spec V
Aquarium Kit
Fluval SPEC Aquarium Kit, Aquarium with LED Lighting and 3-Stage Filtration...
SPEC Series Aquariums: The newly redesigned SPEC series now features an impressive high output 7000K LED, which...
Tank Construction: SPEC adds style and design to your aquarium set. Constructed with etched glass with high-quality...
Filtration Capability: SPEC boasts a powerful 3-stage system with oversized mechanical, chemical and biological media...
Lighting System: The powerful LED lighting system has 37 LED bulbs with a total output of 821 lumens and 7000K color...
Capacity: 5-gallon tank capacity with a water pump output of 55-80 US Gal/h (210-300 L/h).
Last update on 2023-09-08 at 08:26 / Affiliate links / Images from Amazon Product Advertising API
The last item on our list is another Fluval Aquarium. This is a high caliber fish tank that is on the expensive side. Like the Edge, the Fluval Spec is made of glass and designed to look classy and modern.
Fish owners who want a contemporary tank that fits nicely in a home will love this product. The filter is hidden away in a compartment and the lights are affixed to the top of the tank. You won't see any machinery, just your fish.
Beautiful five-gallon tank
LED cover the entire top of the aquarium and create a high powered glow. The filter in the tank cannot be heard and deals with all waste. Really, you can't go wrong with this aquarium.
If you want a Fluval product but can't afford the Edge, this is your next best option. The Spec is a beautiful five-gallon tank that works efficiently for your Betta!
PROS:
Contender for the best tank for betta fish
Great design that looks nice in a home
Powerful filtration that will keep your tank clean
Amazing lighting good for plants and Betta
Plenty of room for your fish to swim in
CONS:
On the expensive side
Water flow will need to be turned down and adjusted for Bettas
Check Price and Reviews on Amazon
---
Video: "Fluval Spec 5 Gallon – Start to Finish"
---
---
More Room for Betta
Every fish owner wants to give their fish a quality home. Sometimes, fish owners make the mistake of purchasing tanks that are either too small or don't fit their fish. This is especially true with Betta fish.
When you get a Betta at a pet store, they tend to come in small plastic containers. As a result, people think that small Bettas will be okay living in cramped corners. This is an incorrect assumption. Betta, like any other living creatures, need ample room to swim and explore.
When you put Betta in small tanks you risk their health. So at the very least, your fish needs five gallons of water to live in.

The Importance of Size and Shape
Betta fish need a large enough area to swim around freely. Glass bowls and small cup-like containers can seem like an okay idea. In reality, they cause harm to your fish. You risk your fish's health when you get a small tank for your pet.
Pet confined in a prison-like environment, not only loose appetite but can lose the will to live. Like any living animal, fish need a liveable home. So seriously consider this when making your purchase.
Small tanks not only prevent active swimming, but they also get contaminated more easily. Toxins, waste, and other fish excrements can build up quickly in a smaller space. This makes it harder to clean up your tank.
In the long run, you'll save yourself and your fish troubles by getting a properly sized tank. Tank size determines the happiness and health of your Betta. So you want to buy the best Betta tank for your fish.
5 Gallon
The first step to achieving this is by purchasing a larger tank. You don't have to fill up an entire room to do this. Betta doesn't need massive aquarium setups. They just need something that is not cramped.
We recommend going with a five-gallon tank at a minimum. This will give your fish the best possible environment. With this kind of room, you could even add in some plants to help filter your tank.
Another important aspect of a tank is shape. You don't want to buy a tank that is too rounded. This is why glass bowls are not ideal for any fish. The circular shape of a bowl is bad for oxygen exchange. Your fish will be breathing in lower quality water that may lower their health.
Rectangular and square like tanks are the best choices for your Betta. The water will be properly oxygenated. And the longer shape of the rectangular tank will allow your fish to swim happily.
For Betta, they tend to enjoy shorter tanks with a long width, this mimics the conditions of their natural environment.
Maintaining Water Conditions for Betta Tank
Water conditions are another important consideration for your tank. As we mentioned, the shape of your tank can improve water quality. Other features of tanks can do this as well. Often, tanks come with filter and lighting systems. When using these features, you want to utilize them in a way that is appropriate for your pet.
Like any other fish, your Betta will need clean water to thrive in. Filters and plants can help keep your tank toxin-free and clear.
You can purchase tanks that come with filtration pre-installed. This ensures that your aquarium is effectively cleansed. This can be a great feature, but make sure the water flow is not too high. Betta like low flowing water to swim in. You also want to make sure to do some cleaning yourself too.
Once a week try to replace the water and get rid of excess debris your filter missed.
In addition to a clean tank, your fish like neutral water and warmer climates. Betta are tropical fish that do the best in high-temperature water. If you choose a tank with lighting or a heater this could be ideal for your fish.
You need temperatures to be around seventy-four to eighty degrees Fahrenheit. Keep your water at a consistent warm temperature. Change up the climate too much and your fish can get stressed out.
Besides this, watch out for water Ph levels. Your fish needs a Ph between six point five and seven point five. This can be managed by a good substrate or water neutralizer.
Lighting In Betta Tanks
Quality tanks often come with a set of lights and a filter. Choose a tank with this option. You will spend less money and time buying lights on your own. A good lighting system is important for your fish. It contributes to the health of your fish substantially. So you don't want to gloss over this part of a tank.
Lights come in all kinds of colors. And depending on the model they will provide different lighting modes. This can be useful for aquatic plants and your Betta. When you put a light in you create a much-needed schedule for your fish. You can simulate day time and night time with lights.
Your fish will know when they need to get up and when they should sleep. This will lead to better overall well-being. Lights also make a tank look amazing. Colorful light, in particular, creates a relaxing atmosphere.
Just make sure the lights you choose can be dimmed down or aren't too powerful. Bettas don'ts light a ton of high-intensity light.
Other Considerations
Tanks not only come in different sizes and shapes but in different materials. Glass tanks are popular among fish owners, but acrylic is another popular option. Either type of tank will work for a Betta. It is all a matter of preference.
Glass tends to be on the heavier side, but comes at a cheaper price. It is also more durable than acrylic.
Acrylic, on the other hand, is more expensive but is used to create more interesting and aesthetically appealing tanks.
Choose the material that you think best suits your needs! You just want to make sure that your tank is sturdy enough and large enough for your Betta.
Also, make sure there is a secure lid. Betta are notorious for hopping out of tanks. They can also attack other fish that look like them, so dividers may be necessary for multiple fish. Overall, you want a tank with helpful features that make maintaining your fish's health easier!
---
---
Last update on 2023-09-07 at 12:43 / Affiliate links / Images from Amazon Product Advertising API
Conclusion
When you go out and buy a tank for your Betta, the choices are numerous. Fish tanks are full of variety and innovative features and designs, It can be a struggle to find the right tank.
With this article, we hope to have alieved some of this stress. We have shown you what tanks your Betta need and how to care for them.
With our buying guide, we also introduced you to the top of the line products. With this information, you are guaranteed to find the best Betta fish tank for your pet!