There seems to be an ever-increasing appeal when it comes to keeping fish. However, there are people who would love to get in the hobby but find themselves unable to due to limited space.
In walks the idea of nano aquariums into someone's head, and what a brilliant idea it is.
Nano aquariums are basically smaller-sized tanks that can hold around 20 gallons of water, give or take.
There really isn't a specific design or capacity that defines what a nano aquarium is, just think of them as small-scale aquariums.
If you're obsessed with aquatic life and you're in the market for a nano aquarium, you're in for a treat today because we're about to reveal the best nano and desktop aquariums on the market, so you should stick around.
Last update on 2023-03-20 at 18:36 / Affiliate links / Images from Amazon Product Advertising API
7 Best Nano and Desktop Aquariums Reviewed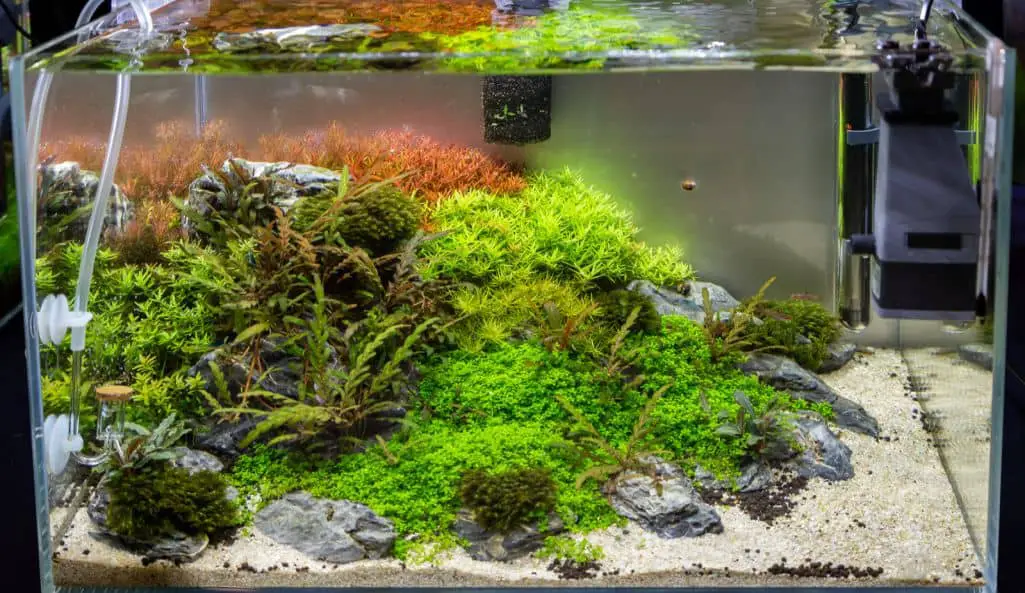 1. MarineLand 5 Gallon Portrait Glass LED Aquarium Kit
Last update on 2023-03-20 at 18:36 / Affiliate links / Images from Amazon Product Advertising API
The first nano aquarium you should check out is the MarineLand Portrait Glass LED Aquarium.
This is a 5-gallon nano aquarium that weighs around 12 pounds. As you can probably tell from this aquarium's capacity, it's pretty small and doesn't take up a whole lot of space. Which makes it great for people with limited space in their house.
This isn't just a plain and simple nano aquarium, it comes with a few bells and whistles.
There are LED lights hanging over this aquarium's curved frame. The lighting system offers two light settings. The white light setting is ideal for daytime as it helps enhance natural light. While the blue light setting enhances the view of the aquarium at night.
Features a 3 Stage Filtration System
The MarineLand ML90609 features a 3-stage filtration system that can be found in the back of the tank. The great thing about this filtration system is that it's fully customizable.
So if you feel like changing something about it, you can do it with ease. You'll find the pump, bio-media, and the cartridges inside the filtration chambers.
This aquarium is designed for ease of use. If you're trying to feed the fish or clean the aquarium, all you need to do is slide the canopy cover to the back. However, you won't often need to clean it as the filtration system does its job perfectly. There's also a filter cartridge that's specifically in there to get rid of dust, dirt, and debris.
The cartridges feature a molded ribbed back and it includes activated carbon. Its design helps increase the contact between the water in the aquarium and the carbon within it. Which allows it to get rid of odors and impurities in the water.
There's also a bio-foam that effectively gets rid of organic particles and helps cultivate beneficial bacteria that eliminate ammonia and nitrites.
Check Price and Reviews on Amazon
---
Video: "MARINELAND PORTRAIT 5 gallon fish tank"
---
---
2. Koller Products Panaview 5 Gallon Aquarium Kit
Last update on 2023-03-20 at 18:36 / Affiliate links / Images from Amazon Product Advertising API
The Panaview aquarium from Koller Products is an ideal tank for children. It boasts 7 LED lights, each of a different color. You've got aqua, amber, red, purple, green, blue, and white.
This array of colors, when coupled with the sleek construction of the aquarium itself, gives out a modern and stylish look that can boost the aesthetics of any room. It's truly dazzling.
This nano aquarium houses a fairly powerful internal filter that's able to purify water at a rate of 45 gallons per hour. Which is incredible for a 5-gallon tank.
Considering that 120 gallons per hour is the recommended rate for 30-gallon tanks. When it comes to eliminating organic pollutants in the likes of heavy metals, odors, and colors, this filter does an outstanding job.
Made of Impact-Resistant Plastic
This aquarium is made of impact-resistant plastic. Now, we're not really fans of plastic tanks as they tend to lack the clarity that glass offers.
However, this is one of the few aquariums that has a crystal-clear plastic frame. So basically, you get the durability of plastic without compromising on clarity. The Panaview's rugged frame makes it an ideal saltwater nano tank.
We love that this aquarium has a small footstep. Which allows you to incorporate it anywhere, be it your office, bedroom, or living room.
Additionally, this is one of the easiest nano aquariums to set up and maintain. Further, the kit includes fish food so you can start feeding the fish right out of the gate. The food included is ideal for tropical fish.
Check Price and Reviews on Amazon
---
Video: "Koller Products Panaview 5-Gallon Aquarium Kit"
---
---
3. Fluval Edge Aquarium with LED Light (6/12 Gallon)
Last update on 2023-03-20 at 18:36 / Affiliate links / Images from Amazon Product Advertising API
The Fluval Edge Aquarium is a piece of architectural beauty that will catch your attention with its exceptional design.
This nano aquarium is available in a 6- and 12-gallon models. Regardless of which one you decide to buy. You're guaranteed a compact construction that can easily be fitted anywhere in your home. You just need to figure out how many fish you want to put in there.
This aquarium features a 3-step filtration system that's hidden out of sight in the pedestal. So that it doesn't take away anything from the view of the aquarium.
This system incorporates chemical, biological, and mechanical means of filtration. Ensuring that the water in the aquarium is always clean. And that your fish's health isn't put in jeopardy by contaminated water.
Up to 42 LED Bulbs
The number of LED bulbs in the Fluval Edge varies from one model to another. The 6-gallon unit features 21 LED bulbs and the 12-gallon model features 42 LEDs.
The Fluval Edge offers 3 light settings in both of its models: Bright Daytime, Blue Nighttime, and Off. With such an impressive number of bulbs in both tanks, you can easily grow some plants in there.
We love the whisper-quiet performance of the water-circulating pump inside the aquarium. You'll barely be able to hear it unless you're standing next to the tank. It pumps the water through the filter in order to go through its 3-stage process. Then the water comes out completely clean. This isn't only crucial for the livelihood of your fish, but for the health of your plants if you have any.
As far as installation and maintenance, the Fluval Edge can be easily assembled and set up in a matter of minutes. It features a removable cover that allows for easy cleaning and prevents the aquarium from overheating.
The cover also allows you to access the filter with ease. Overall, the Fluval Edge is a visually stunning nano aquarium that features everything you may need.
Check Price and Reviews on Amazon
---
Video: "Fluval Edge 6 Gallon Tank"
---
---
4. Fluval Spec V 5-Gallon Aquarium Kit
Last update on 2023-03-20 at 18:36 / Affiliate links / Images from Amazon Product Advertising API
A second entry on our list from Fluval with one of the most popular 5-gallon tanks on the market today. The Spec V. This aquarium boasts the same aesthetic beauty that Fluval is known for.
The aluminum trim and etched glass give it a very premium look. Especially when you turn on the 37 LED bulbs that it features. It's not all about aesthetics with the Spec V, though.
When it comes to keeping the water clean and getting rid of contaminants, the Spec V is one of the best.
The 3-stage filtration system is simply superior to a lot of other systems found in other tanks. It also features a foam block that helps catch dirt and debris. BioMax Bio rings that help cultivate good bacteria. And activated carbon for eliminating chemicals and impurities.
One of the Quitest Filtration Systems
If you've dabbled with filtration systems before, you know how loud they can get at times.
Well, you'll be happy to know that the filter equipped within the Spec V is one of the quietest. So you can actually put it in your bedroom and you'll still be able to sleep very well. The position of the filter allows for easy cleaning and maintaining. You can find it built-in on the side of the tank.
Both the cords and the filter are somewhat hidden so that they don't mess with the tank's look.
Betta owners should rejoice.
Because the filter allows you to control the current inside of the aquarium to your liking. The aquarium also has a special compartment where the heater is kept hidden just like the filtration system. This thing would make a great desktop aquarium.
Check Price and Reviews on Amazon
---
Video: "Fluval Spec 5 Gallon – Start to Finish"
---
---
5. Aqueon LED MiniBow Aquarium Starter Kits with LED Lighting
Last update on 2023-03-20 at 19:41 / Affiliate links / Images from Amazon Product Advertising API
The Aqueon Minibow is a compact aquarium that has a modern design and an elevated base. It's mainly designed for Betta fish, but that doesn't mean you can't put other species in it.
The tank is available in a variety of sizes that range from 1 gallon to 5 gallons. So you're certainly going to find the ideal size that integrated perfectly with the space confines of the room.
The aquarium is equipped with low-profile LED lights that you can find beneath the hood. They're pretty energy-efficient and will provide a good view of the aquarium.
However, the light intensity isn't all that impressive. So we doubt that growing plants in the tank will be a good idea. There's a feeding hole in the hood that you can use to feed fish without having to remove the hood itself.
One of the Best Desktop Aquariums
The MiniBow houses the Quiet Flow filtration system. Which doesn't only clean up your aquarium from contaminants. But it also helps distribute the food around.
This aquarium has a pretty small footprint. So you can put it in tighter places such as dorm rooms or use it as a desktop aquarium. It's also built for beginners, so setting it up won't be much of a hassle for you.
The thing about a lot of aquariums and fish tanks is that they often get damaged during shipping and they end up delivered in a not-so-usable form. To avoid such inconvenience which not only bothers customers but also forces the manufacturer to replace the damaged product,
Aqueon ships its products in protective containers of their own to prevent scratches and breakage.
Check Price and Reviews on Amazon
---
Video: "Aqueon 5 gal bowfront"
---
---
6. Tetra Crescent Acrylic Aquarium Kit (5 Gallon)
Last update on 2023-03-20 at 19:41 / Affiliate links / Images from Amazon Product Advertising API
Tetra is a household name in the aquarium industry. The brand is known for its high-quality and reliable tanks. And the Crescent Acrylic line is no different.
This aquarium is an ideal choice for people who aren't fans of glass aquariums. It has a water capacity of 5 gallons. And it features a seamless curved front that has a super clear cover and a black base frame.
Let's start from the top.
The Tetra Crescent Acrylic Aquarium features built-in, energy-efficient light bulbs that are designed to illuminate every inch of the aquarium when turned on. They're also hidden from view so the only thing you can see is the light they're emitting. In fact, all the cords and wires are hidden out of sight and you're just left with the beauty of the tank itself.
The aquarium also features a built-in filtration system. That's highly effective at keeping the tank and the water within it free of contaminants that can affect the health of the fish negatively.
The filer incorporates activated carbon in order to get rid of odors and discolorations in the water too. Not only is the filtration system effective, but it's also whisper-quiet.
Curved Screen
The thing we really love about this tank is its beautiful curved screen. Not only does it look great. But it also helps optimize the viewing area effectively in order for you to observe the fish. Especially when you turn the LED lights on.
The number of positive reviews and satisfied customers is a clear indication of why this is a highly popular nano aquarium.
Check Price and Reviews on Amazon
---
Video: "Tetra 5 Gallon Crescent Tank"
---
---
7. Aqueon Fish Aquarium Starter Kit LED NeoGlow (5/5.5/7.5/10 Gallon)
Last update on 2023-03-20 at 19:56 / Affiliate links / Images from Amazon Product Advertising API
If you're looking for a nano aquarium that will be the focal point of the room, this aquarium from Aqueon is exactly what you're looking for.
This kit includes a 5.5-gallon aquarium that has pink silicone in each corner that helps make it watertight.
The aquarium has a low-profile cover that will keep jumpy fish from getting out of the tank. It can easily fit under shelves and cabinets.
Just like all the aquarium kits on our list, the Aqueon LED NeoGlow Aquarium comes with a filter and cartridge.
The QuietFlow E Filter 10 features a small bow design that allows for an optimal performance. That will help keep your aquarium in peak condition without making much noise. In the cartridge, you'll find activated carbon that effectively eliminates odors and discolorations.
Most Impressive in Terms of Lightning and Visual appeal
The lid is equipped with fluorescent LED lights of the color blue. When on, those lights create a vivid, ultra-clear view of the aquarium and its inhabitants. Not only that, but they also keep the pink seams highlighted for enhanced aesthetics.
We have to say that, in our opinion, this is the most impressive aquarium kit in terms of lighting and visual appeal.
We really love the black background that the Aqueon aquarium features.
When combined with the fluorescent light, it helps highlight and bring out the tiny details in your fish and plant life. It also helps camouflage the cords and connections of the filter and the LED bulbs. Allowing for a clear and crisp view of your aquarium without seeing the technical side of it.
Check Price and Reviews on Amazon
---
Video: "Aqueon | NeoGlow – Fluorescent Aquarium Kits"
---
---
Advantages of Owning a Nano Aquarium
Disadvantages of Owning a Nano Aquarium
Glass vs Acrylic Nano Aquariums
Most nano aquariums are either made of glass or acrylic. To ensure the best bang for your buck, you must consider the advantages and disadvantages of each type.
---
---
Last update on 2023-03-20 at 18:36 / Affiliate links / Images from Amazon Product Advertising API
Conclusion 
All of the above-mentioned nano aquariums are highly effective. And picking a winner isn't really easy because it's all subjective. Some shine more than others when it comes to aesthetics. And others stand out the most in terms of performance. However, we think that the MarineLand 5 Gallon Portrait Glass LED Aquarium Kit  and Fluval Spec V 5-Gallon Aquarium Kit  are the showstoppers of this competition. They've achieved the best balance between aesthetics and functionality.
Hopefully, the information we've provided today has helped you pick the best nano and desktop aquarium that suits your needs and budget. Let us know which one of the above-mentioned aquariums you think is the best.