Shrimp tanks are fun and exciting to keep in a home. However, you want to make sure you have the right setup for your shrimp.
Shrimp keeping is a great hobby, but it requires work and proper knowledge to pull off. Some shrimp are easier to take care of than others.
So you'll want to consider this as you purchase a pet and supplies. More importantly, though, you want to make sure you have the best tank setup for your shrimp.
Nano tanks are a popular option for shrimp housing. In this guide, we will discuss some of the best nano shrimp tanks.
We'll go over a number of shrimp tank products that are under six gallons. This way you won't have to search through countless nano tanks to find the right product.
In addition, other information regarding nano shrimp tanks will be discussed. You should know what to put in your tank and how to set it up for your shrimp.
This knowledge will ensure the most success and value out of your nano shrimp tank purchase!
Last update on 2022-03-13 at 10:10 / Affiliate links / Images from Amazon Product Advertising API
Five of The Best Nano Shrimp Tank Products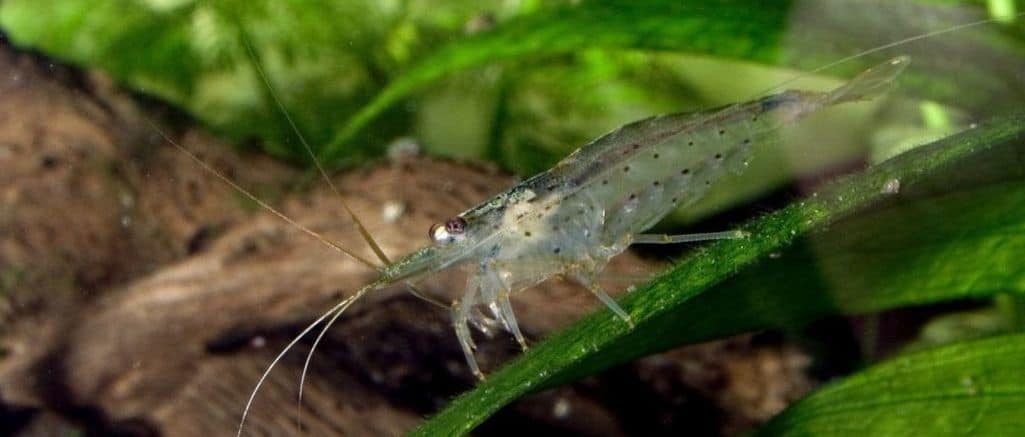 There are many nano tanks to choose from, but we have selected five tank products to put your shrimp in.
These shrimp tanks are high-quality and provide some of the best features.
They will also save you space in your home while giving your shrimp plenty of room to stretch out and swim!
1. Koller Products Panaview 5-Gallon Aquarium Kit
Last update on 2022-03-13 at 10:10 / Affiliate links / Images from Amazon Product Advertising API
Koller Panaview is a cost-effective option for your shrimp. For under fifty dollars, you will get everything you need for your pet shrimp.
This includes colorful LED lights, a tank filter, and an overall durable setup. Filters and lights are especially important for shrimp and their continued health. And the Panaview provides powerful devices to keep your water and pet in good condition.
The filter for this shrimp tank has a good flow rate that will keep up with any waste accumulation. It can handle forty-five gallons of water hourly and uses tetra cartridges to clean your water.
The power filter is not silent, but it should not disturb your shrimp much. In addition, it cleans all kinds of toxins and particles and neutralizes them from the water.
Panaview not only keeps your shrimp tank clean, but this nano shrimp tank also creates pleasing visuals.
The LED lights for the Panaview are powerful illuminators that keep your shrimp looking great. At any hour of the day, you can admire your pet shrimp in multiple colors. There are around seven hue options and they all look amazing!
Overall, this nano shrimp tank provides plenty of space for up to three shrimp.
This product is made of plastic but is sturdy and provides a clear view of your shrimp. And its five-gallon structure is well designed and well-priced.
It's one of the best nano shrimp tank setups you can find!
Check Price and Reviews on Amazon
---
Video: "Koller Products Panaview 5-Gallon Aquarium Kit"
---
---
2. GloFish Aquarium Kit
Last update on 2022-03-13 at 22:56 / Affiliate links / Images from Amazon Product Advertising API
GloFish provides another great nano tank product for your shrimp. This GloFish model has two varieties. One is crescent-shaped, the other is a portrait-type tank. If you are looking for a nano shrimp tank with a lower price, the five-gallon crescent is ideal.
It's under fifty dollars and has several features included. It comes with blue LED lights that create a nice effect. It is perfect if you want a more fluorescent looking shrimp tank.
It also has a filter with it that works well and quietly. Your shrimp tank water will stay clean and healthy. And you will get a great view of your pet with the clear acrylic that holds this shrimp tank together.
If you want something that is a little more pricy though, the portrait GloFish tank is another option for your shrimp.
The portrait Glofish is the same size as the crescent. It is a five-gallon tank with enough room for shrimp. But this version has more lighting options and a better filter. You can actually adjust the flow of this nano shrimp tank. The shape is different as well and offers more vertical space for shrimp.
On the whole, this is a great tank for your pets. A true contender for the best nano shrimp tank!
Check Price and Reviews on Amazon
---
Video: "My Glofish Aquarium!"
---
---
3. MarineLand 5 Gallon Portrait Glass LED Aquarium Kit
Last update on 2022-03-13 at 03:29 / Affiliate links / Images from Amazon Product Advertising API
Marineland Portrait is a sleek five-gallon aquarium that can enhance the style of your shrimp setup. Marineland is popular for its minimalistic design and top-notch features. The price is just right at around fifty dollars, and you really get great value for this shrimp tank.
A filter and light are included, but these devices don't make your tank look bulky. The manufacture has placed these items strategically so only your shrimp are visible. The LEDs hang above the water. And the filter is hidden in a compartment.
If you decide to go with the Marineland, know that you are paying for quality. This shrimp tank is glass made and doesn't scratch like other products.
The lighting on this tank is also of note. You get daylight and nighttime settings for your shrimp. This will help you reinforce feeding and waking cycles for your pet. Blue and white tinged light are included and they penetrate deep within the water.
In addition, filtering from this tank cannot be beaten. All types of filtration are made available to shrimp. So you won't have to worry about having a dirty shrimp tank!
All in all, this is one of the best nano shrimp tank setups possible for your pet. Again,
Marineland is a high-quality brand for shrimp and other aquatic pets. So we definitely recommend giving this product a chance! With its striking looks, your shrimp will really pop in this nano tank!
Check Price and Reviews on Amazon
---
Video: "Marineland Contour5 Aquarium"
---
---
4. Tetra Crescent Acrylic Aquarium Kit
Last update on 2022-03-19 at 03:03 / Affiliate links / Images from Amazon Product Advertising API
The next product on our nano shrimp tank list comes from Tetra. This is another crescent style shrimp tank made out of acrylic.
There is a lot to love with this five-gallon shrimp tank. And in many ways, it is similar to the Glofish crescent model. You get energy saving LEDs for your shrimp and filtration is included as well. In fact, the filter is actually quieter than most of the devices on the list. It has full filtration functionality and deals with all types of waste.
And while lights in the Tetra aren't super versatile, they will save you money. They only have white light and the intensity isn't high, but it works well if you just plan on having shrimp in your tank.
On the whole, this is not the best nano shrimp tank out there. But if you are looking to save some money this isn't a bad option for your pet shrimp. It's sturdy, looks good with shrimp in it, and comes from a great company!
It's also big enough to fit other devices and decorations in. Tank heaters, plants, and other items will fit in well into this tank.
Check Price and Reviews on Amazon
---
Video: "Tetra 5 Gallon Crescent Tank"
---
---
5. Aquarium Tank, Glass, 5-1/2 Gal
Last update on 2022-03-14 at 11:50 / Affiliate links / Images from Amazon Product Advertising API
The last nano shrimp tank is a bare-boned product. You won't get any extra features or special designs with this aquarium tank.
It is a simple glass aquarium that your shrimp can swim in. It's spacious and fits up to five gallons. So you won't have trouble fitting multiple shrimp and other plants and items in.
Really, you can do a lot with this product. If you want to customize your own nano shrimp tank, or just want something cheaper this could be a good choice for your shrimp.
Some shrimp owners don't like the filters and lights that come with tank kits. With this glass tank, you can put in your own devices. And you can add what you want to create your own unique setup.
This is not the best nano shrimp tank, but it is a serviceable product that is sturdy and well made!
Check Price and Reviews on Amazon
---
---
Choosing A Nano Shrimp Tank
When you choose a nano shrimp tank for your pet, you want to make sure you are getting the best possible product. To do this, you'll need to consider the features of the shrimp tank you get.
So first off, get a tank that is large enough for your shrimp. A two-gallon tank or lower can be cheaper, but this won't give your pets near enough room to live.
Most of the nano tanks on this are actually five gallons. This is a good measurement to stick with if you are getting multiple shrimp.
Next, make sure you are getting a shrimp tank that is from a good or at least known brand. You could pick up any shrimp tank, but this could lead to quality issues.
At least if you go with a well-known brand you can read reviews and get a sense of the product you are buying. Not all shrimp tanks from good brands are high-quality, but most of them are.
After you choose the right size tank for your shrimp from a good company, think about what features you want. Design and style are important.
You want a shrimp tank that looks good in your home, but you need good features. We'll be talking about this next!
Filters For Your Shrimp Tank
A lot of shrimp tanks actually come with filters installed. This is the case for most of the products on our nano shrimp guide. Still, consider what type of filters are present in your tank. Some filters are better than others for your shrimp.
At a minimum, you want something that can filter through biological waste. Floating debris in tanks can be dangerous for shrimps. Better nano shrimp tanks will have all three filtration methods, and be able to get at chemical and other toxins.
However, whatever device you choose, make sure that your filter won't harm your shrimp. Some filters can suck in your pets.
This is why we recommend a filter with a sponge or a filter with an adjustable setting.
Shrimp are sturdy pets, but they are smaller and can be prone to harm with powerful filters.

Heating Devices
In addition to a filtering device for shrimp, you might want to get a heater. This is not strictly necessary for shrimp, but it can help if you live somewhere cold. Just get something that keeps that water at a steady temperature and make sure to have a thermometer in with it!
Usually, shrimp-like to live in climates around seventy to ninety degrees. This is a wide range for a tank pet, but if you live in a region with winter months, you shrimp could easily freeze. If this is the case, make sure to get a heater for your pet.

Setting Up Lights
Shrimp will need lights to grow. Again, most of the tanks in this guide have LEDs. But if you get a product without one just make sure to limit light exposure for your pet.
Light is necessary for their health, but lights at every hour of the day can be damaging. So keep this in mind. Powering saving lights are preferable. And something with a timer or multiple light settings can be useful for shrimp tanks as well.
Other Decorations and Additions For Shrimp Tanks
In addition to these devices, other decorations can help liven up your tank setup! Shrimps are not picky about the substrate they live in. But make sure to do some research on your specific shrimp species.
In addition, most live plants should be fine living in a tank with shrimp. In fact, you shrimp might eat some of the fallen leaves in your tank. They like to clean up their tank area and eat what is floating around in the water!
Other decorations such as rocks and driftwood should be considered as well. This can provide coverage for shrimp or a place to relax. It also makes their tank more natural-looking and exciting to live in.
On the whole though, what you add into your tank is up to you. Just don't overcrowd your space. Five gallons can seem like a lot but if you stuff it full of items, you shrimp won't have room to live.
Last update on 2022-03-13 at 10:10 / Affiliate links / Images from Amazon Product Advertising API
Conclusion
Shrimp are great pets for tanks! They don't present too many challenges for new tank owners. But you should pay attention to their needs and do the proper research to give them the best home. We discussed the ins and outs of shrimp nano tanks, to lessen this burden for you.
Five tanks were reviewed. These are some of the best nano shrimp tanks you can get for your shrimp. And they are at an ideal size for your pet! Most shrimp need at least five gallons of water to live in. One to three of your pets can live in these five-gallon spaces.
Other information was presented as well. Shrimp need more than a tank to survive. In particular, filters and heaters for your pet shrimp should be chosen carefully.
Your shrimp can't live in just any climate. Its water needs to be within a certain range. And some filters are not suited for shrimp.
Knowing this now, you can keep your shrimp from harm. They can also stay healthy throughout their lives! You want the best nano shrimp tank for your pet. So use this information wisely!