Outdoor ponds are prone to contamination and debris buildup because of their location.
Stagnant water in a pond can be even more prone to these poor water conditions. As a result, when you set up your outdoor pond, you want to install several devices.
Filters and pumps are important to have, but you also want to have an aerator device.
In this post, I'll talk about the best pond aerator for consumers. Pond Aerator should be considered carefully. And only the best devices should be bought.
I will discuss information about pond aerators, and I will also give you some great aerator options in my review section!
Last update on 2023-09-07 at 07:55 / Affiliate links / Images from Amazon Product Advertising API
Best Pond Aerator – Top 9 Review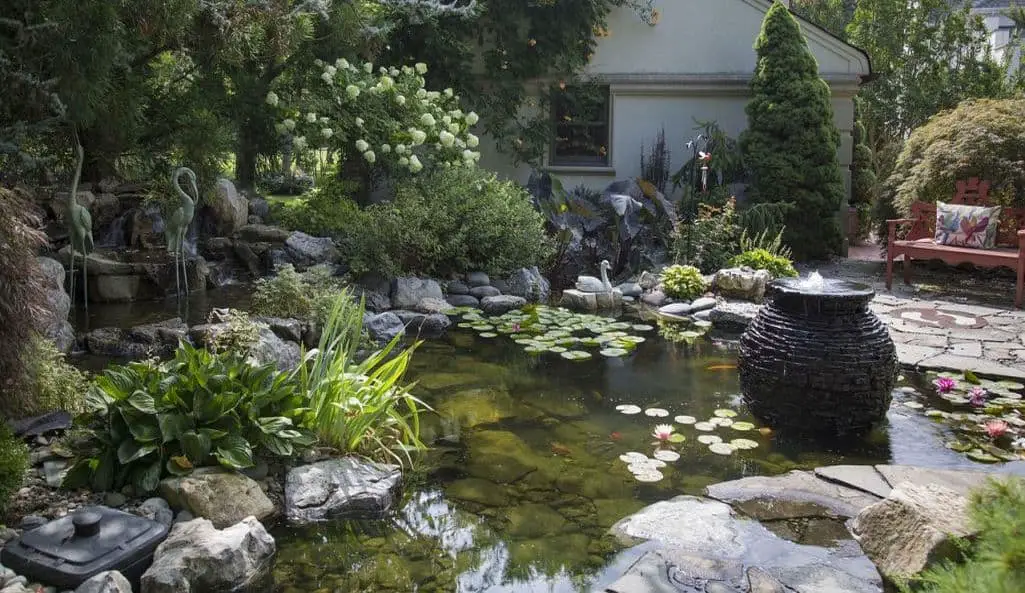 AquaScape Pro Air 20/60 Pond Aerator (Kit)
Last update on 2023-09-07 at 07:55 / Affiliate links / Images from Amazon Product Advertising API
AquaScape Aeration offers high-quality aerators that are weatherproof and extremely durable!
This is a powerful aeration device that won't clog easily and takes ponds to the next level.
These top-notch aeration products come in two model versions. And should be picked according to pond size.
The Pro 20  is made for 5,000-gallon ponds.
The Pro 60 is made for much larger fixtures. Ponds up to 15,000 gallons should use this device.
The Pro 60  packs a lot more power so it can operate in bigger ponds.
Almost three times the power of the Pro 20. Most people won't require that much aeration power for their pond though.
In addition, you can get the Pro 20 and Pro 60 Aerator in two separate options.
One is a kit, the other is just aerator by itself. This leaves you with four options in total to choose from.
In short, the Pro 20 and 60 compressors are the same models you will find in the kit. They just lack extras like tubing and diffusers.
Personally, I think going with a Pro kit is your best option. Choose an Aquascape model that is the right size for your pond. And get it in the kit option!
This way you won't have to spend extra money or time finding tubing and other supplies.
Overall, the AquaScape is one of the best pond aerator products you can purchase. The price of the AquaScape Aerator is not for everyone pond.
But this is a great choice is you want a quality aerator.
Check Price and Reviews on Amazon
---
Video: "Aquascape Pro Air 60 Pond Aeration Kit"
---
---
HI-BLOW (HP 80) LINEAR AIR PUMP POND AERATION SEPTIC AERATOR
Last update on 2023-09-07 at 07:55 / Affiliate links / Images from Amazon Product Advertising API
Hi-Blow Aerator is another high-quality option if you want proper water flow and oxygenation in your pond.
If you are looking to keep your aerator for a long time, this is the product to get.
Hi-Blow is known to last longer and work in large bodies of water. With seventy-five watts of power, you won't find a device that aerates quite like the Hi-Blow.
However, if you have a small pond, this is probably not a great option.
Hi-Blow  has an HP of 80, this is over four times the amount of airflow a small pond need.
If you have a big pond, you're in luck, but this device will cost you!
Still, any money spent on this aerator is worth it. You don't want to spend hours toiling away as you clean up your backyard pond. The Hi-Blow will do most of the work for you.
Unfortunately, tubes and are not included with the Hi-Blow. This isn't a kit so you will have to get some items separately.
Still, this shouldn't cost too much extra.
Check Price and Reviews on Amazon
---
Video: "Hiblow HP80 Septic air pump"
---
---
Airmax CrystalClear PondAir 2 Aeration Kit
Last update on 2023-09-07 at 19:12 / Affiliate links / Images from Amazon Product Advertising API
Airmax Aeration Kit is the next option on my list. In comparison to the other aerator products, this is a more affordable option.
In addition, the kit has the necessary supplies you need for your aeration system. This is included along with some extras.
You'll want to use the Airmax in a small to medium pond though.
The Airmax  functions in ponds 1,000 gallons and below.
And it won't go very deep into ponds, only around two feet.
The price will make this attractive to ponds owners, but so will its features. Airmax is known for its quiet operation.
It won't disturb you with loud noises in your backyard. In addition, this model takes up very little power and can be controlled easily.
You won't be racking up big electricity bills with the Airmax. And you can modify airflow to the settings you prefer with a knob.
This is not the best pond aerator, but it has undeniable value.
You will get tons of bubbles and water movement to prevent stagnation and decay in your small pond.
Overall, this is an ideal pond aerator product!
Check Price and Reviews on Amazon
---
Video: "The Pond Guy® Product Video – CrystalClear® PondAir™ Aeration Kit"
---
---
Laguna Aeration Kit for Ponds
Last update on 2023-09-07 at 08:15 / Affiliate links / Images from Amazon Product Advertising API
If you are looking for an even cheaper aeration kit, the Laguna Aerator might be right for you.
The Laguna Kit is durable and unlike the Airmax, it can work in almost any size pond.
Really, anyone could benefit from a purchase of the Laguna kit.
But if you live in colder climates, I highly suggest buying this aerator.
Laguna Kit is made to withstand freezing temperatures. It even stops ponds from icing up in the winter.
If you have had problems with your pond during colder times of the year this is a great option.
Winter can be a tough time for your pond fish and this product will help. And, overall, the Laguna is great if you need to get oxygen to your fish and keep your pond water moving.
You get everything you need out of an aeration product for a good price. The Laguna can be loud but that's the only real trade-off with this device.
You get a quality aerator for a reasonable price!
Check Price and Reviews on Amazon
---
Video: "Laguna Optima Aeration Kit Review"
---
---
Air Pro Deluxe Pond Aerator Kit
Last update on 2023-09-07 at 07:55 / Affiliate links / Images from Amazon Product Advertising API
Air Pro Deluxe is made to aerate massive ponds.
In fact, this device can be used in bodies of water up to an acre big!
So, as you can imagine, the capabilities of this pond aerator are impressive.
Air Pro Deluxe  is built to stay outdoors, in almost any condition.
It goes deep into ponds, up to fifty feet into the water, and can be used during the wintertime.
Your pond won't freeze over like other ponds if you have this product!
In addition, the kit has all the parts you need for your aeration system. You won't have to buy a pump or tubing; it all comes included.
Really, Air Pro Deluxe is the best pond aerator you can get for large ponds. It's a safe system that has safeguards against electrocution.
It's also made out of some of the most high-quality materials available for aerators.
The Pro Deluxe might be too expensive for some buyers. But if you have a large amount of water to keep clean, this is the aerator to buy!
This is a heavy-duty aerator that is unlike other products, so the price is expected.
Check Price and Reviews on Amazon
---
Video: "Airpro Pond Aerator PA34D Equipment Overview & Install Instructions"
---
---
Airmax CrystalClear KoiAir Mini Water Garden Aeration Kit
Last update on 2023-09-07 at 07:55 / Affiliate links / Images from Amazon Product Advertising API
The next pond aerator product is another device by Airmax.
The Airmax Mini  is made for Koi ponds but can be used for any type of pond between 1000 and 4000 gallons.
It comes with one airflow plate and has a decent amount of air output.
This is a submersible device that goes in ponds around four feet deep. But you will need something to keep this in the water.
It's a little on the light side. Still, this shouldn't complicate the setup of the Airmax too much.
Airmax provides water with maximum oxygen, as it has a dual-diaphragm. This feature lets oxygen run through the aeration system at a higher rate!
In addition, the Mini doesn't take up too much power. It runs at seventeen watts and stay relatively quiet.
On the whole, the Airmax is an aeration product for medium ponds, as well as, large ponds.
The Kit is packed with the tools pond owners need to up oxygen and water motion.
Airmax also looks good and is effective at creating bubbles for pet fish, especially koi! It's quiet, unassuming, and creates a fresh aquatic environment for fish!
And, best of all, the Airmax can be used all day without a lot of energy. This is a contender for the best pond aerator product for sure!
Check Price and Reviews on Amazon
---
Video: "CrystalClear® Product Video – CrystalClear® KoiAir™ Aeration Kits"
---
---
Solariver Solar Pond Aerator
Last update on 2023-09-07 at 07:55 / Affiliate links / Images from Amazon Product Advertising API
If you are looking for a solar power aerator, the Solariver Pond Aerator is a good investment.
You'll spend under two-hundred dollars on this aeration device and save even more on your energy bills!
The Solariver Pond Aerator  is made to be friendly for the environment.
Its solar panels catch the rays of the sun and convert that energy into the device.
With only a few watts of power, it keeps a small pond aerated!
Hoses and an air stone are also provided with the solar aerator. With all these parts assembled you can keep your pond full of oxygen and looking great!
Still, not everyone is meant to get this type of aeration product. Some regions of the world have less sunlight at certain times in the year.
Other people just don't have much sunlight to power the Solariver, to begin with.
This solar aerator requires full sunlight to work properly.
If there are a lot of clouds or not enough sunlight your pond won't be cleaned or have the motion it needs.
So carefully consider if the Solariver is right for you before you are going to purchase it.
If you think you have enough sunlight in your backyard to use this aerator, then you are in luck.
Solariver aerators are rated highly and will last for a long time in your backyard pond. These are one of the best pond aerators if you want a solar-powered option!
Check Price and Reviews on Amazon
---
---
Blue Diamond ET 80 Septic or Pond Linear Diaphragm Air Pump
Last update on 2023-09-07 at 07:55 / Affiliate links / Images from Amazon Product Advertising API
Blue Diamond offers a robust aeration device for buyers. The price of the Blue Diamond might be steep for some. But this is not the most expensive pond aerator on my list.
Many consumers choose to go with this aerator model because of the durability.
The aluminum casing protects it from damage and environmental conditions.
Sun and rain won't pose any issues for the Diamond and it can work in the winter!
Still, you only get the air pump with this. This is not a kit, but the device is worth your money. You won't find quality like this easily.
Blue Diamond  is even used, and officially approved, to treat sewers in residential areas.
So you know this aerator has real power to clean ponds!
Not only does Blue Diamond Aerators clean ponds efficiently, these aerators are energy conserving. It gets a lot of air into your pond with a low wattage amount.
Large backyard ponds won't be suited to the Blue Diamond. But this is still a quality pond aerator you should consider!
Check Price and Reviews on Amazon
---
---
Danner 04560 Pond Aeration Pump with Diffuser
Last update on 2023-09-06 at 09:29 / Affiliate links / Images from Amazon Product Advertising API
The last pond aeration device in my guide is the Danner Aerator.
Danner is a great brand to buy pond products from, as they are known to create quality merchandise. This particular model of aerators really shows the standard the company is known for.
You can choose between four different Danner Aerators.
Really, there isn't much difference between them, it's just a matter of aerator size.
The AP 20  is made for ponds up to 2500 gallons.
While the AP 40 , the AP 60  and the AP100  can be used for ponds that have even more gallon capacity.
The bigger Danner's, of course, have more power available. Considering this, you probably don't want to get the Danner if you have a small pond.
But if you do have a big pond this is a great Aerator!
It's not power consuming at all, and the Danner stays relatively quiet!
However, this is not a submersible aerator. If you want your device out of sight, go with a different aerator company.
Danner products are made with efficiency and practicality in mind, so it could look a little bulky around your pond water.
Still, this is a near-perfect aerator, one of the best pond aerator products!
The price is within a lot of budgets, especially if you are going for the AP 20 model. But you won't get any kind of aerator tubing since this isn't a kit.
Check Price and Reviews on Amazon
---
---
Do You Need An Aerator For Your Pond?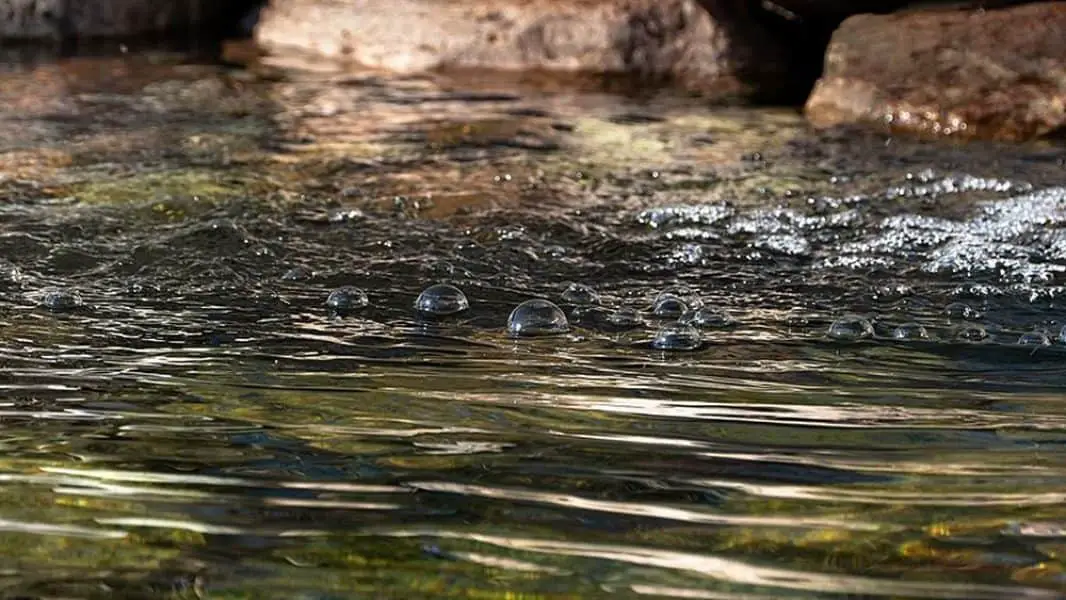 Are aerators necessary for a successful and healthy pond?
As a pond owner, you might be wondering about this product. Especially if you have other pond devices present in your setup.
You might think that your filter is enough to support your pond.
In truth though, every pond should have an aerator. Without this aeration device, your pond fish won't live as long as they could.
Stagnant and dirty water is a health hazard for pets.
I know you want your pond fish to be well looked after. And aeration is a big part of pond fish health.
This is one of the main reasons you need to have a pond aerator installed.
Consider this, ponds are a part of an enclosed space, and cannot create water movement on their own. An aerator helps create motion in the water and will keep your pond sterile for your fish.
Filters and pumps could create some of the needed water movement you need.
But without an actual aerator, you could have bugs, dirt, and other decaying substances decrease your water quality. Muck could even form on your pond.
Pond health is of course pressing, but an Aerator is important for a much simpler reason as well. These products will save you a lot of trouble and time.
Without modern pond technology, you will undoubtedly have a hard time maintaining this area of your backyard.
If you clean a pond on your own, expect to see a decrease in water quality. Filters help of course, and many people do have these in their pond.
But you will have to take extra time to change water and remove muck and other debris yourself. Your filter can only do so much on its own.
So you need a pond aerator to minimize maintenance.
What A Pond Aerator Does
---
Video: "How To Aerate & Oxygenate Your Pond"
---
So what exactly do aeration devices do and how do they work in ponds?
Aerators not only keep ponds from stagnating, they add air into your aquatic environment.
A pump is used to cycle air through the aerator and into your pond. As I mentioned, this substantially increases the quality of your water.
Your fish gets more oxygen from this device, and filthy water is warded off!
Lots of filth can find its way into your pond water when it is still. Pond water can be a breeding ground for bugs.
Other substances can find their way into your aquatic environment as well. Some of it even comes from your pet.
The aerator will get rid of this problem for you almost entirely.
When this happens, good bacteria are more likely to grow and keep ponds in check.
Normally, colonizing bacteria in water is not ideal. But in a pond, and in other man-made fish systems, you want good bacteria to cultivate.
The aerator promotes this growth, the increase of oxygen is a major factor. It feeds these organisms which leads to a cleaner backyard pond!
In addition to this, you won't have to worry about your fish running out of air. Some fish can suffocate in ponds, so having an aerator is the perfect way to oxygenate your pet.
Different Pond Aerator Devices
Pond aerator products come in a few different varieties. As a consumer, you should consider these different types of aeration devices.
Each of these aerators have their own positives. But some of them might not fit with your pond system.
So I'll get into information about each aeration system for you.
Submersible
Last update on 2023-09-07 at 07:55 / Affiliate links / Images from Amazon Product Advertising API
Submersible Aerators are the most basic kind of pond aerator. Many people purchase this type of aerator for their convenience and ease of use.
Submersible aerators use a combination of air compression and tubes to get air through the water.
A pump will be required for this, but you don't need a very strong pump to get your device to work.
As a result, you won't have to spend a ton of money on this type of aeration device.
Submersible aerators also have the benefit of making your pond look neater. Aeration systems are put deep within a pond and are not too visible.
Even ponds that have a depth well beyond six meters can use this type of aerator. Almost any pond type does well with submersible aerator!
Windmill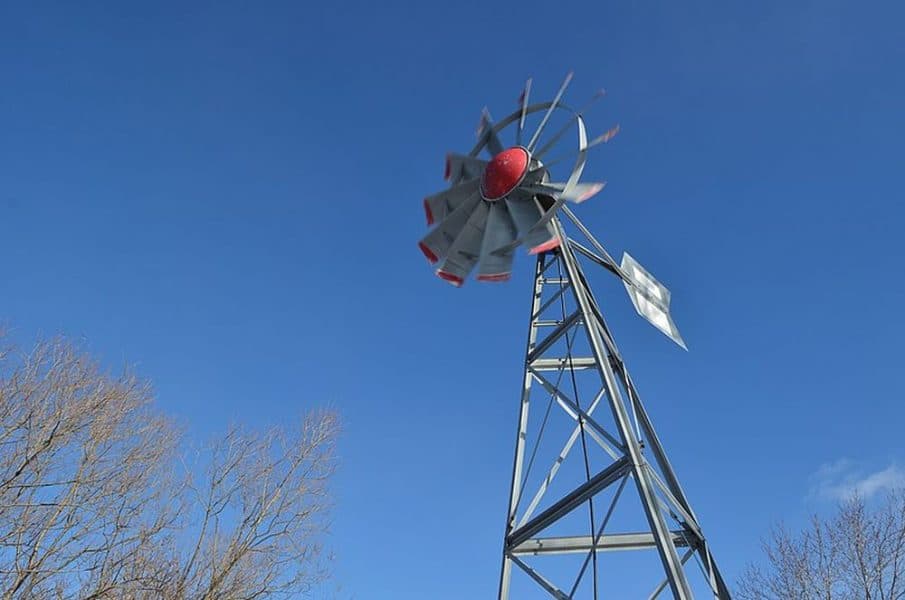 If you are looking for a different style of aerator though, try a Windmill Aerator. Windmill aerators are not your typical aeration system.
They are designed with eco-friendly intent. So, they are safe for the environment, and they can save you a lot of power!
They operate in the same exact manner as wind turbines, so they require no electricity at all. Air compression is also mainly used to move oxygen into a pond.
Windmill aeration devices look nice and save money, but they do have downsides.
If there isn't a lot of wind in your area, or the weather isn't right, air won't do into your pond. Keep this in mind if you want a windmill aerator.
Solar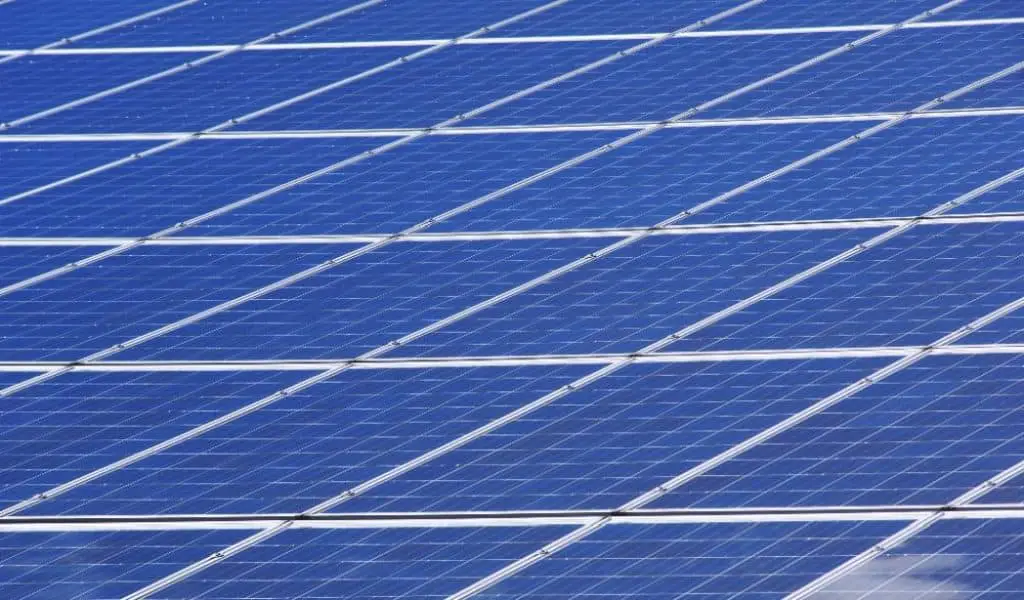 Solar Power aeration products are another energy-saving variation of aerators.
You might have more luck with these particular devices if your backyard area isn't windy.
You'll need a good amount of sunlight, to power this, but these can even work when it is a little cloudy. As you can guess, solar panels are affixed to the aerator.
It works like other aerators and only differs in that it uses solar power to keep itself in operation.

Fountain
Fountain type aerators are a final decorative option for your pond. Fountains are a great way to add oxygen into a pond, and they look great as a centerpiece in your water.
A powerful pump is required for this kind of aeration setup. But if you want to add to the beauty of your pond try a fountain out.
The pump will pull water through its system and push it out into the air. This creates a flowing effect and introduces oxygen into the water.

Picking the Best Pond Aerator Product
You want the best pond aerator device to put into your pond. So looking at the features and specifications of your aerator is important.
As you investigate aerator devices a few things should be considered.
Pond size should be one of the deciding factors of your choice. The aerator you purchase has to have the power and capability to oxygenate your water properly.
If your aerator choice is too small for a pond or too big it will cause issues. So choose a product according to your pond size.
Pond depth
After pond size, you'll want to get an aerator that will fit with your pond depth. Some devices can only be put in shallow bodies of water. Others can withstand deeper ponds.
If your pond is deep you won't want to get a fountain aerator or another aerator that is meant for a shallow pond.
Again, the aerator needs to fit with your pond.
Pond shape
Shape is something else to think about when buying an aerator as well. Most ponds can use any type of aerator. If you have an oval or circle shape that is conventional you won't have to worry as much about this.
But if you have a pond that is shaped differently your aerator might not work right. Some people end up having to buy multiple aerators to get oxygen throughout the water.
Lastly, you want to get an aeration product with the correct power output. Most devices will be hooked up to a pump.
If the power level doesn't match your pump, you could end up destroying the pump.
This goes hand in hand with getting a product that is right for your pond size. If you don't have the right size devices, your aeration system won't work!
Last update on 2023-09-07 at 07:55 / Affiliate links / Images from Amazon Product Advertising API
Conclusion
Pond aerators are an undeniable necessity in modern pond setups! Still, with all the different types of aerator products for ponds, it is not a simple choice.
Many consumers want to find the best pond aeration products, but get confused by all the options.
As a result, some people might not want to bother with these devices at all. You don't want to make this mistake and skip out on aerating your water!
Aerators need to be kept in pond water for a stable and well-maintained ecosystem.
Our guide should help you in your search for a proper aerator. You want something that works great in your backyard pond. And there is a lot to consider when you are making this aerator purchase.
Each section of the post went over how you can find the right aerator for your outdoor pond!
From great products to detailed information, you have everything you need to make a great purchase!
You now know about all the different aerators types, and which devices are best suited for your particular pond!