Owning and maintaining tanks is not very easy. But, when you learn to do it the right way, it certainly is rewarding.
You have to invest quite a lot of hard work, do a bit of research, and it is then that you get results.
If you are a novice, it will be best, to begin with, something small, easy and convenient. This will give you the chance to fulfill your interest, get desired results, and also gain experience.
Once you have the experience you can invest in a big tank, Now that you have decided to start with a small tank you also have to find the right one.
And when I started my search for the best I found the Hagen HG Fluval Flex Aquarium to be the most impressive.
There are two size options available – Fluval Flex 9 gallon and Fluval Flex 15 gallon. They are almost the same with the main difference being the size.
We shall learn about that later, but first, let us dive into this Fluval Flex review.
Last update on 2021-09-21 at 22:32 / Affiliate links / Images from Amazon Product Advertising API
Fluval Flex Review
When you invest in a Fluval Flex tank you are not getting the tank alone. Along with it comes most other things that you need to get started.
Yes, you will have to have to invest in some other parts, but that will not cost you much. Anyway, what you are going to get with your purchase includes –
First and foremost, the tank. Since this review covers both Fluval Flex 9 gallon and Fluval Flex 15 gallon, we shall let you know about the size difference of the tank.
The 9 gallon tank measures 16x13x13 inches and the 15 gallon tank measures 16x15x15 inches. That anyway is the most important difference between these two.
LED lights (7500k) that have various setting options for you to choose from.
A three-stage filter, that includes over-sized mechanical, biological, and chemical filtration media. These filtrations will keep your fishes healthy.
We shall learn in detail about each of these components and more, right away.
Design
The Fluval Flex tank is not like the others that you may have come across. In fact, its look itself is enough to attract you.
Interestingly, it comes with a bow front.
What do I mean by that?
It basically is not straight but is coming out slightly, or so to say, it has a curved front glass. This makes the aquarium look unique and gives your fishes some extra space to swim.
Compartment
Yet another thing that is very impressive is the secret compartment. I call it secret because it is hidden.
In this compartment, you have enough space to store a filter, heater, and an extra filter media.
Some part of the aquarium even has curved nooks through which you can easily run wires.
All these contribute to making the tank look neat and attractive.
Shape
The tank has a square shape so you can easily place it even in those spaces where you cannot fit a rectangular one.
I like mine sitting on my desktop, but many people place it in their cupboards and other parts of their home.
Yes, even the 15 gallon Fluval Flex aquarium is not big (16X15X15 inches) but it still is an ideal size for a beginner.
This is anyway what we are in the search of, isn't it?
Color
The color of the tank is black and it looks attractive. It fades off at the sides or so to say the sides have quite an ombre effect.
Black is a classy color and the sleek design of the tank makes it a perfect fit anywhere. It looks even better in darker interiors.
The color, the soft features, and the curved glass combine to make this tank look modern and attractive. It is a perfect fit for every home.
Filtration
The next thing that I would want to draw your attention towards in this Fluval Flex review is the filtration system. Clearly, for a tank kit, all expectations have been surpassed.
The mechanical filter is over-sized and will thus catch more debris easily.
Furthermore, it also has activated carbon that helps remove chemicals. It even has Fluval Biomax media, which supports the growth of helpful bacteria.
As these components too belong to the brand Fluval, you can completely trust it and they indeed are effective. If and when you need to change them they will easily be available.
One more thing that attracted my attention was the space available to include extra media.
The space at the back can be used to put ammonia removers and polishers, quite easily. When you have small tanks this proves to be very helpful as there can be quick ammonia buildup.
Last but not least, this filter does not make noise.
If you pull the wires properly through the tank they will be nice and peaceful. You can even sleep with it being in our bedroom.
A beautiful aquarium with your choice of fishes, clean and sifted water running through always, and no noise produced.
Sounds like a dream right?
Well, Fluval Flex believes in making such dreams come true. So, you can now wake up each morning to view your dream right in front of your eyes.
Lighting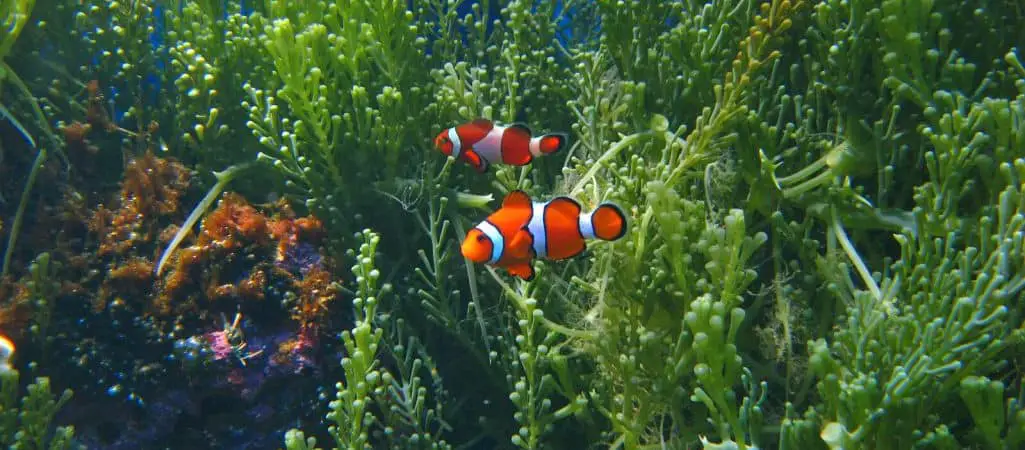 The Fluval Flex Aquarium has perfect lighting that comes with quite a few benefits.
They will last you for long and thus you need not worry about changing them, not anytime soon at least.
What attracted me most is the ability to adjust the light settings. If you find the white light too dim or too bright you can adjust them to meet your needs.
This will prove to be more beneficial than you can imagine. If, for instance, you notice your little fish flaring you do not need to turn the light off straightaway. instead, just keep dimming it until your little pet is not able to see his reflection any longer.
Not only can you dim or increase the light brightness, you even have different colors to choose from.
You can simply select moonlight blue or opt for another color provided on the color chart.
A 'lightning mode' is also available. You can use it but do not let it stay on for long, or else it may scare your little pets.
As a part of this Fluval Flex review, you need to know that not only are the tank's lighting options great for your fishes, they support plant life as well.
Aquarium plants like java moss and anubias will grow perfectly well in the lighting conditions.
The lighting options are wonderful but there is one thing you need to be careful about. The lights can sometimes prove to be too bright.
If your room has no other source of light apart from that in the tank then it can result in reflections within the tank itself. This can scare your fishes.
However, you can easily handle this problem. All you need to do is to ensure the light outside your aquarium is brighter than that present within the aquarium.
Capacity
We have discussed the size but what also needs to be mentioned is the capacity of the tank. In fact, capacity is more important than the size itself.
The Fluval Flex 15 gallon*  has a 57-liter capacity and Fluval Flex 9 gallon*  has a 34-liter capacity.
In reality, the capacity is a little less, but as we are in the hunt of a tank as a beginner this will prove to be perfect yet. You can fit in your choice of petite fishes in it. Smaller fishes like tetras, betta, and guppies will make the right option.
You can even include shrimps and snails. The tank also makes a good option if you want to condition your fishes and meanwhile look for a proper full-sized tank for them.
Remote Control
Every tank does not come with a remote control but Fluva Flex does and it makes it more interesting. With the help of the remote control, you can adjust the light setting any way you want.
The tank offers you over ten color choices, lighting bolts, faded cloud cover, and more.
You have so many options that you will find it difficult deciding on just one. However, once you do, you just need to use your remote control and set it up as per your wishes.
If you want to keep changing the look of your aquarium often and make it appear more attractive, then you certainly will find the remote very handy.
Feeding Top
This feature is attractive and helpful. The top hood of the aquarium has a feeding hole. This will make feeding your fishes a little easier.
It will prove to be all the more helpful if your aquarium has fishes that try to jump out and escape the tank.
Who should opt for this tank?
This tank is perfect for everybody. However, if you fall within the below-given categories then it will prove to be all the more worthwhile.
You are adopting fishes for the first time and need the best beginner tank.
You want to upgrade your tank size but do not have much space in your home.
You have experience with fish tanks and need a nano planted aquarium,
Pros and Cons
It is also important to learn about the pros and cons of Fluval Flex.
PROS:
It has a curved front that looks unique and offers more depth to the aquarium.
The secret compartment is spacious enough to store away filter, filter additions, and a heater. This gives the aquarium a neat appearance
The aquarium comes with notches through which you can put our wires. This too contributes to a tidy look.
It can be controlled with the help of a remote.
The filter is quiet and the tank can be placed anywhere and will cause no disturbance.
CONS:
Water vapor can build up on the lid's bottom. You thus will need to open it a little carefully.
The differences between Fluval Flex 9 gallon and Fluval Flex 15 gallon
---
Video: "Fluval Flex 9 & 15 US Gal. Aquarium"
---
You can decide to opt for either of these sizes depending on your requirements. To make selection easier below is mentioned the basic difference between the two.
Fluval Flex 9 gallon
Fluval Flex 9 gallon measures 16X13X13 inches, has 36 white and 3 RGB completely adjustable 1900 lux LEDs.
The 9 gallon model comes with  61 GPH multi-directional dual outputs.
Last update on 2021-09-21 at 22:32 / Affiliate links / Images from Amazon Product Advertising API
Fluval Flex 15 gallon
The 15 gallon tank measures 16X15X15 inches, has 48 white and 6 RGB completely adjustable 2450 lux LEDs.
The 15 gallon modell comes with 132 GPH multi-directional dual outputs.
Sale
Last update on 2021-09-21 at 22:32 / Affiliate links / Images from Amazon Product Advertising API
The differences are minor and you can select either of them.
Other things you will require
Though the Fluval Flex tank offers almost all that you may need there are still certain things that you should consider investing in.
You must get the right substrate for your aquarium. You have many choices but if you are interested in a proper planted tank then aquarium soil will make a better option
Your tank will also need a heater. Make sure to invest in something that will easily fit in the hidden compartment of your Fluval Flex aquarium.
Not only fishes, but your aquarium also needs the right ornaments and plants. Without them, no tank is ever complete. You have endless choices so go through at least a few before deciding.
Conclusion
Now that you have gone through this Fluval Flex review you clearly understand it is different from others and an ideal choice for one and all.
You can opt for the 9 gallon tank or even the 15 gallon. They do not have much of a difference apart from the size.
The black color of the tanks and its concave front glass will attract your attention first and also of those who see it in your home.
It is so stylish that it will gel well with any interior. The various lighting options and the remote control make using it easier and fun.
Thanks to its hidden compartment it looks neat and tidy. Since it is quiet in nature it can be placed in any room to add to its beauty.
To conclude, it can be said that this aquarium has everything that you need, so of course it makes a perfect choice for one and all.