11 Ways To Keep Herons Out Of Your Pond
As a pond owner, you want to keep your fish healthy and protected in their outdoor home. Backyard ponds are great, but they come with a different set of risks in comparison to indoor aquariums.
In particular, you should be on the lookout for predators. Other animals will attempt to swipe fish from your pond. This can sound scary, but if you take the right precautions, animals will stay away from your pond area.
One specific animal that you should safeguard your fish against is Herons. Herons are a type of bird that likes to eat pond fish. Their long beaks and white feathers are hard to miss. However, they are quick-witted birds that can get the best of any pond owner. So you want to be prepared to keep them off your property.
In this article, we'll talk specifically about how to keep herons out of your pond area. In addition, we'll discuss Heron hunting habits and facts. This will help you better understand how to keep herons out of your pond permanently.
What To Know About Herons
Herons are typically found in North America. But the United States has the most cases of Herons snatching pond fish. In fact, many pond owners deal with issues surrounding this specific bird. Other outdoor predators can be an issue, but these birds are notorious fish killers.
Herons are freshwater birds with a ton of variety. But Blue Herons are the subspecies that usually attack pond areas and annoy pond owners.
These birds can look harmless, but Herons are perfectly designed to eat your fish. They have big beaks and long legs that let them move fast. These birds are actually quite big as well. At their biggest, they can reach four feet tall, and this doesn't include wingspan.
Herons generally like warmer weather. They migrate to hotter parts of North America during winter. So if you live in a cool area you won't get bothered by them as much. However, if you live in an area that has hot summers, or is warm all year round prepare your pond. You will have to deal with this animal often.
How Herons Hunt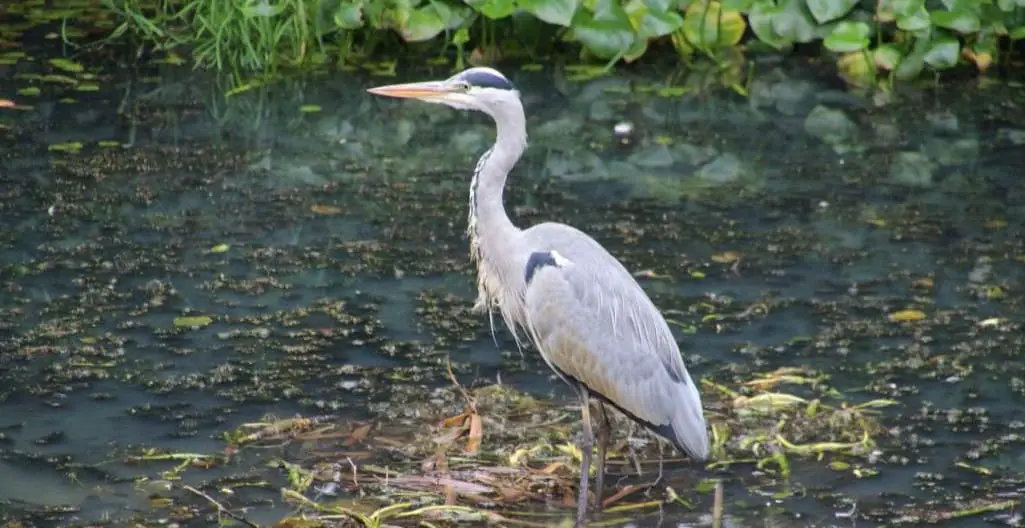 Herons are crafty birds that know how to sneak a bite from your backyard pond. Usually, if they want to swoop in quickly, they will stay in the air and look for bodies of water. Once they have found a pond, they will cautiously wait at the edge of your pond, and pick a fish.
These are patient creatures that wait for fish to come to them. As soon as your pet is within distance Herons will gobble them up rapidly.
These are fast animals. Unfortunately, your fish won't be able to escape. Herons swallow their prey whole. And they will wait until you aren't looking to do this and nab up your fish. In addition, Herons will also walk around the pond area to get other potential competitors away from the water. This way they have food all to themselves.
Really, it is not always easy getting these birds to keep away from your property. So you need to think outside the box and get them out of your backyard. We'll talk about some tips that are helpful in the next part of the article! But know that you have to be tough with these birds.
11 Ways To Keep Herons Away From Your Backyard Pond For Good
There are many ways to get Herons away from ponds. This section will teach you how to keep herons out of your pond for good. Again, this can be challenging.
But if you are persistent enough, these predatory birds will stay away from your yard!
1

Design Your Pond With Herons In Mind
This might not be an option for every pond owner, especially if your pond is already built. But if you are still setting up your pond, try to tailor the design to ward of predators. Really, a deeper pond will keep Herons out of your water.
They don't like to be in deep pond water. And will stay away from a pond that is eighteen inches to two feet deep.
Herons like to stand in the water and will also walk in your pond water to find fish. If a pond is deeper this is not possible. This won't completely eliminate Herons from your property but it will make it much harder for them to get to your fish.
2

Put Plants Around And In Your Pond
3 Water Lettuce + 3 Water Hyancinth Bundle + Moneywort - Floating Live Pond...
DO NOT ORDER if your region is experiencing a heat wave. Plants will perish during transit due to extreme heat at...
You get 3 Water Lettuce, 3 Water Hyacinth of about 3-5 inches in diameter and 5+ Moneywort Stem Plants. These are grown...
They serve as natural biofilters to your pond, helping clear the water naturally
Please note these plants ship with trimmed roots as sometimes they tend to fall off during transit due to heat. In case...
Last update on 2023-09-05 at 16:46 / Affiliate links / Images from Amazon Product Advertising API
Plants are a great way to deter Herons from staying in your pond space. You can put shrubs and other plants around the edge of your pond. This way these birds won't go in the water.
Alternatively, you can also put plants inside your water to give you fish a place to hide. If your pet has coverage to hide behind, they are much less likely to be found by Heron.
Plants are good for pond fish and look visually stunning in the water.
Frogbit, Lilly pads, and other plants that can grow large outdoors are good choices. But you need to maintain these plants and make sure they are kept healthy and trimmed. Don't let pond plants grow so wildly that they impact your fish's health.

Sale
CrystalClear PondAir 2, Complete Aeration Kit, Whisper Quiet Water Garden...
Small Aerator for Ponds up to 1,000 Gallons -- Increases water circulation and oxygen saturation, improving the natural...
Improves Water Quality & Clarity -- Bottom-diffused aerators push air through an air stone and into your pond. Aeration...
Quiet Operation & Energy Efficient -- Electric compressor equipment has near-silent operation and is designed to run...
Various Uses -- Use during the winter months to help keep a hole in pond ice and to vent harmful gases. Aerator kits can...
Optional Faux Rock Cover - Protect your investment from the elements by adding a TrueRock Mini cover. The fake rock is...
Last update on 2023-09-07 at 19:12 / Affiliate links / Images from Amazon Product Advertising API
Another easy way to keep Herons out of your pond is with an Aerator device. It's useful to have these products in your pond, to begin with. They keep algae and other filth out of your water and promote pet health. But the water movement from the air in your device also has another function. Your fish will also stay safer from predators.
Aeration acts as a cover and helps camouflage fish beneath the surface of the water. In short, when the water is moving its harder for Herons to catch fish.
In addition, Herons don't like water with a lot of movement and agitation. Air stones are helpful as well. Really anything that creates ripples on your pond water will be useful.

4

Use Fish Lines To Keep Herons Out
Sale
AlpineReach Koi Pond Netting Kit 15 x 20 ft Black Heavy Duty Woven Fine Mesh Net...
RELIABLE FISH PROTECTION – Brilliantly designed to keep your fish safe against Blue Heron birds, cats and other...
3/8 INCH HEAVY DUTY WOVEN MESH – The net's extra strength comes from a tightly woven mesh and works extremely well....
KEEP OUT SMALLEST LEAVES & DEBRIS – The dense mesh will keep your pond & pool staying beautiful and clean; capturing...
QUICK SETUP & VERSATILITY SAVES TIME – All durable stake accessories are easy-to-use and included. Just follow the...
QUALITY ASSURANCE – The original AlpineReach woven mesh netting recommended by gardeners worldwide. Beware of cheaper...
Last update on 2023-09-06 at 16:19 / Affiliate links / Images from Amazon Product Advertising API
Using fish lines is a common way to keep predators out of a pond. It is also extremely cheap and simple to install fishing lines in ponds.
Put the lines near the edge of the pond. This is the best way to keep a Heron out. However, some Herons can get past this so you want to be careful using this method.
Fish netting might be a better option. Still, netting and fish lines do not look great in a pond. So just keep this in mind. Both of these tools can be effective, but there are drawbacks.
Sale
Flambeau Outdoors 5960CD Great Blue Heron Decoy, Includes Metal Stake - 1-Pack
EFFECTIVE CONFIDENCE DECOY: Blue Herons add confidence to any waterfowl spread. The presence of a relaxed heron tells...
METAL STAKE MOUNT: This Great Blue Heron Decoy comes on a sturdy metal stake so that you can easily mount it wherever...
REALISM THAT GETS RESULTS: This full-body decoy has a realistic, high-definition paint scheme so that it communicates...
DURABLE CONSTRUCTION: This decoy is made from a rugged heavy-duty plastic material with a durable metal stake so that...
SPECIFICATIONS: Full body decoy includes metal stake. Carton Size: 31" x 8" x 9".
Last update on 2023-09-06 at 16:19 / Affiliate links / Images from Amazon Product Advertising API
Heron's don't like to hunt in the same area as another Heron. If you have a fake Heron, a decoy, then it is possible to keep a real Heron out of your pond.
Still, you need to make sure that the decoy you get is the correct size. Herons are quite large. If you have a small decoy, they won't get intimidated. They might even try to dominate your fake bird and peck at it.
Try to make your decoy taller if you can as this will scare off any predators. Heron decoys can be expensive, but if you get a good model, they are quite effective.
Still, you need to convince Herons that your decoy is real. Sometimes they can tell if there is a fake bird near your pond. This happens if you leave your decoy in one spot. Try to move the decoy to different spots when you can. Otherwise, the real Heron will find out it isn't real.
Herons are known to attack decoy Herons, unfortunately. So don't be lazy about this.
6

Try Getting Lights Around Your Pond
Jebao PL1-LED4S LED Pond Light Kits with Photocell Sensor
Submersible light kit for ponds and water gardens
4 color lenses illuminate in blue, yellow, red, green
Low voltage design for water safety; UL listed
Photocell sensor included automatically activates pond lights at dusk
package includes: UL listed adapter, color lens, photocell sensor and LED light
Last update on 2023-09-06 at 16:19 / Affiliate links / Images from Amazon Product Advertising API
Pond lights can keep Herons off your property pretty well. It might seem like a simple fix, but lights that shimmer a lot will help keep predators away.
Try putting a few lights around, and use reflective decorative objects to spread the light.
When a Heron is flying and sees this, they are less likely to land near your pond. This is not a foolproof method. And you won't always have your lights on. But it is worth getting lights in your backyard to keep Herons away.
Sale
Large 15-Inch Bird Repellent Reflective Scare Rods - Ornamental Spinner...
Highly Effective – Large 15 inch size for a bolder and more prominent bird-scare look. Multiple angles of refraction...
Protect Your Assets – Easily create your anti-bird zone and keep unwanted pests at bay from your home, garden,...
Non-Toxic and Humane – Scare birds the responsible way. These plastic spiral rods are made from innocuous material...
Aesthetically Pleasing – Double functions as a bird deterring device and a decorative spinner ornament to beautify...
Money Back Guarantee - We stand behind our product. Make your purchase with confidence; if you are not fully satisfied,...
Last update on 2023-09-06 at 16:19 / Affiliate links / Images from Amazon Product Advertising API
Light is not the only thing that can scare off Herons. Sound can get Herons off your property too. Try getting wind chimes. They make a lot of noise and are reflective. So not only will they spread light, but they will create noise.
Loud sounds can potentially scare off Herons. Other ambient sounds can keep birds away as well. So keep this in mind. Try turning a radio on, or putting music in your backyard. Create loud noises when you see Herons on your property too. You can also get devices that make sounds periodically to scare off predators.
If you have a fenced-off backyard, let your dog protect your pond. Dogs are a great bird deterrent. They will even chase Herons off your property. You don't want to kill Herons.
But if they see a dog in your backyard, or are chased off by a dog they aren't likely to eat your fish. Some dogs are more suited for this task than others though.
A small dog won't be ideal for this. But a hunting type dog or bigger dog can scare off Herons.
Last update on 2023-09-06 at 16:19 / Affiliate links / Images from Amazon Product Advertising API
Koi Castles are placed at the bottom of ponds. They give your fish the perfect spot to hide when predators are near. It's easy to make one of these or get one at a store.
Koi Castles and other structures like this will keep Herons and other animals away from your pet. Predators won't be able to reach fish when a fish swims in them.
Sale
Hoont Cobra Cat Repellent Outdoor- Cat Deterrent & Deer Repellent- Motion...
Protect Your Yard from Unwanted Animals- The Hoont Cobra Animal Repeller will not disappoint, with it's solar-powered...
Large Protection Range- Adjustable 24/7 animal detection unit with a 0 to 30 feet range for maximum property protection.
Save On Water Supply- The water jet works on a 5 second intermittent spray cycle, ensuring repellent effectiveness and...
Adjustable Coverage- Sprinkler head is fully adjustable with up to 1000 square feet of coverage
Deter Animals Out Of Your Yard In A Humane, Safe Manner- Designed to be 100% harmless to people and animals, yet still...
Last update on 2023-09-06 at 16:19 / Affiliate links / Images from Amazon Product Advertising API
Motion detecting sprinklers can be a good solution to your Heron problem. It might seem cruel, but water will not hurt Herons. And they will keep these pesky birds out of your backyard.
This is another effective method, and it doesn't break any kind of animal cruelty laws or regulations. Just adjust the settings of your sprinkler so the water pressure isn't too high.
In some cases, you won't be able to get a Heron out of your pond area. If this happens, you want to get professionals to help you scare the Heron off.
You never want to harm another animal, even if they are trying to eat your fish. You need to do this as humanely as possible. Animal control can help you deal with this issue.
Conclusion
Herons can be detrimental to the livelihood of your pond pets. Oftentimes, these crafty birds will swoop in and steal your fish before you can stop them. But if you take the right steps and precautions, you can keep these animals out of your water.
There are many ways to deter Herons from landing in your backyard. However, we went over some great methods and tips to helps you do this with ease. You should now know how to keep herons out of your pond!
Cheaper options like plants can be a good solution. Herons are less likely to find your pets in a planted pond. Outside shrubbery can also hide your pond pets as well. Nets and the fish lining is an option too, but not everyone is a fan of this method. It can make a pond look a little ugly.
Alternatively, if you have a little more money, a decoy could be put outside your pond too. Your decoy has to be big enough, but it can keep predators away effectively!
Again though, there are a ton of methods to keep Herons away. These are just a few options. So go back and read our guide to see which methods are the best for your pond. And if Herons won't stay away from your backyard, call a professional to humanely remove them!