How To Get Rid Of Red Algae (Cyanobacteria) In Saltwater Tank
A saltwater tank can be a real joy to behold. If it is well designed and well maintained, then it can bring many hours of joy and amusement to the owner. However, there are several things which can cause the environment of a marine tank to degrade, and one of the most pernicious of these threats is algae.
There are a number of different types of algae that can affect a saltwater tank, but one of the most widespread and harmful forms is cyanobacteria, also referred to as red algae.
Algae is one of the worst nightmares for any aspiring tank owner. It can very quickly gain a stranglehold over a tank and transform a once pleasant and tranquil ecosystem into a slimy wasteland.
Algae generally reduces the level of dissolved oxygen available for fish and other aquatic creatures and throws the entire chemical balance of the ecosystem out of equilibrium.
There are a number of ways to help prevent or tackle the recurring issue of algae, which we will address in this comprehensive article.
Many of these remedies are specific to the problem of cyanobacteria (red algae), so it is important that first of all you understand what you're up against.
What Are Cyanobacteria And What Are The Effects?
Cyanobacteria, or red slime algae, is one of the most common types of algae which is found all over the world, but many people misunderstand what this creature actually is.
Although most types of algae are plant species which thrive in wet, heavily sunlit conditions, cyanobacteria is a little bit different.
As the name suggest, cyanobacteria actually consist of bacteria colonies which are fast growing and love the kind of wet and warm conditions found in many reef tanks.
These are actually tiny little microorganisms which consume oxygen and produce by products. They are relatively simple multicellular living organisms, and they have some preferential living conditions.
For example, they will often love to cling to plants, rocks, or the substrate of your saltwater tank. They will often form a dense mat to cling to these objects and may be removed together as a whole unit. On other occasions they may rise to the surface of the water and form a scum on top of the water.
They will generally cause the water to become cloudy and unclear, and they will generally degrade the appearance of your tank, among other negative effects.
Cyanobacteria Conditions
These types of water borne organisms love the nutrient heavy conditions that are commonly found in fish tanks.
It can be hard to control the level of substances such as ammonia, nitrite and nitrate in your tank water, but if one of these get out of hand then this could easily provoke an algae bloom. This could also be caused by overfeeding of the fish, as any uneaten scraps could be a huge source of excess nutrients in the water.
Also, unlike many other forms of algae these simple organisms do not need very warm conditions or a lot of sunlight, so they may even bloom in relatively dark confines. This could cause a huge headache for tank owners, but there's no need to worry as we guide you through how to get rid of red algae (cyanobacteria) in saltwater tank.
How To Get Rid Of Red Algae (Cyanobacteria) In Saltwater Tank
---
Video: "Red Slime: How to Prevent and Remove Cyanobacteria"
---
There are a number of strategies you can employ to get rid of the unwanted cyanobacteria in your beloved saltwater tank.
These differ in their difficulty and convenience, but each tactic has its own advantages and disadvantages for you to consider.
Manual Removal
This is possibly the simplest method, but also the most labor intensive.
The good thing is you don't need any special equipment, techniques or chemicals, just good old-fashioned elbow grease. Cyanobacteria tend to clump together in large dense groups, so you should be able to remove a large percentage of the red slimy algae by just getting your hands in there and pulling up the affected parts.
You should also remove any rocks or other ornaments from your tank and give them a thorough scrubbing, to remove any trace of the algae. Remember algae are tiny so they may be far too small to see with the naked eye. You should also make sure to scrub the glass sides of your tank. It may also be necessary to use a vacuum to clean the substrate of your tank, as this can be a particularly fruitful breeding ground for cyanobacteria colonies.
Cleaning the tank should be a regular part of your maintenance routine anyways, but a cyanobacteria blooms calls for an especially thorough deep clean. You should be aware that this is not fool proof and there will most likely be some residual cyanobacteria remaining after you have cleaned.
What's more, this does not address the root cause of the algae bloom, so it could easily occur again in the future.
Change Your Tank Water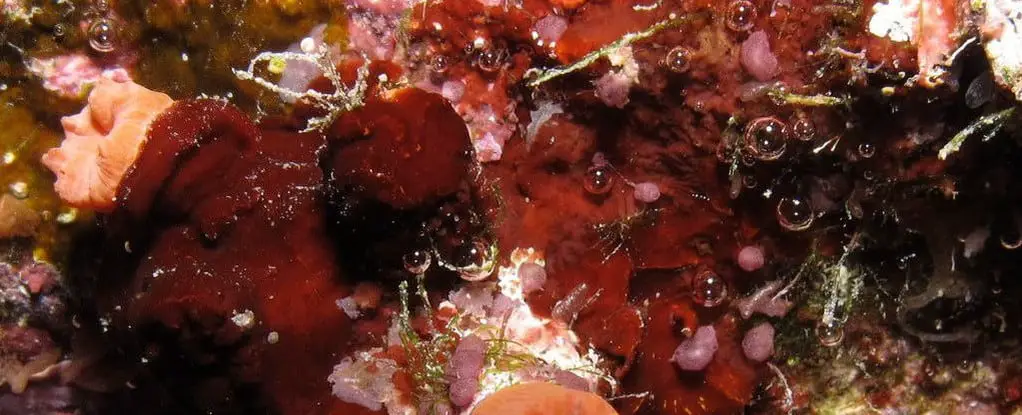 One of the major reasons for an algae bloom of any kind is that the water chemistry changes and there is an overabundance of either waste products or nutrients in the water.
One of the easiest ways to rectify this is by changing the water. You should be doing this anyways, but an algae bloom may necessitate a full tank change. You should make sure that any water you add to your tank has the right salinity for your fish and is at the right temperature.
What's more you may need to allow time for the nitrogen cycle to kick in again and restore the levels of ammonia and nitrate and other substances to their natural equilibrium. If you are using tap water in your tanks, this may be a reason for the algae bloom in the first place.
Unfortunately, untreated tap water can contain a host of minerals like nitrates and nitrides which can upset the delicate tank ecosystem.
If this is a persistent problem for you, then you should consider investing in a reverse osmosis system which purifies your tap water and provides you with an endless supply of pure deionized water.

Perform A Chemical Clean
This is one of the most well-known and sure-fire ways for how to get rid of red algae (cyanobacteria) in saltwater tank. However, if your do decide to go this route then you should be aware that it could have unintended consequences.
Your saltwater tank contains many colonies of healthy, helpful bacteria. This are an important part of the famed nitrogen cycle and play an important role in the biological filtration in your tank.
If you add a chemical to target the nasty cyanobacteria in your tank then there is a good chance you may harm the 'good' bacteria as well, which could have a disastrous knock on effect for your ecosystem. For example, you could add hydrogen peroxide or other anti-bacterial agents to your tank.
Sale
Chemi-Clean - 2 g
cleans many types of stains from cyanobacteria
works in fresh and salt water
safe for all fish, corals, invertebrates, nitrifying bacteria and macro algae's.
Age range description: all stages
Last update on 2023-09-07 at 06:15 / Affiliate links / Images from Amazon Product Advertising API
If you do go this route, it is better to use 'chemiclean', which is a saltwater tank treatment which doesn't harm other tank inhabitants and can kill large quantities of cyanobacteria. Be sure to always follow the instructions with these products, and if in doubt, then seek expert guidance.
Prevent It In The First Place
As the old saying goes, prevention is better than cure. All of the remedial methods mentioned above require a fair amount of time, risk or effort.
You can avoid all this hassle by taking some preventative measures in the first place. For example, it is important not to overfeed your fish, so a good rule of thumb to follow is not to feed them any more than they can easily consume in five minutes. After this, remove any uneaten scraps from the tank.
Also make sure and keep your filtration system in tip top condition and install a strong aeration system to keep the level of oxygen in the water high. This does a good job at warding off cyanobacteria.
Finally make sure to regularly clean your tank, change the water frequently, and keep it out of direct sunlight.
Conclusion
The question of how to get rid of red algae (cyanobacteria) in saltwater tank is a particularly interesting one. It is true that this condition can ruin your aesthetically pleasing tank and threaten the survival of many of your precious saltwater species.
For that reason, we have outlined a few separate routes to tacking this pernicious problem. For example, you could try and use sheer physical effort to thoroughly clean your tank and remove most of the offending material.
Or else you could change the water fully and use only high-quality distilled water in your tank, thus lowering the amount of nutrients that the algae have to feed upon. If all else fails then you could use a chemical agent, but this usually carries some risk.
There are some treatments available however that promise to get rid of cyanobacteria without affecting other aquatic inhabitants of your tank. You could also try a mixture of these methods.