8 Best Aquarium Glass Cleaner and Algae Scraper (2023 Reviews)
Investing time, money, and effort into creating the perfect aquarium aesthetic is definitely worth it! You get to enjoy a beautiful view of the fascinating life residing in your tank, with fish, plants, and ocean ornaments blending together in harmonious existence.

But what happens when you can't see all that anymore?

Dirty aquarium walls aren't just a pain to look at, but the contaminants, such as algae and hard water build-up, can also be very harmful to your tanks' inhabitants. The solution?

You get rid of the culprits of course!

Today, we'll be helping you choose the best aquarium glass cleaner and algae scraper to keep your tank walls crystal clear and your fish happy and healthy!

So without further ado, let's dive in!

Table could not be displayed.
8 Best Aquarium Glass Cleaner and Algae Scraper Reviewed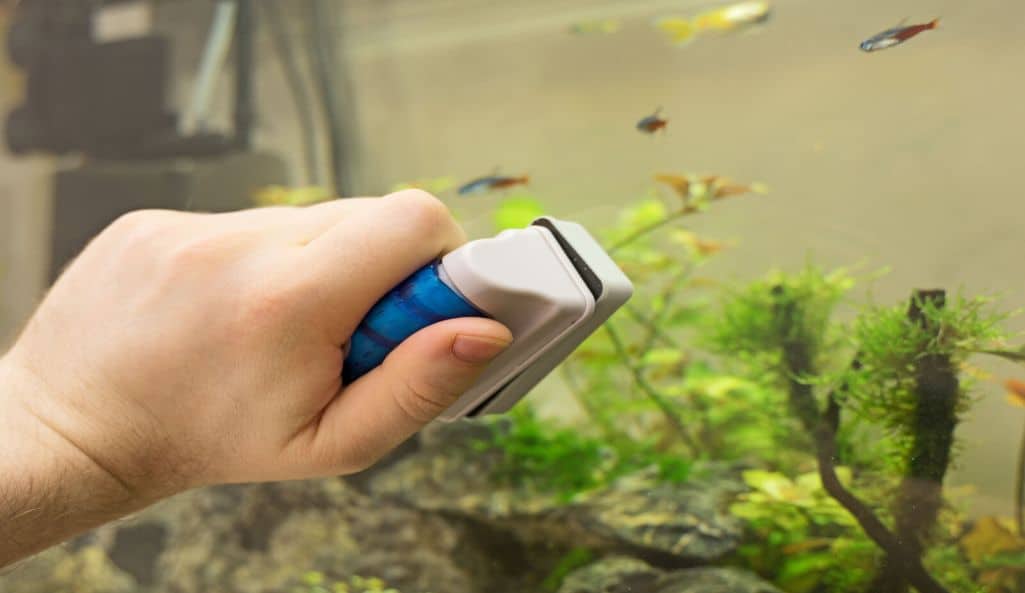 1. Gulfstream Tropical AGU125MED Mag-Float Glass Aquarium Cleaner
No products found.
Kicking off our list with a highly popular product, the Mag-Float Glass Aquarium Cleaner from Gulfstream Tropical has earned hundreds of positive reviews thanks to its reliability and simple operation.
This magnetic cleaner is manufactured in the United States where the soft cleaning part is made of cotton material to avoid scratching your tank. The Mag-Float Glass Cleaner is suitable for all kinds of glass aquariums, but you should avoid using it on plastic and acrylic tanks since it'll most likely leave unattractive marks behind.
The Mag-Float, as you can guess from its name, is engineered to float on your tank's water when it's not attached to the outer magnet. It applies buoyancy principles to rise up the water if you were to accidentally drop it, so you can easily take it out.
The Mag-Float utilizes strong magnetic forces to keep the cleaner parts stuck tightly, providing a smooth sail without sinking. The brush itself doesn't collect sand or gravel which helps keep your tank walls scratch-free. However, you shouldn't use this cleaner near electronic devices such as pacemakers and computers.
The Gulfstream Tropical Magnetic Glass Cleaner is available in 3 sizes to fit a range of tanks. The small Mag-Float works for aquariums up to 30 gallons with wall thickness up to 3/16 inches, the medium size suits aquariums up to 125 gallons with ⅜ inches thick walls, and the large scrape is fit for 350-gallon aquariums with walls up to ⅝ inches thick.
PROS:
Strong magnet
Floats
Good value for money
Made in the US
CONS:
Suitable for glass aquariums only
Could use more size options
Check Price and Reviews on Amazon
---
Video: "Mag-Float Floating Aquarium Cleaner Review and Demonstration"
---
---
2. Jasonwell Magnetic Aquarium Glass Cleaner Algae Scrubber Floating Brush
No products found.
Receiving thousands of soaring reviews, the Magnetic Aquarium Glass Cleaner / Algae Scrubber is surely one of the most dependable products you can get your hands on, not to mention, one of the most affordable fish tank cleaners out there.
As you place both pieces of the cleaner on either side of the aquarium wall, the powerful magnets allow them to firmly attach together enabling you to easily clean scum and algae off of the inner sides of your tank. The cleaner glides smoothly against the walls, while the anti-slip grip gives you better control over the process.
You also don't need to worry about the inside piece sinking down the water because it can float back up, so in case it detaches from the outer magnet, you can retrieve it with minimal effort.
This Magnetic Aquarium Cleaner / Algae Scrubber is suitable for conventional glass tanks only. It comes with a stainless steel scraper as well as a plastic scraper to accommodate more wall materials, but you should avoid using it on acrylic and low iron glass tanks.
The Jasonwell no-scratch cleaner is available in 4 size options according to the wall thickness of your aquarium: Small is recommended for up to 0.12 inches, Medium is for walls up to 0.2 inches thick, Large works best for glass thickness up to 0.4 inches, and X-Large is for glass with 0.51 inches thickness at maximum.
Jasonwell backs up this product with a 2-year warranty period and a 100% money-back policy.
PROS:
Affordable
Comes in 4 sizes
Secure non-slip grip
Powerful magnet
2-year warranty
CONS:
Not for acrylic and low iron glass
Doesn't do well around tight corners
Check Price and Reviews on Amazon
---
---
3. KEDSUM Magnetic Aquarium Fish Tank Cleaner
No products found.
Another highly praised fish tank cleaner is the Magnetic Aquarium Fish Tank Cleaner by KEDSUM. It's quite a versatile tool as you can use it for both freshwater and saltwater tanks, as well as plant and grass aquariums.
This Magnetic Cleaner features an innovative design of its handle, with a comfortable yet secure grip to make your experience much more convenient compared to regular glass cleaners. It's also made of high-quality fabric and felt, to avoid leaving any scratches behind.
It also utilizes a handy floating function that saves you the hassle of soaking your arm to fish out the brush of it ends up sinking by mistake. However, the powerful magnetic force integrated into the KEDSUM ensures minimal falling, while allowing smooth and secure attachment.
To open the KEDSUM cleaner, you need to rotate the outer piece 90 degrees away from the inner half, and to close it back, you just have to rotate it back to overlap position. You can use this brush to clean in multiple directions, whether back and forth or up and down.
The KEDSUM Magnetic Cleaner is available in 2 sizes: Large, which fits glass thickness between ⅓ and ½ inches, as well as X-Large, which is recommended for tank walls between ⅖ and 6/5 inches in thickness. Moreover, it comes in 2 colors, either blue or green.
This product is backed up by a 1-year warranty period, as well as a 100% money-back guarantee if you're not completely satisfied.
PROS:
Unique handle design
High-quality fabric and felt lining to avoid scratches
Good attachment power
1-year warranty
CONS:
Available in 2 sizes only
Can be too strong so you need to be careful not to break the glass
Check Price and Reviews on Amazon
---
Video: "KEDSUM Magnetic Algae Scraper (Large) Review"
---
---
4. Aqueon Algae Cleaning Magnet
No products found.
Next up, we have the Algae Cleaning Magnet from the renowned Aqueon brand. This handy tool does a wonderful job removing the accumulated algae from both glass and acrylic aquarium walls, leaving you with a clear view of your marine life.
The Aqueon Algae Cleaning Magnet features an ergonomic handle design to allow for better control and maneuverability. It also comes with a weighted scrubber so that it falls down right away in the event of separation from the outer piece. This means you can easily fish it out without much trouble.
This Magnetic Algae Cleaner comes with 2 pad types to accommodate glass and acrylic tanks. Once the pad is all worn out, you can simply pop on a new pad for quick replacement.
Aqueon offers 4 different sizes of its Algae Cleaning Magnet: Small is recommended for aquariums up to ¼ inches thick, Medium is suitable for tanks up to ⅜ inches thick, and Large works best for wall thickness up to ¾ inches. As for the MiniBow size, it's recommended only for tiny acrylic tanks with ⅛ inches maximum thickness.
PROS:
Suitable for glass as well as acrylic tanks
Affordable price
Easy to use
Pad replacement is simple
Check Price and Reviews on Amazon
---
---
5. FL!PPER Flipper 2-in-1 Magnetic Aquarium Tank Algae Cleaner Scrubber Scraper
No products found.
If you're on the hunt for a mighty cleaner with the ability to remove even the most stubborn algae build-up, then the 2-in-1 Magnetic Aquarium Cleaner from FL!PPER may just be the one for you.
This magnetic cleaner has a dual function as it acts as both a cleaner as well as a scraper to ensure your tank walls are left spotless. The patented double-sided design features a polishing pad on one side along with an efficient scrubber on the other, providing you with top-notch performance.
You can use the Flipper cleaner on glass tanks when you apply the stainless steel blades or use it for acrylic aquariums by installing the ABS blades. Remember to change the blades every 3 to 6 months to maintain optimal cleanliness.
This Magnetic Cleaner is engineered to minimize scratching as much as possible. Its blade has 3 contact points only which reduces the chance of collecting sand during use.
The Flipper 2-in-1 Aquarium Cleaner is available in 3 sizes: Nano, which fits tanks up to ¼ inches thick, Standard, which is recommended for walls between ¼ and ½ inches thick, as well as Max, which works for large tanks with thickness up to 1 inch.
PROS:
Comes with 2 replaceable blades
Suits acrylic and glass tanks
Floats
Minimal scratching
2-months 100% satisfaction guarantee
CONS:
Expensive
Cleaning at the edges can be improved
Check Price and Reviews on Amazon
---
Video: "Flipper Max Algae Scraper Review"
---
---
6. API Algae Scrapers and Hand Held Pads
No products found.
Unlike the previous candidates, the API Algae Scrapers and Pads don't utilize magnets to stick on, instead, you'll need to apply your own muscle power to reach in and get to cleaning.
With this product, you get to choose between either a handheld pad or a scraper that's attached to a long handle to keep your arms getting wet. The cleaning pad allows you to get up close to tight corners and nooks since you're holding it with your hands.
Both the pad and the scraper are made of durable materials to give you an effective performance for a long time. They're available in acrylic and glass tank options to accommodate a wide range of aquariums.
PROS:
Very affordable
Can work for glass and acrylic tanks are
Reliable performance
Durable
CONS:
Tends to cause scratches unless help in a precise manner
Check Price and Reviews on Amazon
---
---
7. MiguCo Stainless Steel Algae Scraper Cleaner with for Aquarium Glass Tank
No products found.
Specifically designed for scraping algae off of glass tank walls, this Stainless Steel Cleaner from MiguCo is an excellent solution for fish keepers looking for a more particular solution to their algae build-up problems.
This scraper is made of sturdy stainless steel metal, treated to resist rusting as a result of continuous exposure to freshwater. The blade features a right angle construction to make it easier for you to clean the stubborn corners of your tank.
For a rather affordable price, you get a scraper, an extension rod, as well as 10 extra blades to cover your cleaning needs for a really long time.
The total length of the MiguCo Scraper is 25.6 inches, enough to handle a variety of aquarium sizes. It's easy to use and maneuver, finishing up hefty jobs at an impressive speed.
However, you shouldn't use this stainless steel scraper in a saltwater setting, since chlorine has corrosive effects on such a metal. Immediately wash your scraper with fresh water if you accidentally dipped it in saltwater.
PROS:
10 extra blades
Specialized for removing algae from glass tanks
Solid construction
The 90-degree design allows you to clean tricky corners
CONS:
Not for acrylic tanks
Some aquariums require a longer handle
Check Price and Reviews on Amazon
---
---
8. QANVEE Aluminum Magnesium Alloy Scraper Cleaner Brush
No products found.
Last but definitely not least, the Aluminum Magnesium Alloy Scraper / Cleaner Brush from QANVEE is what happens when premium quality is combined with an impressive performance to yield one capable tool.
The wide razor lets you scrub off all the accumulated algae and dirt without scratching the surface of your glass tank since stainless steel is gentle on the glass.
The handle of the QANVEE Cleaner is made of sturdy Aluminum and Magnesium while the head is strong plastic. This solid yet lightweight construction results in easy and comfortable use. Moreover, the anti-rust nuts, screws, and body, provides you with years of consistent service time.
You can adjust the metal handle length at 15, 20, or 26 inches, to accommodate your aquarium size. The QANVEE Scraper package includes 10 stainless steel blades, a protection cover, 3 extension shafts, as well as an additional small brush to help you better clean corners of the tank.
PROS:
Comes with 10 replacement blades
Bonus small cleaning brush
Adjustable handle length
Sturdy build
Premium quality
CONS:
A bit pricey
Sharp razor requires extra care around fish and plants
Check Price and Reviews on Amazon
---
---
Why Should You Buy an Aquarium Glass Cleaner and Algae Scraper?
Cleaning the exterior of your tank walls is a straightforward task, but the interior side is where the real challenge begins.
A lot can happen on the inner surface of the walls of your aquarium, the two major events being algae build-up and hard water residue accumulation.
The build-up of algae is often the result of excessive plant stimulation by favorable conditions present inside the tank, such as constant exposure to light as well as nutrients that are readily available in the water, leading to exaggerated growth.
As for hard water residue accumulation, it's mainly related to the heavy presence of minerals within your water supply. Granted, treating the water can certainly help decrease the severity of the problem, however, it doesn't compete eradicate the issue. Also, some fish species actually require a mineral-rich environment.
Both algae and mineral build-up can cause your tank to look clouded and unkempt, blocking the view of your beautiful fish and marine plants. Of course, you'll need to remove such dirt and residue, which is where glass cleaners and algae scrapers come in!
These tools are a terrific solution for cleaning the inner walls of your aquarium, removing algae and mineral residue to give you back the clear appearance of your hard work.
What Are the Types of Glass Cleaners and Algae Scrapers?
After reviewing dozens of aquarium cleaners and scrapers available on the market, we can divide them into 2 major types:
Magnetic Cleaners
---
Video: "Best way to use that aquarium algae magnet glass cleaner"
---
Magnetic cleaners are by far the most popular choice of fish keepers among amateurs and experienced fishkeepers alike, thanks to its incredible ease of use.
The concept of this type of cleaners is pretty simple. A magnetic cleaner consists of 2 parts, both have strong magnets integrated into their structure.
The outer piece is placed on the exterior of the tank's wall and it usually has some sort of a handle or a grip for you to grab onto. The other piece is positioned on the inner side of the wall where it attaches to the outer part using a magnetic force.
Think of magnetic cleaners as burger buns and the aquarium wall is their pattie!
This type of cleaners saves you effort, time, and keeps you from getting all wet trying to clean your aquarium. However, if the magnet is too weak causing the inner piece to detach or you accidentally drop it in the tank, you'll have to deal with the hassle of fishing it out.
That being said, most magnetic cleaners use a floating feature to help you retrieve any fallen pieces with minimal inconvenience.
Blades and Scrapers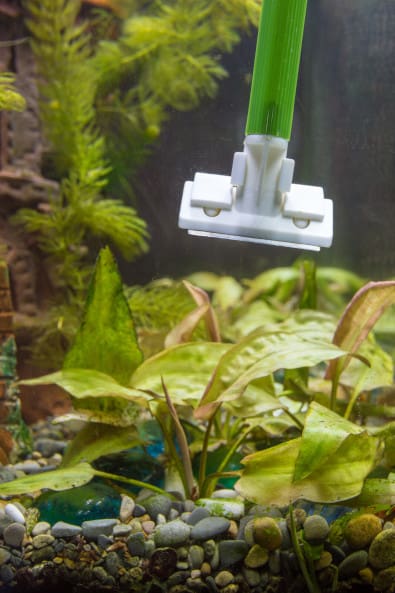 Blades and scrapers require a more "manual" approach to cleaning. Typically, you'd be provided with a pad, scraper, or blade, then you proceed to swipe it across the inner walls of the tank while applying adequate pressure to scrub off algae build-up.
This type gives you much more control over the pace and intensity of cleaning than its magnetic competitor. It also does a better job removing stubborn algae since it delivers a tougher performance.
That being said, blades and scrapers are usually very sharp, so you may end up harming your fish or plants if you're not careful. Moreover, the cleaning process can get quite messy, splashing water everywhere if the scraper handle is too short.
What to Consider Before Buying an Aquarium Glass Cleaner and Algae Scraper?
When shopping for the best aquarium glass cleaner and algae scraper, these are some important aspects you need to take into account before making a purchase. The 2 most critical ones are the tank's material and size.
Tank Material
The first thing you should be looking at is the material used in making your aquarium walls. Why? Well, because not all cleaners and scrapers are designed to accommodate every wall material out there.
In fact, each tank material calls for a different cleaner type to provide optimum cleanliness and to avoid leaving scratches and marks all over the walls.
For example, stainless steel blades are more suitable for glass tanks and can't be used for acrylic ones. On the other hand, ABS scrapers are compatible with acrylic aquariums but not with ones made of glass.
If you were to mix it up, you'll just end up with ruined tank walls that are still dirty.
Tank Size
Following your tank's material, you need to carefully check its size so that you can pick a cleaner with a proper fit.
The best way to achieve this is by selecting the cleaner size according to the thickness of your aquarium's walls. This provides you with high precision when making a purchase to guarantee a correct fit, which is crucial to accomplish satisfactory cleanliness.
---
---
Table could not be displayed.
Wrap Up
Choosing the best aquarium glass cleaner and algae scraper surely can be a confusing task. However, we're confident that our 8 best aquarium glass cleaner and algae scraper list, as well as our buying guide, will definitely help you land the perfect deal.
That being said, if you're looking for a reliable yet affordable cleaner for a glass aquarium, the Jasonwell Magnetic Aquarium Glass Cleaner should be right up your alley!
But if you need a cleaner to manually scrub off your algae issue, then we'd highly recommend the API Algae Scraper and Handheld Pads.