Best Pond Sealer – Top 7 Review
You want to make sure that your pond stays in the best possible condition. This means keeping up with any damage and wear in your pond structure.
Over time, cracks and other fissures can develop in your pond's liner. It's tempting to ignore these small cracks and imperfections.
But you don't want to let your pond accumulate cracks. Small fissures can enlarge and cause further damage down the line. In fact, outdoor weather and elements will make these issues way worse.
There are many products that can help you deal with these pond problems. But if you want to prevent your pond from becoming completely destroyed, you need the best pond sealer. Pond sealers come in all sorts of varieties and brands.
And in this guide, we'll talk about the best sealing products. You need to repair your pond at the first sign of damage and the products we will introduce are perfectly suited to this task!
Best Budget Pond Sealer
Best All-Around
Top-Notch
Cofair PLKIT Tite Seal EPDM Pond Liner Repair Kit
Gold Label Underwater Sealant, 290 Ml, Black
Herco Pond Coating Kit - Quart Size - Black
Best Budget Pond Sealer
Cofair PLKIT Tite Seal EPDM Pond Liner Repair Kit
Best All-Around
Gold Label Underwater Sealant, 290 Ml, Black
Top-Notch
Herco Pond Coating Kit - Quart Size - Black
Best Pond Sealer Products
Again, there are many pond sealer products out there.
This list will only show you the best pond sealer for your backyard pond though.
We have gathered up top of the line products from great pond brands. We'll tell you the pros and cons of each pond sealing product as well! You want to get the right sealer for your backyard pond.
So consider each product carefully.
1. Gold Label Pond Aquarium Underwater Sealant
Gold Label is the first pond sealant we will be introducing in this list. If you want a quality underwater sealant, you should consider purchasing from this brand. Gold Label is one of the best pond sealer products you can buy. It is unique and extremely convenient to use.
This underwater sealant is particularly popular for its water-resistant capabilities. Unlike some pond sealers, Gold Label can be used directly in your water. This product dries underwater and actually uses your pond water to seal up cracks in your pond liner. In addition, Gold Label can be used in almost any type of pond. So you won't have to worry about what kind of pond you have.
Gold Label is free of toxins that are dangerous for fish. So you won't have to worry about harming your pet with this sealer. It also comes in clear or black color. So it will blend in with your pond without any paint. You can touch up your pond liner if you want though.
Furthermore, Gold Label makes it simple and easy to apply their sealer. The bottle comes with a long cap that helps you get to cracks. And the liquid dries fast. Just make sure that your pond area is clear before you apply the solution!
PROS:
Very versatile sealer product that works on any pond type
You can let this dry in your pond
Very easy to use and not hard to apply to your liner
Dries fast so you won't have to wait long for cracks to seal
Color blends in nicely with your pond
CONS:
Gold Label is a little on the expensive side for pond sealant
Some people complain that the bottle is not big enough
Check Price and Reviews on Amazon
---
---
2. TotalPond Waterfall Foam Sealant
TotalPond 871980305467 53943 Foam Sealant, Black
Waterfall Foam Sealant is a single-component polyurethane black foam that fills gaps and ensures efficient water flow...
The foam adheres to most surfaces except: teflon, silicone, polyethylene, and other similar materials.
Waterfall Foam Sealant takes approximately 5 minutes for the outer shell to dry tack-free; Compound fully cures in 12 to...
The 12 oz. can includes a nozzle tip applicator.
Before using this product, make sure all surfaces the sealant will be applied to are completely dry; allow the product...
Total Pond Foam Sealant is another great pond product that can be used for cracks in your liner. This is a cheaper sealant option. But it works effectively on cracked and leaking areas of your pond.
The Foam Sealant comes in a spray bottle and can be applied to pond liner directly. Unfortunately, you will have to either drain your pond or remove your liner to fix cracks with this product.
Any surface that is sprayed with this product needs to be completely dry!
Otherwise, the sealant will not work. This can make the Foam Sealant a little inconvenient. However, it dries fast and doesn't take much time to apply. And once it has set into your liner it will keep any water from escaping your pond.
This is by no means the best pond sealer product you can buy. But Total Pond does a good job for the price you pay!
PROS:
A very good price point for a pond sealant
Not hard to use you just spray it over the liner
Keeps cracks sealed effectively
Darkly colored to blend into your pond
CONS:
Seals many surfaces but will not work on silicone and a few other materials
Your liner has to be dry for this to work
Can take a lot of work to either drain your pond or remove your liner
Check Price and Reviews on Amazon
---
---
3. Tite-Seal Self Adhesive Double Sided Butyl Pond Seam Tape
Tite Seal Tape is an alternative sealant option. The last two products we have shown you were liquid sealers, but Tite Seal uses tape to prevent further leakage. Instead of filling in the cracks in your liner, this product uses an adhesive to cover over them.
You can use this product on its own, for a short amount of time. But it's recommended that you use other sealant products to fill in the cracks in your liner. A pond coating is one of the best products to pair with this tape. Afterward, you can put the tape over it. This setup will keep your pond area crack free longer.
Tite Seal Tape is a little pricey, but worth the cost. Especially if you don't want to have to reseal your liner again. You want to make sure that your pond liner is dry before you put on the tape though. And let this product stay dry for at least one day. This way it can completely adhere to the damaged liner.
PROS:
The tape is totally waterproof and seals up your pond well
Not hard to use this taping product
Sticks readily to dry areas
The tape can be used on all types of pond areas
CONS:
Can be a little expensive to get this tape
Might need to use a sealing product to keep your leak from coming back
Check Price and Reviews on Amazon
---
---
4. Herco Pond Coating Kit
Herco Pond Coating is the next sealing product we will introduce. This pond coater is highly effective and of the best quality. But it costs a lot of money! Many people will not be able to afford this pond sealer. But if you want to invest in a higher-end pond product this could be the brand for you.
Herco Pond is known to have some of the best products on the market. Pond owners like this product because it can be applied to virtually any pond type. Even concrete and tile ponds can use this sealer!
You will want to use a brush or some other tool to get this into cracks and leaks. But it is pretty simple to seal up your pond with Herco! There are a few different sizes that come with your purchase. But the sealant products inside are not any different from one another.
Sealants from this company blend in nicely with your pond setup. Really, this is one of the best pond sealing products you can get.
PROS:
This sealant is totally safe for fish
Dries very fast and is easy to use
Comes in different sizes and has different colors
Well suited to many types of ponds
Don't have to use a lot of the sealer to fill in cracks
CONS:
Very expensive product not in everyone's budget
Check Price and Reviews on Amazon
---
---
5. Liquid Rubber Waterproof Sealant
Liquid Rubber Waterproof Sealant - Multi-Surface Leak Repair Indoor and Outdoor...
PROTECTIVE FINISH FOR - Flat roofs, metal roofs, sloped roofs, planter boxes, foundations, sheds, basements, metal,...
HIGHLY FLEXIBLE & DURABLE - Final membrane has over 1000% elongation preventing adhesion failure, and is UV Stable...
COVERAGE - Vertical Surfaces - 1 gallon/30 sq ft (2.8 sq m). 3-4 heavy coats to achieve a 30 mil (0.76 mm) membrane....
ENVIRONMENTALLY FRIENDLY - Liquid Rubber Waterproof Sealant/Coating is water based, containing no solvents, VOC's or...
FOR A BULLETPROOF SYSTEM - Bridge joints, seams, vents, gaps, protrusions…. With Liquid Rubber Seam Tape or Liquid...
Liquid Rubber Sealant is a fairly popular sealant for ponds. This product can be used in several types of ponds and comes in black coloring. You might have to use a few coats to get cracks under control. But overall this is a fairly effective sealant. It's extremely waterproof, and you can use it on other areas of your home as well. So it's not just a pond product!
If you have a bigger leak in your pond though, this might not be the best option. So consider this as you choose a sealant to buy.
The Liquid Rubber Sealant works well, but it isn't made to fill in large holes and cracks. It is good if you want to prime your liner. So consider painting this over your pond liner before it goes into your pond water. This way no leaks will develop in the future.
You can also get the Liquid Rubber in three sizes, a gallon, a quart, or the five gallons. Just choose a size that makes sense for your pond setup.
PROS:
Price is not so bad
Easy to apply to your pond liner
Waterproof solution but can only be applied to dry areas
Good if you need to fix small leakages and damage in ponds
Can help prime pond liners
CONS:
You might need to put a few coats of this on
Does not dry as fast as other products
Very big holes or leakages might not be entirely sealed
Check Price and Reviews on Amazon
---
---
6. Tite-Seal Pond Liner Repair Kit
Tite-Seal EPDM Pond Liner is an inexpensive kit that can help with smaller cracks and damage. You get a few different items when you purchase this kit. This includes tape, some gloves, a sponge to clean the cracked area, and an applicator.
This is a fairly simple kit that works well for the price. You have to clean any cracked areas and dry them off. But the tape works well and will stay attached to the crack. We recommend using some liquid pond sealer with this product though. This way you won't have to reapply the tape in the future. Cofair isn't a bad sealant option. Pond tapes, just need something extra to keep cracks contained.
PROS:
Good at sealing up small pond liner cracks
Will not cost you a lot of money
Works with many pond types
Easy to use this pond sealing kit
CONS:
Not a great option for large cracks and holes in pond liners
Product is a little on the cheap side and not ideal for a large pond area
You will want to buy some liquid sealer to fully take care of cracks
Check Price and Reviews on Amazon
---
---
7. Liquid Rubber Seam Tape
Liquid Rubber Peel and Stick Seam Tape - Fix Leaks, Repair and Restore Roof...
USE FOR - RV roofs, metal roofs, flat roofs, trailers, campers, mobile homes, gutters, foundations, ponds, planter...
Liquid Rubber Seam Tape is the last pond sealer on this list. This tape is made from the same brand as the Liquid Rubber Sealant product. It is highly useful for any cracks and leaks you may find in your pond. It is also waterproof and made of superior adhesive material.
Unlike other sealant tapes, Liquid Rubber uses a nano formula to increase the effectiveness of their product. So you know that every dollar you spend on this tape is well worth the cost!
Still, while this tape can be very powerful, you will want to pair it with another type of sealant for better outcomes. The Rubber Liquid solution can be used with the tape. This will keep your pond sealed and leak free for the longest time! Some people might not want to spend extra money on liquid sealers and tape.
But these products are a great solution for pond cracks and damage. You can even get this tape in different sizes. Depending on the size of your pond area, you might want to go with bigger or smaller tape measurements. Choose what is right for your pond liner size. All the tapes are made of the same material.
PROS:
Well priced pond sealant tape
Highly waterproof and seals cracks fast
Sticks to pond liner fast and readily
Can be applied to all kinds of pond surfaces with ease
CONS:
Might need to apply a coating of liquid sealant before placing this down
Pond owners might not like the thick look of the tape
Check Price and Reviews on Amazon
---
---
Importance of Getting The Best Pond Sealer
Pond sealer is important for several key reasons. As we mentioned, you need pond sealer to prevent cracks from getting bigger and causing even more damage to your pond. No one wants their pond leaking. And sealant ensures that this doesn't happen.
Each sealant product is different. But in essence, they are able to fill in or cover up cracks. This keeps your pond functional and safe for pets.
You need pond sealer if your pond is starting to leak!
Some pond owners even spray their liner or pond bottom with a sealant to prevent damage.
There are tons of different materials and techniques which can help your pond. But we'll get into that more in the next section!
Overall, though, you want to get the best possible pond sealer. So don't get the cheapest product you can find. Look over our guide for the best pond sealer options.
And invest your money in something that is effective and useful for your specific pond setup! You don't want to get a low-quality product and have to reseal your pond later on.
Different Types of Pond Sealer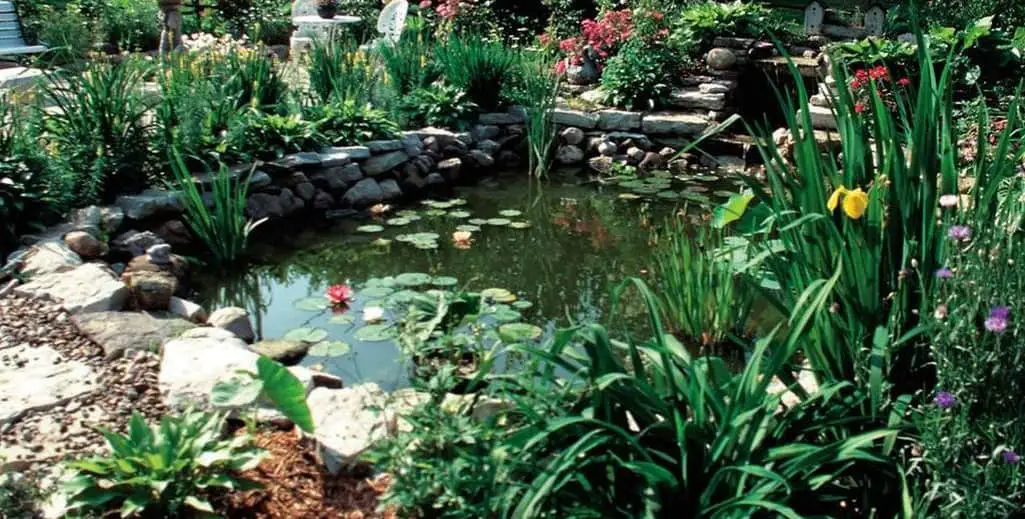 As we have stated throughout the article, there are many types of pond sealers to purchase.
This section will go over the most popular types of sealers. This way you can get one that is right for your pond liner!
Liquid Pond Sealers
Liquid pond sealers are perhaps one of the most popular sealing products. They are easy to apply to cracks and leaking areas of a pond. You put this directly on the damaged area, and the cracks are able to be filled in easily. Some pond sealers can be applied underwater, others need a dry surface to work.
Overall, these products are effective and efficient when you are trying to reverse damage on pond liners. Additional layers or coats may be necessary when using liquid sealers. But it depends on the brand of the sealer you get. So make sure to get a high-quality liquid sealer so you don't have to use as much. We have included a few of these products above on our list.
High Strength Bonding Sealers
High strength bonding sealers are another option you can go with. They are like liquid pond sealers but differ in that they use water to plug up cracks and leaks. You don't have to take your pond liner out or dry it to get this product to work. So its a lot more convenient in comparison to other sealers.
High strength bonding can be used on virtually any surface as well. So this makes it extremely popular among pond owners.
Tape Sealers
Tape sealers can be used on your pond leaks too. Companies have started to manufacture products specifically for ponds.
These waterproof taps are resilient and will keep cracks from getting larger. But you likely want to use other sealant products in conjunction with this for the best possible results.
Tile or Concrete Sealers
Tile or concrete sealers are the last type of pond sealing product we will discuss. Many different sealers can be used on a wide variety of pond types.
But ponds with tile or concrete are different and need specific ingredients to seal up cracks effectively. These types of sealers are specifically made for ponds with concrete or tile only.
Best Budget Pond Sealer
Best All-Around
Top-Notch
Cofair PLKIT Tite Seal EPDM Pond Liner Repair Kit
Gold Label Underwater Sealant, 290 Ml, Black
Herco Pond Coating Kit - Quart Size - Black
Best Budget Pond Sealer
Cofair PLKIT Tite Seal EPDM Pond Liner Repair Kit
Best All-Around
Gold Label Underwater Sealant, 290 Ml, Black
Top-Notch
Herco Pond Coating Kit - Quart Size - Black
Conclusion
Pond sealers are essential for any pond setup. At some point, your pond liner will crack. Really, anything that is underwater can start to break down over time and fissure. You want to be prepared for this and have pond sealers on hand. This way you can keep your pond running and safe for your pet fish.
Of course, there are a wide variety of products to choose from. And some pond types need certain sealants to work effectively in a pond area. So in this guide, we broke down the information you need for your pond. Everything you need to know about pond sealers was included. We went over various types of sealers too so you could find the best pond sealer product.
Really you only want to buy the best pond sealer for your pond. Getting low-quality products can actually create more damage to your backyard pond. This is why we included only high-quality products on our buying list.
With these products and information, you should be able to purchase a great pond sealer!

Last update on 2023-04-02 at 02:55 / Affiliate links / Images from Amazon Product Advertising API