Sump pumps are essential for some tank setups. They help push water through a sump system and keep aquarium water well maintained. Sump systems are meant to store water.
They also store other tank machinery that cannot fit in an aquarium system. Typically, you will see these systems in marine tanks and reef tanks. This is because these types of setups require a high level of environmental regulation.
Sump pumps allow for this level of regulation and keep fish and corals thriving and alive in a manmade environment. Not all aquariums will require a sump pump of course. But even freshwater tanks can benefit from these devices!
You might not be familiar with these devices though. So, in this article, we'll further explain the purposes of a sump pump and show you some of the best aquarium sump pump products.
This way you can figure out if your aquarium needs one of these pumps installed.
Best Budget
Best All-Around
Top-Notch
KEDSUM 660GPH Submersible Pump(3000L/H, 55W), Ultra Quiet Water Pump with 6ft...
Simple Deluxe 1056GPH 276W Submersible Pump With 15' Cord, Water Pump For Fish...
Jebao DCP-6500 Sine Wave Water Return Pump
Last update on 2023-03-20 at 19:41 / Affiliate links / Images from Amazon Product Advertising API
Best Aquarium Sump Pump – Top 6 Review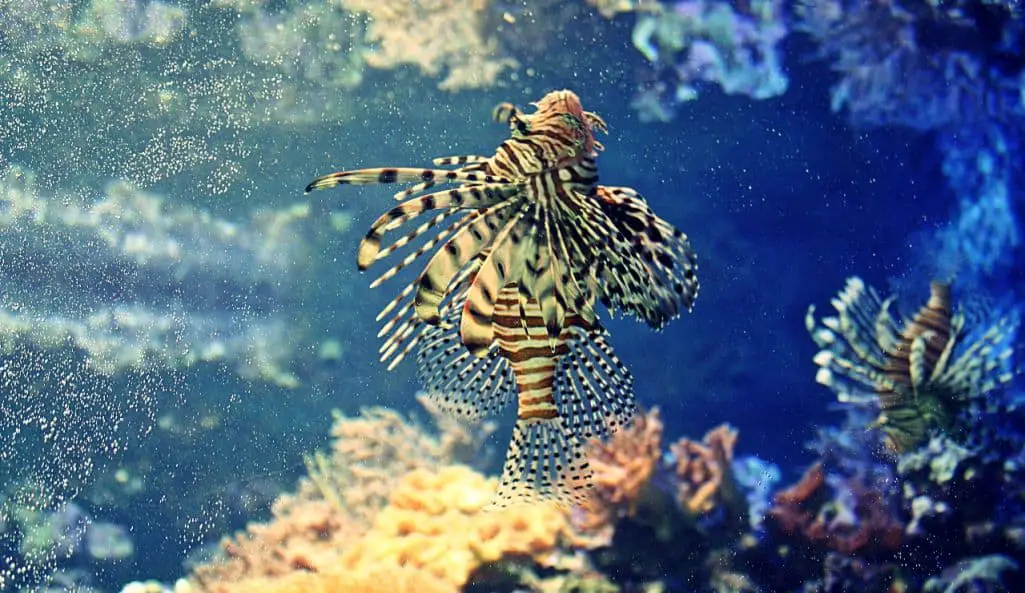 The following sump pumps are some of the best aquarium sump pump products available to buyers.
This portion of the post will go over these aquarium devices for you. You'll see the pros and cons of each sump pump product!
1. Jecod/Jebao DCT Marine Controllable Water Pump
Jecod/Jebao DCT Marine Controllable Water Pump (DCT-4000)
New enhanced range will replace the previous DC3000/DC6000/9000/12000/15000
High performance motor with innovation electronics, and energy savig up to 50% than previsous models
Power: 30-watt, Max flow: 1056GPH; Max-head: 9.8 ft
10 Speed Mode controller for T Series
No Copper components , safety on your tank!
Last update on 2023-03-20 at 19:41 / Affiliate links / Images from Amazon Product Advertising API
Jebao DCT is an affordable and efficient sump pump. Multiple sizes are available for this sump product. So, you'll want to get a DCT model that is right for your particular tank.
Consider the dimensions of your tank and the amount of water that needs to be filtered as you choose one. The machinery and design in the DCT are similar across all versions of the product. Only the size and motor power differs in these sump pumps.
Most tank owners will be fine with the DCT 4000. This device can run around 1000 gallons through a sump system each hour.
But if you have a massive tank there are pump options that go close to 4000 gallons per hour.
The biggest size is a DCT 15000, but most people won't require such a powerful product.
DCT sump pumps have a lot to offer to potential buyers.
Unlike a lot of other sump pumps, the DCT only uses thirty watts of power. This will cut back on at least half of the energy consumption typically found in other devices.
As a result of this, you will pay a lot less money on energy bills with the DCT. In addition, this sump pump runs quietly and powerfully. It has a great water flow rate at 1000 gallons per hour and it does not create a lot of noise as it operates!
On the whole, this is not a bad choice for a sump pump. In fact, it is one of the best aquarium sump pump products! You can use the DCT on any type of tank. And you can adjust water flow as you want for perfect water conditions.
PROS:
DCT runs smoothly and powerfully
Does not create a lot of noise
Great flow rate at 1000 gph
Made out of quality materials
DCT has a good range of sizes and models
Does not consume a ton of energy
CONS:
Can be hard to assemble for people new to sump pumps
Check Price and Reviews on Amazon
---
---
2. Aqueon Quietflow Submersible Utility Pump
Aqueon QuietFlow Utility Pump AQ2500
Silent, versatile and low maintenance
Energy efficient
Secure suction cup mount included
Connectors included with pump: 3/4" female pipe thread, 3/4" internal diameter hose connector
Fully submersible or can be run inline
Last update on 2023-03-20 at 19:41 / Affiliate links / Images from Amazon Product Advertising API
Aqueon Sump Pumps are perfect for medium-sized tanks. These submersible sump products come in seven options. Most of the differences between these submersible products are found in size and gph. Flow rate ranges from 50 gph to 600 gph so again, you'll want a sump pump that is right for your tank.
All Aqueon pump models share similar features. But the 4000W has a few extra add-ons if you want to spend some more money. You can get LED sensor lights and heating with the 4000W model only.
Other versions of this product are more simple and offer the basic functions of any sump pump. You can change the flow of water and get your sump system running properly with the basic models.
All of these Aqueon pumps offer buyers a warranty. And the devices themselves are meant to last for many years. This sump pump is made to be shatterproof and durable. You won't have to clean these products much and you simply put this sump pump in your tank with suction cups.
Aqueon Quietflow is not the best aquarium sump pump. Still, this device is of high quality and will aid your sump system well and stay quiet in your tank. The price of this pump is affordable as well. In addition, the energy consumption of this pump is low.
PROS:
Great price for this sump pump
Shatterproof device that lasts for a long time
A few different options and features for this device
Good brand and functionality from this product
Made to quietly pump water through a sump system
Does not use a lot of energy and can save you money
CONS:
Less power and flow rate than some other models
Not the best sump pump choice for massive tanks
Check Price and Reviews on Amazon
---
---
3. KedSum Submersible Pump
KEDSUM 660GPH Submersible Pump(3000L/H, 55W), Ultra Quiet Water Pump with 6ft...
★Powerful Speed Flow: Max Flow Rate: 660 GPH per hour(3000L/H), Max Lift height: up to 6 Feet.(Length of power...
★Ultra Quiet:This water pump is designed for reliability and ultra-quiet operation to provide years of...
★Perfect size: This profile size water pump is great to hide or disguise (Dimensions: 3.9"(H)*5.1"(L)*3.1"(W)).With no...
★3 Outlet Adapters: Equipped with 3 Outlet Adapters ,one is 0.51inch , one is 0.75inch, and the other is 0.87inch,...
★Detachable and Cleanable: The water pump is easy to detach to clean. [NOTE: This water pump is metric threads. Pump...
Last update on 2023-03-20 at 19:41 / Affiliate links / Images from Amazon Product Advertising API
KedSum is another budget sump pump option that can be put inside your tank. This submersible sump device is small and won't take up a lot of tank room. As it is fully submergible you will save yourself some space around your tank area.
KedSum has five different versions that differ in their flow rate only. You can get one of these devices from 170 gph up to 770 gph. This flow rate will fit with a few different size tanks. You can even put these in small tanks. KedSum can definitely adjust into a medium tank, but massive tanks will require a more powerful pump.
KedSum is quiet and an energy-saving pump. Its power consumption is comparable to the Jebao DCT. As a result, you will see extra savings when you get this pump.
The cord on these pumps is lengthy as well, and you get three different adapters for the KedSum. Each adapter helps control the water flow. Other notable features include detachable parts that ease cleaning and maintenance. And the quiet functioning of the device itself is of note.
You'll have to buy your own tubes for this sump pump. But overall, the positives outweigh any negatives in this particular sump pump.
It's a budget option so we can't consider this to be the best aquarium sump pump. But the KedSum still does a great job of keeping tanks clean and in order!
PROS:
KedSum has a great price
You save energy with this device and can lower your energy bill
Small and mediums tanks do well with the KedSum
Good cord length
Different power adapters that help with water flow change
Easy to clean this sump pump
CONS:
Not a sump pump device for larger tanks
You have to purchase tubes separately for your sump pump
Check Price and Reviews on Amazon
---
---
4. Simple Deluxe Pump
Simple Deluxe 1056GPH 276W Submersible Pump With 15' Cord, Water Pump For Fish...
#1 has pre-filter included - Pre-filter on the intake prevents debris from entering your pump and extend the life of...
Durable quality - Our polished aluminum oxide ceramic impeller shaft insures long pump life because it is non-corrodible...
Safe & easy - Safe for fish with no exposed copper. Easy to clean with no tools required to disassemble and clean...
3 size threaded nozzles. 83 inch, 1.06 inch, 1.34 inch) – Please note inline and outlet nozzles has different thread...
Versatile - Circulate and aerate the water, making it more attractive to your fish or turtles. This submersible pump is...
Last update on 2023-03-20 at 19:41 / Affiliate links / Images from Amazon Product Advertising API
Simple Deluxe is a versatile sump pump device. Purchasers can use this pump in a range of water environments. Ponds, aquariums, and other small bodies of water can all be serviced by the Deluxe.
To withstand all of these water habitats, the designers of this pump added a resin shell. This material makes the Deluxe extra strong. In addition, your device won't rust easily or crack and fill with water. It will run continuously without breaking.
Deluxe pumps also work great in salt water and more massive aquarium setups. With over a 1000 gph flow rate, the Deluxe is well suited to almost any aquarium. Not only is it powerful, but it helps with filtering more than other sump pumps. There is a prefilter installed in this pump. This will catch floating waste before it hits your filter. It will also prevent any major clogging in your device.
Overall, Simple Deluxe is one of the best aquarium sump pump products on this list. This toxin-free sump device is an ideal product for your aquatic pets. It's powerful, submersible, and won't require much from owners. There is not much setup involved, nor is maintenance demanding.
PROS:
Can be used in all kinds of water setups
Great in saltwater and won't rust
Very durable one of the most durable pump products on our list
Great sump pump for beginners
Works great with much larger tanks
CONS:
Won't be a great pump for a small tank
Check Price and Reviews on Amazon
---
---
5. Jebao DCP Sine Wave Water Return Pump
Jebao DCP-6500 Sine Wave Water Return Pump
2017 latest dip return pump from jerboa, improved from the duct model
High performance motor with innovation electronics, and energy saving up to 50% than old model
No copper components, safety on your tank internal use only
Super quiet operation and memory function for power supply off to recall memory
Power: 55-watt 110-120v 60hz, max flow: 1710gph, max head: 14.7ft.
Last update on 2023-03-20 at 19:41 / Affiliate links / Images from Amazon Product Advertising API
Jebao Water Return has the biggest range in water flow among all water pumps included on our guide. With over ten models to choose from, you are sure to find the right sump pump for your aquarium.
None of the models differ significantly from one another. The main difference lies in the flow rate. You can get this Jebao product from 660 gph to close to 5300 gph. This creates a wide range of diversity for this pump.
Many of the features of this product are similar to the first Jebao device we listed. This sump pump is powerful but will save you from massive energy consumption.
Also added to this is a memory function. You can set up specific controls for your sump pump and the device will remember them. There are also mode options if you don't want to set the flow rate yourself.
You will pay more for this particular sump pump. But the quality of the Jebao cannot be denied. You want a powerful pump for your sump system. And if you have a big aquarium this is the sump pump to get.
It is definitely the best aquarium sump pump for all kinds of tank setups!
PROS:
Great flow rate range for different sump systems
Works for all kinds of tank sizes
Powerful motor and water flow
Easy to control the pump
Not hard to set the Jebao up
Check Price and Reviews on Amazon
---
---
6. Aquastation Silent Swirl Controllable DC Aquarium Pump
Orlushy DC-5000 Silent Swirl Controllable DC aquarium Pump 40W 1320GPH-marine...
★sine wave technology , Ultra silent operation.
★Variable speed control with up to 20 different speed settings,offering precise adjustment of water flow for optimum...
★Dc return pump modes:steady flow mode ,wave mode ,feed mode.
★NO Copper components parts, Suitable for marine and fresh water,safe for any tank!
★Low voltage, safe,IC Electronic Detection, Motor protection if rotor is blocked. With wear-resistant ceramic shaft,...
Last update on 2023-03-20 at 19:41 / Affiliate links / Images from Amazon Product Advertising API
Aquastation Pump is the last sump pump on our guide. This particular sump device is also one of the most expensive items listed here. Most of the models will come at under 100 dollars.
But the Aquastation still might be out of some people's budget. Four models of the Aquastation exist, but you won't see much difference except for the gph. It ranges from 1000 gph to around 3000 gph. Any of the Aquastations can be used in saltwater or freshwater. These can also be used in bigger tanks.
Aquastation is different from other sump pumps. It has specialized technology that creates up to twenty different types of pump settings and water outputs. You can customize your pump flow rate in a way you can't with other pump products.
For instance, there is a feeding mode that slows down your pump. There is also a wave mode that is perfect for marine tanks and creates optimal water movement.
In addition, Aquastation is near silent and safe to use for your fish. The material in this sump product is non-toxic and water-resistant.
With its low power consumption and its considerable flow rate, you should consider this sump pump. Aquastation is another contender for best aquarium sump pump!
PROS:
Powerful sump pump device
Lots of different flow modes and speed options
Great for bigger tank systems
Does not use up a lot of power to pump your tank water
A sump pump that will stay silent
CONS:
A little more expensive than some sump pumps
Check Price and Reviews on Amazon
---
---
Why You Need a Sump Pump
Again, not all aquariums will be in need of a sump pump. But if you have a marine tank or a reef tank these devices are definitely necessary.
A sump system keeps tank water in top condition. Paired with a pump, your fish and corals are sure to have the best possible water quality. In addition, freshwater tanks can also benefit from a sump pump. Large volume tanks are more successful with an efficient filtering system to keep them at optimal health. A sump system and pump could amp up your filter setup.
So, this can be an ideal cleaning and maintenance solution for even freshwater tanks as a result. Some sump pumps even have their own filter compartments that can further clean up tanks.
Really, there are many helpful features to consider with these products. And sump pumps and systems can only help larger and more delicate tanks setups!
Types of Sump Pumps
A few variations of sump pumps exist. You'll want to be familiar with these different types of devices before you make your sump pump purchase. Buyers can choose from pedestal and submersible pumps. Either option can be fine for a tank. But these will both have their differences.
Pedestal pumps tend to cost less money but you will have to find room for them outside your tank. They can't go in the water and have bulkier machinery as well. So, this won't be a great option if you want a more compact sump system.
Submersible sump pumps, on the other hand, go straight in your tank water. They can take up room in your tank, but if you have a large aquarium they will hardly be of any notice.
Tank owners prefer submersible devices because they create less noise. They also have a sleeker look and design. Know that you will spend more money on these types of sump products though.
Getting The Best Aquarium Sump Pump
---
Video: "How to Choose a Properly Sized Return Pump for Your Saltwater Aquarium"
---
As you can guess, sump pumps come in several varieties. We already described some of the different types of sump pumps to you. But among these sump devices, there are many different products and brands to choose from.
When you pick a sump pump though, you should be looking for a product that is both efficient and reliable. This way you get the best aquarium sump pump. In addition, you want to have a sump device that fits with the size of your tank. Ill fitted devices will not do your tank inhabitants any good.
Really you only want the best aquarium sump pump. This way you won't have to replace your sump pump or deal with an underperforming device.
In the next couple of sections, we will talk about exactly what you need to be on the lookout for in regards to sump pumps. Cost, brand, and power are just some of the factors you should be considering as you make you sump pump choice!
Get A Aquarium Sump Pump With Enough Power and Water Flow
A key feature in sump pumps is flow rate and power. Most tanks that need a sump system will be on the larger to medium size. So, make sure your pump is packed with the right amount of power to handle your tank. But also make sure energy consumption is not overly high. As this can make your energy bill more expensive than it needs to be.
In addition, gph should be at least 500 gallons, but you can go even higher if you have a bigger tank.
Sump pumps should also be adjustable so you can change the flow of your water. It's better to have control of your sump system and the rate at which water goes through it.
Cost and Quality
Sump pumps are not expensive devices. Really, there are a lot of great budget options for these types of tank devices!
Still, you want to consider your own budget and the quality of the pump itself. Most pumps will be under one-hundred dollars. But some products can be a little more expensive than others. You don't always have to go with the pricier option.
But it is best to look at the brand of the sump pump and the features. It's common buying advice, but going with a well-known pump brand is the best choice. This way you can tell if the pump you buy is of the right quality.
Power capabilities are import as we mentioned. But you should also be looking at the durability of the device and warranty policies. Make sure that your pump will last you a long time. You can look at reviews on the site you purchase your pump from or see if the product has a warranty policy.
Other Considerations
In addition to power and quality, you might want to consider the noise level of your sump pump. Some pumps will be louder than others. Considering this, submersible pumps might be preferable for certain tank owners.
However, if you have this kind of pump in the water keep a thermometer in your tank. Some pumps can run a little hot. If they use a lot of power they can even change the temperature of your tank. In this case, you will want to have a cooling device in your setup.
This won't happen with all devices, but you do not want water conditions fluctuating wildly. If you are worried about this get a pedestal sump pump. It will be outside your tank water and won't affect the climate of your aquarium.
Best Budget
Best All-Around
Top-Notch
KEDSUM 660GPH Submersible Pump(3000L/H, 55W), Ultra Quiet Water Pump with 6ft...
Simple Deluxe 1056GPH 276W Submersible Pump With 15' Cord, Water Pump For Fish...
Jebao DCP-6500 Sine Wave Water Return Pump
Last update on 2023-03-20 at 19:41 / Affiliate links / Images from Amazon Product Advertising API
Conclusion
There are a lot of sump pump products for tank owners to choose from. But you don't want to get any old pump for your sump system. In most cases, you will need something high powered and durable.
Sump devices should be of the best quality to give your tank the water conditions it needs. We went over some of these qualities so you find the best aquarium sump pumps. Sump pumps are not always easy to shop for.
But hopefully, we have shed some light on these devices. This way your marine tank or large tank system can thrive with a sump device! Aquarium upkeep is important not only for the look of your tank but for your aquarium inhabitants.
This device and other tank products should help keep your setup well maintained!