Best Protein Skimmer in 2023 – Top 12 Reviewed
Protein skimmers add extra filtration to several types of aquariums. They are not necessary for all tanks. But are vital if you want to have a successful saltwater setup. For reef tanks, these filtration devices are especially important.

Protein skimmers rid saltwater of floating waste, protein, and debris. When you have a coral, you want your water to be of the highest quality possible. Protein skimmers ensure that this is the case.

Protein skimming is not as important as biological filtration. But this filtering process is essential if you want a thriving marine aquarium community. Even if you have three staged filtering devices, your water can still be tarnished by unwanted tank substances.

Skimmers take tank cleaning to the next level. They make it easier for your filter to do its job. All types of filtration will be made more efficient and effective with the help of a protein skimmer. So read on to learn how they work, and how you can get the best protein skimmer for your tank!

Table could not be displayed.
Best Protein Skimmer For Aquariums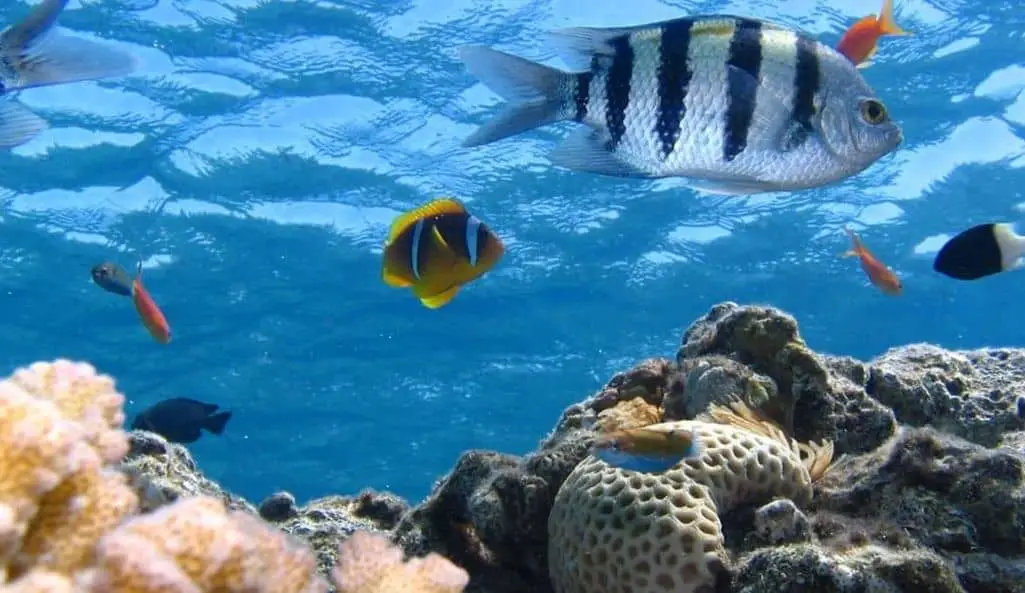 In this next section, we will get into specific products that will work for your tank. These are some of the best devices and brands for your marine aquarium.
We will explain the features of each protein skimmer, and go into detail about their pros and cons.
Your purchasing choice will be made simple through our buying guide! We have put together reasonably prices items with the best specs for your saltwater tanks!
1. Coralife Super Protein Skimmer
No products found.
The first protein skimmer on our list is the Coralife Super Skimmer. Coralife is a versatile skimmer that can be set up in a number of ways.
If you want to put this model in a sump you can do that. If you prefer to have it hanging off your tank you can also do that.
This makes this product popular as it can fit with several types of tanks and setups. This is a space-saving skimmer that performs admirably well!
Coralife skimmers also boast the top propeller technology. Coralife uses its own wheel aspiration system to run its skimmers. This creates better airflow and more bubble formation. With more bubbles and air, your tank water will be cleaned up faster!
You want the most efficient system for your tank. Purchasing from Coralife is one way to ensure this.
In addition, this system is easy to set up. This device can be cleaned up without a problem when it collects waste.
Overall, you can't go wrong with this skimmer. It can run over two-hundred and twenty gallons of water. And if you have a smaller tank, other sizes of the Coralife can be bought for tanks as small as sixty-five gallons.
Coralife Super Skimmer is well-priced, powerful, and simple to use. It is definitely one of the best protein skimmer products for your aquarium.
PROS:
This skimmer cleans high volumes of water
Very reasonable price that can't be beat
Can be purchased for many sizes of tanks
Pump is durable as is the rest of the model
Can set up your skimmer in a few ways
Valve will help control water levels well
CONS:
Not a product for nano tanks or other small aquariums
Check Price and Reviews on Amazon
---
Video: "Coralife 125 super skimmer – FAQ Answered"
---
---
2. Bubble Magus BM-Curve Protein Skimmer
No products found.
The next protein skimming product comes in three variations. You have the Bubble Magus Curve five, seven, and nine. All three models have a similar design. The main differences lie in the size of the skimmer and the power of the pumps.
The Curve five can be used on aquariums with up to one-hundred and forty gallons of water.
The Curve seven almost doubles that number and works with tanks that are up to two-hundred forty gallons.
Both of these models have the same type of pump. And have the same pump power. These skimmers work best with medium-sized tank setups.
In contrast, the Curve nine is much larger and does not have the same pump. It has even more power than the other models pumps. The Curve nine has four times the power. If you have a massive tank that is four-hundred gallons, this is a pump to look out for.
Most people won't need a pump with this much power. We recommend getting the Curve five for the best value and price. Still, all of these devices are made to be compact and sleek. So any one of these can be a good fit for the right size tank.
To summarize, the Curve is quiet and extremely powerful. If you are looking to clean your aquarium to the max, this device is a great option. It is made of the best materials. Acrylic is used in this skimmer and will keep this product running for years.
Any type of aquarium can use the Curve. While the price is a little more expensive than other models, it is worth your money. This skimmer is another contender for the best protein skimmer product.
PROS:
This is another high powered device that will clean up your tank
Great pumps that are made to last and stay intact
Designed to give you years of use
Can cycle through higher volumes of water
Not hard to use or maintain at all
CONS:
Could be a little pricy depending on the model you get
Hard to get ahold of customer service
Installation takes a little bit of time
Check Price and Reviews on Amazon (BM-Curve 5)
Check Price and Reviews on Amazon (BM-Curve 7)
Check Price and Reviews on Amazon (BM-Curve 9)
---
Video: "Bubble Magus Curve 5: Unboxing and Setup"
---
---
3. SCA Protein Skimmers
No products found.
The SC Aquarium Skimmer is an in-sump skimmer that provides buyers with the best value. Some people have even said that this is the best protein skimmer out there today.
A ton of new features have been added to this product so it performs better than ever. It will work faster and create better quality bubbles. This way your tank will look clear and stay thriving.
There are three versions of this device to consider buying. The SC 301, the SC 302, and the SC 303. When you choose from these models, consider your tank size and needs. Again, most people won't need the biggest version of this product.
The 302 packs the biggest punch, with the most powerful pump and largest surface area. It will be best used for tanks up to one-hundred eighty gallons.
Most tank owners can stick with the SC 301 though. It is great for a smaller tank up to sixty-five gallons and it can fit with any budget. This device is under one-hundred dollars. It functions well for a reasonable price.
But if you have a medium-sized tank, try going with the SC 303. This model can be used on tanks that are one-hundred and forty gallons.
All three versions of the SC are updated and imputed with the best features. The motors in this device are quiet, efficient, and more high-powered than ever.
PROS:
Has different sizes available for all kinds of aquariums
Reasonable price for the value you get
Great size collection cup to trap all waste
Good for bigger tanks and has a very powerful pump
This device has been updated with new technology for a better clean
The SC is quiet as it creates bubbles for your tank
CONS:
The pump is powerful but it could break, so be careful with it
A lot of bubbles made with this product so your tank can get cloudy momentarily
Check Price and Reviews on Amazon (SCA-301)
Check Price and Reviews on Amazon (SCA-302)
Check Price and Reviews on Amazon (SCA-303)
---
Video: "HOW TO SET UP AND TUNE A PROTEIN SKIMMER SCA-302 180 Gallon"
---
---
4. Instant Ocean SeaClone Protein Skimmer
No products found.
Instant Ocean is a hang-on skimmer product. It is equipped with a strong pump and perfect for tanks with up to one-hundred and eighty gallons. With the design of this skimmer, you will have plenty of room inside and outside your tank. You won't have to find extra space to place it.
The Instant Ocean can be clipped directly on the side of your tank! The slimmed and convenient design makes it a great option for anyone with a saltwater aquarium. Medium to large aquariums are best suited to the Instant Ocean.
In terms of machinery, Instant Ocean uses a Venturi system. So you are sure to get a reliable and strong pump action with this product. The device mixes air and water rapidly to make the best microbubbles for your tank. The waste and decaying material in your tank will be obliterated in no time.
Some people complain about the quality of the device though. In particular, the Instant Ocean can be a little noisy. There are also some complaints about the durability of this particular skimmer. So you do not want to drop this product, it will break easily with a fall.
Still, this is a well priced and powerful skimmer. You'll get great value out of it. It isn't the best protein skimmer but it gets the job done.
PROS:
Great Hang-on skimmer that works for medium-sized tanks
Well priced and there is a size for slightly bigger tanks
Powerful Venturi styled system with good pumps
Cleans up a tank fast and efficiently
Great bubble quality, makes them fast and small
CONS:
Will break if you drop it or bump it hard
This is a noisy protein skimmer
Not meant for all tanks, there are limited size options
Not an ideal product for nano or smaller tanks
Check Price and Reviews on Amazon
---
Video: "Seaclone 100 Protein Skimmer"
---
---
5. CoralVue Technology BH Octopus Skimmer
No products found.
CoralVue is an external skimming system that is well known in the aquarium community. You do not want to miss out on this product!
This is definitely. one of the more pricy protein skimmers. But the price is by no means unwarranted. You can choose between the one-hundred-gallon model and the one-hundred and twenty-gallon model. Get the skimmer that best fits with your tank.
CoralVue Octopus has the highest-quality of any device on this list. We can guarantee that you will get the best bubble production out of this protein skimmer.
Just remember that this skimmer is meant for bigger tanks. And, because this is an external skimmer, you will need to have a place to put this device. Most people shouldn't have any issues though, especially if they are experienced and already own large aquariums.
But if you are new to fishkeeping, keep these things in mind. You want to have a skimmer that works for your home and your preferences. Not all tank owners want to deal with a large skimming device.
Besides issues of space and size though, this is a perfect product. Coralvue is known to keep tank communities healthy and crystal clear. You cannot go wrong with the Octopus Skimmer.
It is one of the best protein skimmer products for your aquarium! It takes a little time to set it up and get it running. But once the Octopus starts protein skimming you won't want to try another brand of products.
PROS:
One of the highest quality skimming devices
Great robust pump that won't break down
Powerful protein skimmer that cleans up your tank with precision
Made of strong durable acrylic material for best skimming
Good bubble quality that quickly gathers waste
Great product for bigger tanks
CONS:
This is a high-price item not meant for everyone
Takes a bit for this device to get started and running in your tank
Not a great choice for nano tanks or other smaller tanks
Could take up a lot of space outside your tank
Check Price and Reviews on Amazon (BH-1000)
Check Price and Reviews on Amazon (BH-2000)
---
Video: "Reef Octopus BH-1000 Protein Skimmer REVIEW"
---
---
6. Macro Aqua M Hang-on External Protein Skimmer
No products found.
Macro Aqua M is a protein skimmer designed for small tanks. If you have a tank sixty gallons and under this is the protein skimming device for you!
Macro Aqua is small but effective. It uses a needle wheel impeller to give you the best results in your tank. This technology creates more surface tension and flow in your water for better bubbles. It chops up bubbles so they are extra fine when they enter your tank.
Macro Aqua M is a hang-on device. With the slimmed designed and small size you are already saving room. But with the hang-on feature, you make it even easier to have a protein skimmer in your home.
Other skimming products tend to be large and take up a lot of space. This is not the case with the Macro Aqua. This protein skimmer is just the right size, and easy to assemble and use. In addition, it has a great valve setup. You want to be able to control water levels with ease. Macro Aqua M ensures this with their valves.
Overall, for smaller tanks, this is one of the best protein skimmer products! If you have a slightly larger tank, there is another size option for your tank.
The Aqua M 60 accommodates tanks up to one-hundred gallons. It uses the same machinery as the smaller device. But it isn't the most powerful option for larger tanks.
We recommend going with a different brand if you have a big tank.
PROS:
Fits into small tank communities
Hangs off the side of your aquarium setup
Won't take up much space at all
Not hard to use this device at all or install
Uses the latest technology for a good cleaning
Good price if you are on a budget
Good value for such a small unit
Has a valve that is easy to use
CONS:
Not a great protein skimmer for bigger tanks
Not as powerful as other pumps and devices
Bigger size not rated as well by customers
Check Price and Reviews on Amazon (M-50)
Check Price and Reviews on Amazon (M-60)
---
Video: "Marco Aqua M-50 Protein Skimmer – Quick Setup"
---
---
7. Aquatic Life 115 Mini Internal Protein Skimmer
No products found.
Aquatic Life is the cheapest product on our list. If you have a mini reef setup, this will be the ideal product for you and your tank inhabitants!
Aquatic Life also uses a needle impeller so you will get good quality bubbles. But this is not a powerful device. It will work in small tanks, but don't try putting this in bigger systems.
Aquatic life can also go in bio cubes and other nano tanks. But remember, this is a mini protein skimmer. It should not be placed in tank systems larger than thirty gallons.
Aquatic Life goes directly inside your aquarium. It might take up a little tank space, but it is pretty compact. A needle wheel is used for this model so you will get great bubbles out of this product. Needle wheels are energy-saving and create an ideal environment for cleaning. Your water will be free of tank waste with this mini skimmer!
This is not the best protein skimmer for small tanks. But it gets the job done for a very affordable price. We definitely recommend it for nano tanks and small reef tanks!
PROS:
Made for reef tanks and other small saltwater tanks
Best price for the value you get
Small size skimmer so it does not take up much room
Not hard to set up and assemble the Aquatic Life
This is a quiet machine that won't disturb you
CONS:
This skimmer should not be used for big tanks
Goes inside your tank so could take up tank space
No valve with this model starts running at a specific water level
Check Price and Reviews on Amazon
---
Video: "Aquatic Life Internal Mini SKimmer 115 – Installation"
---
---
8. AquaMaxx HOB 1.5 Protein Skimmer
No products found.
AquaMax is known to make some of the most reliable protein skimming products. If you have had a pump break on you, try out an AquaMax skimmer.
The pump in this hang on skimmer is next to none in terms of quality. The Syncra pump is strong and removes waste at a rapid pace. We recommend this model for small to medium size tanks.
The AquaMax can be used on tanks up to ninety gallons if you don't have too large of a bioload. If you do have a big bioload this product will work in sixty-gallon tanks.
AquaMax has an adjustable collection cup. So you can capture all the impurities in your water easily. AquaMax also features a great valve setup. It should be simple to get your water levels right and pick up waste with this model.
AquaMax is not a cheap product. Its price is comparable to the Octopus Skimmer. Like other durable skimming devices, the AquaMax is made from acrylic. It is molded to be as aesthetically pleasing as possible. The colors on this product make it stand out. When you place it on the outside of your tank, it will add to the visual appeal of your aquarium!
This is another tank product that can be considered the best protein skimmer. Try this out if you are willing to spend a lot of money for your medium to smaller sized tanks!
The system runs well and quietly and gives you a convenient skimming experience. And like other high-quality skimmers, this is easy to maintain and setup.
PROS:
This product gives you a lot of value
Lots of tanks owners recommend this product
The pump is quiet so it won't make much noise
Cleans up tanks fast and efficiently
Great pumps that will last a long time
AquaMax is made to be durable
Removes all kinds of waste
CONS:
AquaMax is powerful, but not made for larger tanks
Bubbles can be a little cloudy at first
This is a pricy product that might not be in everyone's budget
Does not handle large gallons of water as well as other products
Some people complain about the mounting device
Check Price and Reviews on Amazon
---
Video: "AquaMaxx HOB 1.5: How to Assemble, Prime the Pump, and Clean Your Protein Skimmer"
---
---
9. Reef Octopus Classic 100 HOB Protein Skimmer
No products found.
This is another Octopus product that is meant for large tanks! Again, you will be paying a lot of money for this type of skimmer. But we recommend going with this is you have a large aquarium to clean. You need the best protein skimmer to get rid of debris in more massive tanks!
The other Octopus product we introduced you to was an external skimmer. In contrast, this Reef Octopus product works as a hang-on device. It will save you space if you can't fit a big skimmer in your home. So check it out if you want something different, and don't want an external skimmer.
As we said before, Octopus skimmers are outfitted with the best machinery and features. You will find everything you need in a protein skimmer with these products.
You can protein skim up to one-hundred and five gallons easily. You get the perfect size collection cup for your large tank. You can also adjust the height of it to suit your tank. The pump on this model is great as you would expect. You will get the best bubbles with this item. They are extra small and form a foam that will capture all impurities from your aquarium.
There is not much difference between this product and the CoralVue Octopus. It also uses a needle-wheel to cut bubbles down and keep your skimmer running fast. The design is a little different.
The Reef Octopus definitely has a slimmed-down and skinny look. CoralVue in comparison has a bulkier look to it. Still, either product can work well for your large aquarium. Just take into account your tank needs the needs of your home. Not everyone wants a big external skimmer.
So this particular Octopus skimmer can be a great alternative purchase.
PROS:
The Octopus can be hung on the side of your tank to save space
You will get the ultimate value out of this tank
Cleans your large tank out to perfection
Easy to set up this particular skimmer
Not hard to maintain an Octopus unit
One of the highest quality protein skimmers you can buy
Mixes great sized bubbles that will make your tank look great
CONS:
If you are on a budget this is not the best choice
Not designed for smaller tanks or nano tanks
Might not suit people who do not like hang on filters
Check Price and Reviews on Amazon
---
Video: "Reef Octopus 100 Protein Skimmer Review"
---
---
10. Comline DOC Protein Skimmer 9001
No products found.
If you want an energy-saving protein skimmer the next device on our list is for you. Lights, filters, and other aquarium devices take up power. You want to have an aquarium that is as energy-efficient as possible.
Getting this protein skimmer will help you save on energy costs. It doesn't use up a ton of power, unlike other products.
Something else the Comline DOC saves you is space. Comline has a streamlined design that is slim and unbulky. You place the device inside your tank. But it shouldn't take up much room in your aquarium setup.
The Comline uses a magnet so setup is fairly simple. You can attach the device and it will stay affixed to your tank without issue. In addition, to space-saving, there is more money savings. Not only do you save with the energy efficiency of this device. But with the price of this model, you will have further savings.
Still, this protein skimmer is only meant to be put in small tank setups. You don't want to put this product in a large aquarium. Comline DOC is meant for tanks thirty-five gallons and under.
This device is ideal for nano tanks and other small saltwater environments. It will work powerfully in the right size tank. And you will get a lot of value for the price you pay with this protein skimmer. Overall, this is a robust and small skimmer.
PROS:
Good pump in this small protein skimmer
You save a lot of money with this device
Does not use up too much energy when skimming
Easy to install this, uses a magnet to keep your model in place
Nice design that looks good in your tank
Small and compact protein skimmer that leaves you a lot of room
Made of durable material so the skimmer will not break easily
CONS:
Not the most powerful skimmer out there
You should not put this skimmer in a larger tank
Magnetic might slide sometimes
Check Price and Reviews on Amazon
---
Video: "Tunze 9001 inTank Demo and Walk Through"
---
---
11. Reef Octopus Classic INT Needle Wheel Protein Skimmer
No products found.
The next few products on this list are Octopus protein skimmers. These devices are a part of the Classic series. So they have some slight differences from the other Reef Octopus product we mentioned. The biggest difference lies in the size of these products.
These are the highest performing Octopus skimmers. The other Octopus items can protein skim a tank around a hundred gallons.
The Reef Octopus Classics can skim upwards of two-hundred and fifty gallons. This is not true of every model, but most of these models can fit with tanks over one-hundred gallons.
All of the models use the lastest needle-wheel design. They are updated from the other models listed on this guide. So you will get higher-performance and better cleaning with these particular products.
These are all external skimmers that have powerful pumps. Moreso than the other products listed here. The valve on these devices is also the most precise of any product on this list. They have been updated as well to make it easier to control the water level.
You won't be disappointed with any of the features in these Octopus protein skimmers.
Getting into the differences between each product in this series, most of it has to do with power and size. For the most part, all three devices look the same. They are clear colored, with some red accents. They are also made large to accommodate for your tank size.
The Classic 150 is made for tanks that are one-hundred and fifty gallons and under. It has an extra powerful pinwheel, also known as a needle wheel, that has been revamped.
If you have a larger size tank, the Classic 200 can be used in tanks that two-hundred and fifty gallons and under. The Classic 150 uses a two-thousand pinwheel power pump, while the Classic 200 uses a three-thousand power pump.
The power difference between both models is substantial, as is the size. If you have a tank that is a little smaller, you can try out the classic 110 model. This is similar to the other Octopus model we mentioned. It is just updated with newer machinery. It works primarily for tanks one-hundred gallons and under.
PROS:
New and improved Octopus models with better specs
These models accommodate much larger tanks
Made with needle-wheel for great bubble quality
You will get the best clean for your tank with these products
CONS:
The Reef Octopus can be pretty expensive
These are not made for smaller or medium-sized tanks
These are large devices that won't fit the space needs of all tank owners
Check Price and Reviews on Amazon (INT 100
Check Price and Reviews on Amazon (INT 150
Check Price and Reviews on Amazon (INT 200
---
Video: "Have the sump space? These Reef Octopus Regal INT skimmers are for you! | BRStv Spotlight"
---
---
12. Coral Vue Technology AC20287 Octopus Needle Wheel Skimmer
No products found.
The last product on our list is comparable to the Classic Octopus products we reviewed. Again, it uses needle-wheels for optimal bubble creations and speedy cleaning. It is also meant for big sized tanks.
In this case, the CoralVue is made for tanks two-hundred gallons and under. The big difference here is that the machinery is made from the Company CoralVue. CoralVue is the parent company of Reef Octopus and is known to make the highest quality aquarium product.
The needle is specifically designed with bubble production in mind. The designers of this particular model tried to make the most efficient protein skimmer possible. If you are worried about bubble quality and want a machine that performs exemplarily try this product out!
This along with other Octopus skimmers are the best protein skimmer products you can buy!
PROS:
Similar design to other Octopus models
More high-powered and specially designed to clean tanks
Best needle wheel out there for protein skimmers
You get the best bubbles with this skimming product
A very powerful skimming device that gets your tank clean fast
CONS:
This is a very pricy skimming device but you get a lot of value out of it
Not an ideal choice if you have a small-sized tank
Check Price and Reviews on Amazon
---
---
How Do Protein Skimmers Work, and What Do They Do
In essence, protein skimmers are containers that hold air, water, and bubbles. The mixture of these components gets your tank extra clean through the creation of bubbles.
A protein skimming device creates a frothy mixture of microbubbles with a pump. Much like the oceans currents, skimmers create foam in your tank. These bubbles in the foam not only filter your water. They fully remove leftover food, pet waste, discoloration, and other floating debris.
How is this possible you ask?
Well, the foam attracts debris and other waste particles. These particles are then sucked up by the skimmers collection cup. Once every week or so you just take the cup out of the protein skimmer and dump it. This is an easy and simple procedure that is much easier than changing your water entirely.
Skimming Enhances your other Filtration Devices
While mechanical filtration and other filtration helps keep your water clean, they don't completely remove these substances. Normally you have to change your water or clean out your filtering device on your own to do this.
With a protein skimmer, the device makes these tasks less of a concern. The skimmer removes all of the debris for you. What this means is that you won't have to perform as many water changes.
Thus, protein skimming enhances your other filtration devices. They reduce overall levels of nitrite in your tank. They also prevent waste from building up in your tank. And if your filter fails to get the job done, protein skimmers can easily pick up the slack.
Another function of protein skimmers relates to gas exchange. Your fish and any corals or plants take up oxygen. That oxygen needs to be replaced into your tank. In addition, fish also release carbon dioxide which needs to be released from the tank. Skimmers are able to deal with both of these issues.
Most aquarium setups have functions that deal with gas exchange. Filters create flow in the water. Again, protein skimmers further the efficiency of your tank devices.
Skimmers have way more surface area than is available in your tank. If you want the best gas exchange for your aquarium, skimmers will help you achieve this. Skimmers create a high-performance gas exchange that is not possible with filters alone.
---
If you don't like reading so much here is a video with a good beginner guide to protein skimmers:
---
Video: "A Beginners Guide to Protein Skimmers"
---
The Benefits of Protein Skimmers
You can manage a marine aquarium without a protein skimmer. You can even keep your reef aquarium relatively healthy without a skimmer. Still, we don't recommend doing this.
Skimmers are important, and as we stated before they are crucial for reef aquariums. You can have a reef tank without a skimmer. But you will only make tank maintenance harder for yourself. Protein skimmers make keeping an aquarium much easier.
You want to have as little hassle as possible with your tank. So why not get one of these devices.
Good for your Aquarium Health
As we mentioned earlier, protein skimmers allow you to change your water less frequently. They also pick up the slack of filters that are underperforming. Skimmers might be redundant in some cases, but you want to keep your tank clean. Saltwater inhabitants are sensitive to their water conditions.
With a skimmer, your water quality will stay consistent and stellar with very little effort. You will get the highest tank performance with these products, both in cleaning and gas oxygenation.
The biggest benefit to your tank is aquarium health. Your fish, corals, and other inhabitants are less likely to be exposed to disease and illness. With a cleaner tank, you have few problems.
Toxins from your pets, reef, and plant are all absorbed by your skimmer. You reduce the bioload in your tank significantly as a result. If you want your underwater community to flourish, a protein skimmer is a tool that will make your tank goals a reality.
Tank longevity is a concern for most tank owners. Getting this device makes this all the more possible. And you won't have to put in nearly the same amount of work.
How to Find The Best Protein Skimmer for your Saltwater Aquarium
---
Video: "Which size of protein skimmer do you need? How to choose the right skimmer for your saltwater tank!"
---
There are a ton of Protein skimmers available for purchase. You want to find the best protein skimmer for your aquarium setup. Each skimmer will suit a different tank, and function in a different way.
Popular models tend to use needle wheel impellers though. These types of skimmers use pumps and chop up bubbles with the impeller.
Past versions of protein skimmers used venturi valves to combine air and water. Other less popular models use airstones and air pumps.
Anyone of these models will work for your aquarium. It really depends on what you like and what the limits of your device are. Of course, you need to get a protein skimmer that will work for your tank.
You want a large skimmer, but it can't be so big that it won't be able to fit in your home. If you need more space, needle wheels are a good option. They tend to be small but are pretty powerful. If you want something more robust, skimmers with venturi valves might be more your speed.
Pumps take up a lot of room, but if you want an efficient system stick with this type of skimmer. Again it is all up to your aquarium needs and preferences.
Aquarium Size and Type
You need to ask yourself what kind of protein skimmer will fit your tank. Tank size is important when you are deciding which product to purchase. There are all kinds of skimmers out there. But not every skimmer is going to work for your tank.
Some skimmers are made for a nano tank or bio-cubes. Other skimmers are made for huge aquariums. Get a size that fits your tank. The more water you have in a tank, the more your pump is going to have to clean. You don't want a skimmer that is underpowered or overpowered.
When you have figures that out ask yourself what type of setup you have. Some skimmers work better for certain types of tanks. For instance, if you have a reef tank, you might want to get a skimmer that is designed for coral.
Types of Protein Skimmers
We talked briefly about the type of machinery used in protein skimmers, but there are other ways to differentiate skimmers. Generally, you can get hang on protein skimmers, external skimmers, internal skimmers, and in-sump skimmers.
Hang on skimmers tend to work for smaller tanks. They can be clipped to the side of your tank and have less complicated systems.
Internal skimmers are placed inside the tank and create less mess. They are also used in smaller tanks. They will take up room in your tank so they might not be for everyone.
In-sump, skimmers are placed inside a sump. These are convenient if you already have a sump for your aquarium.
Lastly, you can pick an external skimmer. These are a great choice for any kind of tank, especially larger aquariums.
Again, depending on your tank you will want to get a specific skimmer. Consider the size of your tank and the kind of setup you have!
Pumps
When you are looking at skimmers, there are a few features that you want to be on the lookout for. You want to make sure that you get a high-quality pump. Pumps are the most likely part of your skimmer to break down.
You need to get a good pump to prevent this from happening. Venturi skimmers are more old school, but they have the most reliable pumps. They are powerful and not exactly energy efficient. But consider these if you want a high-powered system.
When it comes to pumps, you want as few as possible. Some brands sell skimmers with up to four pumps. You don't need to get these products. In fact, four pumps can be overkill. It can also create more problems for you. If one of those pumps breakdown, your whole system is affected.
It's better to stick with a simple setup. A one pump system is ideal. It involves less headaches and runs in a more smooth manner. There are fewer wires involved with a simple setup, and less of a mess.
Valves
Next on the list of features to look out for is valves. Your skimmer should have a functioning valve that is easy to control and use. The water level in your skimmer needs to be controlled with precision. A valve makes this possible. If the water level is not right your skimmer will not function. You don't want the water to be too low or high. Otherwise your skimmer won't work right. If the water level is too low it won't remove waste from your tank. And if the level is too high, it will take too much water from your aquarium.
The best protein skimmer products will have valves that work well and work exactly in the way you want it to. Furthermore, it should not be hard or complicated to change the water level.
Design
Your skimmer should not only function well but have a practical design. There should be no obstruction to the skimming process. The best way to prevent this is by making sure your skimmer is not below the waterline.
Adhering to this standard will create the best possible results. Water levels are constantly changing in your tank. If your skimmer is below the waterline, it is influencing your water level as well. This can lead to inefficient skimming of water.
So check to make sure that the design of the skimmer is mindful of this. Some skimmers sit outside your tank. In this case, the design won't be as much of an issue.
Other Things to Know About Skimmers
Skimmers can have problems of their own. So we'll go into a few common issues tank owners have with these devices. This way you can run your machine with ease.
One of the first things to know about your skimmer is that they are sensitive to oils. They are also sensitive to other chemical changes in your tank. Both oils and chemical changes mess with surface tension. Surface tension is what creates the bubbles in your tank. When oil from your hands or food gets into a tank, your skimmer can shut down for a few hours. Or if your water conditions change drastically, your skimmer could also shut down momentarily.
To prevent this, wash your hands before you touch your tank, or feed your pet. And monitor your water to make sure it isn't fluctuating too much. If your skimmer does stop, it'll have to turn back on by itself. You don't want to force it to restart.
Another issue faced by tank owners with skimmers is pump blockage. Any pump can have this problem. The best way to combat pump blockage is by cleaning out your pump regularly. If this still isn't working, then check if the airline on your pump is blocked by something. If there is more water than air in your skimmer mix this could be the problem.
Don't mess with the valve, you want to check if it's the airline being blocked first. If the airline becomes unblocked and you mess with the valve you will have an overabundance of foam. You don't want that.
On the whole, just keep your skimmer clean and well maintained. You want your protein skimmer to last a long time. So clean it regularly, every six months will give you the best results.
---
---
Table could not be displayed.
Conclusion
Protein skimmers are not essential for all types of tanks. But you want to have this device if you own a large saltwater tank or a reef tank. Even if you think your tank doesn't need this device, it doesn't hurt to have a protein skimmer.
Protein skimmers make your filters run extra smoothly. They get rid of the waste that only comes out with water changes or manual cleaning. In short, protein skimmers make owning a tank simpler.
With the information we gave you on protein skimmers, you should be able to get a great device. Tank owners should only have the best protein skimmer devices for their tank. With our guide, you were introduced to all the best protein skimmer products. So now you can go out and get a skimmer that fits your needs exactly!