5 Best Nano Reef Tanks For Beginners in 2023
Most corals require massive reef tanks to sustain them. Still, not every tank owner wants to have a hulking aquarium in their home or office. They might want a smaller vessel to house their corals in.
If you have less space, or you just want a more compact tank, get a nano reef tank. They are a great choice for coral owners.
With a nano tank, you get the beauty and benefits of a larger tank all for a lower price point. You won't be able to put some corals in this smaller space. But you can still find many fascinating ocean critters and corals to inhabit your tank.
Reef tanks are smaller, but like their larger counterparts, they require a lot of specialized care. We only recommend this type of tank for more experienced aquarium owners. There is a lot to know about nano reef tanks.
So in this buying guide, we'll get into more details about these tanks. You'll learn about nano tank maintenance, how to find a tank, and how to set up a nano tank. We will also show you five of the best nano reef tanks available for tank owners.
Best Budget
Best All-Around
Top-Notch
Fluval Evo XII Saltwater Aquarium Kit, 13.5 Gal. – Saltwater Fish Tank with...
Coralife LED BioCube Aquarium Fish Tank Kit, 32 Gallon
Red Sea Max Nano Aquarium, 20 Gallon
Last update on 2023-09-06 at 22:24 / Affiliate links / Images from Amazon Product Advertising API
5 Best Nano Reef Tanks for Beginners Reviewed
In this next section, we'll give you useful information on nano reef tanks. You should have the best nano reef tank setup, so we have put together five of the best tanks available.
Keep reading our guide to find the right brand and product for your corals and fish.
Fluval EVO V / Fluval EVO XII
Fluval Evo XII Saltwater Aquarium Kit, 13.5 Gal. – Saltwater Fish Tank with...
13.5 gallon glass aquarium for saltwater fish
Stylish honeycomb design conceals rear aquarium filter compartment and aquarium water line while looking ultra...
Powerful 3 stage filtration with oversized mechanical, chemical, and biological Fluval filter media
Multifunctional canopy with easy feed door
Sleek, all aluminum waterproof casing; convenient LED aquarium light touch start day & night illumination
Last update on 2023-09-06 at 22:24 / Affiliate links / Images from Amazon Product Advertising API
The first nano reef tank on our list is the Fluval EVO series. There are two versions of this tank available for purchase. We will be reviewing both so you can figure out which one is right for your corals. But first, we'll talk about what features they share.
Both of these models are specifically designed for smaller corals. They have powerful LED lights that use ultraviolet spectrums. These are exactly the kind of lights you need to keep your corals thriving. Both EVO's also provide filtration that is three staged and reliable. Overall, your corals will stay healthy under the light and filter provided by Fluval.
The EVO is an aquarium kit, so it comes with all the necessities. It is also designed to look stylish and creates a great backdrop for your reef and fish. The difference between both EVO's is size, power, and function. The EVO V  is meant for tanks with low maintenance coral. This is a five-gallon glass tank that won't fit large corals or schools of fish. It is a small enclosed reef environment that will need a lot of care.
The EVO VII  is much larger in comparison. It is a fifteen-gallon tank that will allow you more variety when choosing coral and fish inhabitants. The larger fifteen gallon is better for corals, but if you want a pico tank, the EVO V isn't a bad choice.
On the whole, the quality and design of these nano reefs make it one of the best nano reef tank setups.
PROS:
High-quality product that provides multiple sizes
Nice design that enhances the look of coral
Has LED lights that are made for your coral
Light is easy to use, with a touchpad
Different modes for your lighting needs
CONS:
Larger version of the EVO can get expensive
Smaller version not ideal for some corals and fish
Check Price and Reviews on Amazon (EVO V 5 Gallon)
Check Price and Reviews on Amazon (EVO XII 13,5 Gallon)
---
Video: "Fluval SEA EVO 13.5 Saltwater Kit Unboxing & Setup | BigAlsPets"
---
---
Red Sea Max Nano Aquarium
Red Sea Max Nano Aquarium, 20 Gallon
The Red Sea Max Nano 20 Gallon Aquarium combines a contemporary, rimless design with state of the art technology
This system provides everything necessary in order to enable you to enjoy the beauty and diversity of your own piece of...
The Max Nano features the very latest in reef keeping technology including AI's Prime HD LED lighting with integrated Wi...
Does NOT include the stand
Last update on 2023-09-06 at 22:24 / Affiliate links / Images from Amazon Product Advertising API
The next nano tank on our list is the Red Sea aquarium. This product is the most expensive nano reef tank on our list. Because of the price, this tank might not be for everyone
The Red Sea is on the bigger side and will hold twenty gallons of water. This is another suitable tank for more diverse corals. If you are looking for a nano tank with style this is a great option.
The Red Sea Max Nano  is a rimless tank with a powerful lighting system that is suspended by a black frame. There are different colors and modes available with the lighting device. And everything in the tank is controlled through wifi. So you can set up your lights easily and without hassle.
In short, this tank looks cool and has everything a coral owner needs to run a reef tank. The glass on this tank is durable and thick, so it won't scratch easily.
Red Sea also includes a great filtration system which will thoroughly clean out your tank. A circulation pump has been added to this tank as well. So your coral's water will have plenty of air and motion. With its superb features and quality, the Red Sea is another contender for best nano reef tank setup.
PROS:
This nano tank has a very unique design
Ideal light conditions with its LED system
High-tech device that is wifi controlled
Good filtration system in this nano tank
CONS:
Can be on the pricy side
The modern style of this tank might not be for everyone
Check Price and Reviews on Amazon
---
Video: "Red Sea MAX NANO – Fully featured 75 liter/20 gal, Plug & Play reef system"
---
---
Coralife LED Biocube Aquarium
Sale
Coralife LED BioCube Aquarium Fish Tank Kit, 32 Gallon
🐠 EVERYTHING YOU NEED - Feature a compact and customizable filtration chamber that is already built-in to the back of...
🐠 GREAT FEATURES – Includes quiet submersible pump, dual intakes and adjustable return nozzle. Compatible with all...
🐠 SLEEK & MODERN – Biocubes feature a rounded edge design and is the perfect innovative all-inclusive aquarium for...
🐠 VIBRANT LED LIGHTING - Low-profile hood contains vibrant LED lighting that is capable of sustaining and growing...
🐠 MAXIMIZE BEAUTY - 24-hour timer which makes it easy to control the three independent light channels for maximum...
Last update on 2023-09-06 at 22:24 / Affiliate links / Images from Amazon Product Advertising API
Coralife is on the expensive side but this is another tank product worth checking out for your corals. Coralife comes in two different sizes, Coralife sixteen and Coralife thirty-two.
The sixteen holds sixteen gallons of saltwater, and the thirty-two holds thirty-gallons of saltwater. As usual, we recommend going with the bigger model, but this is up to you.
Coralife is a cube-shaped, high-tech reef tank . It's LED is completely hands-free and is automatically set to a twenty-four-hour schedule. You won't have to worry about maintaining the device or setting it. It has three main modes that the tank cycles through.
In the mornings it has a sunrise function. And in the afternoons it shifts to brighter lights to imitate afternoon sunrays. During the evening, the Coralife moves to dimmer nighttime lights.
The filter for the Coralife is not as powerful as some of the other nano tanks. But it will still keep your reef tank relatively clean.
PROS:
Totally hands-free lighting device
Good filtration included with the Coralife
Good tank sizes between sixteen and thirty-two gallons
Multiple modes of light to imitate sunlight patterns
Lights are powerful and in the right color range for your coral
Has an automatic light timer installed
CONS:
This can be a pricy purchase
No remote for the lights
Not the most advanced filtration in the Coralife
Check Price and Reviews on Amazon
---
Video: "LED BioCube 16 & 32"
---
---
GankPike 8-Gallon Saltwater Aquarium
GankPike 8-Gallon Curved Corner Glass Saltwater Aquarium Rimless Low Iron Glass...
🐠 8 gallon curverd cornor design ultra clear crystal glass aquarium for saltwater fish, reef and coral. 1.5 gallon...
🐠 Equipped with biochemical & mechanical filter media, adjustable pump and protein skimmer to keep your tank clean...
🐠 The tank features an aluminum alloy LED light to highlight your fish, reef and coral. The LED light has 3 color...
🐠 Complete aquarium kit includes: 8 gallon aquarium with lid, LED lamp, quiet power pump, protein skimmer up to 13...
🐠 All GankPike aquarium is made of premium low iron glass as known as ultra clear or crystal clear glass that...
Last update on 2023-09-06 at 22:24 / Affiliate links / Images from Amazon Product Advertising API
Gangpike is a nano reef tank that is fully equipped for less demanding reefs. This eight-gallon tank is meant for saltwater setups and has plenty of enticing features for coral owners.
Like the Red Sea, the Gankpike also sports a rimless and topless design. So the tank looks modern and is able to fully absorb light rays to the max.
The Gankpike is a kit aquarium  that gives you all the features you need for coral. An LED light is held up with a backing stand. The stand also contains a pump and filter for your reef tank. Even better, you get a digital thermometer and a heating device that will keep you tank climate at the perfect temperature.
A protein skimmer is also added to this great product. The LED is long and far-reaching. It has multiple colors and modes to give your coral and fish the best possible light for growth. The filter in this tank is also top of the line. It has multiple bio bags and includes sponge and ceramic media for extra cleaning.
On the whole, this is a great kit for coral owners of any level. Out of any of the nano tanks on the list, this is a product that has the most features. Considering the value of the Gankpike it can be considered one of the best nano reef tank setups.
PROS:
Has everything you need including a great heater
Has a thermometer to keep track of climate
Good LED setup that allows for maximum light penetration
Cool design that is great for coral and fish viewing
Filter works efficiently and powerfully for clean water
CONS:
Could be too small for some corals
Check Price and Reviews on Amazon
---
Video: "GankPike Saltwater Aquarium Quick Setup Guide"
---
---
JBJ MT-602-LED Nano Cube 28 Gallon
JBJ MT-602-LED Nano Cube CF Quad Lighting, 28-Gallon
CF QUAD BOASTS 105W OF HIGH INTENSITY DAYLIGHT OUTPUT
DEFINITELY IS THE MOST VALUE PACKED ALL IN ONE IN ITS GLASS AND PRICE LEVEL
NANO CUBE AQUARIUM THAT HAS PROVEN SUCCESSFUL FOR MOST A DECADE
Country Of Origin: China
Last update on 2023-09-06 at 22:24 / Affiliate links / Images from Amazon Product Advertising API
The last nano reef tank on our guide is the JBT MT aquarium. If you want to invest in a quality nano aquarium, this is a tank to look out for.
This glass container holds up to twenty-eight gallons of saltwater. It is also affixed with a strong LED system that is tailored for your coral reef. These particular lights shine fifty percent brighter than most products. So you're coral will definitely get enough light with this system.
Filtering is also included with your purchase. You get advanced filtration with all three stages needed for the best coral environment. The features of this tank don't end here though.
There are cooling systems in place in in the JBJ MT-602 . These will keep your lights from overheating. You also get a current pump, that creates wave motions needed for saltwater creatures.
And while no heater is included, there is a compartment designed to hold whichever heating device you choose.
In terms of quality, you can't go wrong with the JBJ. This is an expensive but top-tier item, one of the best nano reef tank setups.
PROS:
Has great filtration with all the needed stages
Has LED lights with different settings
Made of high-quality glass material
Good warrant with the JBJ (around six months)
Nice modern looking design that makes coral look great
CONS:
This is an expensive product that won't suit all budgets
No heater is included with the JBJ
Check Price and Reviews on Amazon
---
Video: "JBJ Nanocube 28G Filtration and Equipment"
---
---
How to Find The Best Nano Reef Tank For Beginners
If you have decided that a nano reef tank is the right choice for you, there are a few features to consider before you get your tank. You want to ensure that you are getting the best nano reef tank possible. So check that your nano tank has everything it needs for your coral and fish to flourish!
In this next section of this post, we'll go over some important features for coral tank owners. Some of these features include the shape and size of your tank. We will also talk about reef tank kits, light quality, and filters you can buy.
Size and Shape
Size and shape are the first things to think about when getting your nano tank. Both the size and shape will impact the kind of devices you can put in your tank. It will also dictate the amount of fish you can safely put in your tank.
Tank Size
Bigger nano tanks will require a high powered heater to be placed in them. These types of devices can take up space. Smaller nano tanks will also require heaters but ones that are smaller.
It's important to get a tank with a heater, or a tank that has room for a heater. Corals need to be in very specific climates. They are tropical organisms that require water in the range of seventy degrees to eighty-five degrees.
With a bigger tank, you'll have to spend more money for a more robust heater. But a bigger nano tank has many upsides. It will be easier to maintain its temperature and you have more coral and fish options available.
Tank Shape
Shape also plays a role in your tank. Part of this is cosmetic, but the shape of your tank can play a functional role. Most nano tanks come in a cube-like shape but other tanks can have more curved and rectangular shapes.
These types of tanks will give your coral more room to spread out and make it easier to decorate your tank. Wider shapes also give you a better view of your fish and corals. Shape is up to your own preference though.
But again we recommend going with nano tanks that are wide and larger.
Reef Tank Kits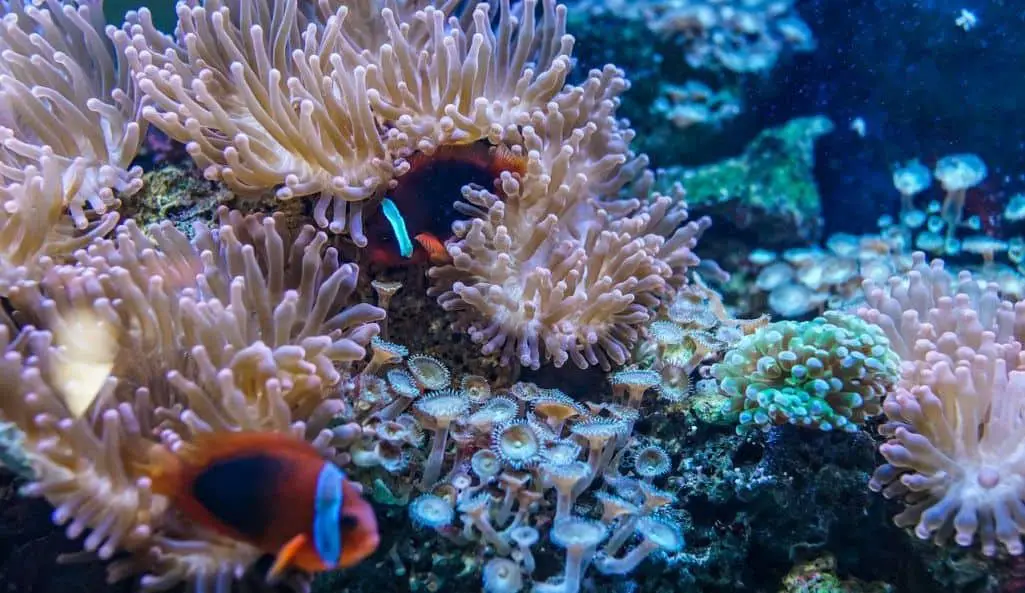 Another thing to consider is the type of nano tank you want. Some nano tanks come bare with just a tank. Others come with lights and maybe a good filter. The best nano reef tanks will include a kit.
We recommend going with these options as they give you the most value for your money. Taking care of corals can be expensive. If you purchase a kit you can save yourself money and time.
You will have almost everything you need with these type of setups. You get LED lights, decent filtration systems, heaters, and other helpful supplies that will help you take care of your coral and fish.
Lights in Your Tank
Speaking of lights, you want to get a nano tank with superb lighting. Regular lights won't work for your corals. They need a specific type of light to grow properly.
For reef tanks, you want light that is in the blue and purple range. This will give your corals the most heat, and the best growing conditions. This, of course, depends on the type of coral you have. But most will require a decent amount of illumination and power. So do some research and see what your specific coral needs for its reef tank
The power and color of your light aren't the only important features you need to look out for. You want your light to make your tank look good. Some brands do a better job of lighting your tank than others. At the same time, you also want your light to be functional.
LED lights in reef tanks should have a few settings to give your corals diverse lighting. Natural light doesn't stay the same all day, and neither should your tank light. Night modes and day modes should be present in your tank. This way your corals are exposed to light that matches natural conditions in the ocean.
Filtration
The last thing you need to consider when acquiring the best nano reef tank is filtration. Getting a good filter is especially important in a smaller tank. As we talked about before, water conditions change a lot more in smaller tanks. This includes waste levels. In small nano tanks, filth and toxins build a lot faster. You'll want to have a powerful filter to deal with this issue.
A reef tank kit often comes with a good filtration system. But if your tank doesn't come with a filter, make sure you get the right device. You want a filter that deals with all types of filtration. A three-stage filter will keep your reef tank clean and free of disease. This is important if you want your corals and fish to live a long healthy life.
Smaller Coral Reefs
Any kind of reef tank can be classified as a miniaturized coral environment, even larger tanks. When comparing aquariums to the sea, the difference is staggering. Corals have a much more expansive and diverse home in the ocean. One that does not compare to man-made tanks.
Typically, we'd recommend going with tanks that are on the larger size. They provide you with the best results for your coral. But not all pet owners can afford or have space for larger tanks.
A nano tank can be an alternative choice to these large reef tanks. And if you choose the right inhabitants, you can create a thriving community in a nano tank.
Typically, nano tanks are around thirty gallons and under. Tanks that are less than five or ten gallons are known as pico tanks. These aren't as popular, but we will introduce you to a quality pico tank later on if you are interested in this size tank.
What Can Live in a Nano Reef Tank?
You won't want to put hard corals in a smaller tank. They tend to outgrow nano-sized tanks quickly and can be difficult to take care of in limited space.
Your best bet would be a soft coral. These species grow less than hard corals and are much easier to manage in a nano tank.
If you are new to corals and dedicated to their care, you can also try a polyp coral. Polyp corals are hardy and can survive in your nano tank much easier than other types of corals. We don't usually recommend corals for beginners, but these polyp corals can be a great option for new nano tank owners. They stay relatively small and survive in several tank conditions.
Between both of these types of corals, there are many variations and breeds to choose from. Whichever corals you end up picking, make sure that you don't crowd your tank too much.
You're going to want to put fish in your reef tank. So stick with smaller species of fish to keep your tanks ecosystem balanced. Gobbies are one type of fish that do well in nano tanks with coral. Firefish and blennies are another good option. You won't be able to fit many fish, and you won't be able to fit bigger species. There are still a ton of colorful and great fish to choose from with your nano tank though.
Again, you want small fish and soft or polyp type coral that won't grow rapidly. Sticking to these standards will keep your nano tank thriving.
Maintenance for Nano Tanks
---
Video: "Top 10 Nano Reef Aquarium Mistakes—And How to Avoid Them!"
---
You would think that a small reef tank would be easier to care for, especially with a pico type tank. This is not the case at all though. While there are major conveniences tied to the size of a smaller tank. There are some trade-offs with this type of reef tank.
Because of the limited water and space, you have to be extra careful when maintaining a nano-reef. This is why it is usually better for a long time aquarist to buy nano reefs.
With a smaller quantity of water, the conditions of your tank can change more easily. This is not ideal for reefs, as you don't want the climate or the quality of your water shifting often. Corals are especially sensitive to changes in a tank. In larger tanks, water conditions won't change as much. So this is less of a problem. In nano tanks, this is not the case.
So keep these differences in mind when you purchase a coral tank. You don't have to avoid nano reef tanks. But you want to know what you're getting into. This way you can prepare accordingly and make your tank a success.
When you fail to control the conditions of your tank, this can lead to failure and coral death.
How to Setup Your Nano Reef Tank
Once you have everything you need, it's time to set up your nano reef tank. Personally, we recommend purchasing live rock for your nano tank. Live rock helps establish a base for your coral. It also provides necessary nutrients to your tank. You get a nice decorative touch to your nano tank as well.
Live sand can also work. But if you want something that will add atmosphere to your tank try using both mediums. After you've figured out how you are going to set up your tank, you can find a suitable location.
Like other types of tanks, you're going to want to put your reef tank in a sturdy place. The surface should be level and able to handle the weight of your nano tank.
Don't put your corals in direct sun, or close to heating and cooling devices. You want the climate of your tank to stay the same. If your tank is located near these external sources of heat and cold air your coral could die.
Mixing the Water
Next, you can start putting water in. Make sure you have a reef mix that is matched to your coral. You want the level of salinity and trace elements to be right for your coral and your fish.
Synthetic mixes are a good choice for any reef tank. After you get the water mixed fill your tank up a third of the way, you can start adding substrate and other decoration. Carefully place in any live rocks or decorations. You won't be able to move things around once your tank is completely filled.
After you are done arranging your reef tank put in the rest of your water. Your heater and filter can be added at this point. You can also start cycling your tank. You want to check that your water is of the highest quality. So don't put your corals and fish in until you are sure your water is at the right conditions.
---
---
Best Budget
Best All-Around
Top-Notch
Fluval Evo XII Saltwater Aquarium Kit, 13.5 Gal. – Saltwater Fish Tank with...
Coralife LED BioCube Aquarium Fish Tank Kit, 32 Gallon
Red Sea Max Nano Aquarium, 20 Gallon
Last update on 2023-09-06 at 22:24 / Affiliate links / Images from Amazon Product Advertising API
Conclusion
Coral Reefs are a lot of work, and normally, they take up a lot of room in a home. But if you want a coral in your home, that takes up less space, nano reef tanks are a great option.
Nano reef tanks are not ideal for all species of coral. But with the right species, you can successfully house your fish and reef. With our detailed guide on reef tanks, you have hopefully found the information you need to start your nano reef tank.
We wanted you to find the best nano reef tank setup possible. With the reef products we showed you, you should be able to find the perfect fit for your corals!