Best Coral Food for LPS SPS and Soft Corals
A successful reef tank requires specialized knowledge and excellent care. Many components go into ensuring optimal results for this kind of aquarium. You want to have great lighting, perfects water conditions, and the right size tank.
Still, none of this will do you any good if you don't feed your coral the right food. Corals are delicate creatures. If anything is wrong in your tank, or care regimen, your coral could die.
This also holds true when you are feeding your coral.
Because of this, you need to know how to feed your coral properly. You want to give them the nutrition they need in the right way. To do this, you should only feed your coral the best coral food.
There are a ton of different coral foods out there. In this article, we will only show you the best food you can get for your reef tank.
Along the way, we will also teach you how to go about feeding your coral. It is not as simple and straightforward as feeding a fish. There are a few methods you should know about so you can give your reef tank the best care.
In addition, not all corals are alike. Different corals require different food and care so you want to be aware of these differences.
Keep reading to get all the information you need!
Best Coral Food
Best Coral Live Food
Best Coral Target Feeder
Polyp Lab Nano Reef-Roids Coral Food - 37g
AlgaeBarn Poseidon's Feast :: Live Marine Copepods - 3000+ Tisbe & Tigriopus...
Kent Marine Sea Squirt Coral Feeder, 21 In.
Last update on 2023-09-06 at 09:23 / Affiliate links / Images from Amazon Product Advertising API
Best Coral Food for SPS LPS and Soft Corals – Top 6 Review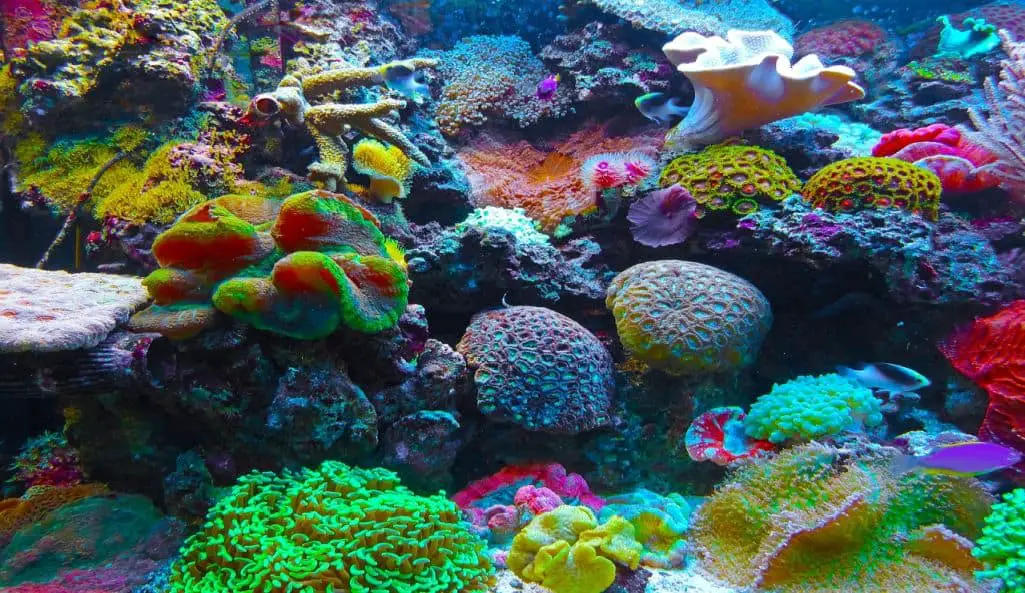 Benefits of Feeding Your Coral The Right Foods
Before we talk about any specific coral food products, we'd like to discuss the benefits of feeding your coral nutritious food. When you provide your coral with the right diet and nutrition you will see a number of great benefits.
First off, corals that get the best food have richer colors.
Your corals will look amazing in your tank and create a beautiful backdrop for your fish when they are fed well.
In addition, good feeding leads to great reef growth. Corals grow more rapidly, and at a bigger scale when they get the nutrition they need.
Lastly, your coral will live a much longer life when it is given the care and food it needs. Not only will it be easier to keep your coral alive, but you will have them for a much longer period of time.
For all these reasons and more, you need to have the best coral food for your reef tank!
In this next section, we will show you all the best coral food for your aquarium setup. These are some of the best-rated brands and products for corals. We have reviewed these coral foods in as much detail as possible. This way you can get a product that matches your reef tank!
1. Polyp Lab Nano Reef-Roids
Polyp Lab Nano Reef-Roids Coral Food - 37g
Country Of Origin: United States
The Package Length Of The Product Is 2.49999999745 Inches
The Package Width Of The Product Is 2.399999997552 Inches
The Package Height Of The Product Is 1.99999999796 Inches
Last update on 2023-09-06 at 09:23 / Affiliate links / Images from Amazon Product Advertising API
Reef Roids is a great choice for your corals if you are on a budget. This powder is simple but powerful. All you have to do is add this food mix to your tank. With one easy step, your corals will get a nutritious meal. This is one of the more protein-packed coral foods.
Reef Roids is made up of crushed planktons. These planktons are all-natural and are specially bred. So you won't see this kind of quality in other reef products. Plankton have the protein and fat your corals need to survive.
Reef Roids are also formulated to give your corals other needed nutrients they should have.
This product is great for corals of all sizes and will work with hard and soft corals. Still, if you have a large polyp coral this is an ideal food product.
Any method can be used to get Reed Roids to your coral. But a syringe or another tool is a perfect way to deliver Reef Roids straight to your coral!
On the whole, Reef Roids is one of the best coral foods for your reef tank. You will get the best value out of this product, with a great price tag. One small container of this product can feed a hundred-gallon tank for up to three months!
We could not recommend this more for your coral aquarium! Reef Roids comes in a single pack, or you can buy up to four packs of this product to save more money!
PROS:
Reef Roids offers you great value for a reasonable price
Easy to use, all you do is add a small bit of the powder into your tank
Made from zooplankton that are protein-packed and nutritious
Guaranteed coral health with this product, lots of nutrients in this
Great Product for LPS coral, but works great for other coral too
Well like by other reef tank owners
Won't murk up or contaminate water easily
CONS:
Could be more algae growth if you put too much in though
Check Price and Reviews on Amazon (30g)
Check Price and Reviews on Amazon (60g)
---
Video: "Polyplab Reef-Roids Coral Food: What YOU Need to Know"
---
---
2. AlgaeBarn Poseidon's Feast Live Marine Copepods Tisbe & Tigriopus Pods
Last update on 2023-09-06 at 09:23 / Affiliate links / Images from Amazon Product Advertising API
When you are just starting out your reef tank, you might need something to enhance your waters. Posideon's Feast is a product that will make this possible.
These pods contain small sea crustaceans that when grown are a great snack for corals. If you have other creatures in your tank this is also a good food source.
The crustaceans in this come in two varieties and they are not a one time snack. They will grow and breed in your reef tank. So you have a steady supply of healthy food in the water.
The Tigriopus crustaceans have an abundant amount of amino acids in them. So they are perfect for coral's health.
Not only are they nutritious, but they are easy for coral to trap in their polyps. These reproduce pretty rapidly and can keep tank water in better condition.
The other variety, Tisbe, hide more but provide corals with entertainment. They will keep tanks cleansed as well! This is another great product for corals.
We recommend buying this but also putting other foods in for you coral. You want to give them multiple sources of nutrition. There are also multiple sizes of this product. So get a pod that fits with your specific reef tank size!
PROS:
Nice live food that is perfect for LPS and SPS corals
Continue to grow and multiply in tank
These creatures will clean up your aquarium
Crustaceans also provide a great source of fatty acids to corals
Comes in a few different sizes for different reefs
Easy to get these critters in your tank
CONS:
Might need other sources of nutrition to supplement your reef
Some customers complained about dead or leaking pods
Check Price and Reviews on Amazon
---
Video: "Benefits of Copepods in a Reef Tank"
---
---
3. Kent Marine PhytoPlex
Kent Marine 00555 PhytoPlex, 16-Ounce Bottle
Contains aqua-cultured, naturally-occurring phytoplankton
Provides necessary proteins, carbohydrates and lipids
Ideal for SPS corals, sponges, clams, scallops, bryozoans, tunicates, sea fans, filter feeding sea cucumbers and many...
Does not contain gluconates or other sugars
Not for human consumption
Last update on 2023-09-06 at 09:23 / Affiliate links / Images from Amazon Product Advertising API
Kent Marine has everything you want for your coral's food. And the price is great as well! You can get this reef liquid in a ten or sixteen-ounce bottle. But for the best value go with the sixteen-ounce one.
Kent Marine has a mix of ingredients that are all found in the sea. Everything in this item is natural and perfectly made for your reef tank. It has phytoplanktons and a ton of other great nutrients.
Corals need lots of protein, they need fats, and they need carbs. Kent liquid ensures that your corals get all of this in one easy to use balanced product. The best way to use this mix is through target feeding.
But if you want to disperse Kent Marine in the water you can do this as well. Just don't put too much of this in the tank. This is a concentrated food and too much of it can be harmful to your tank over time.
Overall, this is a high-quality food than any coral can consume easily!
PROS:
Very nutritious and has natural ingredients only
Great price for this coral food and you get plenty of value
Easy to add this product into your coral tank
Can work for LPS coral but better for SPS corals
Can be used to feed other tank creatures like clams and sponges
CONS:
You don't want to put too much of this in your tank
Check Price and Reviews on Amazon
---
---
4. Two Little Fishies Marine Snow
Two Little Fishies ATLMSPD4 Marine Snow, 16.9-Ounce
This product is easy to use
This product adds a great Value
This product is Manufactured in United States
Two Little Fishies Marine Snow
MarineSnow Plankton Diet is a first of its kind product that reproduces the special biogenic suspended matter found in...
Last update on 2023-09-06 at 09:23 / Affiliate links / Images from Amazon Product Advertising API
Two Little Fishies is the perfect product, especially if you are looking to make your tank mimic seawater. This formula helps make your water nutritious for your reef. And it keeps tanks as close to the ocean's water conditions as possible.
Everything your coral has in its natural environment is brought into your tank. You get all kinds of planktons, organic substances, as well as other nutrients. You can let this spread throughout your tank. But if you want to target your feeding for your coral that works too!
This is definitely a product to look out for. It costs a little more than some of the other coral's foods. But this product is worth the few extra dollars.
Two Little Fishies is available in a single bottle or in packs. Get a pack that corresponds to the size of your reef and tank.
PROS:
You can target feed or broadcast feed just fine
Plenty of nutrition that mimics the ocean
Natural and high-quality ingredients for corals
Comes in packs for more value
Good for broadcast feedings
CONS:
A little more expensive than other coral food
You could overfeed your coral
Check Price and Reviews on Amazon
---
Video: "PetSolutions: Marine Snow"
---
---
5. AFB Decapsulated Brine Shrimp Eggs
Decapsulated Brine Shrimp Eggs, NON HATCHING (Shell Free Artemia Cysts). Micro...
Note: These are NON-HATCHING straight to Feeding Brine Shrimp Eggs. Check out our Reviews and Visit Our Aquatic Foods &...
We Refrigerate and Weekly Pack all our Freeze Dried Foods to ensure Freshness. Aquatic Foods sifts all of our Freeze...
Please note: All product photos are not exact, product color and sizes may vary a little.
Tropical Fish Foods for Cichlids, Discus, Angel Fish, Bettas, Koi, Tetras, Goldfish, Parrot Fish, Marine Fish, Axolotls,...
We are Aquatic Foods & Blackworm Co. A third Generation Aquarium Hobbyist, Tropical Fish Store, Online Sales Family...
Last update on 2023-09-06 at 09:23 / Affiliate links / Images from Amazon Product Advertising API
ABF Shrimp Eggs are a nutritious and natural choice of food for corals! They not only feed corals but can be used to feed shrimps and other fish in your reef tank.
The eggs in this will not hatch, so you don't have to worry about that. These eggs are taken directly from the famous Salt Lake located in Utah. So you know this product is of the best quality.
The eggs are washed to perfection and contain no chemicals or additives. They provide the best nutritional value possible for your corals!
These are easy to get into your tank, but we recommend target feeding your coral for the best results. You want as little mess as possible.
ABF is a great natural food for coral, one of the best coral food choices. Consider this product if you want quality for your coral. It can be expensive, especially if you get a bigger bag. But this coral food is worth the extra cost!
There are a few different ABF sizes to choose from. You can get up to five pounds of this food if you want to bulk purchase this item!
But if you want to try out a small amount there is a one eighth pound option. Get the food that suits your needs.
PROS:
Great and natural product for corals
Good quality found in this product
Well washed and prepared eggs
Unique and nutritious food to feed corals with
Will help your corals look vivid and healthy
CONS:
This coral food is very pricy in large amounts
Not great for broadcast feeding corals
Check Price and Reviews on Amazon
---
---
6. Benereef Benepets
Sale
Benereef 40g Jar
Engineered food for the entire reef—feeds nitrifying bacteria, corals & fish
3-3,000 micron particle-size food accommodates a wider range of reef inhabitants
Keeps your tank clean & clear with our patent pending probiotic formula
Grows, Colors and regenerates coral as well maximizes nutrient absorption
High quality proteins from selected sources.
Last update on 2023-09-06 at 09:23 / Affiliate links / Images from Amazon Product Advertising API
Benereef is a little different than some of the other coral foods on this list. Like other coral foods, it has natural and nutritious ingredients. In addition to this, it has probiotics and superfoods added to the mix.
If you want your coral to look extra colorful and lush you should try out this food. The Benereef jar is known to create a healthy environment for coral of all types. If you want maximum color and health this is the perfect food!
Probiotics and prebiotics in this not only help coral look better, but they also keep them healthy. Disease will be warded by the addition of these ingredients.
Benereef is formulated to not cloud up tanks and keeps water balanced. Just make sure to not overfeed your tank. A targeted feed is best for this product.
Benereef is another great coral food for all kinds of coral. Try this out if you want something extra in your food. The health benefits of this item make it stand out from the crowd. This can definitely be considered one of the best coral foods on this list.
PROS:
Lots of health benefits from this coral food
Nutritious and filled with probiotics
Keeps your corals from getting diseases
Well priced with great value for corals
CONS:
Could overfeed your corals with this so be careful
Check Price and Reviews on Amazon
---
Video: "Benepets Benereef Dosing Video"
---
---
Kent Marine SeaSquirt Feeder
Kent Marine Sea Squirt Coral Feeder, 21 In.
Makes it possible to target-feed liquid supplements to corals or other aquatic animals
Features a 21-inch graduated tube
Extends to 35-inches for deep aquariums and hard-to-reach areas
Includes a unique probe
Disassembles for easy cleanup
Last update on 2023-09-06 at 09:23 / Affiliate links / Images from Amazon Product Advertising API
This product will help you target feed your corals. If you want the best and most controlled feeding for your tank, try this product out.
The Kent Reef Feeder fits a decent amount of food in its tube. You can use this in many different sizes of tanks. The syringe extends pretty far, up to thirty-five inches!
The material of this feeder is high-quality and durable so it will last awhile. You can also clean this product up pretty easily. Sometimes food can get stuck, but it usually is not too much of a problem.
Most coral owners were pleased with the performance of this reef feeder. It is well priced and works well for any coral tank.
PROS:
Good price for this feeder
Good quality coral feeder product
Helps target feeding
Can help prevent overfeeding in a tank
CONS:
Can get clogged up
Reach might not be long enough depending on your tank
Check Price and Reviews on Amazon
---
---
Marine Color Soft Coral Feeding Breeding Protection Cover
Sale
Last update on 2023-09-06 at 09:23 / Affiliate links / Images from Amazon Product Advertising API
The Marine Color Cover will help protect your growing coral's food. This product is good if you are cultivating a small coral. You need to keep other tank inhabitants from eating their food and this product will help.
The cover will keep your coral contained and has slots on the top so you can place food in.
The Marine Color is mostly made for soft coral so keep this in mind. It will work for SPS corals through if they are small enough.
Marine Color is sturdy and will last a long time in your aquarium. But once your coral starts growing it can easily outgrow the container. Overall, this is a cheap but useful product for feeding!
PROS:
Good price for this feeding cover
Good quality product for corals
Well rated by reef owners
Good for your soft corals and SPS corals
CONS:
Not meant for all corals
Coral will outgrow this in time
Check Price and Reviews on Amazon
---
---
LPS vs SPS vs Soft Corals
Again, not all reef tanks are alike. You want to start your coral tank off the right way. Knowing the differences between coral types is the first step in this process.
Two major coral types exist, hard corals and soft corals.
And in the hard coral category, there are two subspecies small polyp stony (SPS) and large polyp stony (LPS). SPS and LPS both share some similar characteristics. Still, you want to be aware of their distinctions. This will help you when you are choosing food and caring for them. Each type of coral requires unique maintenance.
Hard corals grow large amounts of the exoskeleton in comparison to soft corals. As a result, they will require a lot more care. Still, any type of coral you buy will require hard work. So you should not slack in your care of them.
Beginning with SPS corals, they have high light requirements and get much of their energy through photosynthesis. They only have small polyps on them though. Polyps are made up of three components and help coral feed. They have many tentacles, a functioning gut, as well as, a mouth.
Your coral is a living creature. Don't think of it as another plant in your tank. SPS like strong water flow and are sensitive to the presence of nitrates. So make sure to keep your tank extra clean with them. These are calm corals that resemble flowers.
LPS corals, on the other hand, grow large polyps. and can be aggressive. LPS corals can actually sting other corals and move corals out of their territory. They can tolerate medium to high light intensity. They also only like a moderate amount of water flow. Don't put in other corals with LPS corals.
Soft Corals
The last kind of coral you can get is a soft coral. In comparison to the other two hard corals, soft corals are much easier to care for. This is because they don't grow as fast, or as big as hard corals.
If you have a smaller tank or want less maintenance hassle, soft corals are a good choice. They typically thrive in lower light intensity and like less water movement as well.
When you are feeding any of these corals think of these differences. A lot of the nutritional requirements will stay the same. But hard corals will require higher nutrient levels to keep up with their growth. In addition, you want to consider how you feed your corals.
SPS and soft corals will be easier to feed because they exhibit less aggression. LPS corals are aggressive so they need to be fed differently. We will get into this in a later section.
If you want to know more about LPS vs SPS here is a interesting in depth video about this topic
---
Video: "Large Polyp Stony (LPS) vs Small Polyp Stony (SPS) Corals"
---
What Do Corals Consume For Nutrition
It's true that corals gain energy through photosynthesis, but they still need to feed through other methods. This way they can grow and thrive in their reef tanks!
In the wild, coral tends to eat phytoplankton. This category of food includes algae and other aquatic plants. Coral can also catch small critters and organisms that swim near its path for protein.
Plankton is a popular eat for corals. Zooplankton and bacterioplankton contribute significantly to the health of corals. Dead organisms and other rotting organic materials are also absorbed into a coral.
Research Your Coral
In a man-made tank, corals won't have the same access to these food sources. They will eat up your fish's uneaten food and other waste left by your fish. These organic substances can sustain them up to a point. Still, if you really want them to grow they will need nutrition not found in your tank. You will have to choose what they can eat.
Like many other living organisms, coral needs a good source of protein. They will also require fat and carbs in their diet. If you have larger corals, you'll want to give them a hardy meal. Especially in the case of LPS corals with big mouths and tentacles. Pieces of fish, plankton, shrimp, and other dead sea creatures can be a great meal for your coral.
It all depends on the type of coral you are housing though. Make sure to research your coral to see what it needs to survive.
Again, every coral is different in terms of its care. And coral food comes in all kinds of types. Some corals food comes in full pieces of food, varying in sizes. Some of it is frozen, and some of it is living food. Other coral food comes in liquid or powder forms. These foods will dissolve organic materials into an aquarium so your coral can eat.
Try to give your coral a mix of foods so they get everything they need to stay healthy. In our buying guide, we will introduce an assortment of coral foods. This way you can find the best coral food for your reed tank!
What Methods Should I use to Feed My Coral
Most corals pull nutrients into their body through polyps. At night when the light lowers the polyps on a coral open and are ready to feed. They are triggered by light, water conditions, and other environmental shifts.
Soft corals in contrast feed during the day. Their polyps are not as complex as hard corals. But they are still able to gather nutrients for soft corals.
You want to keep these feeding habits in mind as you choose your method of food delivery.
When you are feeding your corals, there are two methods you can try out. One involves direct and focused feeding. The other method more broadly feeds your coral.
You don't want to just drop food into your reef tank. You need to consider the specific needs of your coral as you feed them.
For soft and SPS corals, you can use the broader method. This is known as broadcast feeding. When you broadcast feed, you use the flow of water in your tank to get food to your corals. Alternatively, you can stir the food up yourself so it reaches its mark. This works for less aggressive corals as they will take the food in with little issue. You won't get a lot of control with this type of feeding. So make sure to measure the food well and take out any extra bits.
For LPS coral you'll need to directly feed them. Use a syringe or other device to get the food to them.
This is called targeted feeding and it works best for these aggressive corals. You could also use this method for other types of coral as it creates less of a mess in your tank.
Still, we recommend this feeding more for your LPS coral. How you feed you coral is up to you though.
---
---
Best Coral Food
Best Coral Live Food
Best Coral Target Feeder
Polyp Lab Nano Reef-Roids Coral Food - 37g
AlgaeBarn Poseidon's Feast :: Live Marine Copepods - 3000+ Tisbe & Tigriopus...
Kent Marine Sea Squirt Coral Feeder, 21 In.
Last update on 2023-09-06 at 09:23 / Affiliate links / Images from Amazon Product Advertising API
Conclusion
Your coral needs to have the most nutritious food to live well in a man-made tank environment. Knowing the differences between your coral and other corals will help you find the best coral food.
Our article should have helped you acquire the information you need for the best tank outcomes. You can now keep your coral living long and healthy for many years.
We also showed you what your coral needs nutritionally to live and how to feed to your reef. With this knowledge and the listed products, you have been exposed to some great coral food products.
Hopefully, you have found the best coral food for your reef tank!