6 Best Aquarium UV Sterilizer for Freshwater, Saltwater, and Reef Tank (2023 Reviews)
You've likely heard about the wonders of the ultraviolet spectrum- how it's used to sterilize surgical equipment, analyze the chemical composition of compounds and more.
But should you rely on it when it comes to your aquarium?
The short answer to this is yes. UV light sterilizers are used in conjunction with filtration systems to eliminate harmful microorganisms; hence create a safe habitat for the fish.
In this article, we'll guide you on how to select the best aquarium uv sterilizer and recommend top-rated models.
Best Budget
Best All-Around
SunSun JUP-01 9W UV Sterilizer Submersible Filter Pump
Coralife Turbo-Twist UV Aquarium Fish Tank Sterilizer 3X, Up to 125 Gallons
Last update on 2023-09-09 at 06:49 / Affiliate links / Images from Amazon Product Advertising API
6 Best Aquarium UV Sterilizer Reviewed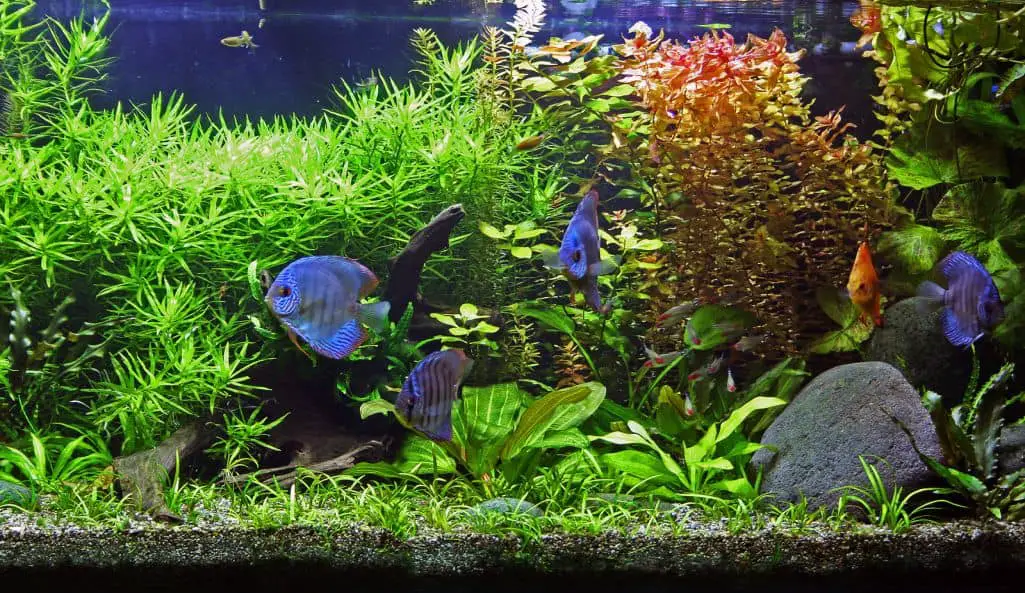 1. Coralife Turbo-Twist UV Sterilizer 9W / 18W / 36W
Sale
Coralife Turbo-Twist UV Aquarium Fish Tank Sterilizer 3X, Up to 125 Gallons
Removes free floating algae, parasites and harmful micro organisms from aquarium water
Features a unique twist flow design increases water's exposure to ultraviolet light improving the treatment of...
For fresh or saltwater applications
Easy setup and installation, includes mounting brackets for hang-on or inline applications
Indicator light lets you know when the sterilizer is operating
Last update on 2023-09-07 at 19:54 / Affiliate links / Images from Amazon Product Advertising API
For aquarists with large fish tanks, you need a powerful UV sterilizer like the Coralife Turbo-Twist UV Sterilizer. It's equipped with features that will efficiently decontaminate aquariums that are up to 500 gallons.
More specifically, this sterilizer employs a unique turbo-twist technology. This operates by guiding water flow more uniformly through the sterilizer. Thus, increasing the environment's exposure to ultraviolet light.
What's more, this piece of equipment is not bias. It works effectively in a saltwater tank as it does in a freshwater model. Also, the installation is a breeze thanks to the mounting brackets provided. These can be used for either in-line or hang-on setups.
This Unit comes in 3 different versions :
Coralife Turbo Twist UV Sterilizer 3X – Recommended for aquariums up to 125 gallons
Coralife Turbo Twist UV Sterilizer 6X – Recommended for aquariums up to 250 gallons
Coralife Turbo Twist UV Sterilizer 12X – Recommended for aquariums up to 500 gallons
PROS:
Exceptional twist-flow design to boost uv light exposure
Ideal for freshwater and saltwater fish tanks
Equipped with an indicator light to indicate when the sterilizer is in operation
Flexibility in installation
Contender for the best Aquarium UV Sterilizer
Check Price and Reviews on Amazon
---
Video: "Coralife Turbo Twist UV Sterilizers: What YOU Need to Know"
---
---
2. SunSun JUP-02 5W UV Sterilizer
No products found.
An inexpensive option, the SunSun JUP-02 is another sterilizer worth considering. Its dimensions are 10 x 3 x 2.75 inches, giving it a compact design. This way, it can fit smaller tanks, specifically those that have a maximum capacity of 40 gallons.
An admirable feature about this sterilizer is that it comes ready to set up. Thus, you don't have to worry about additional tubing or getting another circulation pump. Even better is the fact that it can be installed either horizontally or vertically.
Furthermore, you'll get an array of accessories along with the sterilizer. The UV unit comprises of a built-in pump and a UV ballast. There's also a UV-C lamp, a pre-filter sponge that swiftly wipes off any dust before the water gets closer to the ultraviolet light; and suction cup mounting brackets. For optimal performance, the manufacturer recommends replacing the bulb on a yearly basis.
PROS:
Compatible with fresh and saltwater aquariums
An all-inclusive package that includes mounting brackets and a pre-filter sponge
Easy to install
Compact design fit for small fish tanks
CONS:
The 5-watt bulb is not as powerful as other uv units
Check Price and Reviews on Amazon
---
Video: "Sun sun uv sterilizer 5w review"
---
---
3. SunSun JUP-01 9W UV Sterilizer
Last update on 2023-09-09 at 06:49 / Affiliate links / Images from Amazon Product Advertising API
Equipped with a more powerful UV light bulb, the SunSun JUP-01 is fairly similar to the SunSun JUP-02. However, there are subtle differences between the two.
For instance, this one uses a more powerful bulb with 9 watts. It's also slightly bigger measuring 12 x 3.3 x 3.75 inches.
But even then, it's compact enough to fit the smaller-sized fish reef tanks of up to 55 gallons
.
Like its sibling, the JUP-01 is perfect for sterilizing both fresh and saltwater fish tanks. In fact, it can also be set up in outdoor ponds, making it highly versatile. Speaking of installation, this sterilizer doesn't require any additional hardware or pumps.
This is because it comes with a built-in water pump that boasts a flow rate of 132 gallons per hour of uv light. The fact that it doesn't need an additional investment in hardware is a significant cost saving.
All that's needed for mounting are the suction cups that easily attach to the interior section of the fish tank. Additionally, this can be installed either horizontally or vertically.
PROS:
Built-in water pump adds convenience
Simple installation with included suction cups
The 9-watt bulb makes this the ultimate solution for small aquariums
Can be installed in a vertical or horizontal position
CONS:
Motor wears out after extended use
Check Price and Reviews on Amazon
---
Video: "SunSun JUP 01 9W UV Sterilizer Submersible Filter Pump Review"
---
---
4. AA Aquarium Green Killing Machine Internal UV Sterilizer 3W
No products found.
Next on our list is this incredible Green Killing Machine from AA Aquarium. The sterilizer is aptly named as it's effective against formation of green water and cloudiness.
The unit utilizes a 3-watt EZ bulb, which is easy to change and replace. Also included in the kit are 4 pieces of sponge pre-filters and a pump which has a flow rate of 150 liters per hour.
This sterilizing unit that comes with a powerhead is designed for very small-sized tanks that can hold up to 20 gallons.
PROS:
Backed by a 3-year warranty
Suitable for fresh and saltwater aquariums
Arrives pre-assembled for a seamless installation
Compact design for very tiny aquariums
Inexpensive
CONS:
Not powerful enough for most aquariums
Check Price and Reviews on Amazon
---
Video: "Mini Green Killing Machine by AA Aquarium"
---
---
5. AA Aquarium Green Killing Machine Internal UV Sterilizer 9W
No products found.
The AA Aquarium is a completely submersible UV sterilizer and powerhead in one. It employs ultraviolet radiation to attack and disrupt the nucleic acids and DNA in algae and other harmful bacteria.
Like the other AA Aquarium sterilizers, this unit also has an EZ bulb and a built-in pump. But in this case, it pumps water at a rate of 220 liters per hour. Generally, the unit is tailored for medium-sized fish tanks that can hold a maximum of 50 gallons.
PROS:
Simple installation
Includes 3-year warranty
Suitable for fresh and saltwater aquariums
CONS:
Not the most durable sterilizer
Check Price and Reviews on Amazon
---
Video: "Unboxing Green Killing Machine UV Sterilizer Light + Result"
---
---
6. AA Aquarium Green Killing Machine Internal UV Sterilizer 24W
No products found.
If you want to have crystal-clear water in your aquarium at all times, the AA Aquarium Green Killing Machine is just what you need.
This is the most powerful of the bunch as it's equipped with a 24-watt UV light bulb. Moreover, this bulb is UL and cUL certified meaning it's been tested and found to adhere to strict safety standards.
Also important to note is that this sterilizer is designed for larger aquariums of up to 120 gallons. Plus, it comes with sponge pre-filters and a pump. This integrated pump transfers water at a remarkable speed of 440 liters per hour.
PROS:
Perfect for big fish tanks with 120 gallons capacity
Built-in pump has a fast flow rate of 440L/hr
Has a 3-year warranty
Powerful UV light sterilization unit
CONS:
Instructions for assembly are vague
Flimsy packaging
Check Price and Reviews on Amazon
---
Video: "Green Killing Machine Internal UV Sterilizer with Power Head,"
---
---
What Is an Aquarium UV Sterilizer?
Scientifically, ultraviolet radiation is capable of destroying microorganisms that are pathogenic to other living beings.
This explains why the UV spectrum is now widely used for environmental applications. Like preventing contamination in commercial buildings. A recent study shows how germicidal UV light has been successfully used to reduce the levels of airborne fungi within the air-handling units found in offices.
An aquarium UV sterilizer is based on a fairly similar concept. And it's an easy way to minimize the spread of microorganisms in the aquatic environment itself.
This sterilizing unit consists of an ultraviolet bulb. The water in the aquarium is made to pass through a container where the bulb is installed. The act of exposing the water to UV light serves to kill microorganisms such as algae, viruses, bacteria, parasites and potentially lethal insect larvae.
The Algae Bloom
There are loads of things that can contaminate your aquarium. But the greatest and most problematic contaminant is the green algae. This fast-blooming plant is persistent and unsightly. It's capable of climbing on the glass of your fish tank, enveloping the aquarium decorations and even growing on some of the inhabitants.
Algae growth is a usual occurrence in any aquarium, but if it grows uncontrollably, it can be a real menace.
Before the discovery of UV sterilizers for fish tanks, an aquarist was forced to scrape bits of algae using white sponge for hours on end.
Thankfully, these sterilizing units have provided a simpler way of controlling algae growth. Not only does this save you time but it also saves you money you'd have spent buying dozens of white sponges.
---
Video: "Aquarium UV Sterilizer/Filter in Action!"
---
How Does an Aquarium UV Sterilizer Work?
The ultraviolet light operates by simulating the effects of natural sunlight. Essentially, what happens is that the uv bulb emits powerful light that breaks down the DNA or cell structure of the targeted micro-organisms.
Water is pre-set to flow into the section equipped with a UV light bulb at a slow rate. This allows enough time for uv light to destroy floating pathogens.
This process either destroys the bacteria completely or makes them incapable of multiplying. In this way, it creates a safe environment where fish and other aquatic life in the aquarium can thrive.
It's important to note that UV sterilizers are better at preventing future bacteria proliferation as opposed to eradicating a current outbreak of the same. If a sea of algae plants has already established itself, then you'll need to look for proper medication to treat your fish.
Essential Features to Consider when Buying Aquarium UV Sterilizers
Size of the Aquarium
Even though this is a no-brainer, it's worth pointing out. Aquariums come in a variety of sizes: some with small capacities of just 2.5 and others as big as 180 gallons. When picking a UV sterilizer, you need to match its power to the size of your fish tank.
If you choose a less powerful unit for a large aquarium, it will take a long time before the sterilizer can fully disinfect the water.
Most aquarium sterilizer manufacturers understand this. Which is why they specify the aquarium sizes suited for their units. Here are a couple of size guidelines:
5-Gallon Fish Tank
If your aquarium has such a small capacity, it's not advisable to install an ultraviolet sterilizer unless it's your last resort. This is because the sterilizer can take up a huge chunk of space in an already limited area.
If you decide to invest in one, look for a unit that does not exceed 3 wattages of bulb power. And, it should be submersible.
Another trick that helps when you have a small aquarium is to install the sterilizer only when you need to. So once the decontamination process has taken place, remove the sterilizer to leave more room for the fish to move around.
If your aquarium has a capacity of more than 5 gallons, there's not much else to check except the bulb power. Follow these recommendations:
10 to 20 gallons: 3 watt bulb
30 to 40 gallons: 5 – 7 watts bulb
55 gallons: 7 – 10 watts bulb
75 gallons: 13 – 15 watts bulb
90 gallons: 15 – 18 watts bulb
125 to 150 gallons: 24 watt bulb
180 and more gallons: 24 – 36 watts bulb
Submersible vs. Non-Submersible
There are two main kinds of ultraviolet sterilizers: submersible and non-submersible. Each model has its fair share of merits and drawbacks.
Aquarists who prefer submersible units like them for their non-leakage ability. With this sterilizer, you're guaranteed that water won't end up spilling on your floor.
That said, keep in mind that installing UV sterilizing tools inside your fish tank might impacts its aesthetics. A majority of them look bulky and unsightly. So if you're big on design and style, you might want to consider the non-submersible model.
But if you really want the submersible type and don't want to ruin your aquarium's appearance, there's a way to go about this. Just remove the sterilizer when it's not in use.
Non-submersible sterilizers are mainly tailored for very large aquariums or outdoor ponds.
With or Without a Powerhead
You also need to decide whether getting a sterilizer with a powerhead is better than getting one without.
For the most part, we recommend choosing models that come with their own powerhead units. This is because the separate powerhead will have the flow rate stipulated by the manufacturer. And this plays an important role when it comes to eliminating the pathogens targeted by that uv sterilizer.
Without a powerhead, it means that the pace at which this sterilizing equipment operates will rely on the water turnover of your current filtration system.
Flowrate and Dwell Time
How well your UV sterilizer does its job is dependent on the dwell time of the targeted microorganisms. The dwell time, in turn, is determined by:
The rate at which water is being pumped through the tube
The size of the tube
Wattage power of the bulb
This is how the said factors impact the sterilizer's performance:
If water is being pumped at a slow rate, this allows the pathogens to be exposed to UV light for a longer time. Thus, there are more parasites and microbes being destroyed at any one time.
In contrast, a high flow rate exposes pathogens to the UV light for a shorter time. Such a flow rate is only ideal if you have a trivial infestation whereby the microalgae are not as persistent and can be easily eliminated.
Benefits of Aquarium UV Sterilizers
---
Video: "Why should I use a UV sterilizer?"
---
UV sterilizers for aquariums offer numerous advantages. These include:
Preventing Algae Growth
As mentioned earlier, there are algae lurking in your aquarium. These plants have a role to play in the aquatic system of your aquarium. They're using light energy to photosynthesize food and release oxygen in the process. Fish use this oxygen to sustain their metabolism.
That said, the levels of algae in a fish tank should be controlled. If left unchecked, they can increase to unmanageable levels and overwhelm other aquatic life.
Thankfully, a UV sterilizer can help to keep algae growth in check. The ultraviolet light prevents algae and other microorganisms from multiplying any further.
Reduce the Frequency of Water Changes
Whenever there's an outbreak of bacteria or fungi, the aquarium water turns green and murky. This can create a lethal environment where fish can't survive. As a result, you'll have to change the water multiple times to prevent further proliferation of the pollutants.
When you invest in a UV sterilizer, your water will be clean at all times; hence, reduce the frequency at which you need to change the water.
Versatile
Some aquarists prefer saltwater fish tanks while others prefer freshwater models. The good thing about most UV sterilizers is that they can be used in both types. They're designed to address every kind of condition so it doesn't matter what kind of environment the pathogens are thriving in.
Permanently Removes Contaminants
Another reason that warrants investing in UV sterilizers is because they eliminate pollutants from the aquarium permanently.
By comparison, an aquarium water filter only removes solid contaminants while smaller-sized microbes and pathogens pass through without being filtered out.
The Best Prevention Approach
Usually, the bacterial infections that fish suffer from are a secondary effect from infestation by parasites or bacteria. When fish suffer from such infections, you'll have to treat them with medications.
The easiest way to prevent bacterial, viral and fungal infections from happening in the first place is to decontaminate the water using a UV sterilizer. The sterilizing device kills any pathogens lurking in water; hence, preventing the need for medication.
Easy Maintenance
Contrary to other accessories used in aquariums, UV sterilizers only need to be set up once. From then on, you have a unit that regularly cleans and sterilizes water to create a habitable environment for fish.
This device doesn't need any routine maintenance and it uses up very little power. In fact, the only thing you'll have to do is replace the bulb after several months.
FAQs
Are UV Sterilizer Safe for Fish?
Yes, these sterilizing equipment don't pose any risks to the fish in your aquarium. Most sterilizers are designed to be connected inline to the canister, whereby they're tucked away underneath the fish tank cabinets.
This setup means that only water gets exposed to the uv lights and not your fish. As such, only the dangerous microorganisms- algae, bacteria and viruses- present in the water get destroyed.
That said, there are a few things you should be aware of when using aquarium UV sterilizers:
Never stare directly at the ultraviolet sterilizer unit. In the same way that the sun's UV rays can damage your eyes, so can this sterilizing equipment.
Always wear gloves when handling the sterilizer; during installation and replacement of bulbs
At times, the UV sterilizer destroys even the beneficial bacteria. This means that you might have to reintroduce the good bacteria after filtration and sterilization.
These sterilizing tools are not equipped with mechanical filters, which would aid in removal of dead pathogens.
Most sterilizing bulbs can work for 14 months before having to be replaced
How long should I leave the sterilizer running?
There's no specific duration; it depends on the severity of contamination in your aquarium.
If you're dealing with a full-blown algae bloom, the best thing to do is leave the sterilizer on every day until the water turns crystal clear. From that point, you can reduce the timeframe to 12 hours a day. This way, the algae doesn't multiply uncontrollably, a second time.
Does a UV sterilizer heat up the aquarium?
Since this piece of equipment uses a mechanical pump suction to channel water to the UV-lit section, there's a tiny amount of heat that gets dispensed. However, this is not excess heat that would affect your fish.
How should I use the UV sterilizer in my aquarium?
You should place the sterilizing equipment last in your filtration cycle. In other words, allow the usual mechanical filter to clean the water first. Afterward, you can allow water to pass through the UV sterilizer.
This is done to get rid of solids from the aquarium water before initiating the sterilization process. In this way, you're helping your UV sterilizer to achieve optimal operational efficiency.
---
---
Best Budget
Best All-Around
SunSun JUP-01 9W UV Sterilizer Submersible Filter Pump
Coralife Turbo-Twist UV Aquarium Fish Tank Sterilizer 3X, Up to 125 Gallons
Last update on 2023-09-09 at 06:49 / Affiliate links / Images from Amazon Product Advertising API
Conclusion
You've put in a lot of work buying a fish tank and looking for the perfect plants, corals and aquatic animals to fill it up with. To ensure this aquarium stays in pristine condition, you should consider getting a UV sterilizer.
This is a tool that removes pathogens present in the water so as to create a conducive habitat for fish. One of the best aquarium uv sterilizer is the Coralife 3X Sterilizer. Although expensive, this is a powerful unit that can handle a 125-gallon aquarium.
It comes with mounting brackets that can be used for either inline or hang-on installation. And it's compatible with fresh and saltwater aquariums.