Reef tanks require the best lighting with the best functions. This way your corals and tank inhabitants can grow healthily in their environment. When looking for the right system, there are many lighting options available to you. But one option stands above the others.
LED lighting has become an increasingly popular choice for aquarium owners over the years. LED lights save you money and offer buyers top of line products.
Inputted with the most convenient technology, LED lights are an ideal purchase. From hands-free programming, to multi light modes, LED lights will give you value for your money.
Still, there are many great lights to choose from among LED systems. And some lights won't have the power or features you need for the best tank conditions. Finding lights should not be made difficult, that's why we have put together this LED reef light guide.
Throughout this post, we will show you everything you need to know. We want you to have an amazing light setup for your reef tank! So we'll tell you which features are best and which brands to look out for in LED lights. In addition, we have put the best products together on our list.
By the end of this article, you'll know everything about these great products. This way you can find the best led lighting for reef tank setups.
Best LED Lighting for Reef Tank Setups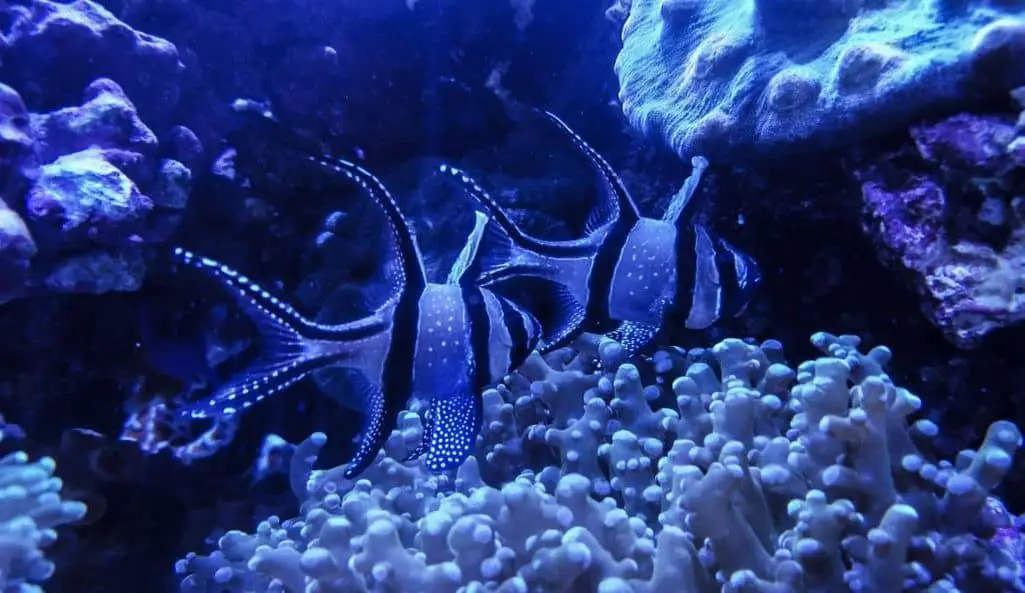 There is much to know about LED lights for a reef tank. Hopefully, you have an idea of what you want to buy. If you don't, you won't have to worry.
The next section of our guide is meant to introduce you to some of the best led lighting for reef tank setups.
We want you to get a light that fits your aquarium. So we have reviewed and looked into ten products. These devices are easy to use and will make your tank look great!
Each reef light has been thoroughly researched, so you will get a feel for each of these devices.
Current USA Orbit Marine Aquarium LED Light
The Current USA Orbit is the first lighting device on our list. This model was made specifically for your reef tank. The light in the Current Orbit is powerful and perfect for corals. The spectrum on this device has a wide range that is designed for both soft and hard corals. It will fit with whatever reef tank you have.
The Current Orbit comes in four different sizes. Each of these lights has the same features, the only difference is the length of the light board.
For a reef tank, we recommend going with the larger LED light sizes. This way your entire tank will be lit by the Current Orbit.
More LED Bulbs And More Light
The voltage of this product is intense and will give your corals the light they require. While you only get two color options, the power in this device makes up for the loss.
You get more LED bulbs and more light with the Orbit. Blue and white light are combined to create the best results for your reef tank. Not only will your fish and coral stand out, but they will also thrive under these lights. The lenses on the light are far-reaching and won't leave any patches or dark spots in your tank.
In short, everything a reef tank owner needs is provided by the Current Orbit.
This is a fully controllable model that is easy to use for any tank owner. It comes with a remote and is imputed with a full twenty-four hour light schedule. This cycle inmates light found in coral's natural environment.
With this technology, your coral won't be oversaturated with light. You are welcome to input your own custom light cycle. But if you want as little hassle as possible let the program run on its own.
Overall, this is a great handsfree device that provides coral tank owners with all the amenities. We consider this one of the best led lighting for reef tank setups.
Check Price and Reviews on Amazon
https://www.youtube.com/watch?v=Hlsw7p8_m00
---
Video: "CURRENT USA ORBIT MARINE LED SYSTEM REVIEW"
---
---
HIPARGERO LED Aquarium Light
HIPARGERO LED is a light system meant for slightly smaller thanks. This is a touch-controlled device that is convenient and easy to use. Two versions of this device are available for purchase.
There is a 30W meant for saltwater tanks and a 12W that can be used for either saltwater or freshwater tanks.
We recommend getting the 30W saltwater model. It has more controllable features and allows you to dim and change light colors for your coral. All it takes is a tap on the top of the device to change the light intensity.
The 12W is a powerful device, with more color modes, but if not well suited to reef tanks. It won't be big enough to light the entirety of your reef tank. In addition, the manufacturer mainly recommends this version for freshwater tanks with plants.
The 30W, on the other hand, will adequately light up saltwater tanks under 40 gallons. It has two modes, and plenty of light intensity that is suited well for coral reefs. Both coral types will do grow well with this device.
The customer support service for this device is top-notch. You can get help setting up this lighting system easily. And if you find that the HIPARGERO LED is not right for your tank you can return it within thirty days.
This light is not meant for everyone though. People with larger tanks should find a bigger lighting system.
Check Price and Reviews on Amazon
---
Video: "Coral Growing Light at Hipargero 30watt led"
---
---
VIPARSPECTRA Aquarium Light
VIPARSPECTRA is a high-powered reef lighting device. It's simply designed but will meet all your coral light needs. There are two versions of this device, the 160W, and 300W. Both devices have the same hardware and controllability. The only difference is size and power.
If you have a massive reef tank you should purchase the 300W. It has more light intensity and is a great fit for larger tanks. The 300W even comes with a hanging device that will dangle the lights over your tank. So it's effortless to get this model setup and put in an ideal location above your aquarium.
If you have a slightly smaller tank go with the 160W model. It's plenty powerful but will fit better in a moderate-sized aquarium. You don't get a hanger for your lights with this model, but you get high-quality LED lights.
Both systems are equipped with two channels. One projects blue light, while the other projects white light. A remote controls the lights on this device.
You can dim your lights and change between color channels with ease with the remote.
There is also a program in the VIPARSPECTRA that dims the lights throughout the day. It works for twenty-four hours and gives your tank optimal lights. It isn't as advanced as some of the other models, but it works efficiently.
Within each channel, there are different color lights as well. You get reds, violets, and greens depending on which light channel you are in.
On the whole, this is a great product, one of the best led lighting for reef tank setups!
Check Price and Reviews on Amazon
---
Video: "How I hung the ViparSpectra 165w Aquarium LED lights"
---
---
MICMOL Aqua Air LED Aquarium Light
The MICMOL is another reef lighting device with a multitude of sizes and variations. There are six main models you can purchase for your tank.
Only three of them are suitable for saltwater tanks. The other three are made for freshwater tanks of varying sizes. Of the three devices made for saltwater tanks, we suggest going with two of them.
All three models have the same specs, but the sizes are different. The forty-six inch and the sixty-six-inch marine lights are a good choice for reef tanks. So go with these options.
MICMOL is well-liked in Europe and known for its penetrating LED lights. The technology in this device is not as advanced as other reef light models. But it works efficiently and provides users with a simple operation.
There are three modes included with this LED, you get a sunset mode, a sunrise mode, and a lightning mode. Each channel has a different light intensity. You can't directly dim the lights, but going between these channels will adjust your light accordingly.
A light cycle is programmed into the device as well and will simulate natural light for your tank inhabitants.
On the whole, this is a sturdy and well-priced device. It isn't the best led lighting for reef tank setup, but it does a good job of maintaining reef tank light exposure. The automatic timer, the various light modes, and the ease of controllability make this a product worth considering.
Check Price and Reviews on Amazon
---
Video: "MicMol – Newest Aqua Air LED Aquarium Lighting"
---
---
Kessil A160WE Controllable LED Aquarium Light
The Kessil A160WE is one of the more pricy reef light options. We suggest going with this LED if you want the best quality light for your reef tank.
This is a spotlight type light that gets to every inch of your aquarium. This rounded light looks small, but it is powerful and designed to give corals a full spectrum of light.
Your corals will flourish under these ultraviolet rays.
The set up of this light is easy, you clip it over your tank and plug the light in. Unfortunately, you'll have to buy a clip to fix your light onto your tank. These are not expensive devices though.
Once you have your light set up, you can use the knobs to control the intensity and color of the light. The controls are simple and not very advanced. But this device is more focused on functionality and performance than looks. This isn't to say that the light looks bad in your tank.
Most reviews say that the Kessil light has a great color that enhances aquariums well. The color is just limited to shades of blue and purple. This is so your corals have focused intense light in the right color spectrum.
Kessel products are expensive and simple but worth it if you are a long term aquarist. If you want the best led lighting for reef tank setups try the Kessel out. It is a simple device but it creates great results in reef tanks.
The Kessil also comes in two versions, the only difference is color. You can get this device with a blue rim or a green rim. This is entirely up to your preference in reef light looks.
Check Price and Reviews on Amazon
---
Video: "Kessil A160WE LED Aquarium Light – Product Overview"
---
---
Kessil Tuna Blue A80 LED Light
The next light system on the list is another Kessil product. This particular Kessil light is aimed at smaller reef tanks. It works for some hard corals but is predominantly recommended for soft coral tanks.
The Kessil Tuna comes with everything you need, you get a clamp to mount the light over your tank. And it has the same controllability as the other Kessil model. You can use the knobs to control color and light intensity the same way as the A160.
Unlike the A160, you only get half the light power from this device though.
With a smaller tank, this is okay, but if you have a big reef tank this will not be the right led light for you. The good thing about this particular model is the price. It's cheaper than other spotlight type reef lights. You still get great led quality lights even with the decreased power.
The Tuna is also made to dispell heat from the device. You won't have to worry about getting a fan or other cooling device.
All in all, this is a sturdy light for smaller sized reef tanks. This product won't be for everyone, but it gets the job done.
It's compactly designed, makes your tank shimmer, and looks great above your reef tank!
Check Price and Reviews on Amazon
---
Video: "A80 Nano Aquarium Light from Kessil"
---
---
MarineLand Reef LED Strip Light
The Marineland Striplight is by far the cheapest item on this list. It comes in at a price tag under one-hundred dollars. This is rare for reef tank LED fixtures.
Due to the price. the control on this device is limited. But you still get an automatic timer and some dimming functions. You should not use this on big reef tanks, but this product will work fine in smaller aquariums.
This is a cheap option meant for reef tank owners on a budget. If you can, we recommend going with a light with more functions and better controls.
But if you need to save a little money on your reef tank this is an ideal choice.
The light intensity works in a range that is comfortable for your coral. The light spectrum also fits with reef tanks.
This is a pretty basic setup for a reef tank, but you can at least maintain the quality and conditions of your tank with this simple light system.
Check Price and Reviews on Amazon
---
Video: "Marineland Reef Capable LED Light Fixture w/ Integrated Light Timer Product Demo"
---
---
Kessil A360WE Controllable LED Aquarium Light
We have one more Kessil product to show you. As we mentioned, Kessil products are some of the best quality reef lights for your tank. They are specifically designed for both hard and soft corals. So we thought we would add one more of their devices on this list!
The Kessil A360WE has the most value out of any light on this list. It also boasts the highest cost of any tank light mentioned on our guide. It has many of the same features as the other Kessil lights.
It is designed as a spotlight and has high powered lights made to grow corals. The difference in this device is that it has more colors, more lights modes, and better controllability.
You get over four modes of light and a controller to set up the light on your device. These lights are more powerful and easier to control than other light models.
We recommend this brand and this device to anyone with money to spare. It is definitely a contender for best led lighting for reef tank setups.
Check Price and Reviews on Amazon
---
Video: "Spotlight on the Kessil A360 | BRStv"
---
---
Phlizon 165W Dimmable Full Spectrum Auqarium LED
Not everyone wants to spend large amounts of money on a reef tank light. The next device fits somewhere in the middle in terms of price.
The Philzon 165W is cheap for an LED reef light. But not so cheap that it lacks the features you need for your tank. The Philzon provides buyers with a variety of settings. You get up to five different types of light, with the light intensity necessary for coral tanks.
In short, you get a full spectrum of light with decent wattage, all for a decent and affordable price.
Philzon is not top of the line, but it works for most mid-sized reef tanks. The controls on it are simple, but you can at least adjust your light intensity and color. This is done through the knobs on the device.
The health of your fish and your corals will be properly regulated with the use of these functional lights.
The design for the Philzon is box-like and lightweight. Anf the Philzon looks great placed near the surface of your reef tank.
This is a robust machine with the power you need and a fan to keep your lights cool. It won't be a first choice for all tank owners, but many will find the appeal with the price and functions available.
Considering the Philzons value and price, we can say it is one of the best led lighting for reef tank setups.
Check Price and Reviews on Amazon
---
---
ABI Tuna Blue LED Bulb Coral Reef Optimized Spectrum
The last reef light on our guide is another budget option. The ABI is cheap but perfectly made for small reef tanks. This light setup is designed as a spotlight and combines multiple bulbs for the best results.
ABI uses colors found in coral's natural environment and mimics that light. The lights stick to shades of blues to create this effect.
With this setup, you will have healthy corals and a beautiful tank environment. The bulbs last for over fifty thousand hours and have great warranty coverage.
For this price, it is worth getting these lights. Especially if you don't have a lot of money to spend on your reef tank setup.
You are not getting the best led lighting for reef tank setups. Still, you can create a habitable and thriving space for your corals.
The only real downside to this product is a lack of control. You won't be able to change the light intensity or the color. So keep this in mind is you get this particular reef light.
Check Price and Reviews on Amazon
---
Video: "$$Cheapest Reef Light$$ (Unboxing the ABI 12 Watt)"
---
---
Benefits of LED Lights
LED lights have advanced considerably in recent years. This has led to major convenience in most lighting systems.
Before LED's came around, most tanks had manual timers. You had to set everything up yourself, and perfectly time when your reef lights went on. The bulbs used in these devices were not that powerful. And often they failed to provide the right amount of light exposure.
You could get your whole tank lit up in an even fashion, but more power was needed. To compensate for this deficiency halides came into the picture. They put powerful lights in the hands of tank owners. The only problem was that they could heat up too much and eat up a lot of power.
All of these problems were fixed with LEDs.
Efficient and Completely Customizable
Since LED's came into the picture, there has been a drastic change in lighting systems. LEDs are known for their power-saving bulbs. You not only spend less money on electricity but won't have to install fans to cool down bulbs.
LEDs stay at a moderate temperature and last longer than any other type of lights. LED systems are efficient and completely customizable. You can set the timer in your tank light to power on and off automatically. You can also dim your lights and make them mimic natural light patterns.
And if you want a tank full of vibrant and colorful lights, that is possible as well. All kinds of colors and modes are available for reef tank owners.
LEDs are powerful and make sure your reef has the light they need to survive in aquariums. Not only that, they are safe for your tank inhabitants. Unlike other types of lights, LEDs are unlikely to cause electrocution or overheating in tanks. The materials used in LEDs are safe and often waterproofed and shockproof.
Many safety features are put into these types of lighting systems, all in one compact design. LEDs tend to be on the slimmer side. So they will fit well in any type of reed tank without any trouble. In addition, LEDs are relatively light in weight.
You can put them anywhere in your tank with minimal hassle. Heavier and older light models don't give you this kind of flexibility!
How to Find the Best LED Lighting for Reef Tank
---
Video: "Reef Aquarium Lighting Guide: What Is The Right PAR For Vibrant Coral Coloration and Growth?"
---
LED lights for reef tanks should not be chosen on a whim. You want to make this decision carefully and deliberately. To make this simple for you, we have come up with a few key elements any tank owner should consider. These are all features that are highly pertinent to your purchase.
We'll list them off to give you an idea of what to expect from a quality LED system. In the subsequent sections, we will give you more details so you can purchase the best led lighting for your reef tank setup.
Above all, you want to make sure the model you get is well built and will last you a long time. Lights that are cheaply made can cost you in the long run. In addition, you want to make sure that the light you get matches the aesthetic you want inside your tank. The light should also match any room you put it in. So check out the lighting available for your device.
Good LED systems have several lighting options and programs to help you set up the tank look you want. You should be able to control these settings with ease. Other things to consider are the cost of your device, the brand, and the light intensity your model is capable of.
Get A Sturdy System
Light systems are expensive, this is no secret. When you spend this amount of money, you want to make sure you are getting the highest-quality device.
Make sure your light is well built and made of strong materials. Plastic and other flimsy material is not suitable for a reef tank. Metals and other strong material will work best.
With LED bulbs though, you shouldn't have any issues with longevity or sturdiness. These bulbs are known to last longer and shine brighter for longer periods of time than other light fixtures. Still, you want to think about a few things. The lights should come from a reputable brand and a warranty is always a plus.
While LED bulbs don't heat up as much, a cooling system can help your system last longer. It wouldn't hurt to look into this feature. On the whole, though reef lighting systems tend to have a long lifespan. This includes the reef lights in our list.
How The Lights Will Look
Some people don't care about the look of their tank. For these people, the colors of their lights won't matter much. For the majority of tank owners though, the light modes and color of your LED will matter. To keep with the look of your tank, you want a light system that matches the visuals of your aquarium.
When you are looking into lights for a reef, pick a device that includes colors that blend well into a tank environment.
In addition, you want the light to be dispersed evenly throughout the tank. There should not be any dark patches in your tank. Your tank should look well lit and pleasing to the eye. To do this you want to think about what colors will look good in your tank.
Some lighting modes might look better on your fish and your corals than others. It isn't hard to find the right hues for your reef tank. Look online for inspiration, or if you know people who have tanks you can look at their setup.
Outside Your Tank
Tanks don't exist in their own space, they are usually surrounded by external decor and objects. Maybe you have your tank in your living room or office space.
You don't want your tank setup to clash with its setting. The color your light produces is one thing to consider. It should match with the surrounding environment. But the design of your LED can also have an impact.
Some light systems are hidden well in the hood of your tank. Other LED systems are placed outside your tank. These fixtures can be large or compact, depending on what brand you buy from.
There are tons of different designs available, from sleek and minimalistic designs to hulking machines. Get a light that matches your own preferences.
Consider Getting Programmable Lights
---
Video: "Reef tank lighting schedule – What is the ideal spectrum program for your LED lights?"
---
New LED light systems have all kinds of programs and controllability features inputted in them.
You want to get a device that comes with these helpful features installed. Not only will this make it easier to operate your device, but it will also help your lights stay on a schedule.
You won't have to worry about turning off your lights. These best reef lights will do this through an automatic setup.
This can be done through several means. Some lights come with a remote, other devices can even be controlled through an app on your phone or computer. Controls like this are ideal for tank owners and highly advanced.
You can set the intensity of light, the types of light, the color of your light, and the timing of your light. You can even customize your own light setting for something perfect for your reef tank. For instance, you can create light that imitates daytime or nighttime.
You don't want your lights to stay high intensity all day though. This can kill plants, coral, and even your fish. So being able to set up lights in a controlled and safe manner is paramount. Don't be afraid to spend a little money to get the features your tank needs.
Cost of Your Lights
Cost is important for any purchase. You want a light that is worth the money you spend on it. Still, the value of your device might not be immediately obvious, especially with the price tag.
LED lights are more expensive than other lighting, but they are worth your money. In fact, they will save you money over time. This is due to the powering saving abilities of LED.
LED lights require less power to operate and produce intense light. At first LED lights can seem costly.
But they end up saving you a lot of money in comparison to other cheaper lights. Further adding to its values, LED bulbs don't need to be replaced. They last for years and years. So this saves you even more money.
LED lights also come with tons of features that aren't in cheaper systems. The light is more intense and at the perfect output for your coral. You also get more colors, more settings, and more control options than other devices.
Consider all of this when you make your purchase and consider how much you are willing to spend.
Consider The Brand of Your Lights
Getting an LED light isn't enough, you want to get a device that comes from a good brand.
Some companies have been producing LED lights for years. They have perfected these devices and will provide the best led lighting for reef tank setups.
Other brands might not be up to par, so make sure you are going with a respected company. Luckily, we will introduce you to some quality brands in this guide.
In addition to having top-notch products, established brands also provide you with customer support service and warranty services.
If you have an issue with your lights, you can get help much easier. Warranty for old parts will also be easier to come by. You will get your replacement parts or device faster with a company that already has a strong customer base.
This isn't something that everyone wants to think about. But if you plan of being a long term tank owner, these types of considerations will be beneficial.
Aquarium merchandise is meant to be used for a long time, but sometimes your purchases can break down. You want to have a good warranty service on hand!
---
---
Conclusion
Reef tanks need the best accessories and devices. This way they maintain optimal conditions for the coral they house.
One important device for your coral aquarium is reef lights. These are crucial products that keep your corals healthy and alive.
In this guide, we introduced you to some great reef tank lights. It's not always easy to find the right product for your reef tank.
But with the information provided and our list of reef products, you should be able to find a great light.
We want you to have the best led lighting for reef tank setups!
Last update on 2023-04-02 at 02:15 / Affiliate links / Images from Amazon Product Advertising API