Best Pond Filters – Top 9 Review
Home ponds can create rich biodiversity in your backyard. Bugs, plants, and critters all take refuge in your pond area.
Even though it's a manmade structure, the ecosystem on your property will benefit from this body of water. But this can only happen if you keep your pond in good condition.
Don't expect to have a perfect pond by chance though. Nature won't keep your pond healthy. You have to do this with tools made specifically for your pond.
It's true that green pond algae, parasitic insects, and other substances can build in your pond. In addition, your pond fishes can also produce large amounts of waste.
Still, if you have a good pond filter you can keep your fish living in their outdoor home for many years!
To accomplish this, you need the best pond filter for your pond fish.
In this article, we'll introduce you to some great pond filter products. We'll also discuss a number of topics related to pond filters.
In this way, you can successfully keep your pond!
Best Budget For Small Pond
Best For Medium Pond
Best For Large Pond
Best For Waterfall
TetraPond Submersible Flat Box Filter, For 250 To 500 Gallon Ponds
SUN Grech CPF-2500 Pond Bio Pressure Filter UVC 13-watt Up to 1600 Gallons...
OASE BioSmart 5000 Pond Filter
TetraPond 26596 Waterfall Filter, Up to 1000-Gallon,Black
Last update on 2023-09-06 at 20:34 / Affiliate links / Images from Amazon Product Advertising API
Best Pond Filter – Top 9 Review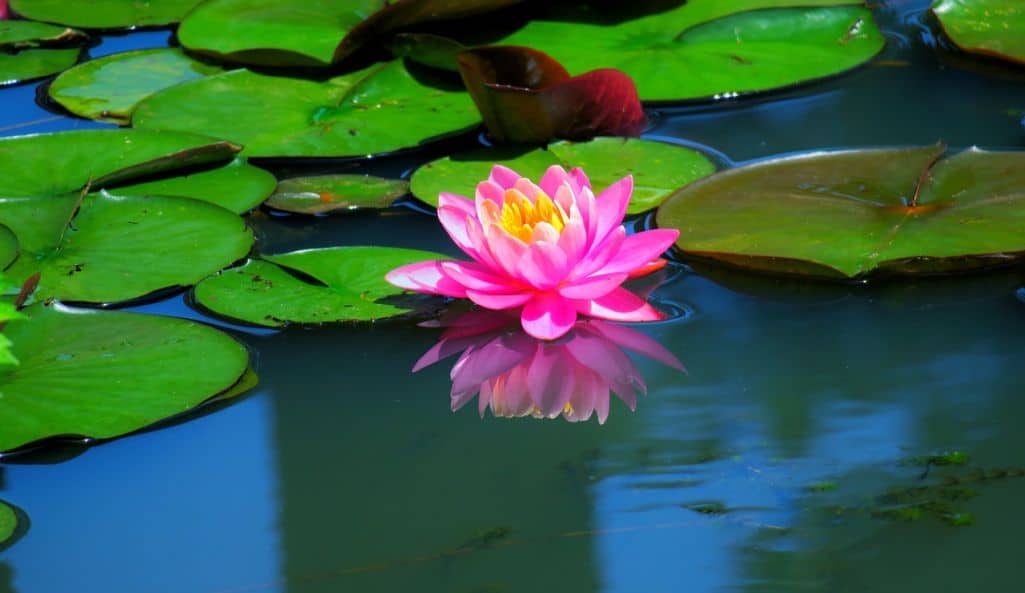 1. OASE BioSmart Pond Filter
Sale
OASE BioSmart 5000 Pond Filter
Innovative Flow-Through filter design with biological and mechanical filtration provides maximum oxygenation.
BioSmart 5000 is suitable for ponds up to 5,000 gallons (with no fish).
High-surface area filter foams provide exceptional biological filtration capability.
Distinct filter zones promote the settlement of a variety of beneficial bacterial responsible for different phases of...
Advance features include the built-in cleaning indicator notifies you when the filter needs cleaned and water...
Last update on 2023-09-06 at 20:34 / Affiliate links / Images from Amazon Product Advertising API
The OASE is the first pond filter on our list. OASE has been making filters and fish products for over half a century. Their devices are affordable and popular.
So this is definitely a brand you can trust to make a good pond filter. This particular product is made in two sizes.
There is a 5000 gallon version and a 10,000 gallon version. If you don't have fish in your pond, the 5000 gallon version will clean all 5000 gallons.
If you have some smaller fish in the pond, it will only clean around 2500 gallons. Bigger fish further decrease the amount of water your device can clean.
So consider this as you choose a size. The larger 10,000 gallon filter will clean much more water. If you have big fish or a massive pond you might want to go with the larger size.
Both of the OASE Filters have the same capabilities, they really only differ in their size. They use mechanical filtration to get rid of floating waste. And biological filtration to keep the water healthy for fish.
You also get a temperature reader and a light to tell you when the device should be cleaned. These features will help your pond stay in top condition!
Really, with the price and functionality of this brand of filter, you are getting one of the best pond filter devices. We highly recommend the OASE filter especially if you have a larger pond!
PROS:
Good for large volumes of pond water
Good if you have a lot of fish
Great price for this pond filter considering the value
Will clean your pond effectively and quickly
Sensors for temperature and cleaning
Lots of biological media to create good bacteria growth
CONS:
Does not come with any pond tubing
Check Price and Reviews on Amazon
---
---
2. XtremepowerUS Koi Pressure Boi Filter with 13-Watt UV Light
No products found.
The XtremepowerUS filter can filter through up to 4000 gallons. XtremepowerUS devices are dedicated to keeping your pond clean.
They use all types of filtration to keep your man-made bodies of water pristine. Biological and mechanical filtration is utilized, but UV clarification is also a big focus of this product.
The UV light in the XtremepowerUS Filter will last buyers for a long time. They have a life span of eight-thousand hours. XtremepowerUS can also backflush waste.
So if your mechanical filter builds up with the waste you won't have to empty it yourself. The device does this itself. This is really convenient if you want a low-maintenance pond filter!
XtremepowerUS can cost a little more than most pond filters, but it's a good option if you deal with algae overgrowth often.
This filter is also available as a kit with pump included, just check out the link to amazon

PROS:
Easy to use this pond filter and set it up
Tells you when you need to clean the filter out
Has all the filtration types you need in a pond
Great for big and medium pond sizes
A good powerful pond filtration device
Great at ridding ponds of algae growth
CONS:
Not the best filter for a small pond
Does not come with pond tubing unfortunately
Check Price and Reviews on Amazon
---
---
3. Grech CPF-2500 Pond Bio Pressure Filter with 13-Watt UV Light
Sale
SUN Grech CPF-2500 Pond Bio Pressure Filter UVC 13-watt Up to 1600 Gallons...
Biological and mechanical filter chambers for more efficient removal of dissolved and solid waste
Simple quick handle cleaning system for easy maintenance (no need to open and clean foams all the time)
Enables rapid growth of aerobic bacteria resulting in removal of lethal ammonia and nitrite
Able to cope with higher water flows compared to traditional gravity filters
Complete with inlet and outlet hose adapters
Last update on 2023-09-06 at 20:34 / Affiliate links / Images from Amazon Product Advertising API
CPF's pond filter is one of the cheapest options on the list. This is not the best pond filter option. But if you need to save some money on your pond we recommend this.
You still get a quality pond filter for small and medium-sized ponds.
Both biological and mechanical filtration is present in this device. You can easily put any type of filter media you want in the bio-compartments. But sponge is also used to trap debris and build up good bacteria your pond needs.
CPF will work with ponds that are 1600 gallons and under.
Pond tubing does not come with the product. But you can purchase some cheaply and hook your filter up to your pump.
If you have a bigger bioload with a lot of fish your filter won't clean as much water so keep this in mind.
Overall though, small ponds with a small amount of fish can really benefit from this cheaper pond filter!
PROS:
Good price for this pond filter
Good choice for small and medium sized ponds
Great value and cleaning power in the CFP
Not hard to clean this pond filter device out and use it
Low maintenance pond product
Creates good beneficial bacteria growth in ponds
CONS:
No pond tubing is included with this product
No UV Clarification
Not a great filter choice for big ponds or ponds with a lot of big fish
Check Price and Reviews on Amazon
---
---
4. Jebao CBF Bio Pressurized Filter with 13-Watt UV Light
Jebao CBF Series Pressurized Filter with UV (4000-gallon)
Model# CBF-15000 Max pond size: 4000 gallon
Max Operating Pressure - 7.25 psi / 17ft. of head
UV power: 36-watt 110-120V 60Hz
Dimension: 16.5" x 24 inch Tall Hose adapter: 1", 1-1/4", 1-1/2" and 2"
Water pump and pond tubing sold separately
Last update on 2023-09-06 at 20:34 / Affiliate links / Images from Amazon Product Advertising API
Jebao pond filters are reliable and durable devices. They come in two sizes and can accommodate both large ponds and small ponds.
The first version of the product is made for ponds 1500 gallons and below. And the second version of this device is made for ponds up to 4500 gallons.
Both of these pond filters have the same machinery. But you'll want to choose a size that is appropriate for your pond needs.
The 1500 gallons size can be good if you have a small pond with only a few fish. But if you have a lot of fish or a higher quantity of water, you'll need the larger 4500 gallon size.
Whichever Jebao Filter you go with, know that you are getting great value for your money. These pond filters are affordable and high-quality. They offer all three types of filtration.
The mechanical filtration in this product, as well as, the biological filtration is top-notch. You also get UV clarification which will only enhance the quality of your water!
Overall, Jebao is one of the best pond filter products. It's inexpensive, and a great tool for beginner pond owners. The device even lets you know when it needs to be cleaned out with a flashing light.
PROS:
You get three types of filtration in this Jebao product
Great price for both sizes and under two-hundred dollars
Good durable filtering device for ponds
Good range in size and power
This filter lets you know when it needs to be cleaned
CONS:
No pond tubing though
UV light could dim or break
Check Price and Reviews on Amazon
---
---
5. TetraPond Clear Choice Biofilter PF-1
Sale
TetraPond Clear Choice Biofilter PF-1 For Efficient Filtration
Easy out-of-pond accessibility and simple maintenance
Mechanical pre-filter sponges remove suspended debris to improve water clarity
Bio Ring media provide massive surface areas for beneficial aerobic bacteria
Interchangeable .75" and 1" intake fittings
Use with water gardens upto 1200 Gallons or with Koi ponds upto 500 Gallons
Last update on 2023-09-06 at 20:34 / Affiliate links / Images from Amazon Product Advertising API
TetraPond Choice is a budget pond filter option from the fish keeping company Tetra. Tetra is a popular and trusted brand that has been making great fish products for decades.
This particular Tetra product won't be for everyone, but it will work well for small ponds!
The filter primarily uses foam and biological material to trap dirt and other pond pollutants. These materials also grow a ton of beneficial bacteria. So your pond water will be free of toxins and bacterial waste.
Tetra has specially designed this pond filter for extra efficiency. The surface area has been expanded in this device so good bacteria can multiply exponentially.
The conditions of the pump have also been made ideal for beneficial bacteria growth. So you are sure to get the best biological filtration.
In addition, mechanical filtration is present, so your pond will get thorough filtering with this device!
For under one hundred dollars, it's hard to say no to the TetraPond Choice. Still, there are some things to keep in mind. Not all pumps will fit with this device.
In fact, if your pump exceeds 550 gph should not get this device. In addition, if you have a lot of big fish this might not be the pond filter for you.
Ponds 1200 gallons and under with a few small fish should use this filter. The filter can also handle a few koi fish and 500 gallons of water.
But if you have more fish than this or a bigger pond look at a different product.
PROS:
Very well priced pond filter
Not hard to use this or install this filter
Great value and filtration capabilities
Great for biological filtration in ponds
CONS:
No pond tubing in this
No UV clarification
Not great for big ponds and ponds with a ton of fish
Check Price and Reviews on Amazon
---
---
6. TetraPond Submersible Flat Box Filter For Ponds Up To 500 Gallons
Sale
TetraPond Submersible Flat Box Filter, For 250 To 500 Gallon Ponds
SUBMERSIBLE FILTER: Flat box filter prevents pump from clogging and keeps pond water clear and clean.
PARTS INCLUDED: Coarse and fine foam pads, tubing and three hose fittings.
CONVENIENT: Attach to various pump inlets – easy to detach for cleaning.
WARRANTY: Includes a 1-year limited warranty – see product packaging for details.
USAGE: Ideal for use with ponds up to 500 gallons.
Last update on 2023-09-06 at 20:34 / Affiliate links / Images from Amazon Product Advertising API
TetraPond Submersible is meant for even smaller ponds than the Choice. This is a highly affordable product, but you only want it in certain ponds!
Ponds 500 gallons and below are a good fit for this device. 500 gallons is below the average size of most ponds, but it's still a sizable amount of water.
If you have one or two big fish or a group of small fish this pond filter could work for you.
Luckily, this filter will work with most pond pumps even higher power ones. Just don't go over 2000 gph.
Again this is a cheap but functional filter for outdoor ponds. It's not the best pond filter, but it has a lot of value. It's also submersible so you can hide it in your water and keep your pond looking great.
PROS:
Best price on the list under 20 dollars
Good value and fits with multiple pumps
Good for small ponds under 500 gallons
CONS:
You can't use biological filtering on this
Only has mechanical filtering for ponds
Not a great filter for big ponds or lots of fish
Check Price and Reviews on Amazon
---
---
7. POND BOSS Filter Kit with Pump
Sale
Last update on 2023-09-05 at 01:17 / Affiliate links / Images from Amazon Product Advertising API
Pond Boss has everything you want in a pond filter, all for one low price! It's under one hundred dollars and has several features that you won't find in other pond devices.
This is a fully loaded pond kit that provides you with a pump and a filter. So you won't have to make your pump purchase separately like other filters.
The pump isn't that powerful though. It runs at around 320 gph, and the filter is only made for 500 gallons.
Still, if you have a small pond this is the complete package. In addition to these items, you get bio balls and filter pads that help with mechanical filtration.
You'll be able to grow good bacteria and rid your pond of floating waste for sure!
This filter even helps with oxygenation. A water nozzle is included in the kit along with a valve. You can even make a small fountain with it if you want.
Considering all this, while Pond Boss isn't meant for big ponds, its value for small ponds is undeniable. This makes Pond Boss one of the best pond filter devices you can get for small ponds!
PROS:
Unbeatable price at under one hundred dollars
Can create a fountain and oxygenation with tools provided
Has a small pump for your filter
Has mechanical and biological filtering for ponds
Plenty is included with this pond kit great for beginners
Quiet operation for these devices
CONS:
Not a great choice for a bigger pond with a lot of fish
Check Price and Reviews on Amazon
---
---
8. CNZ All-in One Pond Filter System with 13W UV Sterilizer
Sale
CNZ® ALL IN ONE Pond Filter System with 13W Sterilizer 660GPH Pump Fountain...
Reduce algae, Clean Pond water
3 Fountain Water Feature Attachments
Adjustment valve for regulating flow to fountain head and/or auxiliary water feature.
Includes a large coarse filter foam that water must pass through first and also three Bio filter media baskets
The unit is designed to run submerged so you do not have to worry about disguising it as you would with external...
Last update on 2023-09-05 at 01:17 / Affiliate links / Images from Amazon Product Advertising API
CNZ primarily uses UV clarification to rid ponds of algae and bacteria on the surface of the pond water. Extra powerful UV light is used in this device to sterilize your water! 13-watt lights help your filter achieve this.
But lights are not the only feature that makes this pond product great. You also get three fountain heads which create a nice aesthetic look in your water. They also help bring more oxygen and flow to your pond environment.
Additional filtration is present in the CNZ as well. There is a large foam that helps to trap debris and waste. There are also three bio compartments to put biological media in.
This way you can grow good bacteria in your pond with the materials of your choice.
Overall, this is a well-priced and fully functioning pond filter kit with great UV and filtering features. You won't want to use this on any big pond, but in a small pond, this product will do a great job.
The filter runs with a  integrated pump of 660 gph. Likely, you won't want to use this with a pond that is over 500 gallons.
PROS:
Another pond filter with a great price point
Great product if you want to remove pond algae
Very powerful UV lights 13 Watts
Fountainheads and pump included
All types of pond filtration included
CONS:
You won't want to use this in large ponds
Check Price and Reviews on Amazon
---
---
9. TetraPond 26596 Waterfall Filter, Up to 1000-Gallon
Last update on 2023-09-06 at 20:34 / Affiliate links / Images from Amazon Product Advertising API
This is another great Tetra pond product that is meant to filter small bodies of water with waterfalls. The slim TetraPond Waterfall will fit easily into the environment of your backyard. You can add decorations and rocks to further hide this filter from view!
You can also hook it up to your other pond systems. Waterfall filters like this one can be attached to another filter system. Alternatively, they can be left to filter the pond on its own.
Still, they will need to be attached to your pump.
Luckily, the TetraPond is compatible with a number of pumps. You can use this with pumps that have a flow rate of up to 4500 ghp.
In terms of filtration, this waterfall filter has both mechanical and biological filtration capabilities. A bio bag is affixed into the filter and will help keep your pond clean. You can add bio-media into this bag. Bio-balls and other bio-activators can be placed in this filter with ease.
This is one of the best pond filter products. It's not overly loud, it has a good price point, and it will keep your pond sparkling clean!
PROS:
Good warranty up to two years
Easy to decorate the filter and looks great
Works for smaller ponds with a low amount of fish
Good aeration for your waterfall and pond
Easy to add any kind of bio media to your filter
Uses mechanical and biological filtering for your pond
Does not make a lot of noise
CONS:
Is not great for large ponds over a thousand gallons
Does not come with a pump system
You have to get your own tubes they are not included
Check Price and Reviews on Amazon
---
---
What Do Pond Filters Do
So what exactly is a pond filter and how will it help your fish and your pond water? In essence, pond filters are made to keep your water fresh for your fish.
They oxygenate the water and keep it free from toxins and waste found in ponds. Though fish in ponds are even hardier than tank fish, pond pets need filters even more.
Ponds are not protected by an indoor environment and can get even dirtier than aquariums. To combat this, pond filters are usually coupled with pumps, or come as a filter pump system.
In particular, pumps help the pond water run through a filter and keep the water moving. Idle water is more prone to contamination and pond algae build-up.
With bacteria and other nondesirable debris running through your pond filter, your fish can take in oxygen easier. Your pet can also have a much better quality of life.
There are of course different filters that help with pond filth, but we'll talk about them later. Just know that the mechanisms and material in ponds keep them healthy by combining different filtration techniques.
How Do Pond Filters Filtrate Water
Pond filters and other fish filters offer three main types of filtration. Filters don't merely remove physical waste, they also deal with bacteria and other contaminations.
All ponds have a natural nitrogen cycle which helps deal with some waste. But biological filtration further enhances these effects.
The media used for this stage of filtration builds up good bacteria in your pond water. Materials like bio-balls and bio rings are put in pond filters along with a cartridge.
Your pond water is run through these types of media and grow good bacteria as a result.
The bacteria in your filter will help neutralize toxins and make them safe for your pond fish. Carbon dioxide and ammonia are some of the waste materials biological filters will filter through.
As a side note, because your filter is housing beneficial bacteria, be careful when you clean your device out. You'll want to change the cartridge of course.
But it's best to leave any biological filtering media undisturbed. But if you do end up cleaning it, use some of your pond water for a light rinse. This way you won't lose all the bacteria the pond has built up.
Mechanical Filtering
Aside from biological filtering, mechanical filtering is also found in pond filters. Mechanical filters are more simple than biological filters. They trap debris and other floating waste.
By collecting physical contaminants, your pond water looks better and your fish is less likely to get sick. Still, the waste collected builds up in the filter. Eventually, it will decay and infect your water.
So make sure you are cleaning out the waste in your filter regularly!
A net or other blocking device usually keep waste contained. Mechanical filters get most of the big stuff floating in your pond water. Some devices use both mechanical and biological filtering for a better clean.
With mechanical filtering, your biological filter is even more efficient as it is only targeting bacteria and other unseen materials.
But it's up to you what kind of pond filter you get. Really though, pond filters with multiple modes of filtration offer the best value.
UV Sterilizer
The last type of filtration provided by pond filters is UV clarification. This type of filtration will keep algae out of your water!
Certain types of filters will have UV lights attached to their body. The intense light kills the algae as they cannot live in UV light. This will keep your pond water looking crystal clear!
Not all filters have this function, but if you want the best filter for your pond we recommend getting a filter with UV clarification.
Having the other two types of filtration we mentioned in combination with UV Clarification will produce the best results!
How Long Should Your Filter Be Kept On
Your pond filter does a lot for your water and pet. But you might be wondering how often it needs to be used?
Some newer pond owners might think they can turn off their pumps at night. You might believe you are saving power and money, but you could be harming your pond. It can be expensive to keep your filter on all the time, but it is necessary.
When you turn off your filter for extended periods of time you risk killing the good bacteria in your filter. Harmful bacteria can also grow in the filter overnight. This can make it harder for your filter to clean water when it's powered up again.
In short, you'll want to keep your pump and your filter on at all times so that your pond stays in top condition!
But if you are worried about power consumption there are options for you. Energy-efficient filters should lower the cost of your electricity bill dramatically!
Types of Filters For Your Pond
---
Video: "Selecting The Right Filtration Systems"
---
Along with different filtration methods, there are different types of filters you can purchase. Different pond filters will give you different results.
We'll summarize some of these filters briefly. This way you can get a feel for them and choose one that is right for you! Some filters are better for different pond types and sizes so keep this in mind.
Skimmer Filter
A skimmer filter is ideal if you have a lot of trees in your backyard. Leaves, twigs, and other droppings might fall into the water. A skimmer filter gets rid of this debris for you.
Even if you don't have a lot of backyard foliage, this type of filter can be helpful. Excess food and various forms of floating debris will be taken care of by this device.
Ponds should never have rotting material or foreign objects on its surface. This can make the water unsafe for fish. With a skimmer filter, you won't have to worry about this.
You can put these in almost any kind of pond. The size of your pond does not matter for these filters. However, if you have floating plants like lily pads you might want to get a different filter. Your plants could get sucked up.

Pre-Filter
Another type of pond filter you can find is the pre-filter. This is not necessary for all ponds. But if you want an extra clean environment for your fish you should consider this filter.
They add some extra filtration for small ponds specifically. So bigger ponds won't really benefit from them. Usually, these filters can be placed on an existing filter. They will get to debris before it goes into your biological filter.
Pressure Filter
Pressure filters are the most common type of pond filter. They are good products for newer pond owners. Pressure filters are easy to operate and won't require too much care. They aren't too bulky and fit best in small ponds but also in slightly bigger medium-sized ponds.
Pressure filters commonly use mechanical filtration to clean your pond. The pressure is utilized and pushes your pond waste through its system. It then traps the debris.
Almost any kind of pond can use this type of filter. That's what makes it so popular and accessible. Even ponds with waterfalls or fountains can use this device if they have enough power.
Some pressure filters even have UV clarifiers included with them!
Waterfall Filter
The last type of filter we will talk about is the waterfall filter. If your pond has a waterfall, this type of pond filter might be a good option.
Waterfall pond filters are placed above the waterline. They are usually hidden by decoration and rocks. And both types of filtration are used in this filter type.
Sometimes UV clarifiers are included but this isn't always the case. Waterfall filters don't use pressure, but they should provide plenty of oxygenation to your pond.
What to Consider as You Try to Find a Pond Filter

The quality of your pond filter is important for the longevity of your pond. An underperforming filter will only give you a headache down the line. So make sure you are purchasing the best pond filter for your pond setup.
Good pond filters have a few qualities you should be on the lookout for. This includes cost, brand, energy, and filter type.
We'll discuss these filter qualities in more detail so you can find the best pond filter. We'll also talk about what you should be thinking about as you buy your pond filter.
Cost and Brand
Cost is one of the first things homeowners think about when they are buying a filter for their pond. Many are tempted to get a cheap filter, but we recommend getting a device that is a little more expensive.
You don't have to get the most expensive pond filter, but you want to spend a good amount of money. When you invest in a higher quality filtering device, you ensure the success of your pond and your fish's health.
Lower quality devices, on the other hand, can malfunction and decrease the quality of your pond water. You don't want to risk that. So consider the cost of your pond filter carefully!
Filters from well-known brands are a good option too if you want a quality filter. Prices can vary, but usually, you can get a great filter for a manageable price.
Some brands have been making pond filters for years, so you know you can trust the quality of their filter products. We'll talk more about pond filter brands in a later section.
Filter Size and Type
Once you have figured out how much you are willing to spend on your pond filter, you should consider what kind of filter you will need. The size of your pond plays a big role.
A lot of filters are made for specific gallon measurements. So knowing how many gallons of water are in your pond will help you get the right size filter.
It's important to get the right size filter for your pond. If your device is too small or too big for your pond, it won't work right!
On a similar note, you want to make sure that your filter type is right for your pond. In particular, pond features should be factored in as you make your filter choice.
Ponds with waterfalls will need more powerful filters and pump systems. And bigger ponds might need more versatile filters with multiple filtration modes.
A good filter will have multiple types of filtration present. But this can be even more important if you have more fish or a bigger space to keep clean.
Energy Efficiency
Related to cost, you'll want to think about how much power a filter will consume. You won't be turning your filter off at night. So you want to get a filter that is as energy-efficient as possible. It's easy to overlook this aspect of your filter.
But you definitely want to look at the voltage of any filter you plan on purchasing to save yourself money. Ponds add up in cost fast.
An overly expensive electricity bill isn't something you want to deal with on top of other costs. A good pond filter will be energy efficient but powerful!
Pond Pumps
Buying a good filter is important, but your filter will only work well when it is paired with a quality pump. When you are getting your filter, be on the lookout for a water pump. As we said, water pumps are what get pond water passed through your filter.
If your pump isn't powerful enough or doesn't fit with your pond your filter will not work well. Make sure to get a pump that has good water flow and pressure.
You need the water to pump fast and efficiently through your filter system. Some pond owners like to go with cheaper pumps, but this is a mistake.
When you buy a cheap water pump you are creating a risky situation for your pond fish. If the pump does not work properly, or breaks, your fish could be swimming in dirty water. This could result in sick or dead pond fish.

Filter location
The location of your filter should also be considered as you make a final choice on your filter. Filters can be placed in two different locations and are classified as a submersible or external filter.
In other words, you can place your filter outside of your pond or submerged in the water. Both types of filters work well, and each has its pros and cons.
Submersible filters are good for smaller ponds, but you could use them on ponds up to two-thousand gallons. You put these filters directly in the water. If you want your pond filter out of sight, this is a good option. You'll have fewer wires and machinery visible.
But it does come at a cost. It can be more difficult to set up these pumps and harder to wire them because they go underwater. You will also have to lift them out of the water to clean. This can be time consuming and potentially annoying.
If you have a bigger pond setup, you'll probably want to get an external pond filter. This will sit outside of your pond and won't be as easy to hide. But these types of filters are bigger and usually more powerful. You can use these on ponds with tens of thousands of gallons!
They are a lot easier to maintain and clean. And you'll have an easier time installing them. But make sure these are protected from outdoor animals. You don't want your external filter to be knocked over.
---
---
Best Budget For Small Pond
Best For Medium Pond
Best For Large Pond
Best For Waterfall
TetraPond Submersible Flat Box Filter, For 250 To 500 Gallon Ponds
SUN Grech CPF-2500 Pond Bio Pressure Filter UVC 13-watt Up to 1600 Gallons...
OASE BioSmart 5000 Pond Filter
TetraPond 26596 Waterfall Filter, Up to 1000-Gallon,Black
Last update on 2023-09-06 at 20:34 / Affiliate links / Images from Amazon Product Advertising API
Conclusion
Filtering your outdoor pond is essential. Your fish need clean moving water to stay healthy and live a long life. In addition, you don't want your pond to build up disgusting muck and floating debris. When you invest in a good quality pond filtering device, you can prevent this.
With the best pond filter, your backyard will look amazing, and your fish can thrive! In this post, we showed you some top pond filters. We included some of the best pond filter brands.
We also showed you a range of price points. This way you have plenty of options when buying a pond filter.
Ultimately, you'll want to choose a device that is right for your pond. Again, you should factor in the size and type of pond you have. Certain filters work for specific ponds sizes and features. In addition, you should also consider your pond fish.
If you have a lot of fish, you'll need a bigger filter to get rid of all their waste. If you only have a few fish and a small pond your filter won't have to be as powerful.
Filters are important for ponds, so choose wisely. Hopefully, you get the best pond filter device!