6 Ways On How To Clear Green Pond Water
Outdoor ponds offer plenty of advantages for homeowners and fish owners. Not only can you fit more pets in a backyard pond. You can also make your property look more complete. Still, there is plenty of work that goes into maintaining these backyard fixtures.
If you don't maintain your pond properly it can turn green. Green ponds aren't always dangerous for pond fish. But in some cases, a green pond can cause a fish to become ill or sick.
You don't want your fish to get sick and die. And you probably don't want your pond looking dirty. In this guide, we'll talk about why your pond is green.
There are many possible reasons this has occurred. Algae is a typical cause of discolored water. It creates nutrient imbalance and other issues that can worsen the conditions of your pond.
Really, many things lead Algae to grow in your pond. You want to prevent this but if you can't you should try and fix your water. We'll teach you how to clear green pond water so you can get your water back to normal.
Should You Worry About Your Green Pond Water?
It isn't uncommon to see some green in your pond water. Even in natural bodies of water, you can see this happen. Some benign algae species will only tinge the water and won't cause much harm. But there are some types of algae that should not be allowed to grow in your pond.
Blue-green algae is a particularly dangerous type of algae. In actuality, it isn't strictly an Algae. It is a type of harmful bacteria that can end up killing your pond fish.
This and other harmful Algae can actually suck the oxygen out your water as well as key nutrients your fish needs to survive. You don't want this to happen. So make sure to test your water to see if your pond has been infected. You can check oxygen levels and other measurements to see if your pond is in a normal range.
This is important to do because not all green ponds are something to worry about. In fact, some algae species can be beneficial for your pond ecosystem. They will turn your pond green, but they add nutrients to your pond and act as a food source for your fish. Again, Algae are found in nature and don't always mean your pond water has declined. It's good to have some Algae, but you don't want it to overtake your pond.
No matter the type of Algae this is true. Keep Algae growth under control. This way they don't reduce oxygen in your pond and cause extra waste to build. As a rule of thumb, a light green hue in your pond should be okay. But a heavily concentrated green is a sign that something is wrong in your pond.

6 Ways On How To Clear Green Pond Water
If Algae has grown rapidly and dangerously in your pond you will want to take action as soon as you can. There are many reasons your pond has produced algae and green water. Sometimes, your pond might be housing to many fish, and the excess waste leads to algae growth. Other times you haven't maintained your pond well enough and bacteria and algae growths occur.
You will want to consider this in your treatment plan as well. This way you can prevent algae from coming back in the future and making your pond green. Really, there are many effective methods that will get Algae out of your water. We'll talk about how to clear green pond water here.
1. Clean Your Pond Area And Get Rid of Sludge
OASE 602401853010 Pondovac Classic Pond Vacuum Cleaner
Max. Suction depth: 6 ft.High-power suction to a depth of 59 inch.Maximum suction depth of 78 inch
Suction hose length: 13 ft
Operating voltage: 110-120 Volt / 60Hz. Power consumption: 1200-1400w
Power cable length: 13 ft
Limited Warranty: 2 years
Last update on 2023-09-07 at 16:36 / Affiliate links / Images from Amazon Product Advertising API
Cleaning is one of the best things you can do for a green pond. You can manually remove algae with a rake or try using a vacuum. This will reduce the green appearance of your pond. But you want to do more than just remove floating algae.
Waste and sludge contribute to Algae growth. So you need to get rid of any filth in your pond. This way the algae won't come back. Waste can build in any part of your pond. Especially underneath the surface of your water.
A pond vacuum is the easiest way to remove debris from the bottom of your outdoor pond. It's a pain to clean up a green pond, and ponds in general, but it is necessary. And don't just clean up once or twice a year.
You need to keep up with pond maintenance to have clear and healthy water for your fish.
In addition, you can try adding in natural products that reduce sludge and waste in the water. There are tons of different brands to choose from. But these sludge reducers are a great way to clean up green water. If you don't have time to clean constantly, they are pretty effective.
Filtration devices and pond skimmers can also help as well. So make sure to invest in high-quality pond devices, to maintain a healthy pond space for fish!

2. Lower Your Bioload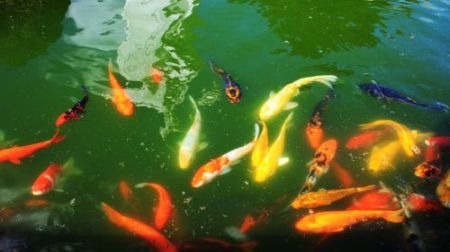 If you have to constantly clean your pond, you might want to reduce the number of fish you have in a pond. Its fun having a lot of fish in your backyard pond. But too many fish in one space can actually increase the likelihood of algae growth and pond decline.
A concentrated amount of fish creates a bigger bioload. This leads to even more waste in your water which can cause further algae growth.
No one wants to get rid of their fish. But if you want a healthy pond environment you need to have balance in your water. Too many fish disrupts your ecosystem and creates problems for your pets. This pond cleaning method isn't for everyone.
But if you need to get rid of a few fish don't feel bad.
3. Try Adding Live Plants
3 Pond Plants Bundle - Water Lettuce, Water Hyancinth and Hornwort
You get 3 pond plants in this bundle. The plants included are water lettuce, water hyacinth, and hornwort. These are...
These oxygenating plants keep the water clean and filtered in your water garden.
They serve as natural biofilters to your pond
Controls algae by absorbing nutrients from the water
Please note these plants ship with trimmed roots as sometimes they tend to fall off during transit due to heat. In case...
Last update on 2023-09-06 at 19:23 / Affiliate links / Images from Amazon Product Advertising API
Plants can help clear your green pond water as well. Certain live plants even combat Algae growth and help filter a pond. Plants do this by taking in pond nutrients and neutralizing waste. If Algae have less food to feed on they won't grow as much.
In addition, plants provide shade for your water. Without as much sunlight, Algae won't thrive and grow out of control. Not everyone is going to want to deal with plants. But they look nice in a pond area and have a lot of benefits!

4. Use UV Clarification Devices
Sale
Last update on 2023-09-07 at 05:23 / Affiliate links / Images from Amazon Product Advertising API
Another way you can clear green pond water is with a UV clarification device. It can cost you extra money to get these products for your pond. But they are well worth the cost, especially if you are looking to get rid of Algae.
UV is a powerful way to eliminate any bacteria and micro-organisms in water, and there is little hassle involved with these products. You just set them up and turn them on. Overall, UV clarifiers really enhance the look of your water.
If you have a bigger pond you might have to spend more money on a larger device though. So consider this before buying one of these.
---
Video: "Remove Pond Algae with UV Filter System"
---
5. Try Using Pond Dyes
Blue Lake and Pond Dye - One Gallon of Professional Lake & Pond Dye - Treats Up...
Enhances the aesthetic appeal of your pond: Blue Lake & Pond Dye is designed to enhance the natural beauty of your pond...
Provides long-lasting color: Blue Lake & Pond Dye is formulated to provide long-lasting color that won't fade or wash...
Safe for fish and wildlife: Blue Lake & Pond Dye is safe for fish and wildlife, ensuring that it does not harm the...
Suitable for a range of applications: Blue Lake & Pond Dye can be used in a variety of settings, including residential...
Professional Grade: One Gallon Treats 1 surface acre with an average depth of 4 to 6 foot. If no base color is present,...
Last update on 2023-09-06 at 19:23 / Affiliate links / Images from Amazon Product Advertising API
Algae grow faster with the help of the sun. When you put pond dye in your water though, you can prevent sunlight from entering your water. The dye deflects light and as a result fewer Algae will grow. Your water will stay cooler too. But this doesn't necessarily clear your water.
You can put this in when there is a lot of Algae and this will keep them from further proliferating. But you need to clean out your pond first, then you can use this on your pond for great results. This is a perfect preventive product that protects your water and keeps it healthy and safe for your fish!
Pond dyes are nontoxic, not very expensive, and even camouflage your pet. Really, it's best to go with a blue dye. As this color creates the best effects.
6. Increase The Airflow
Sale
Laguna Aeration Kit for Ponds
Enhances water quality during winter months; Works to prevent pond water from total freezing
Allows for proper exchange of oxygen and gases
Helps keep fish alive and healthy
Includes a powerful aeration pump, 30' of winter-safe airline tubing, a 1" air stone and a high-density styrofoam float...
Suitable for any size pond
Last update on 2023-09-07 at 08:15 / Affiliate links / Images from Amazon Product Advertising API
The last thing you can do to clean up your pond is to add more airflow. Stationary water is a breeding ground for waste and Algae. So you want to have an air pump or pond aerator installed into your pond. This will keep your water moving, and keep your fish in top shape.
Air pumps and pond aerators will prevent Algae from dirtying up your water. You still want to get rid of debris and use a pond vacuum. But increased airflow lessens the amount of work you have to put in during a pond cleaning.

Conclusion
Green pond water is never attractive in a backyard pond. In this article, we went over how to clear green pond water effectively. There are many reasons your pond could be turning green. And many methods of clearing green water.
Various explanations and clearing tips were explored in detail. Really you want to know why your pond has turned green. This way you can better fix the issue. Most of the time, Algae is to blame for the discoloration. If you don't keep your pond clean or have too many fish you can actually cause Algae to grow out of control.
And with more Algae in your pond, there is a higher chance that your fish could die or become sick. Of course, this depends on the type of Algae in your pond.
Some Algaes are okay to keep in a pond. But you never want to let this organism grow out of control. Really, just follow our tips and your pond will stay clear and look great year-round!