10 Best Aquarium Heater for Freshwater & Saltwater (2023 Reviews)
For some, the thought that watching fish swim around can reduce your blood pressure and increase feelings of relaxation is outrageous. However, this concept is one that has been studied in-depth and found to be true.
That said, purchasing an aquarium is not enough. You also need to invest in other aquarium equipment, to ensure you're getting the most from your fish tank. These include water conditioners, heaters, thermometers, extra pumps and more! The focus of our article is on aquarium heaters.
We'll guide you on how to choose the best aquarium heater for your fish tank and recommend top-rated models.
Best Budget
Best All-Around
Top-Notch
Aqueon Aquarium Fish Tank Preset Heater For Up To 40 Gallons, 100 Watts
EHEIM Jager Aquarium Thermostat Heater 125W
Cobalt Aquatics Neo-Therm Pro Aquarium Heater (100 Watt), Fully-Submersible...
Last update on 2023-10-29 at 09:12 / Affiliate links / Images from Amazon Product Advertising API
10 Best Aquarium Heaters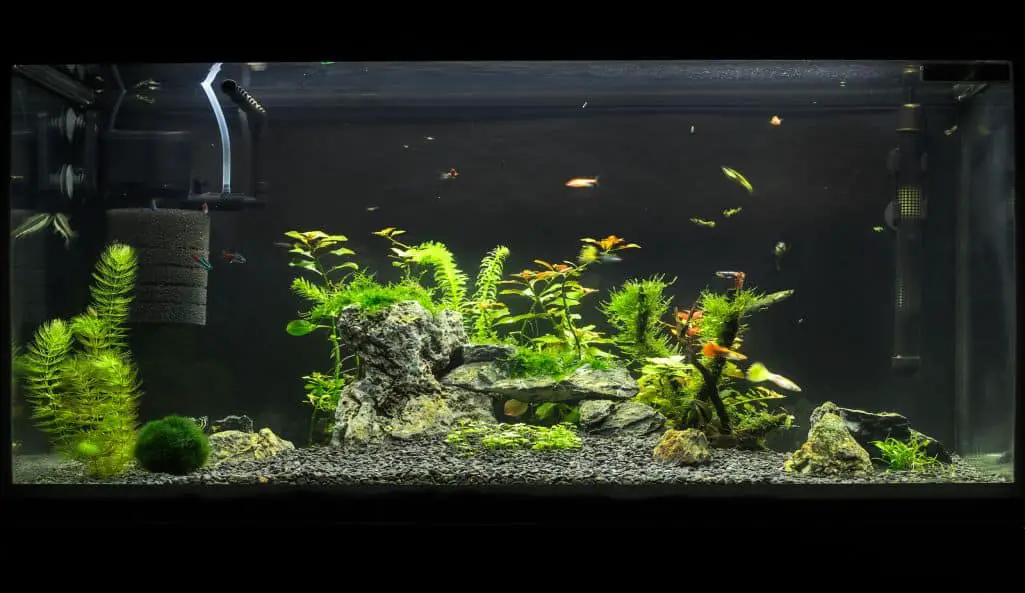 1. Hygger Titanium Aquarium Heater
hygger 200W Titanium Aquarium Heater for Salt Water and Fresh Water, Digital...
🐠【For Fish Tank 20-45 Gallon】voltage 110-120V, power 200W, heater rod length 10.7inch. The heater and controller...
🐠【Fully Automatic Control】very easy and reliable to use. After well installing the aquarium heater and the...
🐠【Durable Titanium Tube】this seawater resistant titanium aquarium heater is good for use in salt water and fresh...
🐠【Digital LED Display】the IC temp controller can show the water temp and set temp at the same time, and there is...
🐠【Wide Temperature Range】With the thermostat controller you can set the temp from 32℉to 104℉, control...
Last update on 2023-10-29 at 09:12 / Affiliate links / Images from Amazon Product Advertising API
If you're looking for an aquarium heater that has all the bells and whistles, the Hygger Titanium Heater is your best bet. This is a compact and lightweight device that you can easily hide in the fish tank.
The manufacturer gives you 4 different sizes, which enable you to heat tanks of up to 120 gallons. The one we're reviewing here is a 200-watt heater that's designed for tanks of between 20 and 40 gallons.
The smallest is a 50-watt heating unit, perfect for 5 to 10-gallon fish tanks. There's also a 100-watt heater tailored for 10 to 25-gallon aquariums. And, if you have a really big fish tank, ranging between 60 and 120 gallons, you should opt for the 500-watt heater.
Another feature we love about Hygger is that it comes with external temperature control. Sporting an easy-to-use temperature dial, the thermostat lets you monitor and set temperature from 32 °F to 104 °F. The heater then keeps the water uniformly heated to a temperature of between 1.5 °F and 2 °F from the set temperature.
Important to note is that Hygger is on the higher side of the price spectrum. But with features such as automatic restart, corrosion-resistant design, and 1-year warranty, it's a fair trade-off.
PROS:
Small, lightweight but durable titanium build
Heats up to 104°F and includes thermostat for easy temperature control
Can be installed in both fresh and saltwater fish tanks
Convenient indicator light that shows the heating status
Contender for the best aquarium heater
CONS:
More expensive than other heaters
Check Price and Reviews on Amazon
---
---
2. Finnex Deluxe Titanium Tube Heater
Sale
Last update on 2023-10-29 at 09:12 / Affiliate links / Images from Amazon Product Advertising API
If the Hygger model is out of your price range, the Finnex Deluxe Titanium is a cheaper option. Even better, it's just as powerful as our top pick.
This heater is available in three sizes: 300, 500 and 800-watt units. This TH-300S is a 300-wattage model designed for aquariums of 40 – 80 gallons capacities. The 500-watt is ideal for 70 – 130 gallons while the 800watts unit can heat fish tanks of 140 – 265 gallons.
As its name implies, this heating device is made of titanium, a material that is resistant to corrosion. Thus, it can be used in fresh and saltwater aquariums.
Furthermore, the heater includes a protective guard that keeps larger fish from touching the hot rod. Also, this unit is able to retain a steady temperature environment for your fish and/or plants.
The only drawback of using Finnex is that it lacks a built-in thermostat, meaning you'll need to purchase it separately. The silver lining to this is that external thermostat devices are often more accurate than their built-in counterparts.
PROS:
Equipped with protective guard and suction cups
Reliable titanium construction
Works in both fresh and salt-water fish tanks
CONS:
Requires external temperature control gadget
Check Price and Reviews on Amazon
---
---
3. Finnex Hang-On Electronic Controller Aquarium Heater
Sale
Last update on 2023-10-29 at 09:12 / Affiliate links / Images from Amazon Product Advertising API
Our first two aquarium heaters are installed by way of submerging them in the fish tank. However, if you prefer a hang-on model, the Finnex Electronic Controller Aquarium Heater is a pretty decent option.
As you can probably guess from the name, this unit is suspended on the back wall of the tank. The benefit of this mounting technique is that it's incredibly easy to set up the Finnex titanium tube.
Additionally, this device generates 100 watts, which is sufficient to warm a 20 – 30-gallon fish tank. Have a bigger aquarium that requires a more powerful heater? No need to worry as the Finnex comes in different sizes.
The 150-watt heater is reserved for 30 – 60-gallon fish tanks, the 200-watt model works for 60-80 gallon units while the 300 watt is perfect for 80-100 gallon aquariums. The biggest is a 500-watt heater, which works for 100-120 gallons.
Similarly, there's a 50-watt heater designed for even smaller aquariums of up to 20 gallons. Another noteworthy feature is the electronic control device attached to the hang-on hook. This makes for easy temperature adjustment.
Speaking of temperature, the heater provides a precise temperature setting and manages to maintain it within 2 degrees Fahrenheit.
PROS:
The outside-the-water temperature control offers convenience
Sports a corrosion-resistant titanium tube
Can be used in saltwater and freshwater fish tanks
Includes LED indicator to notify you when it's in operation
CONS:
Issues with the electronic temperature control
Check Price and Reviews on Amazon
---
---
4. Tetra HT Submersible Aquarium Heater
No products found.
Looking for a pocket-friendly aquarium heater? If you are, Tetra HT is among the most affordable models on the market.
This is a submersible type of heater that can be mounted in a horizontal or vertical position inside your aquarium.
Another thing we love about the HT is its compact design. This is important for aquarium owners who don't want the metallic construction of the heater ruining the aquarium decorations.
Given the low pricing, it comes as no surprise that Tetra HT is a less powerful heater. To be specific, it produces 50 watts, which is ideal for aquariums of 2 to 10 gallons. The only other size available is a 100-watt heater, which can heat 10-30 gallon fish tanks.
This heater comes equipped with an electronic thermostat, which automatically keeps the temperature steady at 78 °F. This is the recommended temperature for most tropical fish.
PROS:
Small footprint; hence easy to hide behind plants and aquarium decor
Comes with a built-in thermostat
Includes an indicator light that notifies you when the heater is on
CONS:
Requires constant checking of temperature to avoid extreme fluctuations
Check Price and Reviews on Amazon
---
---
5. Eheim Jager Aquarium Thermostat Heater
Sale
Eheim 3619090 Jager Aquarium Thermostat Heater 300W, Black
Heater is meant for Tanks between 159-264 Gallons.
Size of Heater is 20" X 1.4" Diameter
Fully submersible, will automatically turn off when water level dips too low.
Thermo safey control protects against running dry.
Made of shock resistant and shatter proof glass for fresh or marine water.
Last update on 2023-10-29 at 09:12 / Affiliate links / Images from Amazon Product Advertising API
The Eheim Jager comes in a wide range of sizes. These include a 25-watt, 50-watt, 75-watt, 125-watt, 150-watt, 200-watt, 250-watt and the 300-watt, which is what we're recommending here.
This heater provides a steady and precise temperature regulation thanks to the TruTemp dial. With this gadget, you'll be able to adjust the temperature from 65 °F to 93 °F. Whatever temperature you set, the heater will maintain it within 0.5 °C.
The Eheim Jager is a completely submersible heater that comes at a mid-range price point. It also boasts a shatterproof glass that not only offers protection but also expands the heating surface area.
For a hassle-free installation, the manufacturer provides a mounting bracket and suction cups. The suction cups hold the heater firmly in place while also offering flexibility in terms of where you place the unit within your aquarium.
PROS:
Shatterproof glass build for durability
TruTemp dial that provides a consistent temperature
Includes an on/off indicator light
Easy to install
CONS:
Can take a while to learn how to calibrate
Check Price and Reviews on Amazon
---
---
6. Cobalt Aquatics Flat Neo-Therm Heater
Last update on 2023-10-29 at 09:12 / Affiliate links / Images from Amazon Product Advertising API
Right off the bat, you'll notice that the Cobalt Aquatics has an exceptional design. I think it's fair to conclude that this aquarium heater- with its sleek matte black and ultra-flat design- doesn't resemble any other on the market.
Similarly, it's not made from glass or titanium materials like the majority of fish tank heaters. Instead, it sports an all resin/thermoplastic construction, complemented by a shatterproof housing.
The temperature regulation feature of the Cobalt comes to life the minute you plug it into a powerstrip. And while the temperature reading looks a little complex, it's actually very easy to use.
Depending on whether the temperature of the water is higher or lower than the set temperature, two lights will pop up. The flashing light represents the temperature of the fish tank while the solid light represents the set temperature.
If the fish tank temperature is low, this LED indicator flashes slowly. However, if it's hotter, it 'blinks' rapidly. On the other hand, if the aquarium temperature equals the set temperature, only one light is displayed.
With the Cobalt, you can adjust the water temperature to between 66 °F and 96 °F. The heater maintains this temperature within 0.5 degrees.
But where this device really shines is its capability to remember a setting. If there's a power outage or you unintentionally disconnect the heater, it will automatically resume the set temperature when the power comes back on.
PROS:
Has a thin and ultra-flat that occupies less space in your fish tank
Well-built bracket and suction cups make for an easy installation
Easy to set temperature with the push of a button
Built-in memory
Backed by a 3-year warranty
CONS:
Some find it difficult to read the LED display
Check Price and Reviews on Amazon
---
---
7. Aqueon Preset Heater
Sale
Last update on 2023-10-29 at 09:12 / Affiliate links / Images from Amazon Product Advertising API
If you have a limited budget, you'll appreciate how fairly-priced the Aqueon Preset Heater is. This is actually the cheapest in our review.
Even with low pricing, this device doesn't compromise on features. It's able to raise the fish tank temperature to 78 °F and maintain it within 1 degree. If the water temperature goes below your chosen level, the heater instantly turns on. The LED indicator light illuminates letting you know that it's in operation.
Another feature you'll like about the affordable Aqueon is its shatter-proof construction that comprises of quartz glass. It's also fully submersible, making it easy to position it close to the filter to facilitate even heat distribution.
Plus, it comes in different sizes and powers. The cheapest is this 50W unit that's tailored for aquariums of up to 20 gallons. The 100W model is recommended for 20 to 50-gallon fish tanks. The 150W works for a 55-gallon aquarium while the 200W works for aquariums of up to 75 gallons.
PROS:
Offers a precise 1-degree temperature adjustment
Has an automatic on/off mechanism
LED indicators show you when the heater is on
Comes with a 1-year warranty
CONS:
A little difficult to set up
Check Price and Reviews on Amazon
---
---
8. FREESEA Fish Tank Submersible Heater
No products found.
Like the Cobalt Aquatics, the FREESEA Fish Tank Heater has one of a kind designs. It comes in a sleek and rather small oval shape, allowing it to take up very little space in your aquarium.
Surprisingly, this gadget packs a load of features into its diminutive size. For instance, it has a multifunction LED digital display that clearly displays the water temperature.
But the key highlight of the FREESEA Heater is its ability to reach extremely high temperatures. This is an important feature for aquarium owners who live in cold climatic regions. To be specific, it's designed to heat water to a temperature ranging between 59 °F and 94 °F. It uses an automatic system, which turns off the device once it reaches the desired temperature.
This 50-watt heater is designed to warm fish tanks of up to 10 gallons. However, it comes in three other sizes in case you have a bigger aquarium. For instance, the 75-watt is ideal for 5 – 15-gallon tanks, the 100-watt works for 10 – 20-gallon while the 200-watt is ideal 20 – 35-gallon tanks.
And unlike a majority of aquarium heater which doesn't have any guarantee, this one sports a 12-month warranty. Even better, you'll get round-the-clock customer support.
PROS:
Reaches high temperatures of 94 °F
Has an automatic temperature control
Bright LED display
Comes in a unique oval and space-saving design
CONS:
Does not include an instruction manual
Check Price and Reviews on Amazon
---
---
9. Hygger Heat-Resistant Milky Quartz Aquarium Heater
No products found.
One aspect that aquarium owners are wary about when it comes to submersible heaters is their susceptibility to breakage. If the glass were to shatter, this would pose a considerable risk to your fish. Luckily, the Hygger Aquarium Heater comes with a shatterproof design.
More specifically, this device is made using a heat-resistant milky quartz material for optimal durability. In fact, the manufacturer states that the heater has an estimated service life of 3 years or more. Plus, it's suitable for freshwater and saltwater aquariums.
Another feature worth pointing out is that the heater is available in different sizes and powers. The one we're focusing on is a 100-watt that can heat 10 – 30-gallon aquariums. There's also a 50-watt that's ideal for 7 – 10-gallon and a 300-watt, which is tailored for 30 – 60-gallon tanks.
The Hygger Heater comes with external temperature control. This makes it easy to set the temperature, which reaches a maximum of 91 °F. The heater then maintains the temperature within 2 degrees Fahrenheit.
PROS:
Comes with a user manual
Includes suction cups for easy mounting
Durable and compact design consisting of milky-quartz material
Has an automatic shut-off once the set temperature is reached
CONS:
Requires constant monitoring as the temperature can fluctuate sometimes
Check Price and Reviews on Amazon
---
---
10. Fluval Marina Submersible Heater
Sale
Marina Submersible Aquarium Heater 150 Watt
Submersible heater for fresh or saltwater aquariums or reservoirs
Easy to read temperature settings
Impact-resistant glass design; Water proof sealing
Includes bracket with suction cups for easy, secure installation
Length: 10.6 Inch
Last update on 2023-10-29 at 09:12 / Affiliate links / Images from Amazon Product Advertising API
Compact but also powerful, Fluval Marina Heater is another equipment you can rely on to heat your aquarium. The good thing about this device is that it's available in different sizes to suit different tank capacities.
The model in question here is a 50-watt unit, which is powerful enough to heat a 5-gallon fish tank. You can also purchase the 100-watt, 150-watt, 200-watt or 300-watt for bigger aquariums.
Although it's a submersible type of heater, it has a small length of 11 inches. This means that it's barely noticeable; hence it won't get in the way of the aesthetics.
Fluval is also a durable unit as it's constructed using an impact-resistant glass material. For easy installation, the manufacturer has included bracket and suction cups in the package.
PROS:
Can be installed in fresh and saltwater aquariums
Easy to monitor the temperature
Easy to install as it comes with bracket and suction cups
Small and compact
CONS:
It's not the most powerful heater; hence not suitable for heating big aquariums
Check Price and Reviews on Amazon
---
---
Do You Need an Aquarium Heater?
The short answer to this is a resounding yes. This way, you can maintain the right temperature necessary for the comfort of your tropical fish.
Unlike humans and mammals, fish are a category of animals that cannot produce their own heat. Thus, the only way they can maintain the ideal body temperature is by relying on the temperature inside the aquarium.
Choosing the Best Aquarium Heater For Your Tank
---
Video: "How to Choose an Aquarium Heater"
---
Type of Heater
Picking the best aquarium heater for your fish tank can be overwhelming if you're not familiar with the different types. Here's a primer on the main kinds of heaters:
Immersible Heaters
Also known as hanging heaters, these units are usually suspended over the top of the aquarium while the heating component (typically enclosed in a glass tube) remains inside the tank. Given their design, you'll need to create an opening in the aquarium top or hood. This will enable you to fit the head of the heater.
Due to their affordability, immersible heaters are the most common type. They're an excellent option for new aquarists who are still learning the ropes on maintaining fish tanks.
Submersible Heaters
These heaters rank second when it comes to popularity. As their name implies, submersible heaters are completely submerged in water. According to experts, these heaters are more efficient than their immersible counterparts. This is because the act of submerging them under the aquarium helps to heat water more evenly and consistently.
What's more, these heaters give you a lot of flexibility when it comes to installation. You can mount them in a vertical, horizontal position or at an angle. That said, most aquarists have had the greatest success by mounting them horizontally or vertically.
The installation technique you employ will also be determined by whether the heater has an internal thermostat. If it does, it's advisable to mount it horizontally and relatively low in the water. Doing so enables the thermostat to provide a precise reading of the water temperature. In response, the heater is able to deactivate or activate itself accordingly.
Often, submersible heaters come with suction cups, giving you an easy way of attaching them to the back of the fish tank. When installing, be sure to keep the heater off the gravel. The reason for this is that the temperature difference between the water and gravel can cause the glass to break.
Similarly, ensure there's adequate space between the heater and the gravel or the side of the aquarium to prevent fish from getting caught on the element.
Substrate Heaters
Often, substrate heaters are used in conjunction with other heaters. They're designed in form of wires, which are then attached on the base of the fish tank.
Substrate heaters only gained popularity in the 90's, where they were found to promote the growth of aquatic plants. They achieve this by increasing water circulation in the substrate, which in turn, moves nutrient-rich water directly to the plant roots.
In-Line Heaters
One of the reasons why aquarists install fish tanks in their homes is so that they can boost the aesthetic appeal. Unfortunately, heaters that sit inside fish tanks can ruin this aspect.
An in-line heater was invented to provide a solution to this problem. So how does it work? Well, it's plumbed into the fish tank's water filtration system (on the outflow line), where it heats the water as it flows back into the aquarium.
Since it's located externally, this heater is completely out of sight. Thus, you'll be left with the beauty of your tropical fish and plants to admire.
Most in-line heaters have built-in thermostats to monitor the temperature. When the desired temperature is attained, the heater automatically turns itself off. This means that although water will continue to pass through the filter, it won't get heated. If the temperature falls below the set temperature, the heater turns back on again.
Another perk that in-line heaters offer against their counterparts is uniform heating. With other kinds of heaters, especially the submersible kind, the water closest to the heating element is the hottest.
However, an in-line heater is able to heat the water at a uniform pace as it flows back inside your aquarium.
Size and Power Requirements
Nearly all heaters are advertised for specific fish tank sizes: 5-gallon, 10-gallon and so forth. This gives you a rough estimate of what size of heater to get. However, these sizes are not fixed; thus you should take other factors into account.
As an example, a 20-gallon goldfish tank may not require a heater specified for 20 gallons. Since goldfish are coldwater fish, they don't need the water temperature elevated to extreme levels. You only need to increase the temperature by a degree or two.
Generally, the higher the capacity of your fish tank, the more watts your heater should have. The standard method used to gauge wattage and size is supplying 3 to 5 watts per gallon. Ideally, if you want to heat your aquarium efficiently, you should get a heater that's powerful enough to affect its capacity.

For instance, if you get a 100 watt heater for a fish tank with 100 gallons, that means that it's producing 1 watt for each gallon. This power is not sufficient to maintain the water temperature at the required setting.
Example:
Let's assume your aquarium has a capacity of 65 gallons. The ideal power/wattage of the heater should range between 200 and 300 watts:
65 x 3 watts per gallon = 195 watts
65 x 4 watts per gallon = 260 watts
65 x 5 watts per gallon = 325 watts
Here are a few more tips to keep in mind:
Smaller fish tanks are heated more quickly. Since they have a smaller space, the device heats up the water pretty fast. As such, you should never use an oversized heater for such aquariums to avoid overheating.

Installing two small heaters to attain the required wattage is better than choosing one large heater
Always have a backup heater. It doesn't matter if your secondary heater is a cheaper model. Some species of fish are very sensitive to temperature changes and may suffer if your current heater starts to malfunction.

As a side note, it's also a good idea to invest in thermometers to use with the aquatic heater. Although some heaters have built-in thermostats, an external thermometer is better as it can:
Help you verify the temperature that your fish are swimming in
Check that your aquatic heater is working efficiently
Determine whether the water temperature is fluctuating, which would indicate that your heater is faulty
---
---
Best Budget
Best All-Around
Top-Notch
Aqueon Aquarium Fish Tank Preset Heater For Up To 40 Gallons, 100 Watts
EHEIM Jager Aquarium Thermostat Heater 125W
Cobalt Aquatics Neo-Therm Pro Aquarium Heater (100 Watt), Fully-Submersible...
Last update on 2023-10-29 at 09:12 / Affiliate links / Images from Amazon Product Advertising API
Conclusion
Fish cannot generate their own heat; hence they rely on the temperature of the water. Most of these fish thrive in an aquatic environment with at least 78 degrees or higher.
To reach such high temperatures, it's vital that you invest in an aquarium heater. One particular model that we recommend is the Cobalt Aquatics Flat Neo-Therm Heater. Available in 7 different sizes, this device is efficient at heating and maintaining a consistent temperature for your fish tank. It's equipped with a thermostat and can be used in both fresh and saltwater aquariums. Clearly a contender for the best aquarium heater.